Georgia Football: Week 1 Fall Practice Stock Report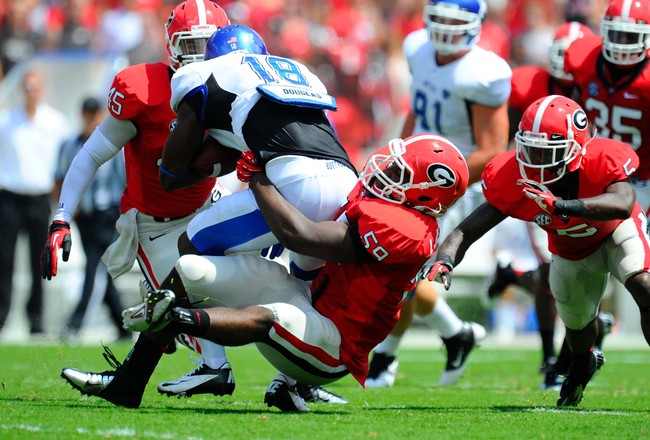 Dale Zanine-USA TODAY Sports
The Georgia Bulldogs have been hard at work on the practice field for a week, and while there have been a lot of good things to take away from the first week, there are still plenty of things the Bulldogs have to work on throughout the month.
Some of the rookies have impressed coaches and are poised to see more playing time than expected. The Bulldogs also got a gift this week when a player who has been fighting to get back on the field for the past two years made his return and could make his way into the starting lineup when it's all said and done.
The Bulldogs ended their week with their first scrimmage of fall camp, and while the defense looked strong, the offense has some chinks in their armor.
Here's the Week 1 fall practice stock report for the Bulldogs.
Stock Up: Kolton Houston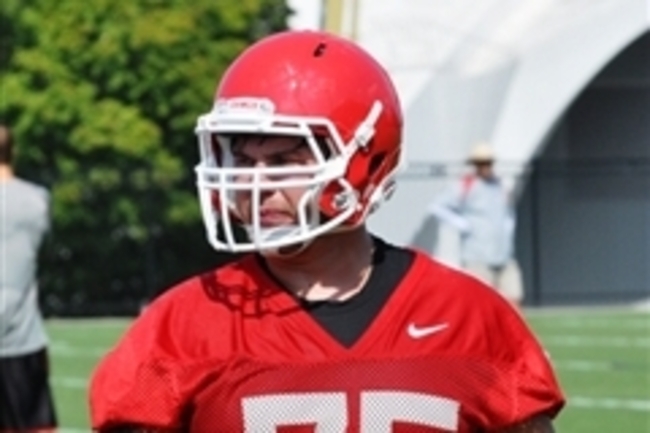 Photo credit: 247 Sports

The start of fall practice meant the return of offensive lineman Kolton Houston, who had to sit out the past three seasons because he was ruled ineligible.
Houston has been working with the scout team because he is trying to get back in football shape. But he is fighting for playing time and a starting spot.
Center David Andrews has been impressed with Houston, and so has head coach Mark Richt. There is no telling if Houston is going to be among the first-team rotation or in the starting five. But once he gets adjusted to the speed of the game, he will see a lot of playing time this season.
Stock Up: Jordan Jenkins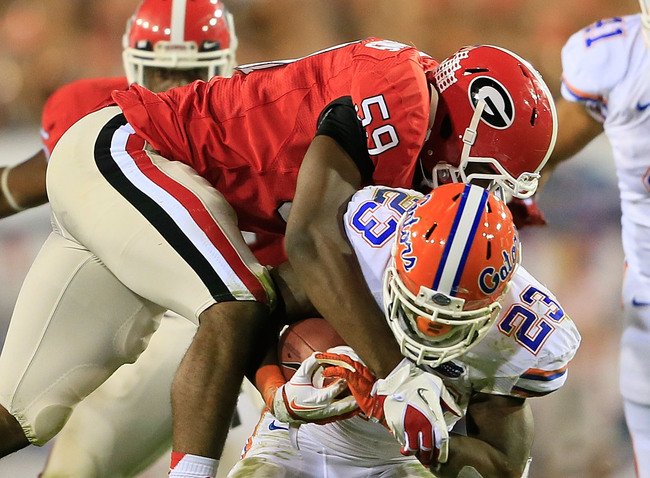 Sam Greenwood/Getty Images
As mentioned earlier, the defense looked sharp in the Bulldogs' first scrimmage, and the reason for that was the play of linebacker Jordan Jenkins.
The sophomore led all defenders with six tackles and also notched three sacks.
With the loss of Jarvis Jones, Jenkins is expected to be the next great pass-rusher for the Bulldogs.
That is a lot of pressure, but Jenkins is aware of the situation, and he even wants to break the single-season sack record, which was set by Jones last season.
Jenkins took in a lot of information while playing alongside Jones, and it seems to be paying off.
Stock Up: Sheldon Dawson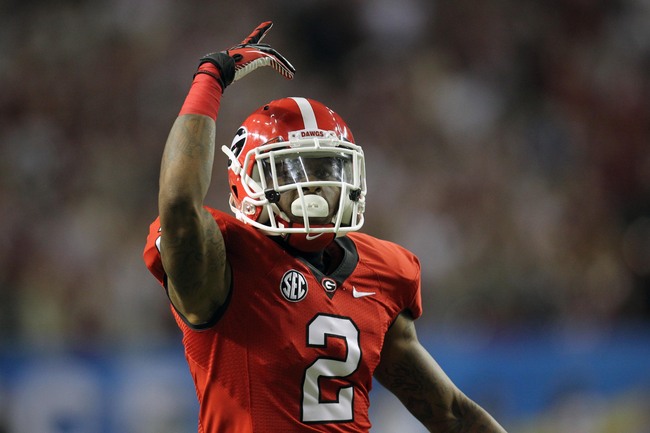 USA TODAY Sports
The secondary for the Bulldogs will have its share of growing pains because of the youth and inexperience. But they did not show any of those features in the scrimmage, specifically cornerback Sheldon Dawson.
The sophomore tallied four tackles and picked off two passes to help the defense win the scrimmage.
Dawson had a very strong spring, which led to him beating Devin Bowman for the starting No. 2 cornerback position. And with him being able to play sparingly last season and learn from guys like Bacarri Rambo and Sanders Commings, Dawson has a chance to make tremendous strides this season.
Stock Down: Christian LeMay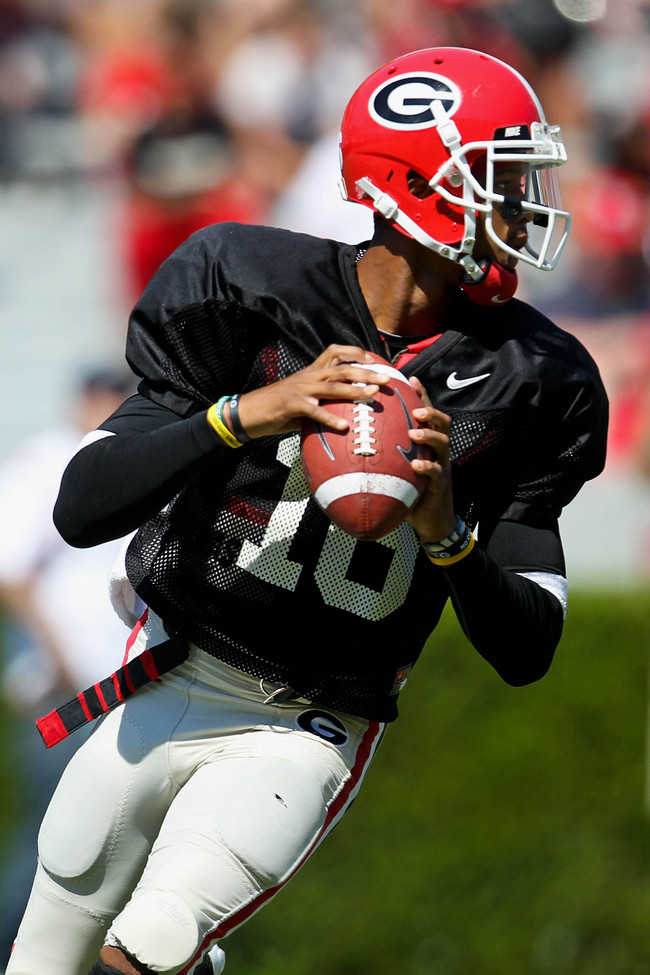 Daniel Shirey-USA TODAY Sports
Christian LeMay is looking to be the backup quarterback next season. But he is having his struggles at the start of fall camp, as he completed one of seven passes in the scrimmage.
It's only the first week of practice, so he will have plenty of time to improve.
Richt said that LeMay has to get more comfortable with the offense and be more consistent. If he can do that, then he can do some big things for the Bulldogs in the near future.
Stock Down: Brice Ramsey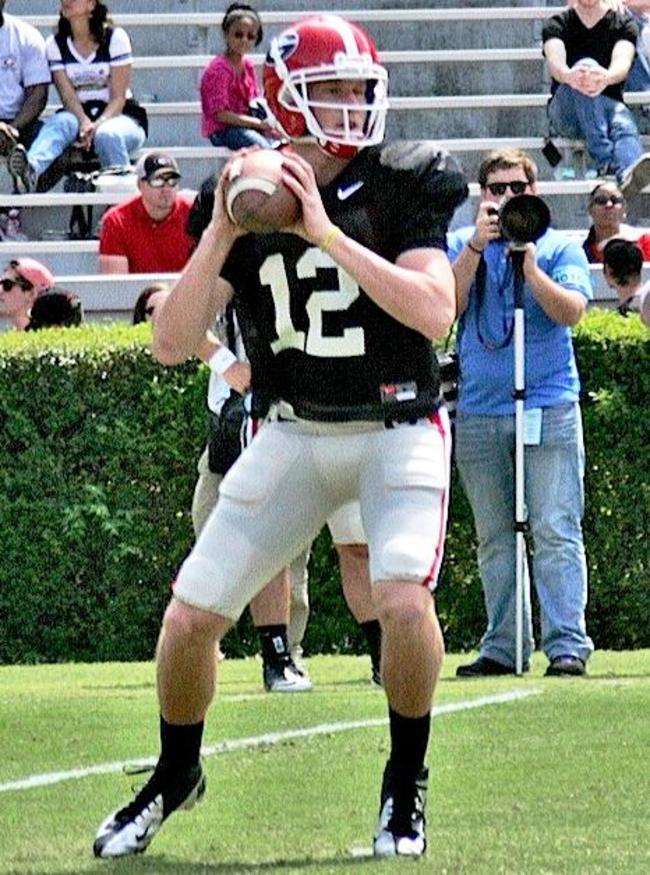 Photo credit: 247 Sports

Another quarterback who did not play up to par this week is true freshman Brice Ramsey.
In the scrimmage, Ramsey threw two interceptions and was 4-of-7 with 37 yards.
The following day during practice, Ramsey was having a difficult time leading his target during an 11-on-11 drill.
Ramsey looked sharp during spring practice, so him not performing during the first week of fall practice has not been a trend. Once he gets more reps and absorbs more information from offensive coordinator Mike Bobo, he will be a better player by the end of fall camp.
Keep Reading

Georgia Bulldogs Football: Like this team?