Ranking the Greatest Stars in PGA Championship History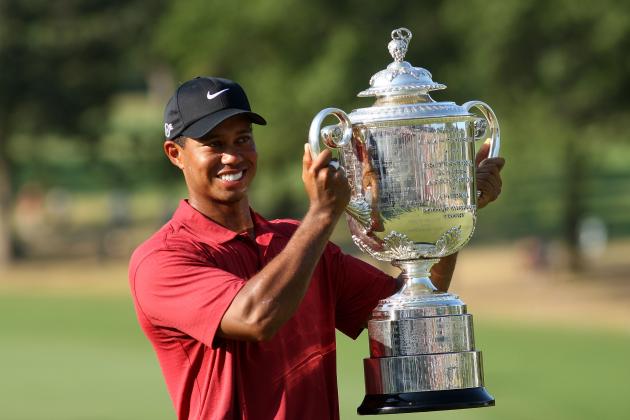 David Cannon/Getty Images

The PGA Championship annually attracts a field of formidable stars. Golfers from across the globe vie for eternal greatness against the best of their peers with a major title on the line.
From the Golden Bear's reign to Tiger's takeover, this tournament is where icons make their mark. From nearly a decade of competition, these players take their place among the elite.
Begin Slideshow

»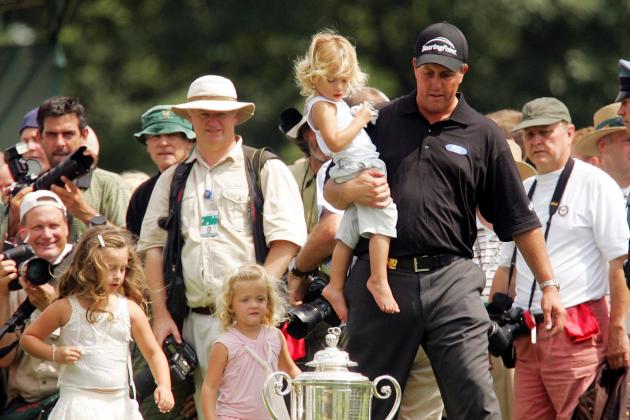 Ezra Shaw/Getty Images

Lefty is the only member of this list who doesn't own multiple PGA Championship victories, but his stardom and consistent contention is unquestionable. Phil Mickelson won the second major title of his career in 2005, when weather forced players to return to the course on a Monday.
He finished off the victory with a memorable final hole at Baltusrol.
Mickelson tapped a fairway plaque on No. 18 that commemorates Jack Nicklaus' incredible 1-iron shot at the 1967 U.S. Open. He followed with an approach left him a pitch and putt away from the title.
Another touching Mickelson family moment took center stage shortly after the conclusion of the tournament, as he admired the Wanamaker Trophy with his wife and three young daughters.
Mickelson has eight top-10 finishes at the PGA Championship.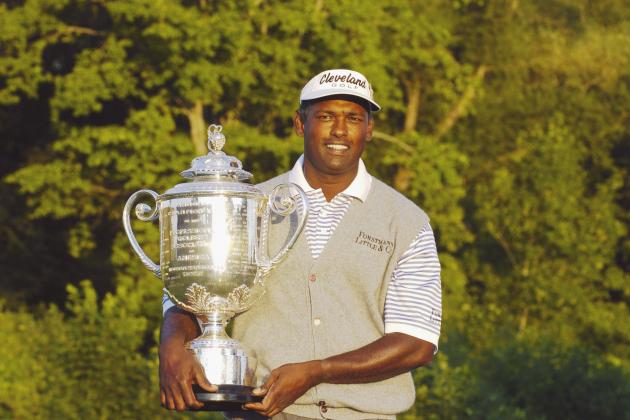 Al Messerschmidt/Getty Images

The "Big Fijian" enjoyed a tremendous PGA Championship career, placing among the top 10 six times in a 13-year span (1993-2005). Singh took home titles twice, finishing atop the leaderboard in 1998 and 2004.
He settled for two top-five finishes before edging out Steve Stricker by two strokes in '98 at Sahalee Country Club in Sammamish, Wash. It was his first of three major titles.
Singh's second PGA Championship required a dramatic playoff showdown with Chris DiMarco and Justin Leonard. The 2006 World Golf Hall of Fame inductee won with a birdie on the first extra hole.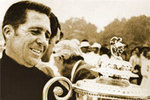 pga.com
The nine-time major winner finished among the top five at six PGA Championships, winning the Wanamaker Trophy in 1962 and 1972. Gary Player participated in 23 tournaments, placing among the top 10 on the leaderboard eight times.
The South African shot a third-round 67 at Oakland Hills to take control of the 1972 tournament. Player was inducted into the World Golf Hall of Fame two years later.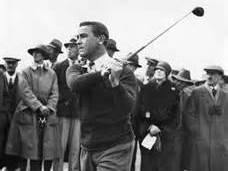 Gene Sarazen couldn't have asked for a more scintillating start to his career. "The Squire" was just 20 years old when he won the PGA Championship and U.S. Open in 1922.
He repeated as tournament champ in 1923. Sarazen picked up his third PGA Championship win in 1933, three years after finishing runner-up.
He was just the second player to win two PGA Championships and one of three men to earn three titles during the match play era.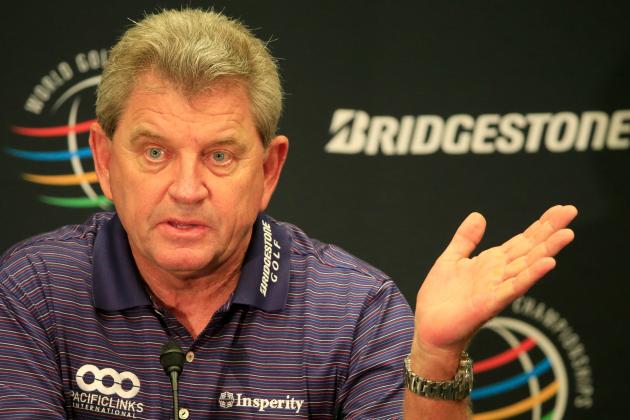 Sam Greenwood/Getty Images

The South African-Zimbabwean rose to No. 1 in the Official World Golf Ranking thanks in large part to a pair of PGA Championship victories. Nick Price picked up titles twice in a three-year span (1992 and 1994).
He flirted with a third title for the remainder of the decade, but couldn't quite get there. Price finished tied for eighth in 1996, tied for fourth in 1998 and fifth in 1999.
He cruised to his second PGA Championship victory, finishing six shots ahead of runner-up Corey Pavin in 1994.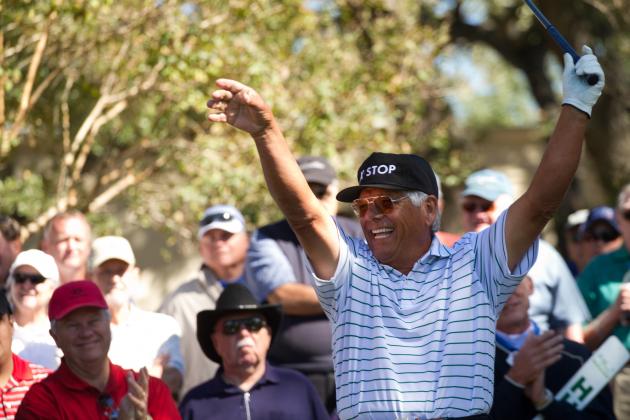 Darren Carroll/Getty Images

The man they call "Supermex" won his second PGA Championship title when he was 44 years old. Lee Trevino, a longtime fan favorite, prevailed at the 1984 tournament by six strokes.
It was Trevino's sixth and final major title, his first in 10 years. He also claimed victory at the 1974 PGA Championship, edging Jack Nicklaus by a single stroke.
Trevino was tournament runner-up in 1985. He is one of four men to own multiple U.S. Open, British Open and PGA Championship victories.
golfdigest.com
Ben Hogan compiled just 10 PGA Championship starts during his illustrious career but he certainly made the most of them. He won titles in 1946 and 1948.
Hogan placed among the tournament's top 10 finishers seven times. He landed in the top five at five PGA Championships.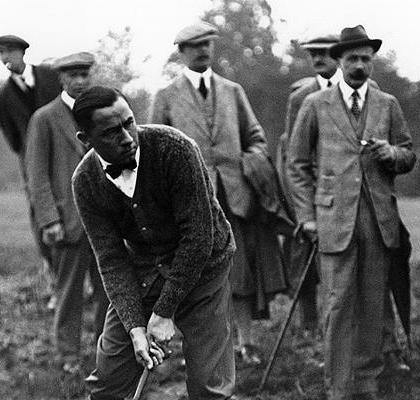 golf.com
Walter Hagen absolutely dominated PGA Championship action in its early years. The New York native claimed five victories, tied for most in tournament history, during match play competition.
He collected four consecutive wins between 1924-'27, a run that has yet to be duplicated by another player. When Hagen collected his fifth win he sat three victories ahead of everyone.
His trophy collection wouldn't be matched for another 53 years.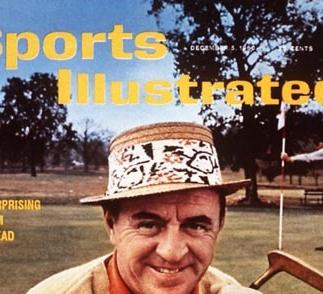 SI.com
Sam Snead refused to slow down in the late stages of his impressive PGA Tour career, leaving a lasting impression on the game. The seven-time major winner claimed three PGA Championship victories, each of them earned in the tournament's match play era.
"Slammin' Sammy" became the third man in event history to win three titles (1942, 1949 and 1951), settling for second place in both 1938 and 1940 before breaking through. The remarkable thing about Snead's PGA Championship legacy is how long it lasted.
He finished in the top 10 three times during his sixties, setting an unprecedented standard for older competitors.
Stuart Franklin/Getty Images

Tiger Woods rose to prominence with major championships and this event has been good to him in that regard. His four PGA Championship victories trail just Jack Nicklaus' five wins in the stroke play era.
Woods won his second career major title at the 1999 PGA Championship by one stroke over Sergio Garcia. He defended his crown in 2000 and earned a third major victory of the year by defeating Bob May in a playoff.
Woods tacked on two more titles to his total with PGA Championship wins in 2006 and 2007. He's been tournament runner-up twice and owns seven top-five finishes.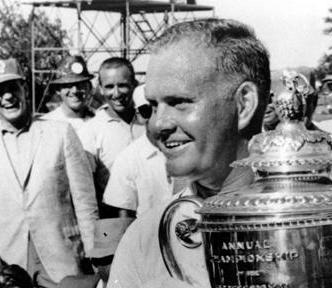 golf.com
Jack Nicklaus lands in our top spot, just as he would in so many other golf rankings. The Golden Bear is one of two players to win the PGA Championship five times and the only competitor to accomplish this feat since the tournament switched to stroke play in 1958.
He won the event in three different decades (1963, 1971, 1973, 1975 and 1980). His final PGA Championship victory and 17th major title established a record for largest margin of victory (seven shots) that stood for 32 years.
Oh, by the way; he was runner-up on four occasions, yet another tournament record.