Clint Dempsey's move from Tottenham Hotspur to the Seattle Sounders is a landmark moment in the history of Major League Soccer.
Generally considered several tiers below the top leagues in Europe, getting one of the top scorers in the Premier League was a huge moment in showcasing just how far MLS has come since its inception in 1993.
While Dempsey will be focused on getting Seattle to the MLS playoffs over the next few weeks, attention will inevitably focus on how his move back to the States will affect America's chances in the 2014 World Cup.
In short, it won't.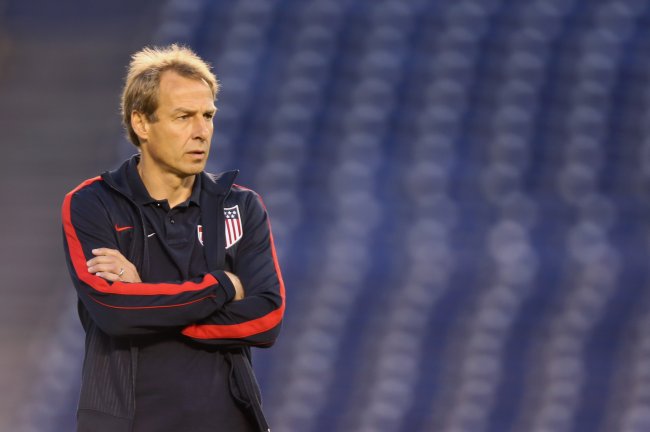 Jeff Gross/Getty Images
While Sports Illustrated's Grant Wahl is reporting that Dempsey won't be on Jurgen Klinsmann's roster for the upcoming friendly with Bosnia-Herzegovina, the 30-year-old is a no-brainer choice to travel to Brazil for next summer's gathering of the best football countries in the world.
Just one cap away from his 100th career U.S. appearance and behind only Landon Donovan in goals scored for the Red, White and Blue, Dempsey will be at the center of everything the U.S. can and will accomplish at the World Cup.
The biggest concern about Dempsey's return to MLS would appear to be the drop in talent. Playing a Premier League team in each of the last seven club seasons, Dempsey has been squaring off against some of the most talented players in the world on a weekly basis.
While he was already a top MLS scorer during the first part of his professional career, his game really blossomed in England. Dempsey had 12 goals for Tottenham in various competitions last season, and as noted by Associated Press writer Tim Booth, he's really in the prime of his career.
This tweet from ESPN's Stats & Info paints him as one of the best players in the Premier League over the past three seasons:
Over the last 3 seasons, only 6 EPL players scored more goals than Clint Dempsey. He's now a member of @SoundersFC in MLS.

— ESPN Stats & Info (@ESPNStatsInfo) August 3, 2013
Back on American soil, the issue is simple: Will a dip in overall talent make Dempsey's game less lethal before the World Cup?
Don't count on it.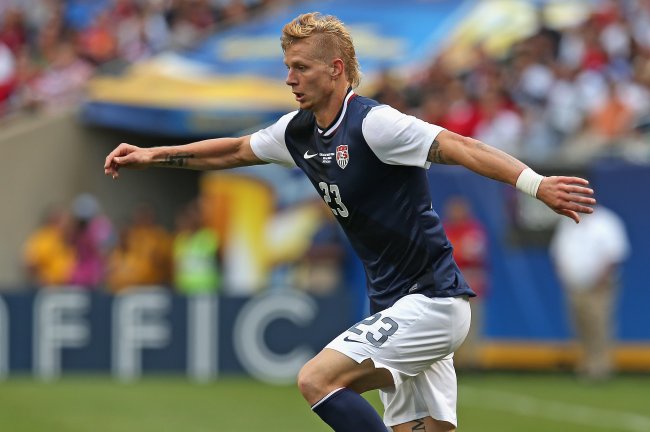 Jonathan Daniel/Getty Images
For starters, the past two months have arguably been the greatest in U.S. national team history.
Following their win in the Gold Cup final over Panama, FIFA moved the United States into the Top 20 of the world ranking. Now at No. 19, the Americans are ranked ahead of rival Mexico and in position to improve their standing even more when taking on Bosnia-Herzegovina (No. 13) next Wednesday.
Everything has been clicking for Klinsmann's men. Since losing to Belgium in a May, the Americans have ripped off 11 straight wins and have the inside track on winning their CONCACAF hexagonal group.
When looking at the active roster and potential call-ups, there's certainly a strong collection of players who will feature for the United States in Brazil that are currently playing abroad.
Brek Shea, Tim Howard, Brad Guzan, Geoff Cameron, Maurice Edu and Jozy Altidore are among those who will compete in the Premier League this season. Michael Bradley (AS Roma), DaMarcus Beasley (Puebla) and Alejandro Bedoya (Nantes) are others who will hone their skills in a non-MLS setting.
But for the most part, players who have helped the U.S. earn their 11-match winning streak and will make Klinsmann's final roster for Brazil play their club ball in America.
In fact, several already play for the Sounders.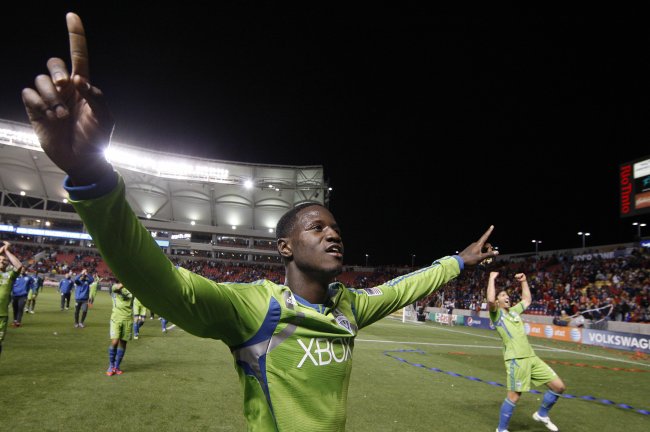 George Frey/Getty Images
As noted by Joshua Mayers of The Seattle Times, current Seattle players have scored two-thirds of the last 15 goals scored by the national team in World Cup qualifying:
Of the last 15 goals scored by the USMNT in World Cup qualifying, 10 have been scored by Sounders (Clint Dempsey, Eddie Johnson, Brad Evans)

— Joshua Mayers (@joshuamayers) August 2, 2013
When you factor in that Eddie Johnson will likely get the call from Klinsmann to join the Americans in Brazil, and Dempsey's move to Seattle could actually help the U.S. be more in sync than ever in their attempt to win the World Cup.
Matt Gaschk of SoundersFC.com profiled Dempsey and Johnson's relationship earlier in the week and noted that the two already have a special relationship:
Their celebratory salute is borne of a longstanding friendship that dates back to their days together on the U.S. U-20 National Team in 2002 and includes spells with the U.S. National Team, where the two have been roommates for most of their international careers, and at Fulham in the English Premier League.
With Dempsey, Johnson, Donovan, Altidore and Chris Wondolowski, the Americans are going to have a talented group of strikers to play with at the World Cup. All things considered, Klinsmann would have to consider having two of those strikers in the same place for a full season as an advantage.
Factor in their history together, Dempsey's desire to return to America to continue what should be the best years of his career and the surging U.S. national team, and all signs point to the move as being beneficial for a deep World Cup run.
How will Dempsey's move to MLS impact the U.S. national team?
For now, Dempsey's focus will be helping Seattle reach the MLS playoffs. Currently in seventh place in the Western Conference, the Sounders will need to scrap to best the likes of Vancouver and FC Dallas.
Don't let the lower recognition of MLS fool you—Dempsey and other U.S. stars who play in the league will be motivated, prepared and excited to represent their country in Brazil next summer.
In fact, it just might give the Americans an added edge.
Follow B/R's Ethan Grant (@DowntownEG) on Twitter.