The Most Shocking Rugby Jerseys Ever
Bleacher Report brings you the most shocking rugby jerseys of all time.
Rugby jerseys are at the heart of the sport's culture and lore.
One need only think about the famous green and gold of the South African Springboks, sported by Nelson Mandela at the 1995 World Cup and made world famous in the movie Invictus.
The legendary All Blacks of New Zealand turned their country into a blackened stadium of four million during the 2011 Rugby World Cup and Australians saw their continent invaded by thousands upon thousands of red-shirted British and Irish Lions fans this past summer.
But for every success story in rugby jersey design there exists a baffling failure, and the sport's biggest nations and clubs are not immune to these occasional blunders.
With that in mind, we at Bleacher Report will take you through a countdown of some of the biggest shockers in rugby jersey history.
These wrong-headed rugby wares are guaranteed to blow the mind of traditionalists but—like a horrific car wreck—it will be difficult to look away.
Buckle up!
Begin Slideshow

»
It was the summer of 1995 and Canadian rugby legend Al Charron had a problem.
The Canadian management had handed their star the task of presenting their new national team jersey to the media. This is a task that most players would relish, but for Charron, it was a day that would live in infamy.
I was shown the jersey, with it's terrible cascading multicoloured leafs about 10 minutes before facing the media at a press conference. I tried my best to sell the jersey to the reporters, but I could hardly disguise my shock and disappointment of what was to be our national team jersey.

The design of the jerseys was one thing, but the quality was just above that of wet paper towel. Months later, at the 1995 Rugby World Cup in South Africa, I picked up from the base of a scrum in our match against Australia only to see the tackle shred my jersey. The jersey literally was ripped right off me. As the play went on, I obviously had to keep playing and I was running around the field looking like an intruder who had just run on to the pitch!
The Australian match wasn't to be the only time during that year's World Cup that Charron, his team and their controversial new jerseys would be in the spotlight.
Just days later, Canada would meet the hosts from South Africa, in what was later to be known as The Battle of Boet Erasmus.
As you can plainly see from the video above, the Canadians - clearly upset at having to face one of the finest teams on the planet dressed as fruit salad - could no longer contain their frustration.
There is no proof that the awful Canadian jerseys caused The Battle of Boet Erasmus, but Al Charron isn't prepared to completely dismiss the idea.
I love Kooga's jersey that both our men and women wear today and, please, don't get me wrong, I would have worn anything to represent my country - and did.

Who knows, maybe it was the terrible collage of colours that made the Springboks want to fight.
For creating a rugby jersey so shocking that it may have actually provoked men to physical violence, Canada's 1995 World Cup shirt comes in at No. 5 on our Bleacher Report countdown.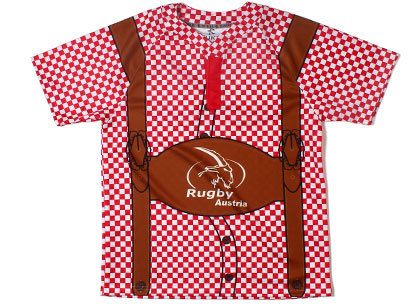 Quick, think of Austria!
What immediately comes to mind? Chocolates? Mountain Climbers? Yodeling? Classical Music?
Not images you'd generally associate with the sport of rugby.
Now, before I start to receive hate mail from from the enormous Austrian lobby, I want to point something out.
There are lots of nations out there that have done a great job of glossing over some of their cultural stereotypes when designing rugby shirts.
Did Wales dress their rugby stars as sheep?
Did New Zealand send Richie McCaw on to the pitch dressed as a hobbit?
No.
When the Italians put their famously fashion-sensitive minds together, they didn't take their rugby shirt inspiration from runway models; like the All Blacks, they went with a solid colour and called their team the Azzurri—the light blues.
Folks, the moral of the story is, when in doubt, choose a solid colour...any colour!
Unless this group of Austrian athletes plays rugby on the Rainerhorn, this suspender-mounted monstrosity should return to the horror shop of its birth.
For embracing almost every conceivable Austrian stereotype when constructing their national jersey, this appalling effort comes in at number four on our Bleacher Report countdown.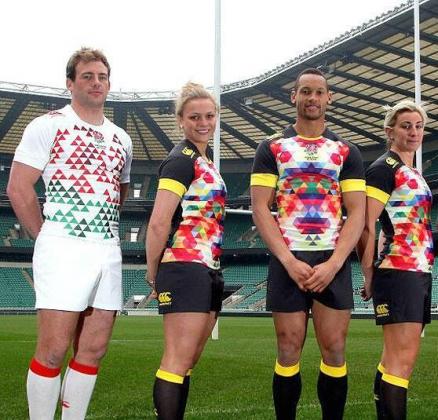 Whether in rugby fashion or in business, the age-old saying holds true: If it ain't broke don't fix it.
Something England should have remembered when they looked to step away from their traditionally white Sevens shirts.
When trying to find inspiration for designing new rugby kit, disco balls seldom make a good choice.
Players on the IRB Sevens series generally shoot for elusiveness. These glittery garments have all the subtlety of a giant malfunctioning traffic light.
On the bright side—which in this case is pretty much every side—England's players should be well-prepared should they ever decide to compete on Dancing with the Stars.
For creating Sevens kits more at home in the dance club than the rugby club, England comes in at number three on our Bleacher Report ranking of rugby jersey wrongs.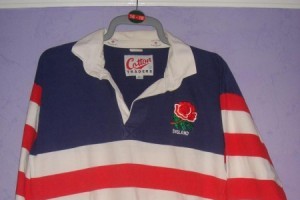 This 1993 effort is pure scandal. Who would be so bold?
Oh Britannia, will you never learn?
Have you ever listened to "My Country, 'Tis of Thee" and then "God Save The Queen"?
Same song.
Yes England, America has occasionally taken the best of your offerings and used them for its own star-spangled purposes.
But what, may I ask, is this?
Surely there can be no one more offended by this homage to America's brilliant banner than English rugby fans themselves.
Yes, 1993 was the year of Whitney Houston's famous hit "I Will Always Love You", but was that really worthy of...well..whatever this is?
Not one more word about this blast from English rugby's very forgettable fashion past.
We all know where this laundry list is ending.
Best get on with it.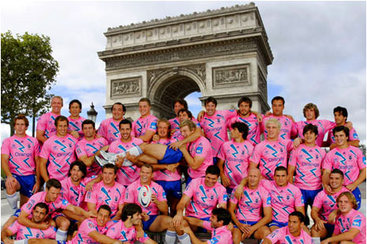 Stade Francais were always going to top this ranking.
Stade Francais, the darlings of Parisian rugby fans, the chartreuse-shirted Top 14 representatives of the French capital.
They may be the only team in world rugby that was purposefully trying to win this kind of competition.
So, its not simply enough to crown them kings of ridiculous rugby wear and move on.
To get the inside story, we sat down with former Stade Francais star lock Mike James, who gave us a firsthand look at what it was like to suit up for the Parisians.
Stade Francais weren't always a force in the Top 14. They were playing in the French third division, when they were bought by French media mogul Max Guazzini. Under the new ownership, the team rapidly returned to the French Premiership and won the Championship final in 1998. I joined the club in the year 2000.

Guazzini decided he wanted to club to play in a new jersey in every year. Eventually, he decided that one of our main logos would be be three lightning bolts, which basically had us running around the field looking like supermen.
Most of the teams in the French Top 14 are located far from the capital in Paris, and fans in rural France need no excuse to hate Parisian clubs. So it was with some trepidation that James and his teammates took part in Guazzini's next experiment.
Trying to create a marketable and identifiable jersey, the flashy club owner decided to send his players on the road, dressed completely in pink. James reminisced on some his more interesting travels:
French rugby is about winning your home games. Fans are fiercely supportive of their clubs, especially out in the rural provinces.

We were sent out on the pitch for our away games dressed completely in pink, sometimes with only chicken wire between us and the supporters from our opposing clubs.

Fortunately, at that time, we had a really powerful squad, so quite often we were beating teams up on the field. We were just glad no one got beat up off of it.
The club has gone on to purposefully produce some of the most shocking and controversial rugby shirts of all time. Guazzini's original 2005 model sold 20,000 jerseys, and sales have only climbed since then.
Only in Paris, my friends. Only in Paris.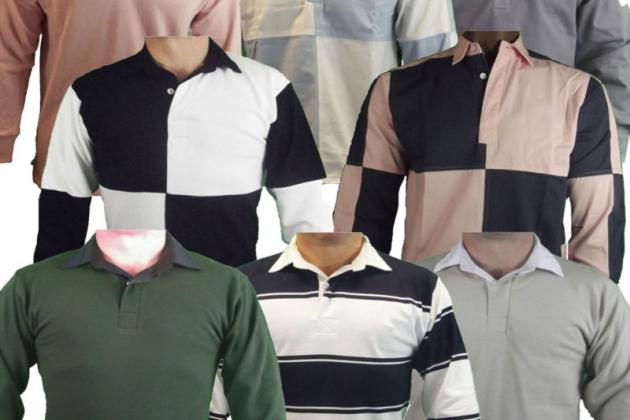 Remember when rugby shirts were dull and boring?
Our Bleacher Report countdown of rugby's worst fashion offenders may be over, but the discussion need not be!
Bleacher Report is your home for great debate as well as all the amazing sports news you can handle.
Use the forum below to let us know your call on the most shocking jersey of all time. It's your turn to be the fashion police; we'll look forward to seeing your most wanted.


Jeff Hull is a Featured Columnist for Bleacher Report
Unless otherwise stated, all quoted material was obtained first-hand.