Philadelphia 76ers Schedule 2013-14: Most Anticipated Games of Regular Season
Former teammates reunite in Philadelphia, and look to lead them into the future.
Nick Laham/Getty Images
The Philadelphia 76ers will be going into the 2013-14 NBA regular season without a healthy roster, but it doesn't detract from some of their most anticipated games.
In fact, it almost makes the games more exciting.
Nerlens Noel is slated to be one of the key members of Philadelphia's future, but his return from injury will be months away from the season-opener. You might be asking why that makes everything more exciting?
It's simply because the Sixers are competing for a bottom spot in the league. Not having their top players should lead to more losses.
With that being said, here's a look at Philadelphia's most anticipated games and some reasons to be excited by them.
October 30, 2013 vs. Miami Heat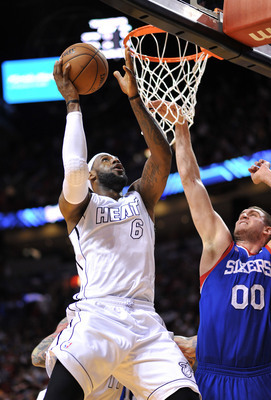 The 2013 NBA champions play their first back-to-back in Philadelphia.
Steve Mitchell-USA TODAY Sports
Why It's Important: Sixers fans won't have to wait long to see the 2013 NBA champions as the Miami Heat travel to Philadelphia for Philly's season-opener.
It's often said that there are two ways to get into a pool. You can dip your toe in and test the temperature, or you can just jump in and adjust to the water as quickly as possible.
If we look at the NBA season as a pool, then the Sixers are going to have to jump into it and hope for the best as they take on Miami in the first game of the season.
The most optimistic of Sixers fans will say there's a chance for Philly to upset the Heat in this one. Miami opens their season at home against the Chicago Bulls on October 29, then will have to travel to Philadelphia for the second game of a back-to-back. Fatigue could set in and give the Sixers a shot to steal an unlikely win right?
Absolutely not.
There's little-to-no chance of fatigue to set in for the Heat as it's only their second game of the season. In fact, there is probably a higher chance of Philadelphia coming out and having to chip off a layer of rust.
This is only the first of an 82-game season, so you can't expect the Sixers to be in top form. Miami is not only coming off of a championship, but its core is also largely unchanged. An inexperienced team against a veteran squad looking for their third straight trophy has a predictable ending.
Luckily, Sixers fans will be able to watch their team take on a fantastic squad in the season-opener. That'll certainly be fun to watch.
Who Will Win: This is a joke right? Miami takes an easy one here.
November 1, 2013 at Washington Wizards
It's time for Carter-Williams to know the kind of athletes he'll be facing.
Bruce Bennett/Getty Images
Why It's Important: Michael Carter-Williams will get his "Welcome to the NBA" moment against John Wall.
Barring an injury, Carter-Williams is a lock to be a starter as he gets his rookie season underway. There were strong concerns about his shooting coming out of college, but some believed he had the most upside out of the point guards in his draft class. A 6' 6" point guard with amazing court vision doesn't come around often.
Selecting him with the No. 11 pick in the 2013 draft only made sense.
Carter-Williams is probably hoping for a relatively smooth first year, but opposing teams' elite point guards will do their best to get in the way of that. He'll end up facing his first one in Wall as Philadelphia takes on the Washington Wizards in their second game.
It's important to note that Philly's success will come more out of growth than winning games. The wins will only come if the team ends up growing.
With that being said, it'll be interesting to see how Carter-Williams responds to playing against exceptional athleticism. Will he crumble and get run over all game, or will he quickly prove his own skill level and physical tools?
Carter-Williams will most likely end up struggling, seeing as how this is only Philadelphia's second game. Still though, playing against a guy like Wall should only benefit the Sixers' young point guard in the future.
Who Will Win: Washington could be competing for one of the final playoff spots by year's end. Expect them to take care of business against Philadelphia.
November 29, 2013 vs. New Orleans Pelicans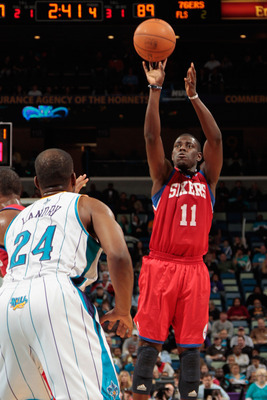 Holiday's first trip back to Philly in a Pelicans jersey
Chris Graythen/Getty Images
Why It's Important: Jrue Holiday's first trip back to Philadelphia.
Holiday's first trip back to Philly after being surprisingly traded to the New Orleans Pelicans should be a relatively positive experience.
It's hard not to think of anything but good thoughts when you look at Holiday's time with the Sixers. We saw him go from the youngest player in the league during his rookie year to one of the top young point guards in the NBA. His growth on the court was obvious, but it was the leadership role he managed to acquire that ended up being his biggest strength.
There were a lot of questions about Philadelphia's roster during the 2012-13 season. Jrue Holiday wasn't a part of any of them, though.
That statement is one of the reasons why trading him was such a shock. The majority of people were initially outraged with moving him until they began to see what new general manager Sam Hinkie was going for. Hinkie was looking to build a team from the ground up with young potential, but he could only do so by getting rid of Holiday.
Regardless of what side of the trade you were on, one thing is for sure: Holiday doesn't deserve any blame for getting moved.
His return to Philadelphia should be a warm, yet bittersweet one. A glimpse of what the Sixers used to be.
Who Will Win: The Pelicans should be right around a .500 record come seasons end. Philly won't get in the way of that as Holiday and New Orleans come out with a win.
February 18, 2014 vs. Cleveland Cavaliers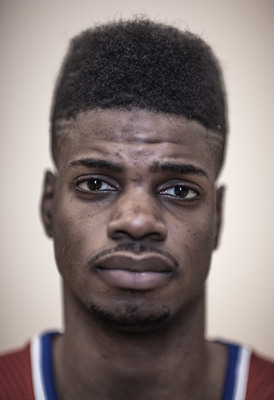 Could this be Noel's first game?
Nick Laham/Getty Images
Why It's Important: Will this be Nerlens Noel's first game back?
Noel has said how he hopes to be back around Christmas time, but is that really in his best interest? We can all appreciate how he wants to return as soon as possible. He slipped in the draft because of his torn ACL, it only makes sense that he wants to prove people wrong for passing on him.
A speedy recovery is great and all, but it means nothing if the player isn't truly 100 percent ready to return.
The Sixers know the kind of player Noel could turn into. A franchise-changing center is incredibly hard to come by. It's in Philadelphia's best interest to rest him until he is both mentally and physically ready to play on his knee.
Philly's first game after the All-Star break is against the Cleveland Cavaliers, and it could be the perfect time for Noel to make his return. Playing the game on February 18, 2014 means that it will have been 371 days since Noel tore his left ACL.
That is over a year of recovery time, which puts him right on schedule.
Playing him near Christmas or at the start of the New Year just doesn't make sense. The Sixers need to give him a full year to recover or choose to sit him for the entire season.
If they decide to play him, his return date should be somewhere around when Cleveland comes to town.
And if that isn't entertaining enough, a possibly healthy Andrew Bynum playing in Philadelphia should be more than worth the price of admission.
Who Will Win: Cleveland will win by at least 12 points if they are healthy going into the game.
April 16, 2014 at Miami Heat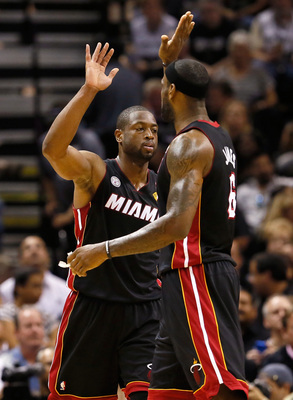 Philly's last game could dictate it's lottery odds.
Kevin C. Cox/Getty Images
Why It's Important: The last game of the season will let the Sixers know if trying to lose the majority of their games was a good idea.
This is what it's all about. The moment the Sixers have been waiting for will have finally arrived after they play the Miami Heat in the last game of the season.
That sounded way too dramatic didn't it?
For real though, hoping to tank for a season won't be too useful if they don't end up tanking. It's so weird to say that finishing as one of the three worst teams in the NBA will do their season justice, but it's the truth. The goal is to get a top draft pick.
It can't and won't happen unless Philly free-falls all year.
Playing Miami will hopefully be another automatic loss. The whole automatic thing is in jeopardy, though, if the Heat already have the East locked up and decide to rest their players.
The key is how it is Philadelphia's last game. We'll know where the Sixers stand among the rest of the league at this time.
Hopefully it is somewhere near the bottom.
Who Will Win: A loss would be ideal, but we'll assume Miami is resting their players for the playoffs. Philadelphia steals the last game of the season.
Keep Reading

Philadelphia 76ers: Like this team?