PGA Championship 2013 Results: Biggest Winners and Losers from Day 1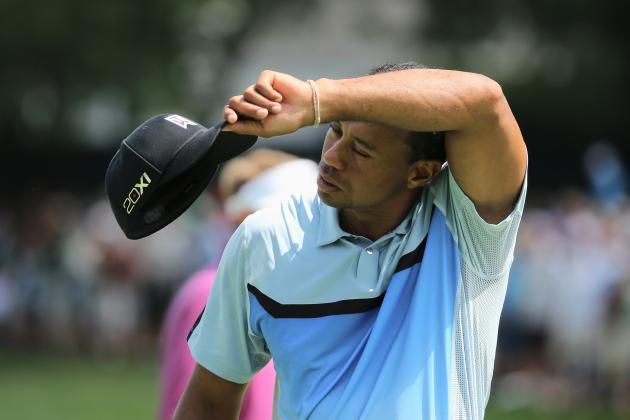 Rob Carr/Getty Images

The best players in the world showed up Thursday at the PGA Championship at Oak Hill, and they did not disappoint.
That is, unless their names are Tiger Woods or Phil Mickelson, both of whom had poor performances.
Oak Hill has the requisite narrow fairways, bunkered approaches and rolling greens to make it a tough go. But softened by an overnight rain, it didn't present the struggles of the previous three majors of the year. Almost 25 percent of the 157 players in the field posted scores below par.
This was supposed to be a match-play showdown between Tiger and Phil, who had been playing their best golf leading up to the event. As of now, they are both well behind the leaders.
Meanwhile, Rory McIlroy reemerged from his funk, some lesser-known pros surged to the top, and two previous major winners took the lead.
Let's take a look at the winners and losers at Oak Hill.
Begin Slideshow

»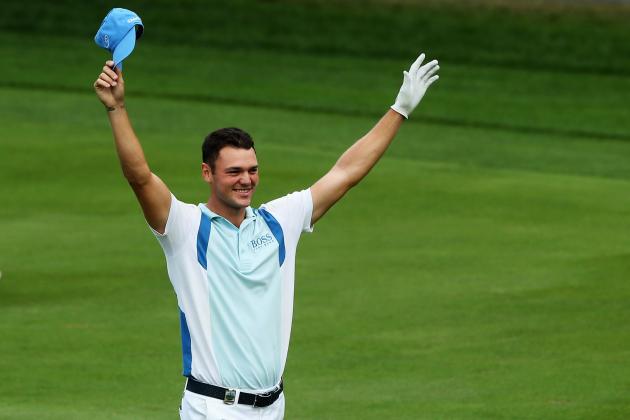 Andrew Redington/Getty Images

Martin Kaymer was at one-under when he made the shot of the day, sinking an eagle from the fairway on the 13th hole.
He followed that with a birdie and began looking like the player who won the PGA Championship in 2010 again.
Kaymer has had a somewhat lackluster year with just three top-10 finishes on the PGA tour to his name, so this is obviously a nice way to make a comeback. Ranked 35th in the world, he is comfortable at this venue and looks to contend over the weekend.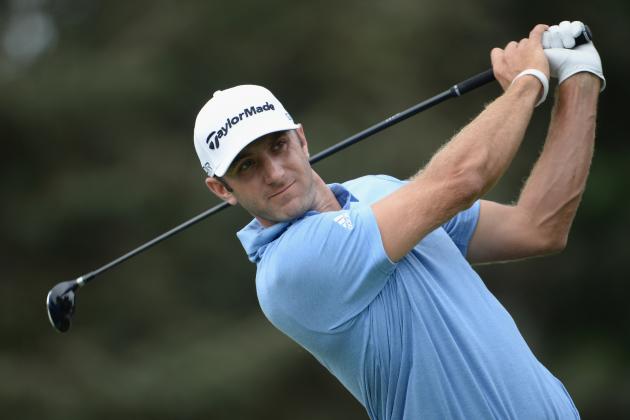 Stuart Franklin/Getty Images

There are always high hopes for the athletic big-hitter from South Carolina, but 29-year-old Dustin Johnson just cannot seem to live up to them.
His two-over 72 places him seven back of the leaders and, while not monumentally bad on the first day, he has some work to do.
Johnson has had a rocky season with signs of brilliance most recently at the RCA Canadian Open, where he finished tied for second. But he has been pretty far off the pace at the majors. It remains to be seen if he can make a run at Oak Hill.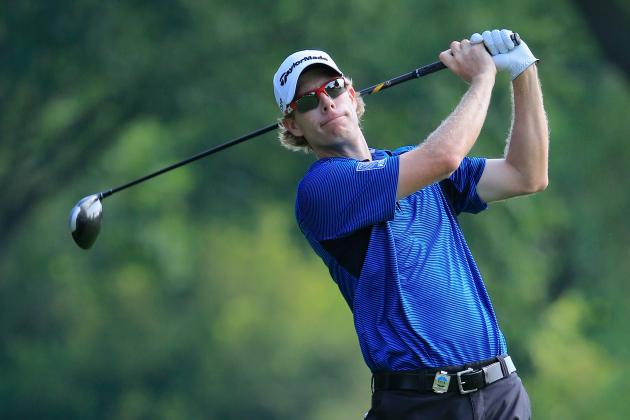 Sam Greenwood/Getty Images

In case you didn't know, David Hearn hails from Canada, has been on the PGA Tour since 2002 and made headlines recently when he was in a playoff in the John Deere Classic with Jordan Spieth and Zach Johnson.
Spieth stole the show with a victory, but Hearn acquitted himself nicely. His tie for second was his best finish as a pro.
Hearn actually ranks first in greens in regulation when hitting between 100 and 125 yards and is 14th in strokes gained putting, so he knows how to score.
Could he be this year's Shaun Micheel, the surprise winner of the 2003 PGA Championship?
Stay tuned.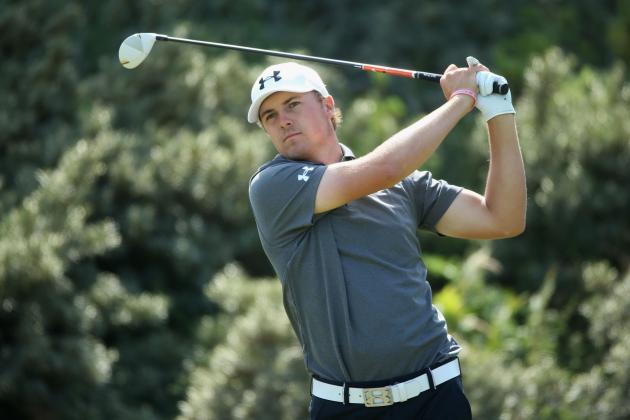 Andrew Redington/Getty Images

Twenty-year-old Jordan Spieth was one of the dark horses going into play. He's riding high on a year that includes six top-10 finishes and 10 top-25 finishes in 19 events.
He is also the youngest to win a PGA event in 82 years.
Throughout the year, he has been driving the ball accurately (ranked 21st) and scoring well (15th), which should have helped him at Oak Hill.
But he has to have a big turnaround Friday in order to play on the weekend.
Stuart Franklin/Getty Images

Jim Furyk was the beneficiary of overnight rain, which led him to the top of the leaderboard before half of the field had teed off.
It may be hard to believe, but Furyk has not won a PGA event in three years. And it has been 10 years since his U.S. Open triumph.
At 43, Furyk has seemingly not lost a step. He is the same exceedingly straight hitter with the wacky swing who gets the ball up and down with regularity.
He hasn't played too well at majors this year, missing the cut at both the British Open and U.S. Open, but he has the uncanny ability to shape shots, which should be a plus at Oak Hill.
It is not a surprise to see him at the top, and he is not the type of guy who will be far from it throughout the tournament.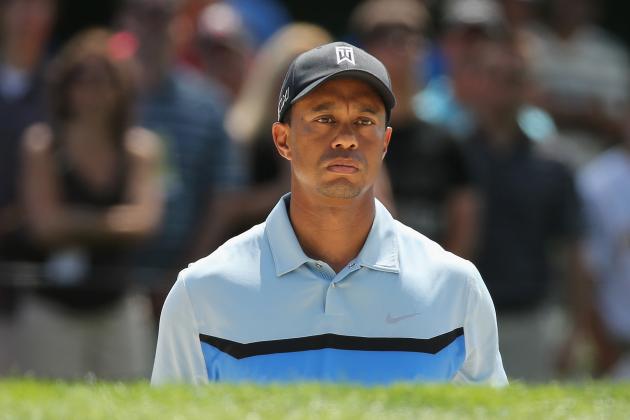 Rob Carr/Getty Images

This is not the way it was supposed to go.
Tiger had scorched the field in last week's Bridgestone Invitational, beating many of the same players at Oak Hill by more than seven strokes.
It looked like he would pick up where he left off by posting a two-under 33 after his first nine.
Yet a bogey on the par-five fourth hole and a double bogey on the last hole of the day left Tiger at 71 and six strokes behind the leaders.
With a bunch of top-ranked players ahead of him, Tiger may wish he had reserved that 61 he shot at Firestone for this week.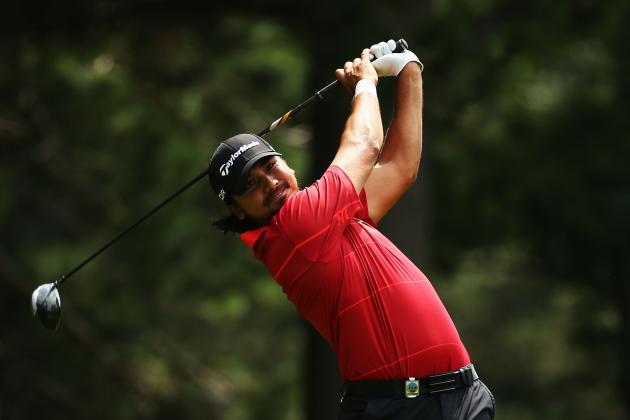 Streeter Lecka/Getty Images

There's a logjam at three-under. It includes some of the best players in the world and a few unfamiliar faces.
Matt Kuchar, Robert Garrigus, Paul Casey, Marcus Fraser, Scott Piercy and Jason Day are all just two back of the leader and primed to compete for the Wanamaker Trophy. Kuchar, ranked sixth in the world, is on the list of best players who have yet to win a major.
Day has had great success at majors, most recently when he tied for second at the U.S. Open.
Piercy is a vet who won the Canadian Open last year but missed the cuts at the British Open and U.S. Open.
The 35-year-old Garrigus averages over 300 yards off the tee and is using his length to his advantage so far.
The little-known Australian Fraser has won numerous times on the foreign circuit but is relatively new to the U.S. tour.
These pros will have a fighting chance at the Wanamaker if they can keep up their great play.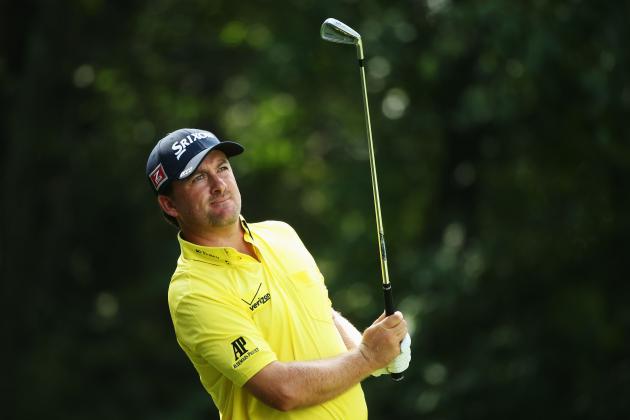 Andrew Redington/Getty Images

Graeme McDowell won the RBC Open this year, but after that, it has all been downhill, including two missed cuts and no finish better than 40th.
While even par may be a decent score, McDowell is far better than a decent player.
Oak Hill sets up nicely for his ability to hit fairways (he ranks 18th in driving accuracy), but he has had trouble hitting greens in regulation, where he ranks 153rd.
He'll have to do way better than that if he intends to move up the leaderboard.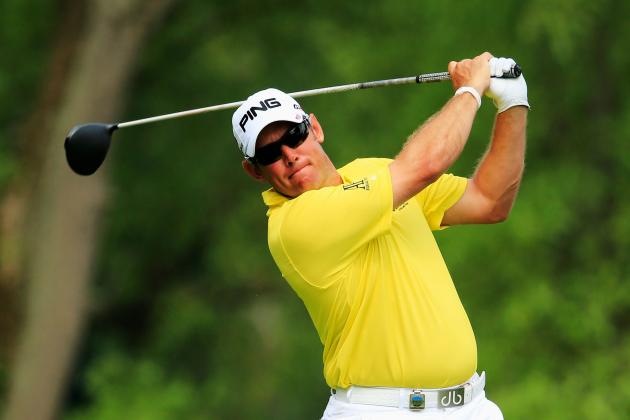 Sam Greenwood/Getty Images

Once again Lee Westwood is making a run at his first major title. He could not have begun any better than with his bogey-free 66 on opening day.
We have seen this before, most recently at Muirfield, where he was in the lead going into the last day. If anything, Westwood is ready for the pressure that awaits him this weekend.
It would be both gut-wrenching and fantastic to see him atop the leaderboard on Sunday.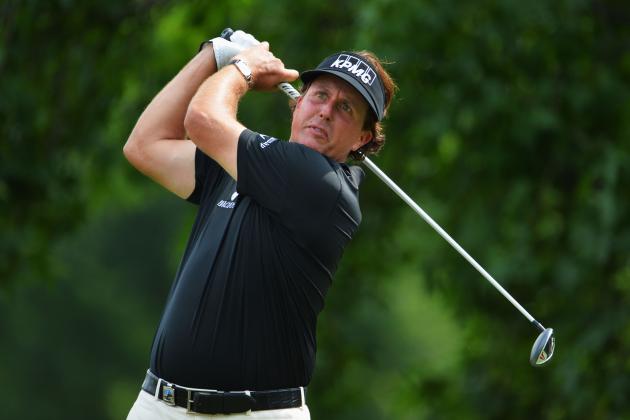 Stuart Franklin/Getty Images

Let's call it classic Phil.
He began the day horribly with a bogey and a double, the latter coming on the par-five fourth hole after he knocked his first drive out of bounds.
And, as he meandered through the first nine holes, posting a two-over 37, it looked like this just wasn't Phil's day, and maybe not even his tournament.
He then went on to post three birdies on the back nine, only to give it all back with a double on No. 18.
It was Phil at his best, except that he had those lousy holes in the beginning and end. Not a total loss, but a loss nonetheless.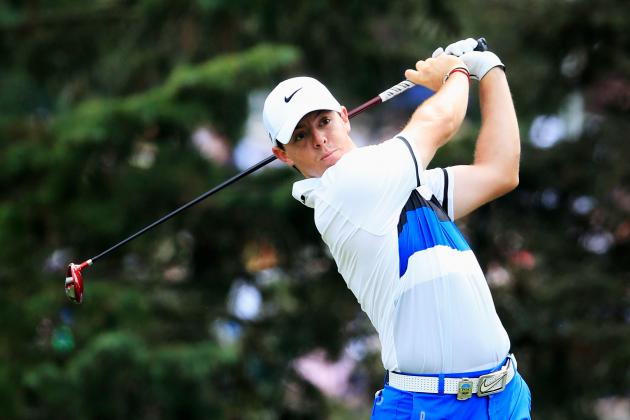 Sam Greenwood/Getty Images

The fact that Rory McIlroy is below par at the conclusion of the first day is big news. And a very positive step for the young Northern Irishman who has had such a rocky year.
Rory started off beautifully, with birdies on three of his first four holes. It looked like he was going to tear through the course.
But, as he has done so often this year, he could not sustain his momentum. His card included four bogeys on the day.
Still, he looked far more confident and at ease, and could easily make a run for the top of the board as the week goes on.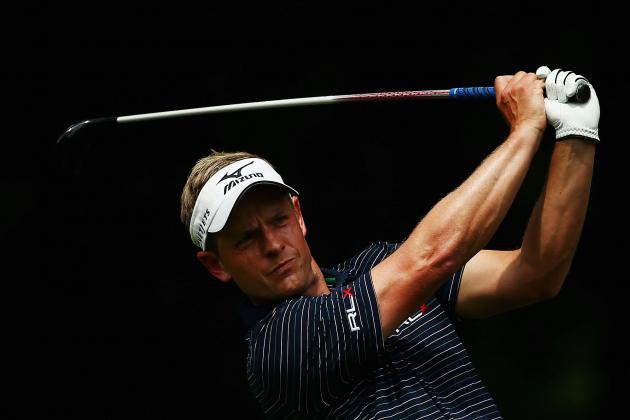 Streeter Lecka/Getty Images

Luke Donald has an excellent opportunity to take his first major victory, yet once again, he is not playing up to his ability.
Donald's best appearance this year has been at Merion, where it looked as if he would make a solid run at the U.S Open title. Instead, he blew up on the last day and fell back into a tie for eighth place.
Thursday's round showed little fire. He bounced around the course with two birdies and three bogeys.
A less-than-stellar performance from the No. 9 player in the world.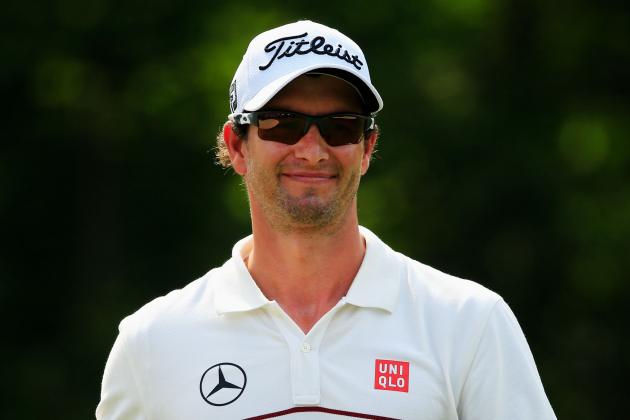 Sam Greenwood/Getty Images

At one point in his round, Adam Scott birdied five straight holes.
That is just about all you need to know about the co-leader at the end of the first round.
The Aussie played perfect tee-to-green and set himself up well for numerous birdie opportunities. This year's Masters winner seems primed for the PGA Championship victory, and it looks like someone will have to take it from him.