Position-by-Position Breakdown of New York Mets' Standout Prospects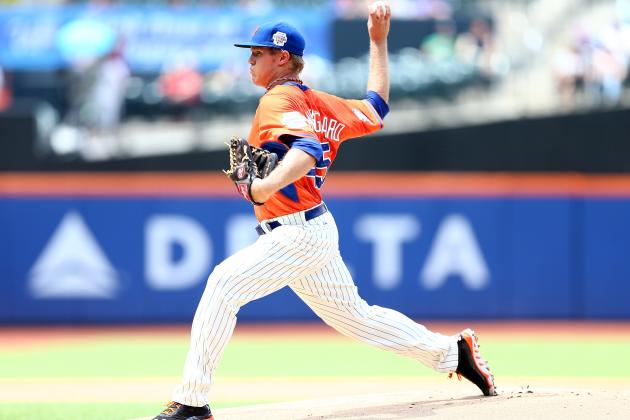 Elsa/Getty Images

Terry Collins has the New York Mets playing decent baseball as of late, but there is no denying that the excitement toward the team lies in the stock of prospects that general manager Sandy Alderson presides over.
Youthful arms lead the way, as scouts all over baseball have been talking about what the Mets fanbase has in store once all the arms fully develop.
Positional prospects, on the other hand, are somewhat of a weak point for the organization. There just are not enough impact bats scattered throughout the farm system to home grow an offense.
However, prospects can be used as pawns, and a World Series contender can be built on pitching. Just ask the San Francisco Giants.
Though most will never produce meaningful results for the Mets, there is no shortage of players to evaluate.
The following is a position-by-position breakdown of the Mets standout prospects.
Begin Slideshow

»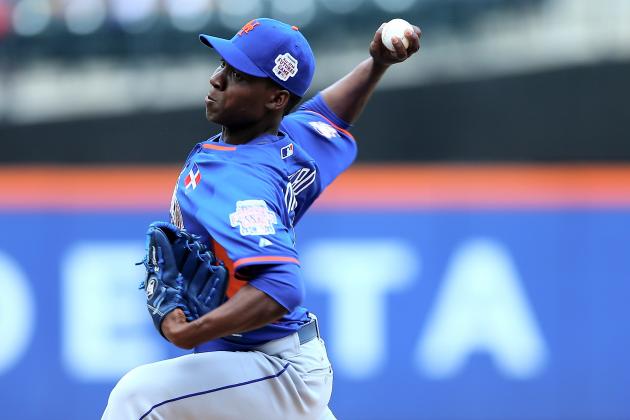 Elsa/Getty Images

The strength of the New York Mets farm system and organization as a whole is in the young pitching prospects who are lined up to emerge over the next few seasons.
Noah Syndergaard has been the franchise's top prospect since Zack Wheeler was called up in June, and has made substantial progress since he and Travis d'Arnaud were acquired for R.A. Dickey.
He put together a very impressive stat line with High-A St. Lucie, and has been even better (1.98 ERA, 1.0 WHIP, 10.8 K/9) since his promotion to Double-A Binghamton.
In his last two starts, Syndergaard has allowed just one run and three hits combined.
Rafael Montero is the less talked about starting pitcher of the 2013 MLB Futures Game, but he has great stuff as well. He has been a bit less effective since being promoted to Triple-A, which could be a result of Las Vegas' propensity to help out hitters.
The right-hander is not yet 23. He still has much room to improve, but he will likely be in the majors at some point next season.
Another name that Mets fans have been hearing recently is Jack Leathersich, the hard thrower who does not have a clue as to where the ball will end up at times. He has struck out 32 batters in 19.2 innings in Las Vegas—after striking out 55 in 29.1 in Double-A—but he has walked nearly a batter per inning with the 51s.
If he can hone his command, he will be a valuable bullpen piece in the future.
Other arms garnering praise around the organization include the just-returned Michael Fulmer, Hansel Robles, Domingo Tapia and Gabrial Ynoa. None were born before 1990.
Jeurys Familia (elbow surgery), Luis Mateo (elbow injury) and Cory Mazzoni (leg injury) are all promising, but currently are on the shelf.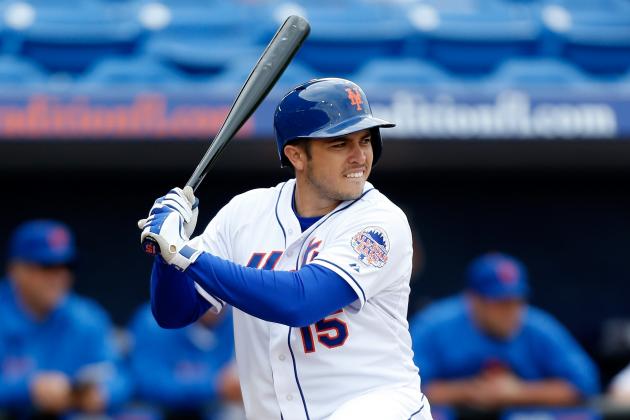 Chris Trotman/Getty Images

Travis d'Arnaud is obviously the main attraction as far as New York Mets catching prospects go, and everyone associated with the franchise has been eager to see what the Long Beach, California native can do at the big league level.
That clearly has not happened yet. Fortunately the Mets are getting production out of John Buck while d'Arnaud tries to get his swing back after missing over three months of the season due to a broken foot.
His numbers do not look great since his returned, but he has hit safely in 10 of his last 12 games. After 12-plus weeks of not being able to do much baseball related activity, d'Arnaud should be on track to have a cup of coffee in the majors in September.
Kevin Plawecki, who is two years d'Arnaud's junior, has been the one tearing it up this season. With Savannah (A-ball) and High-A St. Lucie, the Mets' first-round pick of the 2012 MLB Draft has hit a combined .315/.401/.464.
If both of these guys pan out, somebody is going to have to learn to play a new position. That is a problem the Mets would not complain about.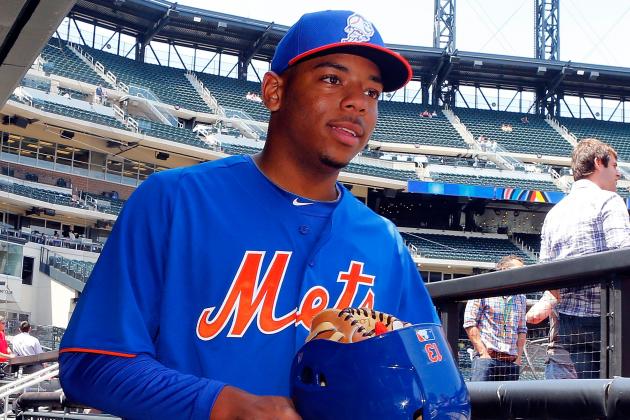 Jim McIsaac/Getty Images

Ike Davis is so involved in the future success of the New York Mets because there are not any major-league ready first basemen in the minor league system.
Dominic Smith, the Mets' first pick in the 2013 MLB Draft, is only 18 years old, and although he is praised for his work ethic and maturity, he will not be ready for another three to five years.
By most accounts, the first baseman is the real deal. He is just over a month into his professional career, so making an evaluation based on his small sample size would not be the best idea.
He is a big lefty who is expected to hit for both power and average, three important attributes of a great first baseman.
Another first baseman you might want to keep your eye on is Jayce Boyd, a 6'3, 185-pound right-handed hitter out of Florida State University.
Over 387 at-bats this season in A-ball and High-A, Boyd has amassed a line of .333/.414/.478 with nine homers and 73 RBI with a one-to-one strikeout-to-walk ratio.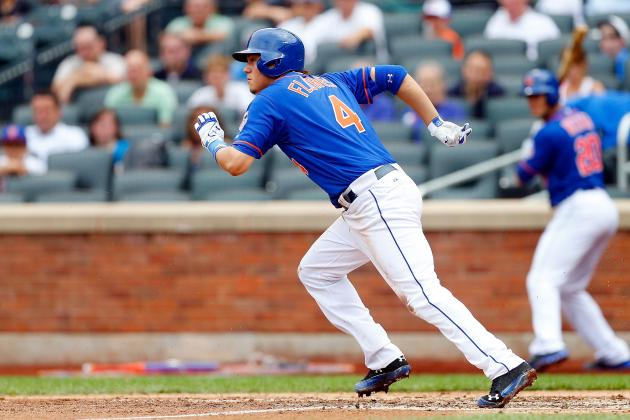 Jim McIsaac/Getty Images

As far as the eye can see, the New York Mets crop of prospects and second base is barren and desolate, without much hope for improvement.
The recently promoted Wilmer Flores is the only second baseman in the organization who is much of a prospect, but he will probably be forced to learn a new position in the early stages of his major league career.
That being said, Flores has primarily played second base this season. That may be indicative of what Sandy Alderson has planned for Daniel Murphy, or it might just be where the general manager feels Flores is best.
Flores is simply too large to play shortstop—his natural position where he played prior to 2012 before he outgrew it.
Will Flores be forced to learn first base when/if the Mets give up on Ike Davis? Will the Mets give up on Ike Davis?
He will not be playing in the outfield, nor at third base. That leaves the right side of the infield as the only logical options.
Flores is here, and hopefully here to stay beyond the final two months of 2013. A decision will need to be made prior to the start of next season.
Thank goodness Sandy Alderson was able to lock up David Wright for the better part of the next decade, because third base is almost as dry as second base.
Fortunately for the Mets, the hot corner is hardly a position of need, nor will it be until Wright's contract expires.
One of the more intriguing third base prospects in the organization is Aderlin Rodriguez, a 6'3", 210-pound slugger from the Dominican Republic. He will turn 22 in November and already has considerable power worthy of a few extra looks.
He hit 24 homers to go with 83 RBI in 2012 in A-ball and High-A. Less than halfway through the 2013 season, the Mets' A-Rod has slugged nine home runs and driven in 41. His .260 average is not too bad either.
Unless Zach Lutz is your idea of a prospect, Rodriguez is about it when it comes to Mets minor league third basemen worth watching.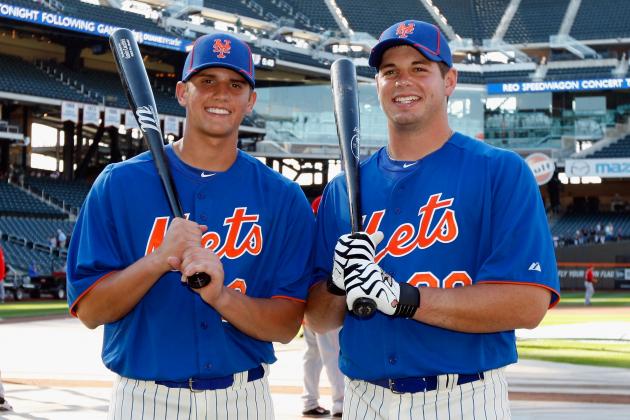 Mike Stobe/Getty Images
Cecchini, left
Starting with Omar Quintanilla on the major league roster and Ruben Tejada fighting to get back on it, the Mets system is deprived of explosive talent at shortstop.
Wilfredo Tovar's name has been bouncing around the Mets blog-o-sphere lately thanks to his two-homer game on Wednesday. The 21-year-old Venezuelan signed with the Mets when he was 16, but is not doing anything out of the ordinary in Binghamton.
He has, however, hit .308 since July 7.
Gavin Cecchini, the No. 12 overall pick in the 2012 MLB Draft, is two years younger than Tovar and has spent some time dealing with injuries throughout his brief career. He is a sub-.250 hitter for his minor league career, and needs a while before he can be thought of as a viable option in the hole.
Amed Rosario is only 17 years old and struggling mightily over the span of 37 games in rookie ball, but was the No. 11 overall international prospect when the Mets signed him in 2011, according to Baseball America's Ben Badler.
Rosario will fill out his 6'3" frame over the years, but not too much, or he will end up searching for a position like Wilmer Flores.
The Mets signed this year's No. 30 international prospect, Luis Carpio for a cool $300,000, writes Badler in another post. He is only 16, so he will be on the back burner for the next half-decade.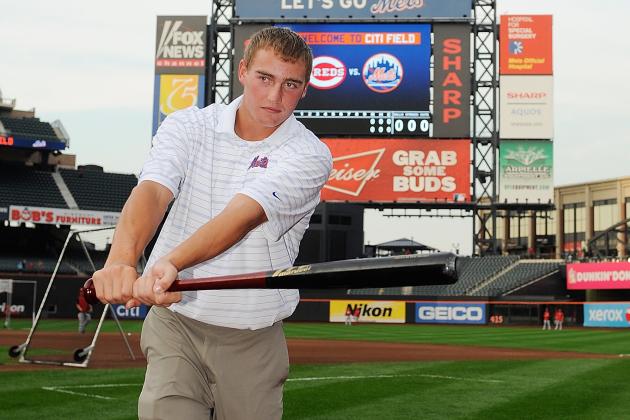 Patrick McDermott/Getty Images

Ah, the outfield.
Theoretically, an organization's outfield should have more promising prospect from top to bottom, if not for any other reason than there are three outfield positions on the field.
This is not the case with the New York Mets.
Brandon Nimmo is the team's top prospect at the position, but he has only just turned 20. He is hitting .264 this season, an improvement on his 2012 batting average, but he will need to do much more before Sandy Alderson is praised for drafting a high school hitter out of East High School in Cheyenne, Wyoming.
The next best thing the Mets have is Cesar Puello, who is closer to the major leagues than Nimmo, but just suffered the consequences of getting mixed up in the Biogenesis debacle. He will be nothing to the Mets for the next 50 games as he serves the suspension handed down to him by Bud Selig and Major League Baseball.
We have been hearing a lot about Matt den Dekker since spring training, specifically how much range he has in center field. In what is bad news to him, his name has been pushed out of the picture by Juan Lagares' abilities in center field.
Whereas den Dekker once had the chance to ride his glove to the majors, he'll have to hit his way out of Triple-A now.
Cory Vaughn is heading toward the age of true prospect territory at 24 years old, but he is putting together the best season of his minor league career in 2013.
Just about one-third of the way through the Binghamton Mets' season, Vaughn is hitting .300 with eight homers, which gives reason to believe he might be able to offer a respectable power/average combo one day.