The NCAA has been vanquished, taken down by the bulging Twitter muscle and gritty social media might of ESPN's Jay Bilas.
With one unrelenting tweet after another, Bilas took the NCAA to task until news began to trickle out Thursday that Mark Emmert, NCAA's president, threw his figurative hands in the air begging for mercy.
Here is the remarkable news via ESPN's Andy Katz:
NCAA pres Mark Emmert comes out strong saying NCAA won't be in business of selling school jerseys. He said NCAA will exit that business.

— Andy Katz (@ESPNAndyKatz) August 8, 2013
CBS Sports' Dennis Dodd has a bit more information on the renewed stance from Emmert.
Mark Emmert says that http://t.co/IqfMShF5kt is basically done as a business. Will continue selling NCAA-related gear.

— Dennis Dodd (@dennisdoddcbs) August 8, 2013
For a glimpse into the level of enthusiasm such a report garners, consider this one tweet as the embodiment of most of what Twitter had to offer Thursday afternoon.
You've been BILAS'D RT @ESPNAndyKatz: NCAA pres Mark Emmert comes out strong saying NCAA won't be in business of selling school jerseys.

— World of Isaac (@WorldofIsaac) August 8, 2013
At the very core, we have change taking place so rapidly that it startled even the ESPN analyst who thought to tweet out a few screen grabs merely to beat collegiate bushes.
On Tuesday, Bilas posted the following to illustrate the point that the NCAA was making players' jerseys and paraphernalia available despite assertions made in court filings earlier in the week.
Go to http://t.co/qpH4tNnIpH, type in "Manziel" in upper right search box, hit enter. This comes up. pic.twitter.com/N7KNvXIu24

— Jay Bilas (@JayBilas) August 6, 2013
The analyst then went on a Twitter barrage, peppering in hilarious tweets among serious searches he produced for the likes of Jadeveon Clowney, Tajh Boyd, A.J. McCarron and more.
For a breakdown of the extent Bilas went to, it was covered in Tuesday's post seen here.
As was seen in a number of tweets, the NCAA online shop suspended its search option during Bilas' Twitter tirade.
It was a rare win Bilas didn't see coming, but it was small considering the now stringent stance Emmert just took in regard to selling jerseys.
The Charlotte Observer's Laura Keeley had the chance to get some answers directly from Bilas, who detailed exactly what was behind his social media crusade and where he sees the NCAA's current battle in court.
Here's Bilas on the quick reaction from the NCAA and the suspension of the search option:
I was. I didn't understand why they would do that because of the message it may send. I don't know why they did it. But on the heels of having said what they said in court earlier this week in court filings in the O'Bannon case, that the jerseys are not of the players, they're of the school, the school's property that doesn't represent the player, I knew that wasn't true. This kind of thing pointed it out in a pretty stark fashion how ridiculous that statement is.
Bilas expounded on what he really feels is at the heart of the problem:
The problem I have with it is the rhetoric that they use and the fact that everybody in the sport, at every level, is getting compensated at market rate, and while they're doing that they're restricting the revenue drivers, the players themselves, from taking more than accepted.
The entire interview is well worth your time, and it really grants Bilas far more than 140 characters to further an argument and battle he started with a few tweets earlier this week.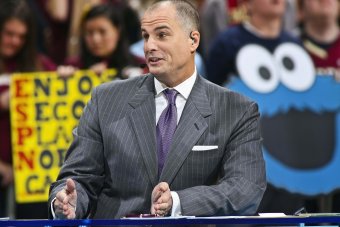 Phil Sears-USA TODAY Sports
A point that is particularly powerful is the one that athletes should have the opportunity to make money off their own name, as the NCAA seemingly was able to do prior to this week's major turn.
If you don't want to pay and provide them with compensation outside of the scholarship, they should at least be able to benefit outside the university. There's no reason they shouldn't be able to have autograph signings, do commercials, make appearances, to benefit off their names and likenesses. No other student is told they can't do that, not even students on scholarship.
Just as Bilas offers in the interview, the NCAA should be able to make money, but the problem lies in an apparent hypocrisy that was never easier to understand and witness as it was just a couple of days ago.
Sometimes we just need to connect the dots for the bigger picture to come into focus and to make an age-old claim that much easier to argue.
With a few tweets, a bunch of humor and respect he earned over years of covering collegiate sports, Bilas managed to take the NCAA down a few notches.
Now how trill is that?
Hit me up on Twitter: