Predicting Philadelphia Flyers Over/Underachievers for 2013-14 Season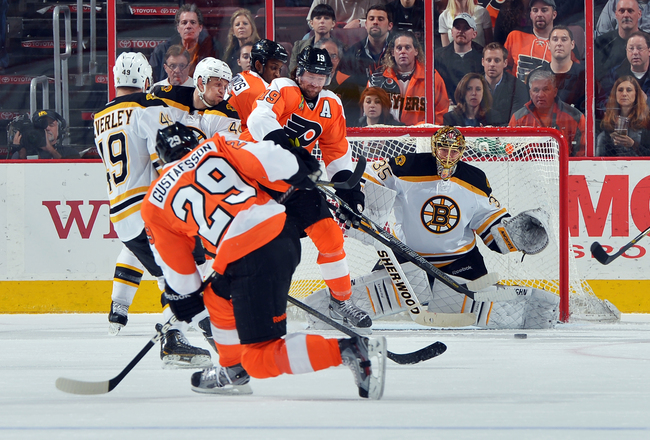 Drew Hallowell/Getty Images
Every NHL team has its share of overachievers and underachievers, and the Philadelphia Flyers are no exception. Unfortunately, last season they had more of the latter, which contributed to a disappointing campaign.
The most successful NHL teams have role players who step up and play above their expectations, which can help a struggling team get out of a slump or elevate a good team to the top of the league.
If the Flyers want to bounce back in the 2013-14 season, they will need some unheralded players to contribute. The Flyers also need to minimize the amount of players who disappoint, as they can bring a team down with them.
Inevitably, there will be both over and underachievers in Philadelphia, and this slideshow will walk you through what to expect next season.
Overachiever: Erik Gustafsson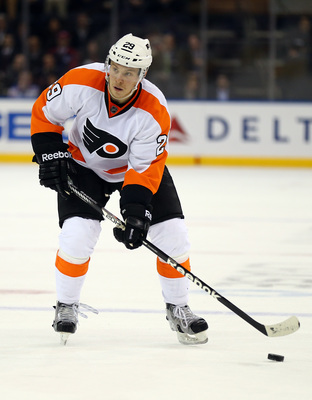 Elsa/Getty Images
Thrown into the frenzy in the middle of last season due to injuries, Erik Gustafsson overcame a rough start to finish with a respectable performance that leaves him as a near-lock to be a full-time roster player this season.
Gustafsson was a previously undrafted free agent who has really come on as a legitimate NHL talent. Though undersized, he works hard and has some impressive offensive ability.
He finished the season strong and had an exceptional performance for his native Sweden at the World Championships this summer. If he can make more plays like this and this, Gustafsson may have a bit of a breakout year.
Underachiever: Brayden Schenn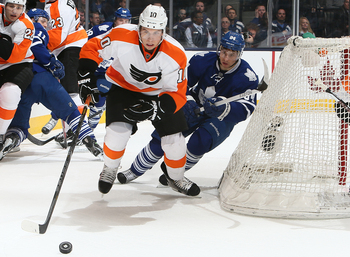 Abelimages/Getty Images
Brayden Schenn is a really talented kid, and at nearly 22 years old he's still just that—a kid. But plenty of NHL stars were stars at 20 and 21, and Schenn was a former No. 1-rated prospect in all of hockey.
Acquired two years ago for former captain Mike Richards, we're all still waiting for Schenn to prove why he was a top-rated prospect a few years back.
There have been flashes of his talent, and he can be exciting when he comes out with a lot of energy, but he also disappears for stretches and hasn't scored consistently, either.
The potential is there, but the more time that passes the more nervous I get that we won't ever see his ceiling.
Underachiever: Scott Hartnell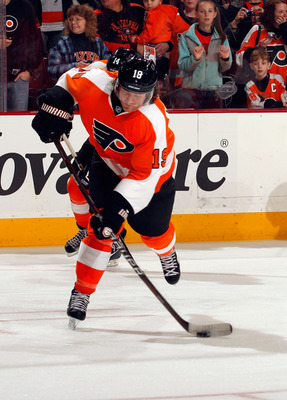 Rob Carr/Getty Images
I'm not a Scott Hartnell hater by any means, and I like what he brings to the Flyers. But after his career-high 37 goals in 2011-12, he had a supremely disappointing 2013 campaign.
He was injured for a portion of the lockout-shortened season, but even when he did play, he was largely ineffective. In 32 games, Hartnell registered just eight goals and a measly three assists.
At 31, Hartnell's already poor skating ability will continue deteriorating, and wingers' production almost always decreases after 30. He just isn't a first-line winger, and I don't think he can keep up with Claude Giroux and Jakub Voracek skill-wise.
Overachiever: Matt Read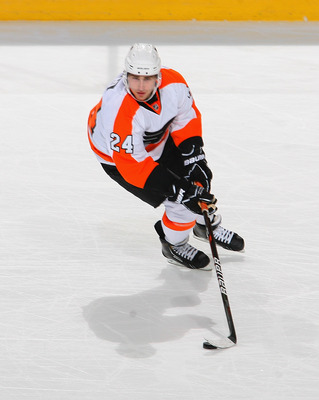 Rick Stewart/Getty Images
Undrafted out of Bemidji State, Matt Read made the Flyers roster out of nowhere two years ago and went on to lead all rookies in goals scored (yet somehow wasn't nominated for the Calder).
He isn't the biggest, strongest or most skilled player on the ice, but he is a phenomenal skater who works hard every shift and finds a way to make an impact.
He has been one of the Flyers' most consistent forwards over the past two seasons and plays in all situations, including the penalty kill. Expect Read to continue overachieving and possibly take a step up if given increased opportunity.
Overachiever: Tye McGinn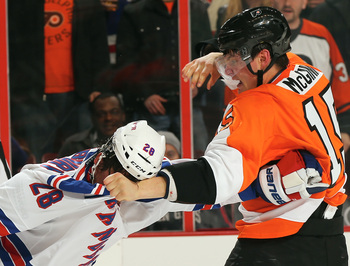 Elsa/Getty Images
Tye McGinn stormed onto the scene in 2013, emerging out of the depths to suddenly being on the top line with Claude Giroux.
The winger had a number of big fights early on and chipped in a few goals before breaking a bone in his face in a fight with heavyweight Mike Brown.
The 6'2", 205-pound former fourth-round pick is still just 23 years old and has a very good shot to make the roster this fall. He could end up being an excellent third-line player for Philadelphia and take some of the enforcing weight off of Zac Rinaldo's shoulders.
Underachiever: Braydon Coburn
Bruce Bennett/Getty Images
I actually like Braydon Coburn more than most fans do, because there are not a whole lot of 6'5" defensemen around who can skate well and are responsible in their own zone.
But Coburn makes bad decisions with the puck and is still maddeningly inconsistent at times, which keeps the former eighth-overall pick from blossoming into a true top-pairing defenseman.
He had a brutal 2013 season, scoring just five points in 33 games, and was a minus-10 before a shoulder injury ended his season early.
He was involved in multiple trade rumors this offseason, but the 28-year-old will be back—and as frustrating as everin the orange and black for 2013-14.
Keep Reading

Philadelphia Flyers: Like this team?