The Philadelphia Eagles and the New England Patriots have been practicing together this week, but they will go head-to-head in a preseason matchup on Friday that has major implications on the regular season.
Both franchises have experienced major turnover this offseason, and Friday will be the first glimpse into how each team will play and the styles and systems each will implement.
While New England will be looking to reshape its offense and prepare for another postseason run, Philadelphia and new head coach Chip Kelly will be looking to implement new offensive and defensive concepts.
This will be the most interesting matchup of the night.
Where: Lincoln Financial Field, Philadelphia, Pa.
When: Friday, August 9 at 7:30 p.m. ET
Watch: Not nationally televised
Live Stream: Preseason Live
Listen: Online at NFL Audio Pass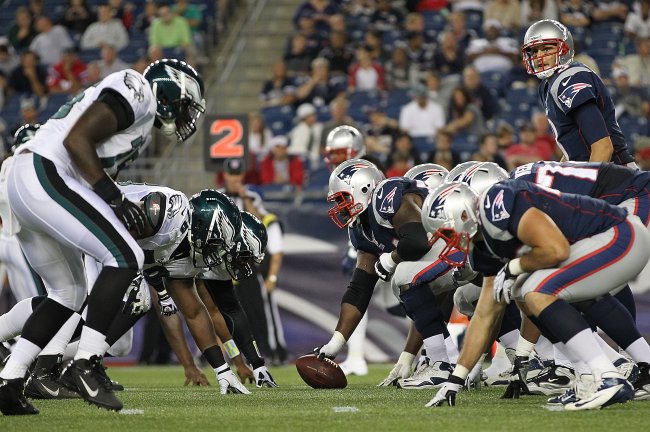 Jim Rogash/Getty Images
Betting Line (via Covers)
Over/Under: 40.5; Spread: Philadelphia (-4.5)
This is one of the safest games to bet this weekend, as fans should expect a high-scoring meeting that is as fast paced as anything we've seen in the NFL before. While New England has the better starting quarterback, take the Eagles with the points, as the depth on offense in Philadelphia will keep the team close throughout the game.
Injury Report (via ESPN)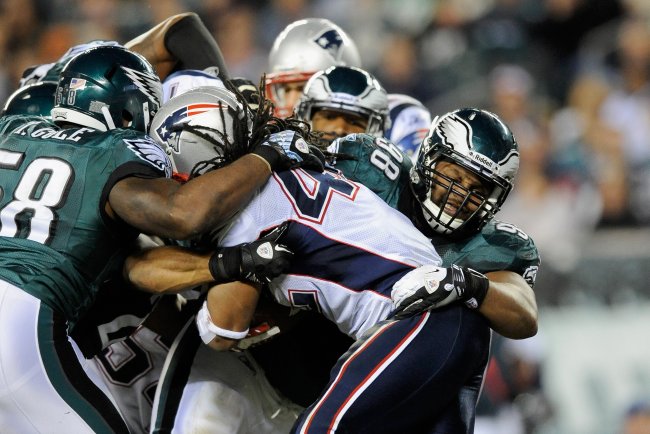 Patrick McDermott/Getty Images
New England
Jake Ballard, TE, Probable (knee)
Michael Jenkins, WR, Questionable (upper leg)
Rob Gronkowski, TE, Out (back)
Philadelphia
Dennis Kelly, OT, Out (back)
LeSean McCoy, RB, Questionable (knee)
Damaris Johnson, WR, Questionable (hamstring)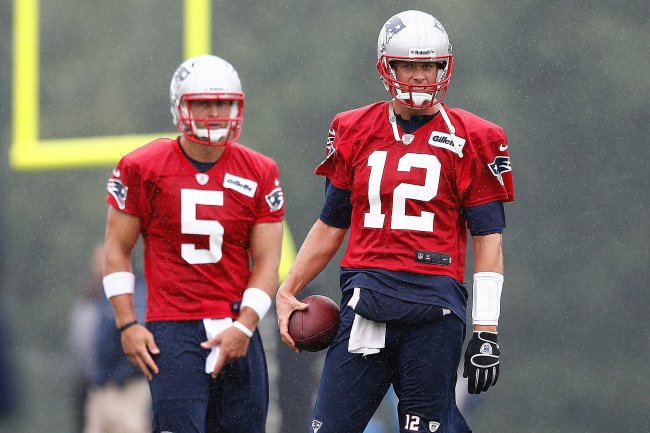 Jim Rogash/Getty Images
Patriots Player to Watch: Tom Brady, QB
There have been plenty of people that openly questioned how much success New England quarterback Tom Brady would have this season without some of this key weapons on the field, but Friday should help dispel much of that chatter.
Brady is still one of the most accurate passers in the league, and just as he made the wide receivers he has worked with in the past into stars, he will do the same with the Patriots' current crop of players.
Fans should be looking to see which receivers Brady begins to lean on and which new faces—someone like free-agent acquisition Danny Amendola—begin to shine in their new roles with New England.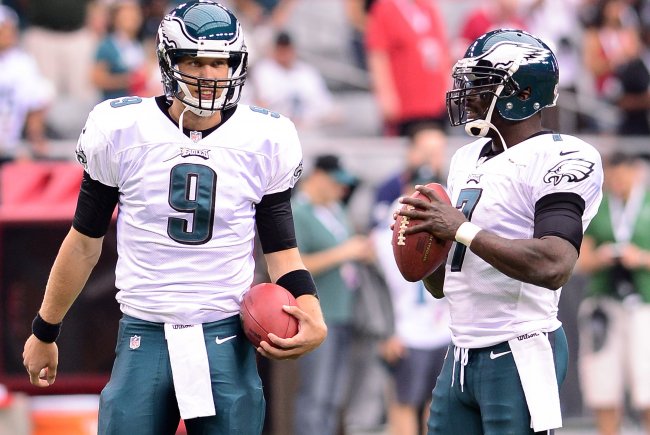 Jennifer Stewart-USA TODAY Sports
Eagles Player to Watch: Michael Vick and Nick Foles, QB
The story of the preseason has been the battle for the starting quarterback position between Michael Vick and Nick Foles. With each man getting an equal share of snaps with the first team, how this plays out in Week 1 of the preseason is the main focus of this matchup.
According to Les Bowen of the Philadelphia Daily News, Vick will get the start this week against the Patriots, and Foles will be taking the role of starting QB in Week 2 of the preseason:
Kelly: Vick starts vs Pats, Foles next week. They will split first team reps Friday. If there was practice, would be Vick's day to go first

— Les Bowen (@LesBowen) August 8, 2013
Kelly has attacked this battle with a unique approach, and with each man getting a chance to shine, this matchup will be an intriguing start to what should be an fascinating season in Philadelphia.
Prediction: New England 30, Philadelphia 27