Michael Vick vs. Nick Foles: Vick Wins Philadelphia Eagles' QB Battle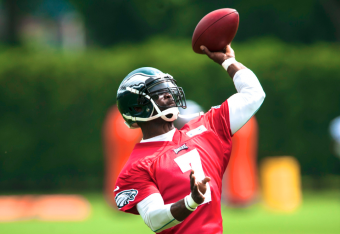 The Philadelphia Eagles are one of the NFL's most intriguing teams this year due to the arrival of new head coach Chip Kelly. The former Oregon head man's innovative offense figures to be exciting, and he has chosen Michael Vick to quarterback the unit.
UPDATE: Tuesday, Aug. 20
Mike Florio of Pro Football Talk has an update from Chip Kelly on Michael Vick and Nick Foles:
Asked if Vick and Foles "definitely" will be part of the regular-season roster, Kelly said: "Yes."

"You don't have to look any farther than last night's game with the Redskins, where [Robert Griffin III] is on the sideline and Kirk Cousins goes down in the second quarter," Kelly said. "In this league, you better have a couple of quarterbacks ready to go. I mentioned that again to Nick today. I think Nick is going to approach it that he's the starter, because that's got to be his mentality going into this and prepare like he's a starter."
UPDATE: Saturday, August 17
Pro Football Talk's Mike Florio provides an update from Eagles head coach Chip Kelly:
I'd love to name a quarterback right now. They [Mike Vick and Nick Foles] need to continue to play at a high level and I think when you continue to put them in different situations, that gets a chance to express itself.
Kelly also went into more specifics on whether or not the current situation would benefit Vick:
I think tremendously. Once you think you've arrived in this game, you're going to get passed on by. Just because somebody and no matter what the situation is, quarterback, running back, offensive line, you become a starter that doesn't mean all of a sudden you can kick your feet up and say, "Now I'm all set, this is a good deal." It's about getting better every day and there's always something you can learn, whether it's as a coach or as a player. I think that mindset will really benefit Mike in the long run.
UPDATE: Wednesday, Aug. 14
Zach Berman of The Philadelphia Inquirer has the latest from Eagles head coach Chip Kelly on Michael Vick and Nick Foles:
Quarterbacks Nick Foles and Michael Vick are expected to play through the first half of Thursday's preseason game against the Carolina Panthers, Eagles coach Chip Kelly said Tuesday. ...

The plan is subject to change, depending on the flow of the game. Last week, Kelly said the quarterbacks would alternate series, but Vick played the first two drives and Foles played the next two.

"Hopefully, we can get those guys through the second quarter," Kelly said. "It just depends on how it plays itself out. ... In the ideal world, we'd like to get them into the first and second quarter, and not see those guys at all in the second half."
UPDATE: Friday, Aug. 9
In the Eagles' first preseason matchup vs. the Patriots, Vick went 4-of-5 for 94 yards and one touchdown. Foles went 5-of-6 for 43 yards.
Numbers like that certainly won't make Chip Kelly's decision any easier when it comes to choosing a starting quarterback.
Original Text
As of right now, veteran Michael Vick and second-year signal caller Nick Foles are engaged in a spirited battle for the coveted starting quarterback spot. USC rookie Matt Barkley is also somewhat in the mix, but all signs point to either Vick or Foles starting when the regular season opens.
NFL Network's Albert Breer offered some insight on the situation, as Kelly told him that Vick will start this week's preseason game against the New England Patriots, with Foles starting next week against the Carolina Panthers:
Chip Kelly says Mike Vick starts this week, Nick Foles starts next week. They'll alternate with the first team in the first quarter.

— Albert Breer (@AlbertBreer) August 8, 2013
Based on the manner in which Kelly intends to use them, it seems as though he views this as an even race at the moment. One person who doesn't feel that way, though, is NFL insider Jay Glazer, who believes Vick is the obvious front-runner:
Watching Eagles it doesn't seem like there's any ? at all that Mike Vick will be starting QB. He could be extremely tough w Chip's offense

— Jay Glazer (@JayGlazer) August 7, 2013
Regardless of that, Vick has said all the right things and appears to be up to the challenge. According to Jeff Howe of the Boston Herald, Vick views the quarterback competition as an opportunity rather than a hindrance:
Michael Vick: "I relish the opportunity." pic.twitter.com/wlVMZsY5cL

— Jeff Howe (@jeffphowe) August 8, 2013
It would be very easy for Vick to get discouraged since he is an accomplished veteran who isn't being handed anything, but after everything he has been through in recent years, merely having a chance to start may be all he can ask for.
According to Chris McPherson of the Eagles' official website, Vick realizes that getting the starting nod this week won't necessarily affect the competition. He simply intends to have fun and play to the best of his abilities:
It doesn't mean anything. The only thing I want to do is go out there and have fun. Play the game, play with a purpose. Enjoy every snap. Try to make the most out of it as long as I'm out there and just try to be consistent like I have throughout camp and have fun playing the game.
Foles also appears to be taking things in stride, as he doesn't feel slighted by the fact that Vick was tabbed to start the first preseason game over him, according to Jeff McLane of the Philadelphia Inquirer:
Nick Foles said that he was OK with not starting the first preseason game and that he's looking forward to starting Game 2.

— Jeff McLane (@Jeff_McLane) August 8, 2013
Foles performed well after Vick got injured last season to the tune of nearly 1,700 yards and six touchdowns in seven games as a rookie. However, Vick has played MVP-caliber football for the Eagles before, and his dual-threat skill set is seemingly perfect for Kelly's offense.
To become the starter, though, it is clear that Vick will have to earn it.
Follow @MikeChiari on Twitter
This article is
What is the duplicate article?
Why is this article offensive?
Where is this article plagiarized from?
Why is this article poorly edited?