Tiger Woods will have some work to do if he hopes the 2013 PGA Championship is the tournament that will end his five-year major title drought after Thursday's opening round at Oak Hill Country Club.
The world's top-ranked golfer shot a one-over score of 71 on a day where a good deal of the Pittsford, N.Y., field took advantage of better-than-expected course conditions. Tiger carded just two birdies (none on his back nine) against a bogey and double bogey, scraping together par saves on a round that saw him scramble far more than the score indicates.
Still, as PGA Tour Media pointed out, Tiger's one-over Round 1 may not be the worst thing in the world:
@TigerWoods opened with an over-par score in his last two major victories (2008 U.S. Open/1-over 72 and 2007 PGA Championship/1-over 71).

— PGA TOUR Media (@PGATOURmedia) August 8, 2013
Here is a look at how Tiger's entire round played out on the scorecard:
Tiger Woods Scorecard - Round 1

| | | | | | | | | | | | |
| --- | --- | --- | --- | --- | --- | --- | --- | --- | --- | --- | --- |
| Hole | 1 | 2 | 3 | 4 | 5 | 6 | 7 | 8 | 9 | OUT | |
| Par | 4 | 4 | 3 | 5 | 4 | 3 | 4 | 4 | 4 | 35 | |
| Score | 4 | 4 | 3 | 6 | 4 | 3 | 4 | 4 | 6 | 38 | |
| | | | | | | | | | | | |
| Hole | 10 | 11 | 12 | 13 | 14 | 15 | 16 | 17 | 18 | IN | TOT |
| Par | 4 | 3 | 4 | 5 | 4 | 3 | 4 | 4 | 4 | 35 | 70 |
| Score | 4 | 3 | 4 | 4 | 4 | 2 | 4 | 4 | 4 | 33 | 71 |
PGATour.com
Woods sits six strokes behind current and clubhouse leader Jim Furyk, who is at five under.
Sitting at one under heading into No. 9—his final hole of the day—Woods' last strokes were a microcosm of his whole day. He missed off the tee into a difficult lie on the rough, found himself buried after a questionable second shot and then completely missed into the bunker on his third. Shane Bacon of Yahoo! Sports noted the struggles Woods was having in finishing his day:
Tiger just flub-chunk-shanked a chip shot. For those non-golfers out there, that's parlance for "not good."

— Shane Bacon (@shanebacon) August 8, 2013
He then finally got back on the green and two-putted, but the damage was done. Tiger had gone from an under-par round and an outside view of the leaderboard to standing well outside contention. Paired with Davis Love III (plus four) and Keegan Bradley (minus one), Woods now sits directly between the two golfers heading into Round 2.
For much of the round, however, it looked like Woods was going to escape relatively unscathed.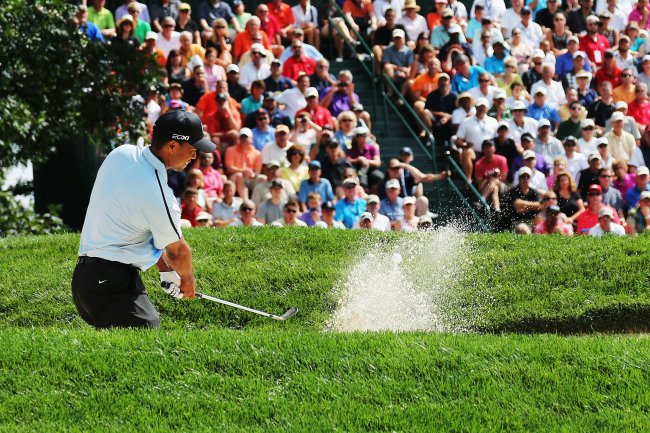 Rob Carr/Getty Images
Oak Hill, which had played fast throughout the week's practice rounds, saw a rain soften the course overnight and make for a stark change in speeds for the golfers—especially early on. Woods had been critical of the slow green speeds when visiting the course last week, so the slowed-down surface made his putting performance a crucial facet of his opening round.
It was clear from the beginning that Tiger was going to have an adjustment period. After knocking a mediocre drive a bit right, Woods' second shot left him with a long birdie try that made for a solid two-putt. But his speed was way off on the first try, sending his third shot barreling eight feet past the hole.
As he did throughout his week at Firestone, though, Woods calmly made a perfect read inside 10 feet and started his day off with a solid par save.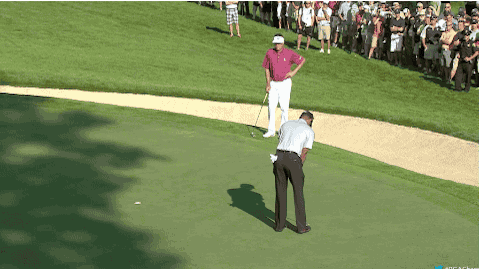 PGA Championship captured this quote from Tiger:
.@TigerWoods is not surprised at low scores as rain softened everything up. "I'm still right there." #pgachamp pic.twitter.com/et7kuZ6i1g

— PGA Championship (@PGAChampionship) August 8, 2013
An errant tee shot left him with some work to do again on the par-three 11th, but an excellent chip allowed for a second par save of the day. Another relatively uneventful par on the 12th came next, one where Woods has to feel like he left a shot on the course. His birdie putt missed by just a couple inches. Golf Channel's Tiger Tracker noted that this was starting to feel like a relatively breezy round from the world's best:
Tiger lags to a few inches @ 12 for par. Nice an stress free. #even

— GC Tiger Tracker (@GCTigerTracker) August 8, 2013
After struggling a bit off the tee, it seems like Woods learned his lesson by the time he walked to the 13th tee box. The 598-yard par five stood before him, but he decided to go with an iron over ripping the ball with his driver. Yahoo! Sports' Shane Bacon noted that this could be a sign of things to come this week at Oak Hill:
Irons off the tee on a 600-yard par-5. Welcome to Oak Hill, eh?

— Shane Bacon (@shanebacon) August 8, 2013
It turns out Woods' semi-conservative play worked out. His drive produced an easy decision to lay up on the second shot, leaving him with an iron approach on the third that was perhaps his finest shot of the afternoon. Tiger would tap in for birdie and bring himself to within one stroke of the leaders.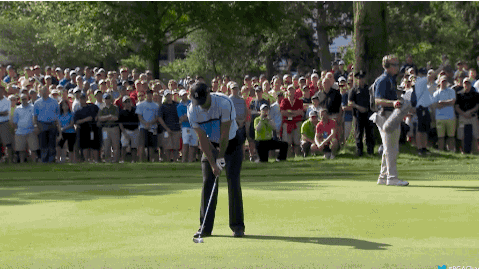 He didn't have to wait long for his next birdie. After carding a solid par on No. 14, Woods again found a good stroke with his iron on the par-three 15th to set up a slightly uphill birdie attempt. His read was true, finding the center of the cup to put him two under through his first six holes. Woods would sit squarely within a gaggle of players in a tie for fourth place, still just one stroke behind the leaders.
But that triumph at No. 15 would be one of his last on the day. He made two critical par saves at Nos. 16 and 17 and then carded a third straight to finish the back nine (his front) at two under. The Tiger Tracker and Brian Wacker noted just how much he was barely scrambling to stay afloat:
First-nine line: 4/7 fairways hit, 4/9 GIR, 11 putts. #2under

— GC Tiger Tracker (@GCTigerTracker) August 8, 2013
Tiger hit just greens in reg through his first nine holes, has 7 one-putts, 2 birdies, 0 bogeys. #scrambling #pgachamp

— Brian Wacker (@pgatour_brianw) August 8, 2013
The slow leak in Woods' play began carrying over onto the putting surface in a major way once he made the turn. Hitting both a solid drive and approach on the par-four first, Woods sat about 18 feet away with a straight line to the cup. He left it about a foot short, setting up a stream of frustrating misreads that played an overarching factor in him sitting off the leaderboard.
After playing another beautiful iron on the second, his setup for birdie looked to be little more than a tap-in. However, it looked like Woods either completely mishit the putt or played his worst read of the day, as the short gimme didn't even touch the side of the cup, leaving him with a tap-in for par.
Oak Hill isn't the type of course that allows for such mistakes, a fact Tiger quickly found out on the par-five fourth. Taking the driver out of his bag for the first time all round—the fairways stayed quick despite the overnight rain—he found the deep right rough and then compounded the problem by finding the greenside bunker on his third stroke.
ESPN's Bob Harig noted the constant predicament Woods was placing himself in:
Tiger has missed 6 greens, now in sand at par-5 4th. Used driver for first time and found right rough

— Bob Harig (@BobHarig) August 8, 2013
For the first time all round, those inconsistencies finally cost him a stroke. A sensational bunker shot left what looked to be another critical par save. But this time the save lipped out, leaving a frustrated Woods one under and quickly falling behind the leaders.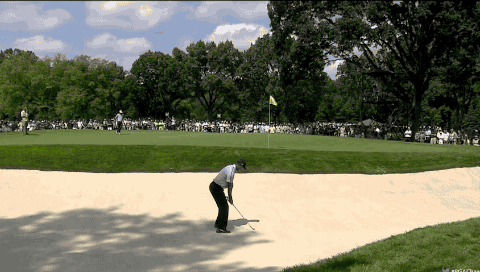 The remainder of the round, it seemed like holding the fort and getting into the clubhouse without coughing up strokes was the impetus. He moved away from the driver, often finding himself far behind Love and Bradley after their tee shots. Carding four straight pars—many of which involved lengthy two-putts—before his day-ending double bogey at No. 9, Woods' front-nine play resembled the way he conservatively held on to the lead at last week's WGC-Bridgestone Invitational.
Woods, buoyed by a 61 on Friday, won his eighth title at Firestone last week by seven strokes. ESPN Stats & Info pointed out coming into the PGA that the last time Tiger won by such a margin, he went on to win a major the next week:
The last time Tiger Woods won by more than 5 strokes in his last tournament going into a major, he carried the momentum into a major victory

— ESPN Stats & Info (@ESPNStatsInfo) August 4, 2013
If he wants to continue that small-sample streak, Woods will need a ton of time on the range to make it happen. His tee shots left him in precarious positions throughout the round, leaving difficult approaches and scrambles just to save par. While walking away one over after such a round is probably a net win, a low round Friday is necessary to keep him truly in the hunt.
Remember, he's never won a major championship without having at least a share of the lead through 54 holes. That said, if Eldrick finds himself on the range looking for hope, all he has to do is check out the scorecards from his last two major wins, per Fox Sports' Robert Lusetich:
On the upside, Tiger opened last 2 major wins - 07 PGA and 08 US Open - with 1 over rounds. Today, doubles last for 1 over 71 @pgachamp

— Robert Lusetich (@RobertLusetich) August 8, 2013
Tiger is playing in his 16th PGA Championship and is looking to hoist his fifth Wanamaker Trophy. He won the event back-to-back in 1999 and 2000 and again in 2006 and 2007. His last top-10 finish in the event was a second-place outing in 2009.
Follow Tyler Conway on Twitter: