Kevin Randleman Thinks Tito Ortiz Is a 'D***head'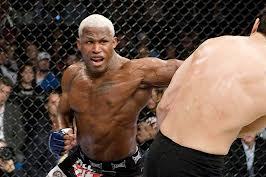 Former UFC heavyweight champion Kevin Randleman had few kind words for his long-time nemesis Tito Ortiz in a recent interview given to MMA Mania.
Randleman's beef with Ortiz goes back more than a decade when both were UFC fighters but never actually managed to settle their differences in cage.
In that time, Randleman's desire to punch a hole in the controversial light heavyweight's face seems to have abated little.
"My wife always throws in my face, "You can't get over nothing. You are damn right I can't," Randleman told MMA Mania.
Ortiz has been known to rub people up the wrong way throughout his career, including his former boss Dana White, with whom he had a much publicised falling out. But that never stopped him becoming one of the UFC's highest paid fighters. That business acumen is something Randleman respects, but there's little else that seems to endear him to Ortiz.
"There is only one mother---er on my list of f---ing people on this planet Earth that I want to f---ing put my hands on and that's Tito. I doubt that you could find one motherf---er on this planet that wouldn't say, "He's a f---ing dickhead!" I guarantee that I could throw a rock out of my window and hit one person that will say that Tito is a dickhead."
Randleman, a former two-time NCAA Division I champion, was one of the UFC's earliest stars at the turn of the century but had his heavyweight crown ripped from him by the hands of Randy Couture. A year later, in 2001, he dropped down to light heavyweight with the hopes of challenging the 205-pound division title holder, Ortiz. However, a devastating KO loss to Chuck Liddell in the first round put an end to those aspirations and, despite a long career in Pride, Randleman was never able to challenge Ortiz.
"I'm not a hater. I love that motherf---er's business-side. I know the behind-the-scenes s--t so I know the ploy that he used to become the highest paid fighter ever at the time. So I like that he listened to the gameplan and that he listened to the people around him, his confidants. He does a great job there, but other than that, he's a f---ing pussy!"
Ortiz announced his retirement last year after his third straight loss, and sixth in seven fights, following a career spanning 15 years. In that time, he's made more enemies in the sport than almost any other fighter. Aside from the apparent beef with Randleman and White, he's had very personal feuds with Couture, Liddell, Frank and Ken Shamrock, to name just a few.
However, he's been tempted back into the cage once more to face another veteran, Quinton "Rampage" Jackson, in a Bellator PPV event in November. He's already returned to his vitriolic best, taking pot-shots at the organisation where he made his name.
Randleman, meanwhile, hasn't fought since 2011 after suffering four straight losses and is still officially retired.
This article is
What is the duplicate article?
Why is this article offensive?
Where is this article plagiarized from?
Why is this article poorly edited?