Notre Dame Football: You Might Be a Fighting Irish Fan If...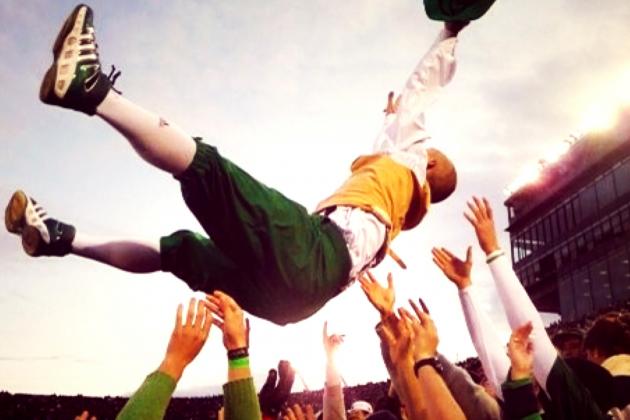 Photo Credit: Kathleen Kelley
After a resurgent 12-1 season last year, you may have hopped on the bandwagon by calling yourself part of the most loved, most hated and most relevant fan base in the world.
Before you avow your allegiance to the Fighting Irish faithful, make sure you're ready to take the next step. It's not always easy being green, and not everyone is cut out to be a loyal son or daughter of Notre Dame.
Think you're already there? Here are 13 surefire signs that you might be a Fighting Irish fan:
Begin Slideshow

»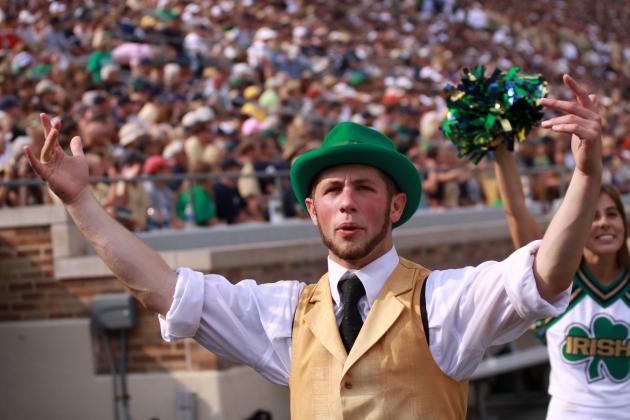 Let's face it, Notre Dame is the most hated team in the world. You love that, and you love the haters even more.

You have no shame, but why should you? Heavy lies the crown, but you wear it with pride.

New York Yankees, Los Angeles Lakers, Dallas Cowboys and Duke Basketball fans think they know how you feel, but you take being the bad guy to a whole new level.

If only everyone and their brother would stop texting you every time anything remotely negative took place in association with your beloved team...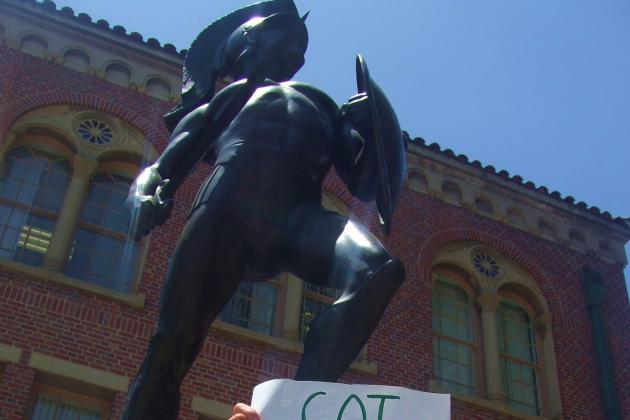 You probably cringed twice while reading that. Sometimes you spend days seriously considering who you dislike more.
The Trojans stand against everything you believe in as a fan. You can't stand their flashy Hollywood style, their perfect weather, their overrated song girls or their mascot which is really a paid actor riding a prized pony. Not to mention their band only knows how to play two songs—both of which were written by Notre Dame's band director before he left the dark side for good.
Still, nothing makes you sicker than the vomit-inducing sound of Michigan's "Hail to the Victors." Their retina-scarring "maize" shirts don't help either.
Pick your poison.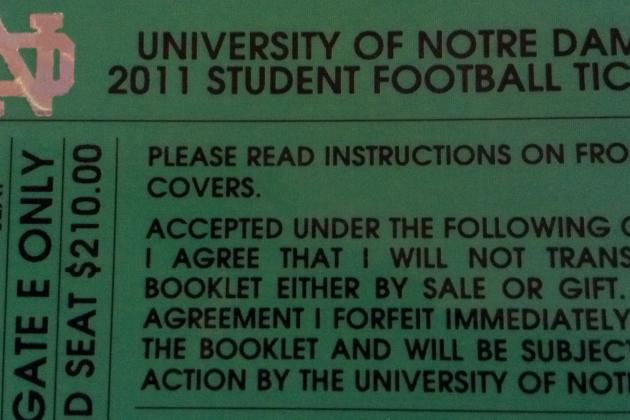 Yes, your friends and family know how devoted you are to the Fighting Irish.
No, your third-cousin twice-removed doesn't understand why you can't score him some stubs.
Maybe it has something to do with over 200 consecutive sellouts.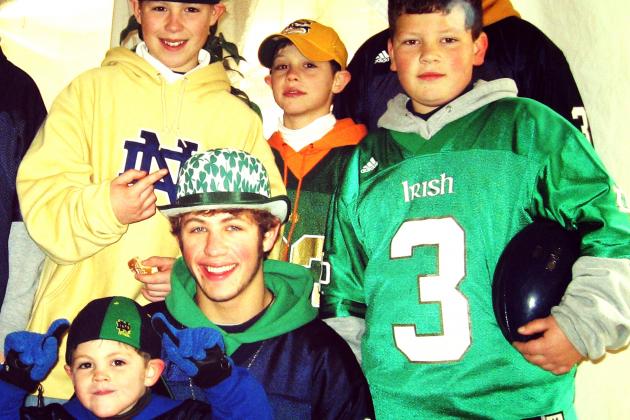 Odds are you've been known to rock the number three, five or seven. You're in good company.
Joe Montana wore number three, as did Rick Mirer, Ron Powlus, Daryle Lamonica, Coley O'Brien, Arnaz Battle, Darius Walker, Michael Floyd and your new favorite secret weapon Amir Carlisle.
Five is the only jersey number worn by a member of the famed Four Horsemen (Elmer Layden), a Heisman Trophy winner (Paul Hornung) and a national championship winning quarterback (Terry Hanratty). More recently, Rhema McKnight, Armando Allen, Everett Golson and Manti Te'o have been working to keep your old number five jersey relevant.
Lucky number seven went to Heisman Trophy winner John Huarte, as well as Steve Beuerlein, Joe Theismann, Jarious Jackson, Jimmy Clausen and now both T.J. Jones and Stephon Tuitt.
Add number nine into the mix with Tom Zbikowski and Kyle Rudolph, as well as Louis Nix who now wears number one, and you can't go wrong with any single digit odd number.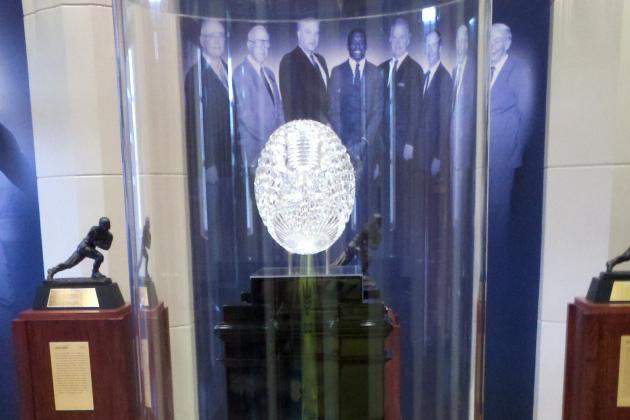 If there's one stat you've memorized, it's the number of Heisman Trophies and national championships your team has collected. You know it by heart, but you like reminding yourself by visiting the display on campus anyway.
Whenever Trojan fans talk trash, you remind them that your team hasn't had any trophies yanked away by the Heisman Trust.
When Alabama claims some absurd number of national championships, you remind them that you don't cheat when you keep score. Only consensus titles count for the Fighting Irish.
You don't blame them for failing to understand, because no one else on the planet knows what it feels like to be an eleven-time undisputed heavyweight champion of the world.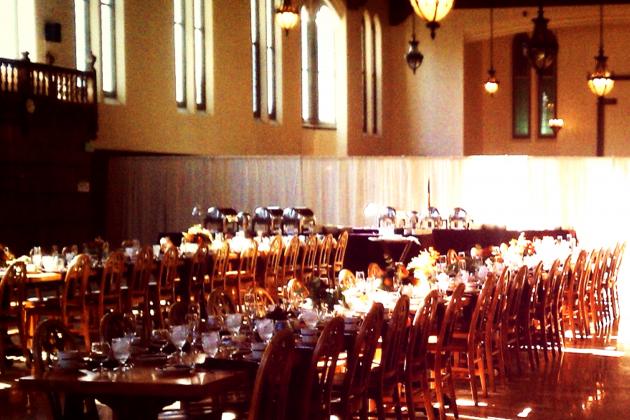 Long lines aren't your style. Luckily, you know how to beat the rush.
As soon as you finish swaying arm-in-arm to the Alma Mater (every word of which you sing loudly for all to hear), you make for the nearest exit. Once you find your way out of Notre Dame Stadium, you embrace your inner Rocket Ismail by dodging and juking every fan in your way as you sprint past the Snite Museum and Debartolo Hall through the Law School Arch. Realizing there can be only one Rocket, you probably pause at least twice to catch your breath at Main Circle and behind Alumni Hall. Once you finally make it to your favorite post-game celebratory all-you-can-eat buffet you enjoy your reward: peppered flank steak, chocolate mousse and (hopefully) Irish Mint fro-yo.
Also, your mouth started watering when you read that last sentence.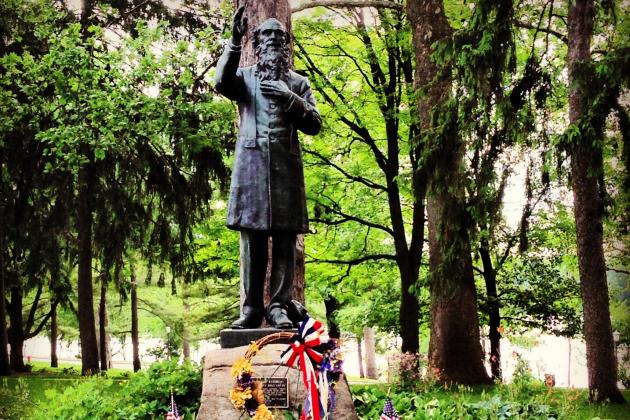 Anyone can find Touchdown Jesus, but you proudly point out his little buddies Fair Catch Corby, First Down Moses and the Holy Hand-Off whenever you give your friends and family an impromptu tour of campus. They marvel at your knowledge of all things Fighting Irish, including Fr. Corby, the chaplain of the Union Army's "Fightin' Irish Brigade" during the Civil War.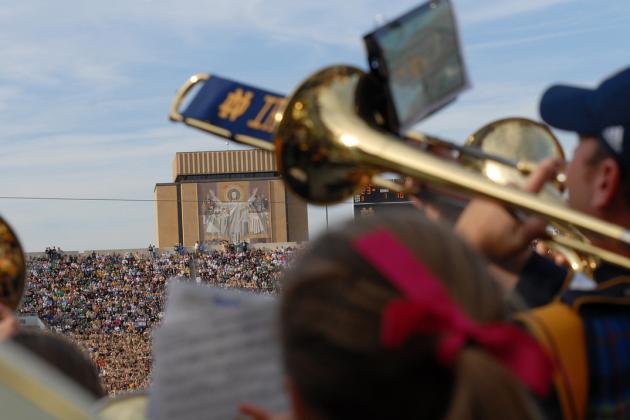 Your devotion to the Fighting Irish supplements your religious faith, or maybe your religious faith supplements your devotion to the Fighting Irish.
Either way, you look forward to the fuzzy feeling you get when you see Touchdown Jesus, Fair Catch Corby (see previous slide), First Down Moses, the Holy Hand-Off, the Basilica, the Grotto and the statue of Saint Mary atop the Golden Dome every game day.
You're pretty sure God doesn't care who wins football games, but you're convinced that you cheer for the same team as his mom every Saturday.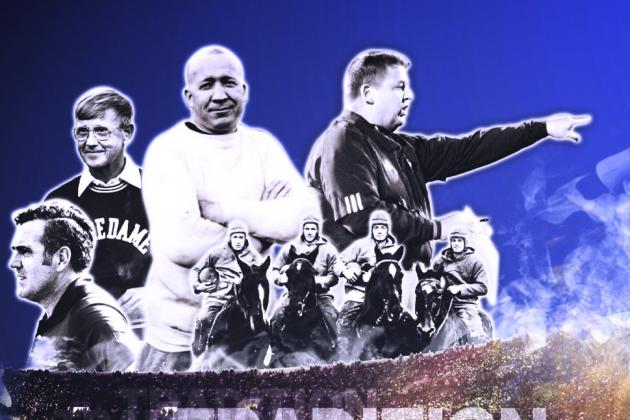 Whether it involves Brian Kelly's questionable revival of the slogan "Tradition Never Graduates," your favorite edition of "The Shirt" or endless debates with angry old alums about field turf, video boards and alternate jerseys, you have a very love/hate relationship with the "T" word.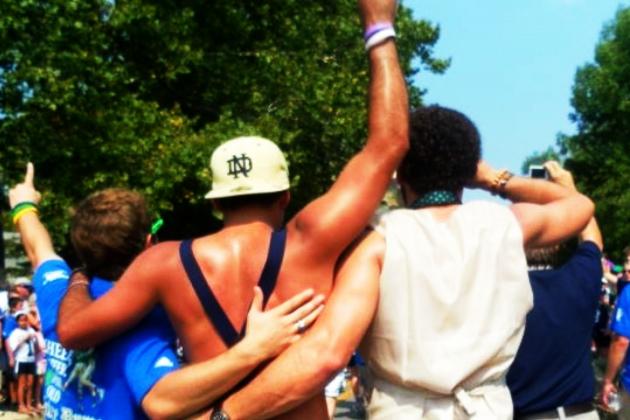 You almost feel obliged to wear it, but you have a sinking suspicion that it's totally uncool. Trust your gut. Even if you don't count the two horrible attempts at making a gold edition of "The Shirt," the continued poor execution of the students who design the official fan wear every year still doesn't make up for their good intentions.
Not only does the lack of color consistency year after year leave Notre Dame Stadium looking like a patchwork quilt rather than a unified front, tacky slogans and far-too-busy patterns more often than not make it a fashion faux pas.
Still, you just can't help but buy it. Every. Single. Year.
Maybe once you realize your team hasn't won a national championship since this "tradition" (see previous slide) began you will change your stance on "The Shirt."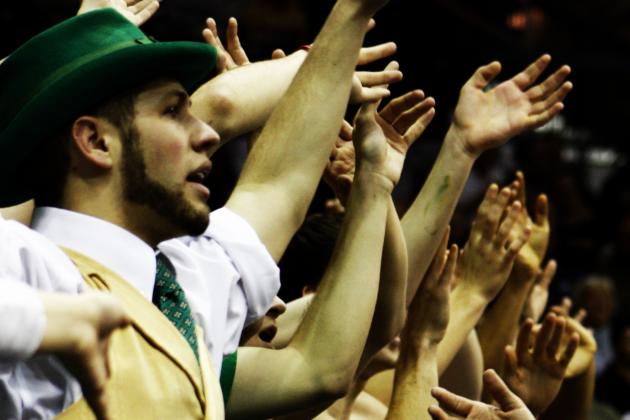 Other fans may have their own quirky superstitions, but in the land of the leprechauns, the luck of the Fighting Irish rests solely in your hands as you decide whether or not to wear "The Shirt" (see previous slide), paint your body or just stay at home because every time you go to a game your team loses.
If you alter your game day routine even slightly, you feel that you are jeopardizing the outcome of the entire season. Instead, you slap your homemade "Play Like A Champion Today" sign, plop down in your lucky armchair, and say a "Hail Mary" every time NBC comes back from a commercial break.
You probably found yourself holding your breath and clinging to your seat with a death-grip for the majority of your team's improbable 12-0 run in 2012, which only took place because the football gods were pleased by the way you perfected your rituals. Keep it up.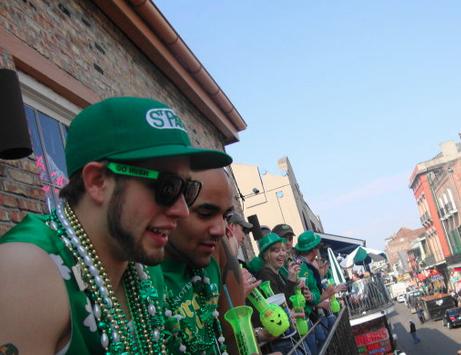 ...or is it the other way around? Forget "The Shirt," your bright green hoodie with a mean looking leprechaun emblazoned across the chest will let everyone know you bleed blue and gold every day. Then, on March 17, they'll know Irish blood continues to run through your veins.
Every time you pass by a St. Paddy's Day display at a store you contemplate buying that green beaded necklace with the little beer mug shot glass hanging from it because you know it would be the perfect tailgating accessory. Trust your instincts.
You want number twelve. You want it bad. You pray every night that Brian Kelly is in fact your team's savior. You probably wouldn't poison a tree or anything crazy like that, but you would do pretty much anything else to silence all the critics who remind you constantly that Notre Dame hasn't won a national championship since they started handing out crystal footballs two decades ago.
You're committed to fighting the good fight until that day comes.