What to Realistically Expect from Yasiel Puig as Crazy Numbers Level off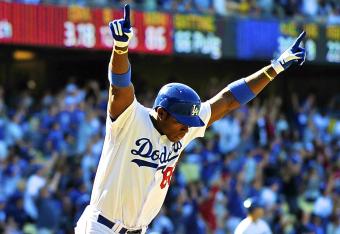 Even with the fervor surrounding Los Angeles Dodgers outfielder Yasiel Puig leveling off, his performance on the field is still absurdly good for a player as young and inexperienced as he is.
After setting a new Dodgers record for hits in a month by a rookie (44 in June), Puig has continued his evolution as a hitter, although he isn't getting hits at the same rapid rate.
In Puig's first month, he hit .436/.467/.713 with eight doubles, eight home runs and five stolen bases. It made him the talk of baseball, even leading to some speculation he could be added to the National League All-Star roster, and helped him set merchandise sales records.
But there were warning signs that what we were seeing would eventually lead to a hard fall. Puig struck out 51 times in his first 195 at-bats (covering June and July), had the best luck with a .500 BABIP (in June), and still had a raw, immature approach to the game.
I am not even talking about the dumb media attention that came when Puig "disrespected" Luis Gonzalez before a Dodgers-Diamondbacks game in July.
What I am talking about is the reckless abandon in which Puig plays the game. He is aggressive in ways that often get him in trouble, such as trying to take the extra base when it clearly isn't there, not realizing how to read pitchers on stolen base attempts or missing the cutoff man to try making the spectacular throw from right field.
But those were issues that will work themselves out over time, as he gains more experience and learns what will and won't fly at this level. Remember, Puig is just 22 years old and has been playing organized baseball in this country for less than a full calendar year. He played 23 games in the minors in 2012 and 40 at Double-A this year before getting called up to the big leagues.
As we try to take the numbers Puig has put up thus far (.372/.433/.591), the sample size is large enough now that it is time to examine where they are, where they will go and how his game has changed.
The Good
Courtesy of MLB Advanced Media
The first thing that stands out about Puig's game now compared to when he was first called up is his approach at the plate. He still goes up there wanting to swing as hard as he possibly can, but he isn't as likely to chase pitches out of the zone.
For instance, in June even as he was putting up those ridiculous numbers that led to the All-Star talk, Puig had a 20-4 strikeout-to-walk ratio. That trend carried over to the first half of July.
In 16 games from July 2-22 covering 64 at-bats, Puig had 23 strikeouts and three walks. His slash line dropped to .364/.398/.570, still very impressive but a far cry from where he was previously. And those numbers will continue to come down; a .466 BABIP isn't sustainable over an entire season.
But in his last 14 games, Puig has turned things around with 14 strikeouts and 12 walks in 50 at-bats. The strikeout totals are still high, but we just have to accept that as a part of his game given his aggressive nature. The improved eye is great for projecting the kind of hitter he will be.
What we need to see in order to project average and on-base percentage is a shift in the approach. Considering that 63 percent of Puig's walk total (12 of 19) has come since June 23, it is reasonably safe to say that things have changed.
Even more encouraging is the fact that Puig isn't sacrificing power to change his approach, collecting seven extra-base hits (four doubles, three home runs) in the last two weeks.
Puig's electrifying tools have always shown on the field, regardless of where he is playing. He busts it down the line, even if the ball is picked up by the pitcher for an easy out. The arm strength in the outfield is incredible, with tremendous range to go along with it. He has already saved seven runs (five in right field, two in center) in just 56 games.
Despite having played between 300-400 fewer defensive innings than most players, Puig's 28 plays made out of his zone in right field would have him ranked 94th out of 156. If we were to round his stats up to roughly the same number as the rest of the league, Puig would have between 52-56 plays made out of his zone, putting him in the top 25-30.
The Bad
Courtesy of MLB Advanced Media
We have mentioned the strikeouts Puig has racked up, which are high even though its getting more manageable thanks to the less aggressive approach. That appears to be an aspect of his game we just have to accept, and it's not like a 23.8% K rate is that bad. Carlos Gonzalez (27.1%) and Evan Longoria (24.4%) are punching out at a higher rate in 2013, yet no one harps on that when discussing what they can do.
What kind of player will Yasiel Puig be for his career?
One of the biggest areas of concern for Puig is baserunning. It is clear when you are watching him play, as well as when you break down what the numbers have to say, that he has issues in this department.
If Puig had enough plate appearances to qualify for the batting title, he would rank in the bottom 10 in base-running runs above average (BsR) at minus-3.3. He is just 7-for-12 in stolen base attempts.
Puig also has a negative total in runs from positional scarcity (Rpos) at minus-two. That means for all the good things he has done with the bat thus far, his poor base-running ability is actually hurting the Dodgers more than a typical MLB right fielder.
Another problem for Puig comes with keeping focus in the outfield. As good as his defense has been so far, the young Cuban sensation already ranks fifth in errors by a right fielder with four. Even though advanced defensive metrics have shown us errors are not the be-all, end-all, that is still a high number given he has only played in 56 games.
The Expectations
Courtesy of MLB Advanced Media
With the numbers and information at our disposal, it is time to project the kind of player that Puig will be the rest of the season and moving forward.
This is not an exact science because so much of what Puig has to fix really isn't quantifiable. How do you measure if or when a player learns how to control the aggressiveness that tends to create problems for him on the bases and in the outfield?
If we try to take a look at what Puig is doing, using his current strikeout and walk rates, home runs per at-bat, extra-base hit rate, baserunning and fielding skills, we can come up with a player who closely resembles the 22-year-old.
One of the first players who immediately sprang to mind when thinking of Puig was B.J. Upton. Forget what we think of Upton right now, because this is a lost season where everything has gone wrong for him.
Their bodies aren't the same. Upton is much thinner and has a smooth, easy way about him on the diamond. Puig is built like a semi-truck with incredible mass and loud tools that you can easily see.
But look back at Upton's peak seasons in 2007-08 (age 22 and 23) when he was posting WAR totals of 4.5 and 4.8. His slash line those two years was .286/.385/.452 with 66 stolen bases in 90 attempts.
Upton was striking out a bit more in those two years than Puig is now (28.6% to 23.8%), but was also walking more consistently (162 times in 1.188 plate appearances).
Puig's home-run-to-fly-ball ratio is significantly higher than Upton's career best in 2007 (25.6% to 19.8%). The odds of Puig staying at that level seem slim considering only the most prominent home run hitters are in that vicinity. (Chris Davis, Pedro Alvarez and Miguel Cabrera are the only three players with a better rate than Puig.)
Upton's line drive percentage in 2007 (19.6) is roughly in line with Puig's this year (21.9), though Upton was hitting far fewer ground balls (42.9% to 50.3%). Upton was also a more accomplished baserunner, adding nearly 3.8 runs above average per season from 2007-08.
Puig is the better defender, though Upton's marginal defense in center field was more valuable than a corner outfielder given the scarcity of the position and his offensive performance.
You can't simply look at Puig's numbers right now and assume that this is what he will do the rest of his career because we are still in that small sample size territory. That's why some of the categories he has an edge over Upton's 2007-08 seasons aren't entirely fair to compare yet.
But if you look at their respective bodies of work, tools on the field and strengths on the field, Puig should have no problem projecting to be a 4.5-win player per season moving forward. (For the record, he is already at 3.1 wins above replacement in 2013.)
That means Puig is not quite an MVP-caliber superstar, but a really good, occasionally great player. Considering the Dodgers have him for the next seven years at $42 million, that is an excellent return on investment.
Stats courtesy of Fangraphs and Baseball Reference. If you want to talk baseball, feel free to hit me on Twitter with questions or comments.
This article is
What is the duplicate article?
Why is this article offensive?
Where is this article plagiarized from?
Why is this article poorly edited?

Los Angeles Dodgers: Like this team?