Jets Rise, Vikings Float: Sanchez Channels Namath as Ryan's D Stumps Peterson 21-6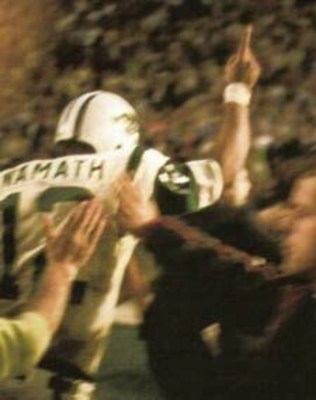 I expect the Jets to win a championship. I expect Sanchez to embody the great Mexican-American hope, as he leads the Jets past whatever NFC team is favored above the unproven New York Jets, and claims Super Bowl MVP award. I expect any drug-cartel blaming, swine-flu fearing fan to reconsider the recent cultural prejudice against Latin American culture, and reconsider their notion of nationalism in the hope of a greater global identity. Any New York fan expects a championship from whatever team they happen to be rooting for. These expectations are the same expectations all New York fans have for every sports season. The Jets haven't won a championship for forty-one years and it's beginning to wear on the fan base. Without the 26 championships of the Yankees or the 2008 Super Bowl victory of the New York football Giants, the Jets struggle to find an identity in New York as they lack the historical authority of the Yankees and find themselves playing in Giants Stadium. I think the way that the New York Jets decide to go about their work in camp, and during the season will define whether my expectations of a Super Bowl are reachable or not. The may need to reject the me-first mentality of past players such as the Me-shawn Johnson of the late 1990s and Laver-me-ous Coles before, during, and after his trip to the Redskins that has prevented any team continuity and has destroyed the teams notion of a locker room. If the Jets players can stop spending their time worrying about being compensated for their relative mediocrity, and instead, embrace the notion of victory and how it ultimately brings about the wealth they are looking for, the Jets can win a Super Bowl. Keyshawn is behind the desk now, and Laverneous is in Cincinnati Bungles purgatory. Does that mean the Jets can get to work now and bring a championship home to the starving Namath-enamored fan base? Only the 2009-2010 New York Jets can test the expectations.
Keep Reading

New York Jets: Like this team?