10 UFC Fighters That Are Virtually Untouchable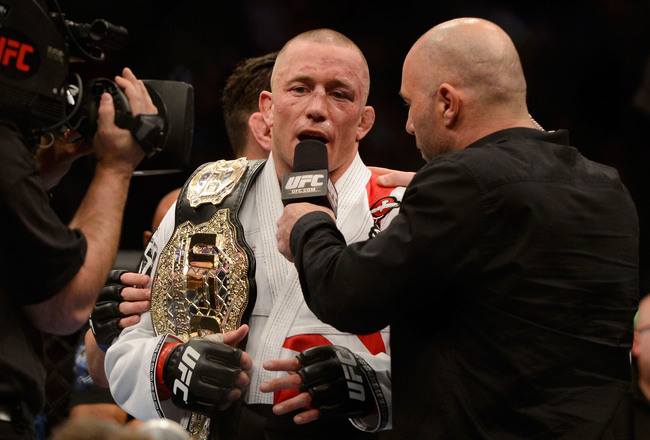 Eric Bolte-USA TODAY Sports
The rate at which the UFC cuts its roster, it's hard to imagine any fighter is safe inside the world's biggest MMA promotion.
Just ask Roger Gracie who was cut from the organisation earlier this week after just one loss on his UFC debut, via decision to Tim Kennedy. The fact that he is one of the world's greatest Brazilian Jiu-Jitsu practitioners with a solid 6-2 record in MMA as well as carrying the cache of the "Gracie" name did nothing to protect him.
Despite his pedigree, Roger is still little known in wider MMA circles and while his presence in the company could have brought a lot to the promotion, he will be little missed. The same can't be said for the 10 people on this list who, barring some gross public relations misstep, are likely to see out their careers within the promotion.
Many of them have proven themselves durable champions. Others have put in consistent performances that never fail to captivate the MMA crowd, while some possess sheer longevity and value to the UFC as spokespersons for the sport.
Jose Aldo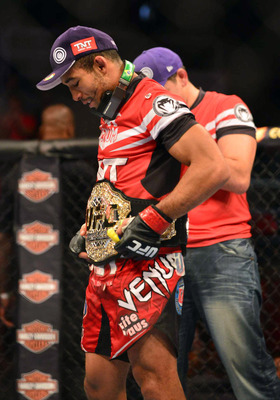 Jason da Silva-USA TODAY Sports
Many people would rightly consider Jose Aldo the pound-for-pound greatest fighter in the world. He's won every single one of his last 16 fights, taking his MMA record to a breath-taking 23-1.
Combining some of the best takedown defence with the best Muay Thai in the sport, he's completely dominated the UFC's featherweight division and, in just two years, become one of the promotion's longest-serving champions.
Frankie Edgar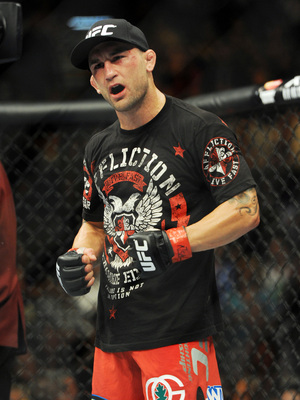 Jayne Kamin-Oncea-USA TODAY Spor
When your boss starts calling you the second best pound-for-pound fighter in the world, you know your job must be safe.
There's no doubt UFC president Dana White is a huge fan of Frankie Edgar, and for good reason. Until his close decision loss to Benson Henderson, in a match many thought he won, Edgar had only one loss on his 17-fight record.
He famously took the title from UFC legend BJ Penn and defended it with assurance against both Penn in a rematch and against Gray Maynard in two epic encounters. His three recent losses to Henderson and Aldo could have gone either way and many argue convincingly that he should have won all those fights.
At 5'6" he conquered the lightweight division and, despite a hiccup against Aldo, his dominant win over Charles Oliveira announced his credentials as a future featherweight champ too.
One of the hardest-working fighters in all of the sport, the UFC would be foolish to let him go.
BJ Penn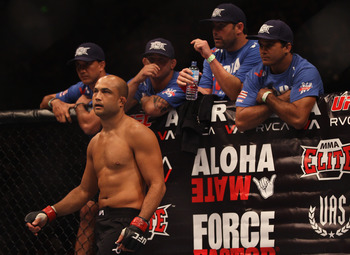 Mark Kolbe/Getty Images
One of the earliest stars of MMA and one of the UFC's few two-division champs, Penn has already cemented his legacy as a legend of the sport.
Anderson Silva, the former middleweight champ, repeatedly calls Penn the greatest fighter of all time.
Penn's achievements are remarkable and his recent 1-4-1 record belies his prodigious talent.
He's officially retired now, although there is some uncertainty as to whether he'll be tempted back in the cage, as he was fatefully against Rory MacDonald last year. Whatever the future holds for him, it will be Penn's to decide.
Georges St-Pierre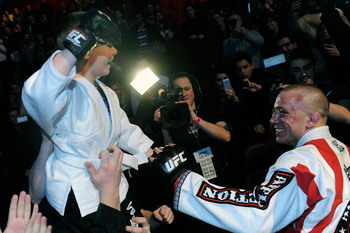 Eric Bolte-USA TODAY Sports
One of the most recognisable names in the sport and one of the UFC's most enduring champions, as well as the promotion's biggest draws, it goes without saying that Georges St-Pierre's job is among the safest in the entire promotion.
He's been welterweight champion since 2007, a record beaten only by middleweight Anderson Silva. And, considering Silva's recent loss, he stands on the verge of the most title defences and back-to-back victories in the entire sport.
You don't attain those heights without becoming somewhat indispensable.
Anderson Silva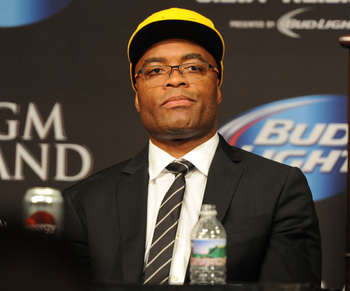 Jayne Kamin-Oncea-USA TODAY Spor
His recent 10-fight contract with the UFC, unprecedented for a 37-year-old, is testament to just how valuable to the promotion Anderson Silva really is.
He's broken some of the most sought-after records inside the UFC, including most knockouts, most title defences and most wins. He's a sensation in his home country of Brazil and the biggest PPV draw the company has on its roster.
And, despite his loss to Chris Weidman earlier this summer, his rematch billed for December 28 is set to become the biggest event the UFC has ever staged. He has the kind of clout few can match in the sport and even today, despite his loss to Weidman, he is widely considered the greatest mixed martial artist of all time.
Chael Sonnen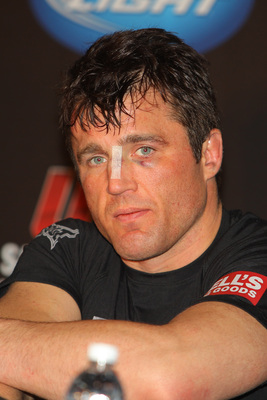 Brad Penner-USA TODAY Sports
Many would say that Chael Sonnen's mouth, rather than his talent, has won him his three title shots.
To an extent, that's unfair, considering he is one of the best wrestlers in MMA and has beaten Nate Marquardt, Yushin Okami, Brian Stann and Michael Bisping. But there is also some truth in it.
Sonnen is one of the best promoters the UFC has and is one of the few fighters who understands how important showmanship is to combat sports. His mouth not only landed him two fights against middleweight champ Anderson Silva and an immediate title shot against Jon Jones when he moved up to light heavyweight, but also a regular presenting role with Fox and Fuel TV.
He's become an ambassador for the sport and an indispensable spokesperson for the UFC, one the promotion can ill afford to lose.
Jon Jones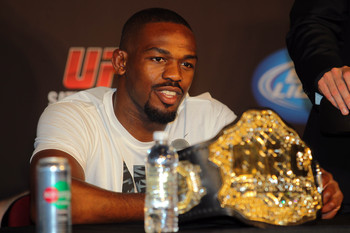 Brad Penner-USA TODAY Sports
It's testament to how highly regarded 26-year-old Jon Jones is that in his short career in the UFC, he's already being talked of a possible "superfight" opponent for Anderson Silva.
The youngest champion the company has ever had, he's already on his way to breaking records in the light heavyweight division and is a true crossover star that has secured sponsorship deals from international sporting goods companies like Nike.
That's not to say that he's always had smooth relations with the company like some of the other names on this list. His decision to decline a last-minute bout against Sonnen last year left relations between him and the UFC at a nadir. However, two title defences later and Jones has worked his way back into the good graces of the promotion.
Having already swept through the 205-pound division, his relative youth makes him one of the most exciting talents in the sport and one the UFC would never let go.
Dan Henderson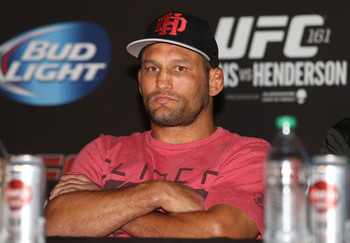 Tom Szczerbowski-USA TODAY Sport
At 42 years old, Dan Henderson is the oldest fighter currently serving in the UFC. He's also one of the most successful in the sport, having won championships in PRIDE when that promotion was the most competitive in the world.
A UFC title still eludes him. Despite his age, he is still considered a potential title challenger at two weight divisions in the promotion.
Recent performances may have gone against him, but that shouldn't detract from the value he continues to have for the promotion. Even when Hendo chose to jump ship to Strikeforce three years ago, he was warmly welcomed back to the UFC where he's still regarded as a top-10 light heavyweight.
Considering that, and the fact that he's been in the sport so long, he's likely to end his career at the moment of his choosing with the UFC.
Ronda Rousey
Gary A. Vasquez-USA TODAY Sports
In her short career, Ronda Rousey has achieved more in MMA than any other woman fighter. In fact, the UFC's entire female division is built around her.
She's a crossover star who regularly appears on the cover of glossy magazines and has become, in her own right, a recognisable name outside of the world of MMA.
As bantamweight champ, her talents are self-evident and her rivalries with the likes of Miesha Tate or Cristiane "Cyborg" Santos (currently with Invicta) means she has the rare ability among female fighters of headlining any event.
In many ways, the female division in the UFC has already proven itself and can be carried without her. But Rousey is still the only true female star, making her an indispensable asset.
Cain Velasquez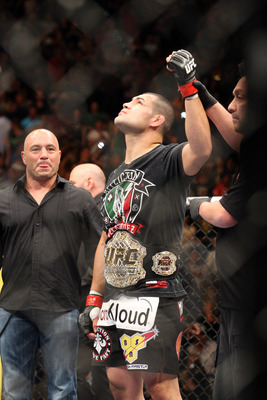 Bruce Fedyck-USA TODAY Sports
Despite the depth of talent the UFC has across all its rosters, there's nothing so compelling to the casual fight fan than watching the heavyweights. At the top of the heavyweight tree in the most competitive promotion in the world is Cain Velasquez.
In just 13 fights, excluding one minor slip-up against Junior dos Santos, Velasquez has decimated every opponent put in front of him. Quite simply, he's the scariest man in MMA who finishes opponents in a manner more brutal than anyone else in the entire sport.
He's a beast at 240 pounds with the gas tank of a middleweight. He is an elite athlete who is likely to go down as one of the best heavyweights the sport has ever seen and one the UFC will never want to let go.
Keep Reading