San Francisco 49ers: Must-Watch Players at Each Position in Preseason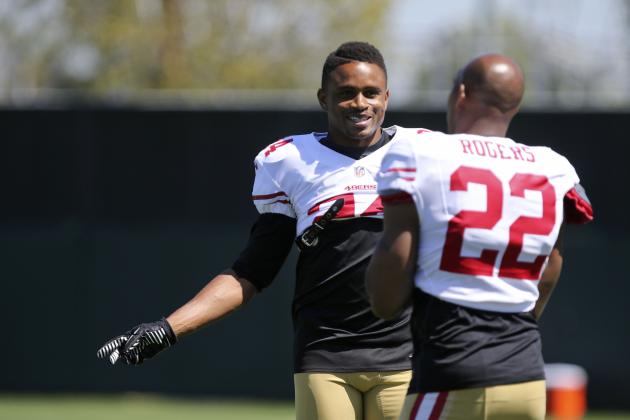 Kelley L Cox-USA TODAY Sports
The 49ers' secondary hinges on the potential comeback of All-Pro CB Nnamdi Asomugha.
Regardless of a player's standing, the annual NFL training camp is one of the toughest grinds in pro sports, especially for a team like the San Francisco 49ers that continues to operate with an elevated standard.
For the hopefuls trying to make a team or those proving why they deserve to stay—the culmination of all those hours spent alone studying the playbook, weight training, time in the classroom, eating right, field drills and more—it all leads up to those four perceptually insignificant preseason games in August.
After all the hard work has been put in, this is the time when the coaches unleash their players and say, "Okay, show me what you got."
Though they don't count toward the regular season, these exhibition contests matter a great deal to the 90 individuals participating in them (apart from your Pro Bowlers and franchise players). We can thank HBO's Hard Knocks for humanizing that aspect of the game for the general public.
Moreover, cuts and depth chart evaluations are on the horizon. What the players do or don't do will affect their standing with the team. For the 'Niners, which are looking to put the finishing touches on a potential Super Bowl team, this should make for an awfully competitive four-game stretch leading into the season.
With that said, here is a list of the must-watch players on the San Francisco 49ers in the 2013 preseason.
Begin Slideshow

»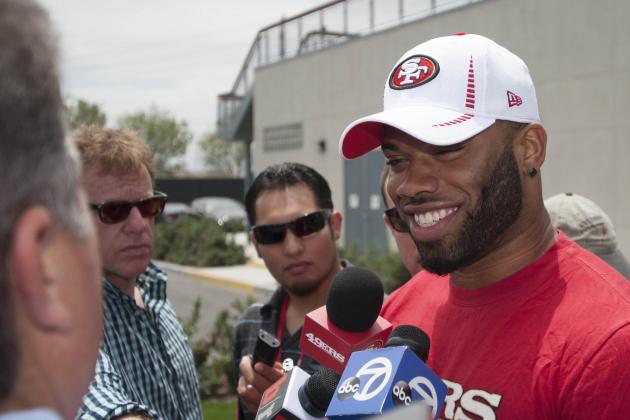 Ed Szczepanski-USA TODAY Sports
Does B.J. Daniels have enough upside to overthrow Colt McCoy or Scott Tolzien?
B.J. Daniels
10,413 all-purpose yards and 77 touchdowns from 2009-2012 makes the rookie from South Florida one of the most exciting players to watch in all of preseason. The mystique behind Daniels is that this is somebody that has a lot of layers to his game and happened to be drafted to a wily staff that will know how to utilize him.
His trademark on the field is that of a shape-shifter.
Able to play quarterback, running back, wide receiver and return specialist, Daniels is a bona fide jack-of-all-trades, via the team's official website. He is a charismatic young football player that takes to the game very naturally.
The 49ers can get plenty for the roster spot if they elect to carry him on the final-53.
Interestingly enough, he is the only other quarterback outside Colin Kaepernick to be selected by Jim Harbaugh in three drafts. Coincidentally, Daniels also embodies a similar athletic mold but has room to grow as a passer under the 49ers' umbrella. As a multifaceted QB for the Bulls, Daniels achieved 80.3 percent of his total production through the air, finishing with a career 128.2 rating.
The rookie has the panache of an efficient runner—not flashy—but is an all-around solid football player. He is a stocky guy with a diverse catalog of open-field moves that is only capped off by his toughness. In a compact 6'1", 217-pound frame, Daniels is not afraid to drop the shoulder and lower the boom on potential tacklers.
The 49ers are going to love his team-first mentality and schoolyard style of ball. If he looks the part in preseason competition, B.J. Daniels may become the Niners' new "Swiss Army Knife" in 2013 and beyond.
Directly Affects: QB, Scott Tolzien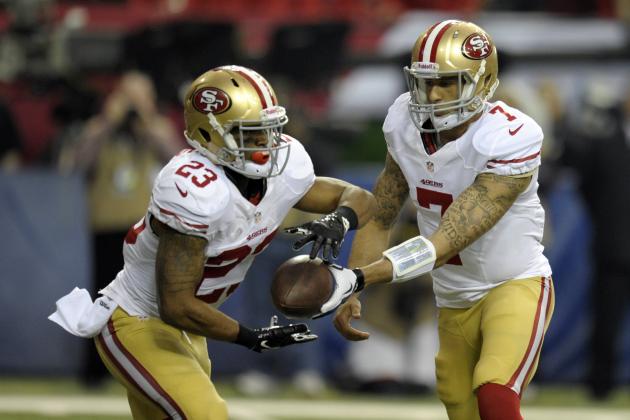 Dale Zanine-USA TODAY Sports
Is LaMichael James going overlooked in 2013? Find out in preseason.
LaMichael James
In a constricted rookie debut, James averaged 6.8-plus yards per carry in three of only five games played. The 49ers won all three of those contests and he even scored his first career touchdown in one. In the regular season and postseason, James cumulatively racked up 230 yards of total offense on just 43 touches.
It was a campaign defined by vivid glimpses of home run ability—just a very small sample size to draw from.
Moreover, seeing as how James is a late second rounder from last year that did not get a ton of playing time as rookie, he has continued to go overlooked by the casual NFL fan. Plus, with RBs Frank Gore and Kendall Hunter currently locked in ahead of him on the depth chart, even the verified Twitter pundits doubt how many touches he will truly get on game day.
This is a huge mistake—not just for fantasy footballers, but for opponents game-planning to play San Francisco. Truth be told, James is such a dynamic weapon that it is going to force the 49ers to be proactive in scheming facets of the offense and special teams around his masterful abilities.
In 2013, he projects to function as the primary in certain personnel groupings and packages, using specific route patterns and run designs that cater to his strengths as a perimeter threat and live wire in space.
With his rare explosiveness and persona as a big-play threat, the hotfooted runner from Oregon could be in line for a featured role right now. The 49ers will likely optimize his total production by deploying James as their primary outside back, featured zone-read weapon, option receiver and return specialist.
At a training camp press conference in Santa Clara, Calif., 'Niners head coach Jim Harbaugh told the media that James is due to make a quantum leap from his rookie to sophomore year, via 49ers.com:
Great improvement. Vast improvement from one year to the next. You talk about it, and you say that usually players from the end of their first year to the start of their second year have the chance to make the greatest amount of gains that they'll ever have in their career. Just like college players who are freshman that go from their freshman year to their sophomore year. LaMichael's a real, living example, current example of that. And it's noticeable in all areas.

He's improved his technique, his base, in terms of pass protection. His knowledge of the scheme. Great improvement in his vertical running, his insert between the tackle. Running, his returning, the way he catches punts and kickoffs now, you look at him as a trusted agent back there to field punts and kickoffs.
The most notable takeaway here is that the team is looking to him as the primary return man.
James showed great ability fielding kickoffs in 2012, finishing with 14 returns for 417 yards (29.8 YPR). Though he was limited on tries, this average still ranked him third in the NFL behind players that had 15-plus returns, trailing only Percy Harvin (35.9) and Jacoby Jones (30.7).
The most noteworthy return by James came in Week 15 at Foxborough, where he returned a 62-yarder in the fourth quarter to set up the game-winning touchdown versus the New England Patriots. He could have a very big year, but since he is down the depth chart, he will likely see a good amount of preseason action.
The 2013 exhibition will provide a great sneak-peek as to the player LaMichael James will become.
Directly Affects: RB, Kendall Hunter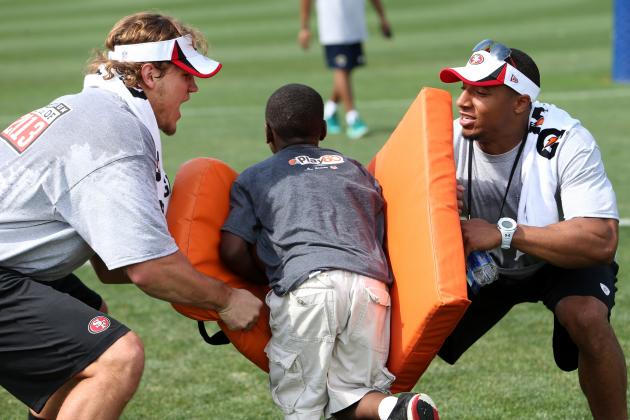 Ron Schwane-USA TODAY Sports
Can Vance McDonald help take this 49ers offense to another level?
Vance McDonald
A lot of people overlook the fact that if mid-second-round pick Vance McDonald had been drafted virtually anywhere else, he would be the presumed starter by now. He has the tools to beat out a lot of starting tight ends in the league, but it was his fate was to be paired with a top-five player at the position in No. 85, instead.
Prior to the April draft, McDonald was declared the No. 4-rated tight end prospect out of 97 hopefuls, per NFL Draft Scout. Had the wondrously flawless Tyler Eifert not been a part of this draft class, the former Owl would be looking more and more like the top option.
In his last two seasons at Rice University, McDonald collected over 1,000 yards from scrimmage and seven touchdowns. Of his 36 grabs as a senior in 2012, nearly 80 percent went for first downs (28 of 36). He was the focal point of his college offense, and from a physical standpoint, he is ready to carry the load in the NFL.
At the combine, the 6'4", 267-pounder registered as the single strongest tight end in his class, and by a wide margin. Still, being the broad juggernaut that he is, McDonald moves incredibly well for his size. He is a player that San Francisco brought in to maximize its vertical game while improving on situational downs, like the red zone and 3rd-and-longs.
As a pure football specimen, fans can expect a high level of functionality from McDonald early in his career.
Directly Affects: TE, Garrett Celek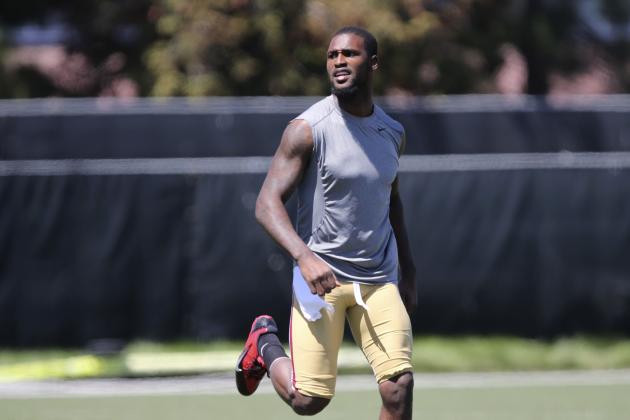 Kelley L Cox-USA TODAY Sports
What will become of young A.J. Jenkins?
A.J. Jenkins
Like you were expecting anyone else to be here?
Each being the tantalizing options that they are, wide receivers Quinton Patton, Ricardo Lockette and Kyle Williams still do not come close to the 5,000-watt spotlight that will be aimed directly at Jenkins during preseason.
Sources from Santa Clara have reported that last year's first-round selection has continued to be targeted early and often in camp. Realizing they are short on time, evidently the coaching staff is forcing the issue, trying to get its most esteemed investment in a groove with the start of the regular season only a month away, via 49ers.com.
With Michael Crabtree (Achilles) sidelined for a good duration of the season, the 49ers are still waiting on a dependable weapon to emerge opposite Anquan Boldin. "They want A.J. to do it," said Cam Inman of the San Jose Mercury News. "And he needs to have a big exhibition because he has been inconsistent on the practice field."
Jenkins' maturation process has been one of the most scrutinized stories in 49ers camp the past two years. There is this inkling that he needs to be a complete receiver right now or the defending NFC champs are in trouble. While Jenkins is the prize pig at WR, the 49ers may find out in preseason that someone like Kyle Williams is the more pro-ready option.
Inman elaborated on the current predicament, via Niner Talk Central:
You know, Jim [Harbaugh] said last week that A.J. Jenkins needs to get on the field more. He hasn't been on enough. And it's not as supportive a stance as it was a year ago when Jim stormed into the media tent and described the 'pundits, and so-called experts,' that they didn't know anything because A.J. Jenkins is going to be an outstanding football player. I haven't heard that yet.
Only days into training camp, it is hard to gauge Jenkins' progress or lack thereof, so the exhibition games will be very telling of where he is. When it's time to compete, it'll be good to see what he's made of.
Directly Affects: WR, Kyle Williams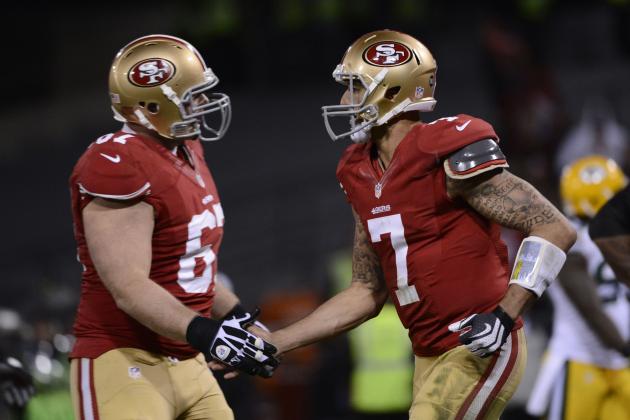 Robert Hanashiro-USA TODAY Sport
Is Daniel Kilgore going to be Colin Kaepernick's center of the future?
Daniel Kilgore
According to Matt Maiocco of CSN Bay Area, the 6'3", 300-pound interior lineman is gunning for a starting job on San Francisco's prestigious O-line, ranked No. 1 by Pro Football Focus. Now in his third year, Kilgore believes he is ready for a featured role on one of the most revered fronts in pro football.
In Khaled Elsayed's PFF breakdown of the unit, he describes them as:
Phenomenal. A near flawless collection of linemen. Most teams would kill for any one of the guys the 49ers put out, yet they have five of them. The introduction of Alex Boone provided a huge boost, with Anthony Davis upping his game with better play next to them. They're young unit by offensive line standards and look set to dominate for a long time.
The one questionable player in the group—and he is hardly worth nitpicking—is center Jonathan Goodwin. PFF pointed out the Pro Bowl O-lineman out as the "dud" of the group, if there was one. Bearing in mind who is to his left and who is to his right, it is not hard to imagine why 34-year-old Goodwin looks like the weak link.
On top of that, Goodwin being in a walk year apparently has Kilgore jazzed up for the job, via Spotrac.
"I do see myself competing for the starting center job. I see myself competing for a spot on the roster. Not only being one of the seven offensive linemen, but the starting center, one of the five key offensive linemen," said Kilgore.
He wants it now and if he can't have it now, he does not want the staff to have to think twice come contract time. If Daniel Kilgore is indeed Colin Kaepernick's center of the future, now is good time to give him a look.
Directly Affects: G, Adam Snyder and C, Jonathan Goodwin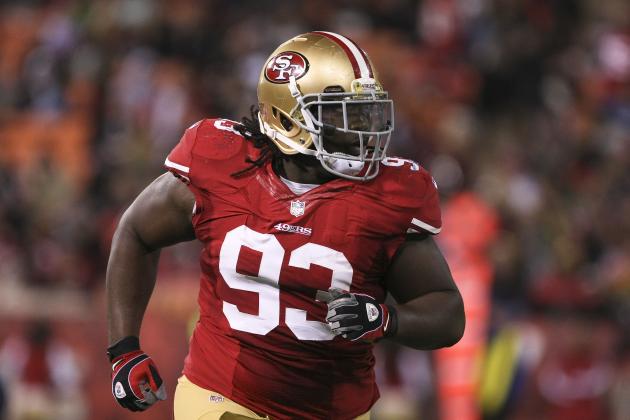 Kelley L Cox-USA TODAY Sports
Is Ian Williams really a diamond in the rough?
Ian Williams
Of the players looking to cement new roles for themselves, few have generated as much buzz as 49ers nose tackle Ian Williams.
On San Francisco's tenacious D-line, which they have been able to replenish time and time again, even in the dog days, Williams may be the next rising star. This offseason, the team re-signed the UDFA from Notre Dame to a two-year, $3.2 million deal (via Pro Football Talk), providing him with an opportunity to be a specialist at the zero-tech in the 49ers' 3-4 base alignment.
At 6'1", 305 pounds, Williams is a girthy, power-driven tackle that is surprisingly nimble for his levying physique. For this reason, the feeling from 49ers base camp is that he has the potential to flourish as a multifaceted defender that can both clog running lanes and be an active penetrator.
Directly Affects: DT, Glenn Dorsey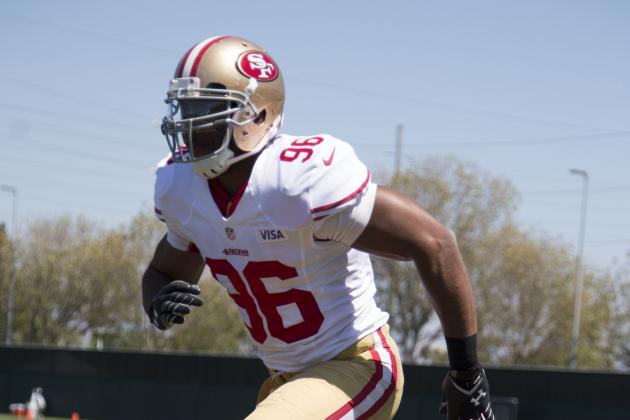 Kyle Terada-USA TODAY Sports
Can Corey Lemonier be a dangerous pass-rush specialist in 2013?
Corey Lemonier
Early on in the 2013 draft, San Fran went on a run for playmaking defenders, bringing in hard-hitting safety Eric Reid and freaky pass-rush specialist Tank Carradine on back-to-back picks. Both of these high-profile prospects had bona fide first-round talent, with the inherent potential to be building blocks in this defense going forward.
Though, after three long star-studded days at Radio City, followed by the headlining UDFA signing of Lawrence Okoye, something that got lost in translation is how impactful Auburn rookie Corey Lemonier can be.
Outside of Reid, this is the only other defensive player the 49ers traded up for.
Not to mention, as a 4-3 defensive end for the Tigers, Lemonier staked his claim in the draft as an edge-rush extraordinaire. His draft stock was largely based on that aspect of his game. At 6'3", 255 pounds, he is a strong, long-bodied defender that has a window to work in as a situational pass-rusher.
In this bolstered defensive front, playing alongside the likes of Justin Smith, Aldon Smith and learning from a deep OLB group, Lemonier will have a real opportunity to thrive as a specialist. It will not be as demanding, as the 49ers will allow him to pin his ears back and get after the passer.
Look for Lemonier to be the complementary sack artist to No. 99 this season.
Directly Affects: OLB, Parys Haralson and OLB, Cam Johnson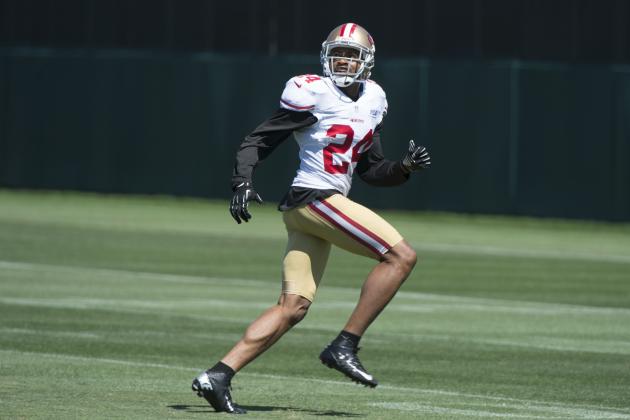 Kyle Terada-USA TODAY Sports
Can San Francisco potentially gain an All-Pro corner in 2013?
Does Nnamdi Asomugha still have any gas left in the tank?
This is the glaring question on everyone's minds, especially in the wake of the season-ending ACL injury to Chris Culliver. So far, the day-to-day updates from Santa Clara on Asomugha have yielded mixed reviews, which could either by a ruse by the staff or a telltale sign of his declining play.
The only way to find out for sure is to watch Asomugha versus Peyton Manning, Alex Smith, Christian Ponder and Phillip Rivers in preseason. The nationally televised competition outside 49ers camp will be revealing of his consistency on the field, or lack thereof.
At 6'2", 210 pounds, Asomugha has an opportunity to revitalize his All-Pro career, while providing San Francisco with the boundary corner it desperately needs. Whether or not he works out will greatly impact the 'Niners' season in 2013.
Directly Affects: CB, Tramaine Brock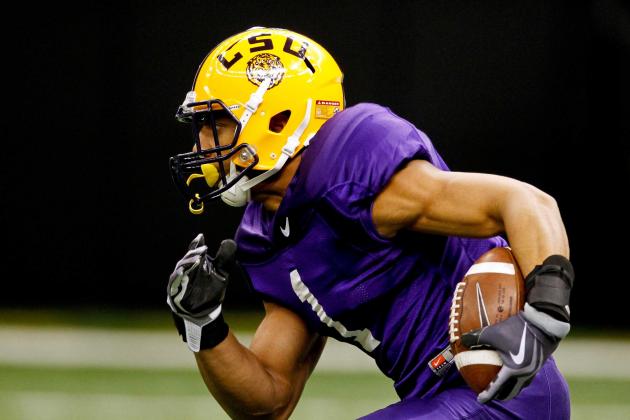 Derick E. Hingle-USA TODAY Sports
Is Eric Reid ready for the show?
Eric Reid
Like wideout A.J. Jenkins, this is another obvious must-watch player in preseason.
Coming out of a big-time defensive program at LSU, Reid is a notorious hitman looking to fill the shoes left by departed All-Pro FS Dashon Goldson. The 6'1", 213-pounder was a top-rated prospect in the 2013 draft—and also happens to be the first first rounder in three drafts under Jim Harbaugh that is expected to start right away.
Being a pristine physical specimen with a high-IQ, there is a ton of upside to his game at the next level. However, Reid's biggest challenge as a rookie—far and away—will be developing into a strong cover DB that can be relied on to defend the deep part of the field.
He will have to temper his over-aggressive nature so it does not become an exploitable weakness of the 49ers defense as a whole.
This is also applicable to his bravado as a tackler, where Reid tends to sacrifice form for the knockout blow. His development under coordinator Vic Fangio, Ed Donatell and this defensive system will not only be a sight to see in preseason, but during the 16-game schedule as well.
Directly Affects: S, Craig Dahl and S, C.J. Spillman
Dylan DeSimone is the San Francisco 49ers' Lead Columnist for Bleacher Report. He also co-hosts the Niner Talk Central podcast for PFC. To talk football with Dylan, follow him on Twitter @DeSimone80.