Oklahoma City Thunder Schedule 2013-14: Most Anticipated Games of the Season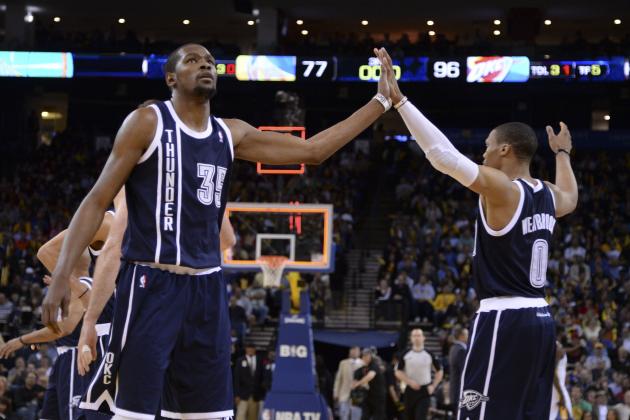 Kyle Terada-USA TODAY Sports

With the release of the 2013-14 NBA schedule, the Oklahoma City Thunder can finally look forward to their road back to the postseason after last year's disappointing loss to the Memphis Grizzlies.
Kevin Durant and Russell Westbrook aim to return to the top spot in the Western Conference, while Westbrook hopes to return to form as he makes his comeback from a torn meniscus that ended his playoff run—and essentially the Thunder's run altogether—prematurely.
Highlights of this year's action for Oklahoma City include trips to New York, Chicago and more.
Begin Slideshow

»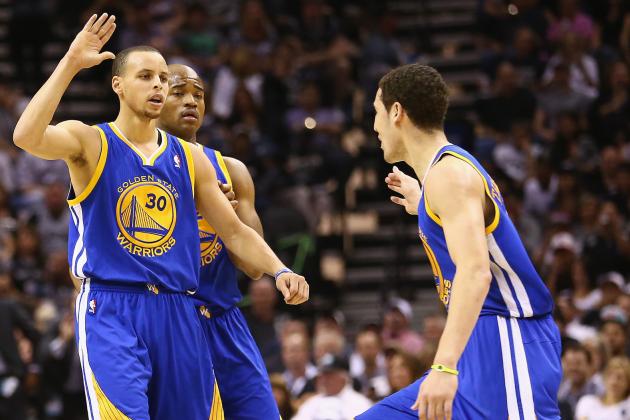 Ronald Martinez/Getty Images

The first notable matchup on Oklahoma City's schedule appears in mid-November, when the Thunder journey out to face off with a new and improved Golden State squad.
The Warriors were one of the most active teams on the free-agency market this offseason.
Andre Iguodala and his $52 million contract made the biggest splash on Golden State's financial statements, but Toney Douglas, Marreese Speights and Jermaine O'Neal were also added to the Warriors' equation.
Combine those additions with young talents like Harrison Barnes, Stephen Curry and Klay Thompson, and Warriors fans have every right to be optimistic.
That optimism was already validated last postseason, when Golden State proved they could compete with the best during an entertaining series with the San Antonio Spurs.
The Thunder, whose roster is bountiful with youth as well, will undoubtedly be looking to assert their dominance over the Warriors. It may be a home matchup that Golden State will likely be expected to win, but Oklahoma City certainly understands giving a young and quickly improving team like the Warriors any ounce of confidence can be dangerous in the big picture.
Prediction: Oklahoma City wins. The Thunder will take this one simply because, while Golden State's roster holds plenty of talent and promise, Oklahoma City's has more experience. Plus, given the meeting taking place so early in the season, there's a good chance the new-look Warriors will still be working out a few kinks.
Mark D. Smith-USA TODAY Sports

Later in November, the Thunder get their first shot at the defending Western Conference champions, the San Antonio Spurs.
The usual regular-season cliché of a potential conference finals preview will be thrown around as the nation tunes in to examine where the aging Spurs sit in their current state.
Oklahoma City will likely be favored to either win the West or finish second to the Houston Rockets.
And against San Antonio, Kevin Durant, Russell Westbrook and the Thunder have an opportunity to flex their muscles and prove they're ready to again compete for an NBA title.
Prediction: Oklahoma City wins. Home-court advantage will unquestionably play a huge role in this early-season matchup, as both the Thunder's personnel and fanbase will be eager to show the NBA they are a legitimate title threat.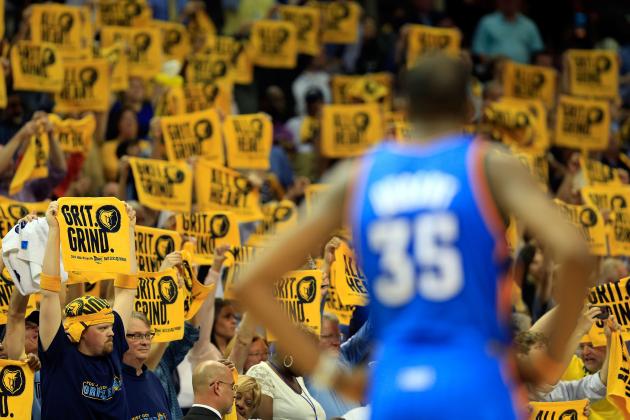 Jamie Squire/Getty Images

Clearly, revenge will fuel this meeting for Oklahoma City.
The Memphis Grizzles took care of the Westbrook-less Thunder in relatively easy fashion this past May.
Memphis has made efforts to improve. The Grizzlies recently brought in swingman and sharpshooter Mike Miller, who was amnestied by the Miami Heat in an effort to lessen their mountainous luxury tax burden.
Both teams should be close to hitting their strides by this point, so this should be a fun and exciting matchup.
Prediction: Memphis wins. Powered by confidence from last year's run, a chip on their shoulders due to a sense of unfinished business and of course home-court advantage, the Grizzlies have a slight edge over the Thunder.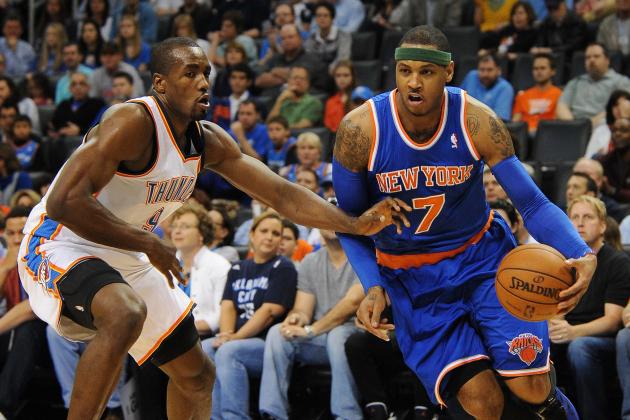 Mark D. Smith-USA TODAY Sports

Though it would seem Oklahoma City is obviously a better team than New York, there's no way a Christmas Day matchup can be left off this list.
And whenever two scorers like Kevin Durant and Carmelo Anthony face off, the game is sure to grab the attention of hoops fans everywhere.
Plus, if the Knicks happen to be in the midst of a hot streak similar to the one they hit last season, there will be an added sense of intrigue to this meeting. Though they won't be favorites in their conference, Anthony and New York still believe they have a chance to contend as currently assembled.
A championship may be a long shot, but if there's anything we learned from Anthony's group last year, it's to never discount them during the regular season.
Prediction: New York wins. This is a toss-up simply because it's a regular-season game, and picking between elite scorers like Durant and Anthony is never an easy task. However, I'm giving the Knicks the edge in this one purely because of Madison Square Garden and a potentially red-hot Anthony as the wild card.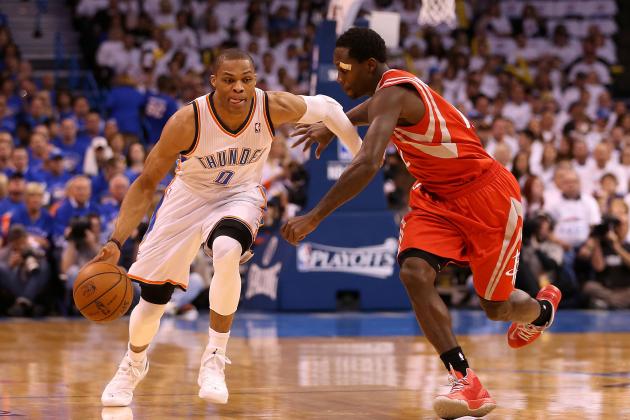 Christian Petersen/Getty Images

This matchup will be highly anticipated for a couple of reasons.
First and foremost, it's the Thunder's first shot against the Houston Rockets and their new star center, Dwight Howard.
Houston will likely be viewed as the favorites to win the conference, so Oklahoma City has a chance to demonstrate its supremacy. Durant and company will be motivated.
And then, of course, there's the Patrick Beverley factor. Beverley isn't the most popular guy in Oklahoma City after inflicting the season-ending knee injury on Russell Westbrook in the first round of last year's playoffs.
Although Beverley's maneuver wasn't viewed to be dirty by most outside of Oklahoma City, Westbrook and Thunder fans won't be as forgiving.
The environment inside the Chesapeake Energy Arena will be hostile, and Westbrook will surely be operating at a notch or two higher than his norm that night.
Prediction: Oklahoma City wins. The Thunder have several intangible advantages in this matchup, with the environment and revenge carrying the most significance. They'll be treating this one like a playoff game.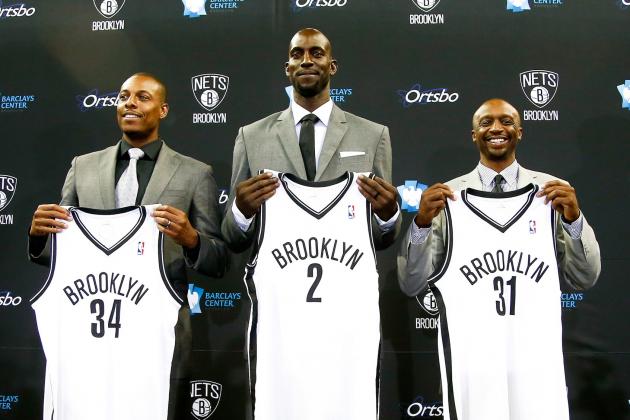 USA TODAY Sports

Oklahoma City kicks off the New Year with a home game against the league's newest superteam, the Brooklyn Nets.
The jury is still out on just how much of a threat the aged Nets, who acquired Kevin Garnett, Paul Pierce and Jason Terry from the Boston Celtics this summer, actually are.
Brooklyn's skeptics are unsure how Jason Kidd's team will be able to fare against younger teams like Oklahoma City. And with this being an East-West matchup, the Nets will be looking to prove they can run with anyone and everyone in the league.
Another point of interest, though it has virtually zero effect on the actual game, is the fact that Kevin Durant recently announced his partnership with rap star Jay-Z as his agent. Jay-Z is no longer a minority owner of the Nets, but this will definitely create some buzz for the matchup.
Prediction: Oklahoma City wins. To be honest, I'm not yet sold on this Nets team as a contender. There are way too many questions, with age and chemistry appearing at the forefront, surrounding Brooklyn.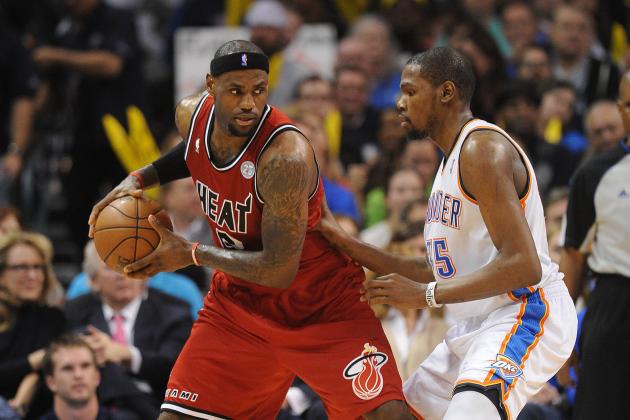 USA TODAY Sports

The Thunder will visit Miami a few days prior to this meeting, but I gave this matchup a spot on the list simply because it's the only shot Oklahoma City gets at the Heat on their home floor.
LeBron James has almost always held the upper hand on Kevin Durant since the two began battling back in 2007 when Durant entered the league. On top of that, the Heat have currently won six straight against Oklahoma City, dating back to the 2012 NBA Finals.
If the Thunder want to prove they're ready to contend for an NBA title and dethrone James and the Heat, they need to defend their home floor in this matchup. If they don't, Miami will continue to hold an edge in the confidence department should the two franchises meet next June.
Prediction: Heat win. To put it simply, Miami firmly grabbed hold of the reins in this rivalry when the Heat won four straight in the 2012 NBA Finals. For that reason alone, it's difficult to pick against Miami in these meetings until the Thunder show us otherwise. The Heat's small-ball formula has given the Thunder fits, and it's apparent Oklahoma City has yet to find a way to beat it.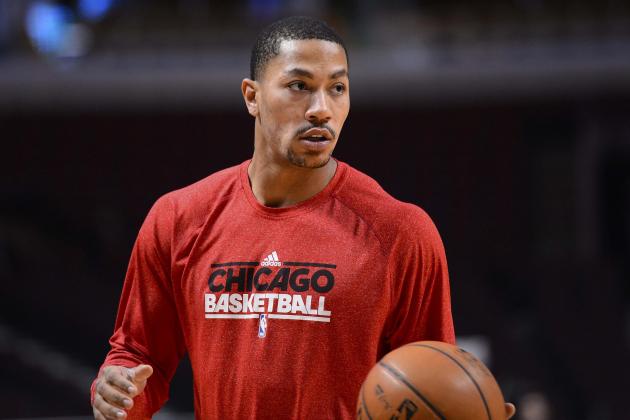 Mike DiNovo-USA TODAY Sports

With the playoff race in full swing and a rising sense of urgency in mid-March, the Thunder will head up to Chicago for another potential finals preview.
Derrick Rose's return is highly anticipated all around the league, and the Bulls have not been shy about their expectations when they are finally healthy.
All of the talk and expectations won't be truly validated or disproved until the postseason rolls around, but Rose and the Bulls will undoubtedly be gunning for the Thunder as they look to build their confidence with April looming.
Truthfully, a healthy Chicago does have reason to believe it has as good a shot as any team to end Miami's run as NBA champions. If Rose ends up being as good as those around the Bulls camp claim he looks right now, next year will be interesting to say the least.
Prediction: Chicago wins. The Madhouse on Madison will prove to be one of the biggest factors in this one. The city of Chicago is hungry for a return to prominence and will be amped up all year long with Rose's return to action. However, this prediction is assuming the Bulls are healthy. If they aren't, or if Rose doesn't return to form, it's a different story.