Coaching Changes with Greatest Impact on 2013-14 NCAA Basketball Season
Rob Carr/Getty Images
Every school that changes a coach hopes for the immediate turnaround. Can the new boss find that one motivational tactic that will turn a ragtag team into a finely-tuned machine?
Most of them can't. However, some coaches do come in with a reputation that can alter the perception of his new program overnight.
These 10 coaches—presented alphabetically—are new to their jobs, and a couple are new to being head coaches altogether.
Some are veterans who know their way around the game, and some are fresh faces about to find out if they can trade shots with the big boys.
All should have a tangible effect on their teams' fortunes in year one.
Chris Collins, Northwestern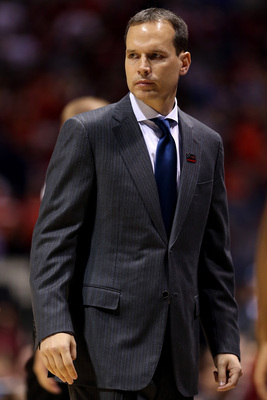 Andy Lyons/Getty Images
Will Chris Collins end The Drought at Northwestern this season, the university's 75-year failure to reach an NCAA tournament?
No.
However, what he will do is lay the framework for a better future at the state of Illinois' lesser-known Big Ten basketball program.
Former coach Bill Carmody's Princeton offense will be abandoned in favor of a faster, scrappier approach. The Chicago-raised Collins will make it a personal mission to recruit the area aggressively and sell the program.
Four-star recruit Vic Law of South Holland, Ill. has already committed to play for Collins in 2014. Law, ranked No. 70 in the 247Sports Composite list, is the highest-rated player to commit to Northwestern since Evan Eschmeyer, who arrived two decades ago. Law's father told Sports Illustrated that his son would never have committed to Carmody, who he described as "arrogant."
With former All-Big Ten selection Drew Crawford back from injury and guard JerShon Cobb returning from a season-long academic suspension, the Wildcats will still have talent. This season, they may also play with more energy and fire. If not, Collins' Duke pedigree and Chicago connections can bring in talent that will.
Jim Crews, Saint Louis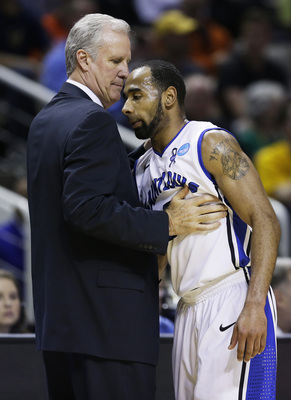 Ezra Shaw/Getty Images
Jim Crews is a coach who simply had to be retained by his university. After steering Saint Louis through the emotional turmoil of former coach Rick Majerus' death, the full-time job was a just reward.
After all, the Billikens pushed through to the program's first regular-season conference title since 1970-71, as a member of the Missouri Valley, and first tournament crown since the 2000 Conference USA championship.
This season, SLU brings back four starters, including All-Atlantic 10 first-team forward Dwayne Evans. Evans' rebounding skills and the defensive abilities of guards Jordair Jett and Mike McCall Jr. are the most critical facets to the Billikens' success, more so than any one player's scoring.
Six of St. Louis' seven upperclassmen averaged more than 10 minutes per game last season, so experience is a strength. A solid recruiting class, headlined by Villanova transfer Ash Yacoubou, fell into place in a matter of weeks after Crews was hired full-time.
As long as some of Majerus' former players are still on the roster, there's still the bond that was forged between them and Crews. Strong recruiting will need to continue for the program to thrive long term, and since this is the highest-profile head coaching job of Crews' career, there is no guarantee of that.
For the short term, however, Jim Crews is the only man for the job in St. Louis.
Joe Dooley, Florida Gulf Coast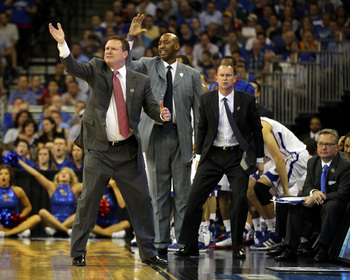 Doug Pensinger/Getty Images
Take a veteran assistant at one of the sport's iconic programs to a school that captured imaginations across America last March, and it's a potent combination.
Joe Dooley is the fellow standing next to Danny Manning in this picture from the Kansas sideline. He worked with head coach Bill Self from the moment Self arrived in Lawrence for a total of 10 years.
Dooley's been a head coach before, going 57-52 with East Carolina from 1995-99. While Greenville, N.C. has its charms, attracting talent to the beachside city of Fort Myers, Fla., just off the Gulf of Mexico, should be a much easier proposition.
Aside from convincing young men that they should come to a place where girls in bikinis grow on trees, there's also the small matter of "Dunk City." The high-flying style that made FGCU so fun to watch in the NCAA tournament is one that players will love to be part of, and it isn't a completely alien concept to Dooley.
"A lot of the actions that they ran offensively were similar to what we did at Kansas," Dooley told ESPN's Jason King. "Seriously, who threw the ball at the rim [for a lob] more than we did at KU?"
With four starters back, the Eagles have every reason to expect an Atlantic Sun championship and a return trip to the Big Dance.
Andy Enfield, USC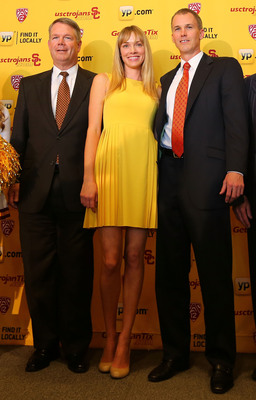 Victor Decolongon/Getty Images
Before last March, if anyone knew anything about Andy Enfield, it's that his wife Amanda was a former Maxim model.
Fast forward a few weeks, and Florida Gulf Coast was in the Sweet 16, "Dunk City" was a nationwide phenomenon and Enfield was on the radar of power-conference programs.
USC has long been a program with seemingly every piece needed to succeed, but unable to find a coach that could leverage those strengths into a consistent winner. So, the program with the prime location and not much of a track record seems like a perfect fit for the coach with the model wife and not much track record of his own.
Enfield's up-and-down style should play well in Los Angeles, a basketball market that occasionally still pines for the return of something resembling the Lakers' Showtime formula.
Likewise, Enfield will primarily cast his lot with Southern California talent, tapping assistants with extensive Cali connections like Tony Bland (from San Diego State) and Jason Hart (of Pepperdine). Enfield himself is no stranger to recruiting California, having once snared Moreno Valley product Michael Snaer away from UCLA to Florida State.
Currently in need of a point guard, Enfield is waiting to see if Maryland transfer Pe'Shon Howard will be granted immediate eligibility by the NCAA. A decision is expected sometime next week. With Howard, USC would field a solid starting lineup. Without him, fans may need to wait a year to see Dunk City West take full flight.
Bobby Hurley, Buffalo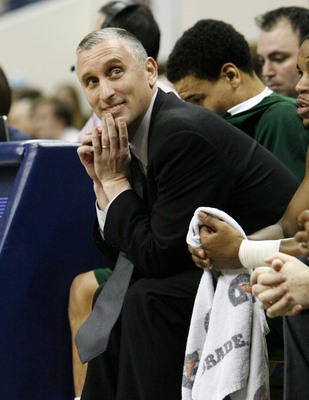 Charles LeClaire-USA TODAY Sports
Like Chris Collins, Bobby Hurley has a lot of connections through both a famous father and and a legendary former coach at Duke. Unlike Collins, Hurley takes it to the next level as a former NBA point guard in his own right.
Hurley takes over for a very popular coach in Reggie Witherspoon, who won 20 games in four different seasons and reached four postseason tournaments. However, none of those tournaments were the big one. Few potential head coaching hires offered as much NCAA tournament experience as Hurley, a two-time national champion point guard.
The key to Hurley's system will be the point guard position, and the Bulls return a capable one in senior Jarod Oldham. Oldham went down with a season-ending wrist injury in December just when he was finding his stride as both a scorer and distributor. He led the MAC in assists two years ago and was averaging 10.1 points and 4.4 dimes when injury struck in 2012-13.
Oldham will be able to utilize the talents of senior big man Javon McCrea, who should become one of the nation's top mid-major stars if he isn't already. Overall, UB returns five of its top-six scorers.
The MAC has been ruled by Akron and Ohio for the past several seasons, but both programs have lost top stars to graduation. This season's race may be more wide open than in years past, and don't count out Bobby Hurley's ability to spur his players to success.
Eddie Jordan, Rutgers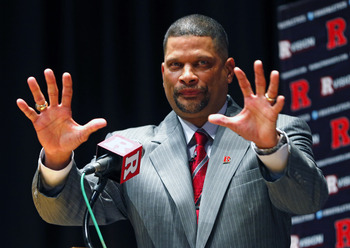 Rich Schultz/Getty Images
At this point, Eddie Jordan's biggest strong point is that he's not Mike Rice.
Hired to reshape the Rutgers program's image in the wake of Rice's angry tirades and subsequent firing, Jordan brings unique qualifications to the table. A former Scarlet Knights star who led the school to its only Final Four appearance in 1976, Jordan has also coached in the NBA with three different teams.
For a few weeks after Rice's firing, Rutgers was a sinking ship and players were diving overboard at an alarming rate. At one point, Jordan's roster was down to four scholarship players.
An impressive rebuilding job has ensued, with Jordan adding six players in a matter of weeks. Perhaps most telling was the return of guard Jerome Seagears, who had transferred to Auburn. Seagears and fellow junior Myles Mack give the Knights back two-thirds of the talented backcourt it has relied on for the past two seasons. (The third member, Eli Carter, transferred to Florida.)
Making a one-year stopover in the American Athletic Conference before heading to the Big Ten in 2014, Rutgers isn't likely to take down Memphis or Louisville for a league crown. What it is likely to do, however, is stop embarrassing itself on a national scale.
At this point, that alone is a victory.
Craig Neal, New Mexico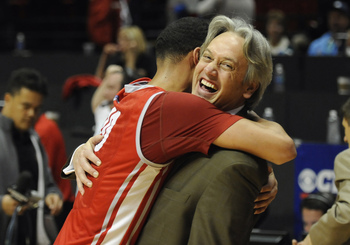 Christopher Hanewinckel-USA TODAY Sports
Some coaching changes cause chaos. New Mexico's did anything but. Promoting associate head coach Craig Neal to replace the departed Steve Alford created a comfort zone for a team still smarting from an embarrassing loss to a No. 14 seed in the NCAA tournament.
As the architect of the Lobos' deliberate offense (222nd in tempo according to Ken Pomeroy), Neal is more equipped than anyone to adjust after losing top scorer Tony Snell to the NBA draft. The other four starters return, led by shooting guard Kendall Williams and big man Alex Kirk. In addition, Neal's son Cullen, a 3-star point guard, switched his commitment from St. Mary's to UNM after Neal's promotion.
The Lobos could become a much more accessible program nationally under the mild-mannered Neal as opposed to the occasionally abrasive Alford. Whether that leads to more wins down the road will be a function of what happens this season.
UNM is highly capable of winning the Mountain West title again, especially considering the personnel losses at perennial contenders like UNLV and San Diego State.
Continuity is occasionally overrated, but New Mexico would have had a tougher rebuild on its hands had it tried to reel in a big fish to fill its sideline vacancy. Promoting Neal sends the message that the Lobo program is exactly where it wants to be, and is willing to reward one of the men who put it there.
Jimmy Patsos, Siena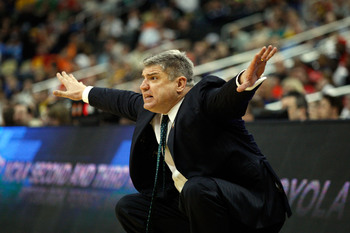 Jared Wickerham/Getty Images
When Jimmy Patsos got to Loyola (Md.) in 2004, the Greyhounds were coming off a one-win season.
Nine years and 145 wins later, Patsos joined an exclusive club as only the second coach in the last 20 years to take over a zero or one-win team and win 100-plus games during his tenure. Only BYU's Steve Cleveland had matched the feat.
Staying in the MAAC rather than follow Loyola to the Patriot League, Patsos lands at Siena, a program that won more than one game last year (eight, to be exact), but is still a long way from the heights it enjoyed under Fran McCaffery in the late 2000s.
While the Saints lose double-double machine O.D. Anosike, three other double-digit scorers return, and Patsos has won with less. A pair of talented recruits decommitted from Loyola and followed Patsos to Siena. The Saints' basketball budget is greater than Loyola's, and a 17,500-seat arena will be a potent recruiting weapon for a coach who knows how to capitalize.
A winning season in 2013-14 will make Siena an attractive piece in the next rounds of conference roulette. Reports swirled all spring that the Atlantic 10 may have been interested in adding the Saints. The A-10, however, has been consistent in adding programs with recent track records of success, and Patsos will have to get Siena back on an upward trend before the school can seriously consider such a move.
Richard Pitino, Minnesota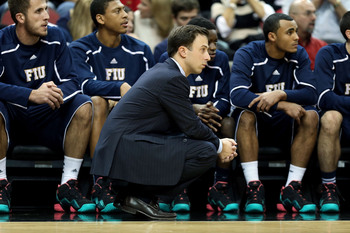 Andy Lyons/Getty Images
Will Richard Pitino succeed long-term at Minnesota? That's anyone's guess. For the moment, however, he's been a net positive for the Gophers.
Pitino was hired after only one season at Florida International, albeit one that was historically successful by FIU's miniscule standards. One game away from the NCAA tournament, Pitino would have had some talented transfers suiting up this season had he stayed.
Rakeem Buckles followed Pitino from Louisville and point guard Raymond Taylor had joined from Florida Atlantic. Now, Pitino has inspired similar loyalty from FIU's No. 2 scorer, guard Malik Smith. A 14.1-PPG scorer last season, Smith will be immediately eligible due to FIU being banned from the 2014 postseason.
Buckles may follow Pitino again if he can become academically eligible. He is finishing summer classes at FIU to that end, and cannot receive an NCAA waiver unless he leaves in good academic standing. Buckles would provide some needed muscle on the glass, having once averaged 6.1 rebounds per game at Louisville.
New Minnesota athletic director Norwood Teague has had some record of success with young coaches, having hired Shaka Smart at VCU. VCU, however, is not in the Big Ten. Smart has not had to duel nightly with the likes of Tom Izzo and Bo Ryan.
Pitino should, however, bring the kind of interest that Minnesota basketball hasn't had since the days of Clem Haskins, before widespread academic fraud came to light. An up-tempo style could appeal to some of the touted in-state prospects Pitino is trying to keep at home, such as guards Rashad Vaughn and Tyus Jones and forward Reid Travis.
While the Gophers are a long shot to lure some of those recruits away from the likes of Duke or Kentucky, just being in the conversation was not likely to happen under Tubby Smith.
G.G. Smith, Loyola (Md.)
Photo credit: LoyolaGreyhounds.com
Is it unusual to think that first-time head coach G.G. Smith will have greater success in his new job than his father, former national champion and new Texas Tech boss Tubby?
That may very well come to pass this season. While Tech seems like a job ill-fitted for a coach of Tubby's age and temperament, G.G. steps into a job for which he's been groomed over the past six seasons. That's how long G.G. Smith has been an assistant to former Loyola (Md.) coach Jimmy Patsos.
Patsos headed to Siena instead of following the Greyhound program to its new home in the Patriot League. While Smith returns only three of last season's top-seven scorers, the Patriot's heavyweights, Lehigh and Bucknell, have lost the past four conference player of the year winners between C.J. McCollum and Mike Muscala. Loyola guard Dylon Cormier may be the among the league's best players from day one.
Smith made one of the more intriguing assistant coaching hires of the offseason when he plucked former Maryland star and NBA champion Keith Booth from Loyola's women's team. The two should be able to combine for impressive success in recruiting the DMV (D.C-Maryland-Virginia) region, Baltimore in particular.
For more from Scott on college basketball, check out The Back Iron. Coming soon: ranking all 47 head coaching changes best to worst. Which of these guys is No. 1?

Keep Reading