The Kryptonite for Each of College Basketball's Top 25 Players in 2013-14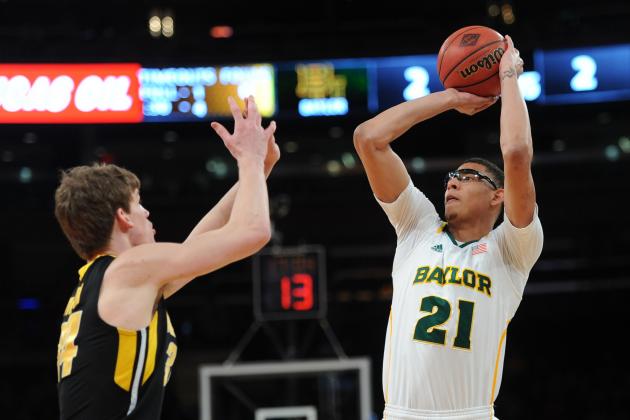 Joe Camporeale-USA TODAY Sports

Nobody's perfect, not even the biggest stars heading into what stands to be an exciting college basketball season. Every player has his Achilles' heel—even the ones who aren't recovering from Achilles tears.
Baylor's Isaiah Austin is a 7'1" center who can knock down perimeter jumpers and dominate the paint with his long arms. Even with all those assets, though, the 220-lb rising sophomore is susceptible to smaller players who have the muscle to push him around.
Read on for more on Austin, along with the most crucial vulnerabilities of the rest of the 25 best players in the nation for 2013-14.
Begin Slideshow

»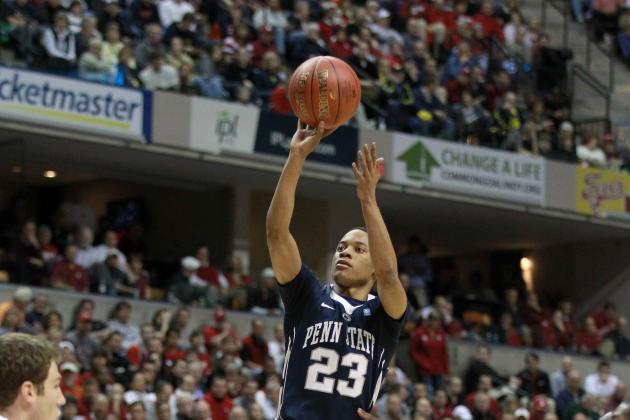 Andy Lyons/Getty Images

Kryptonite: Role reversal
The last time Tim Frazier got a real chance to lead Penn State—that is, excluding the 2012-13 season that ended after four games on a blown Achilles—he didn't have anyone to lead.
In 2011-12, the 6'1" PG topped the Nittany Lions roster in points (18.8), rebounds (4.7), assists (6.2) and steals (2.4) and knew that everything was on his shoulders.
Now, the Nittany Lions actually have some ballplayers around the fifth-year senior, with SG D.J. Newbill (16.3 points per game) and PF Ross Travis (7.4 rebounds a night) leading the charge.
Frazier's going to have to learn how to play with a wildly different team than he's had before, and he's going to have to trust some teammates who weren't even on the radar when he was running the show as a junior.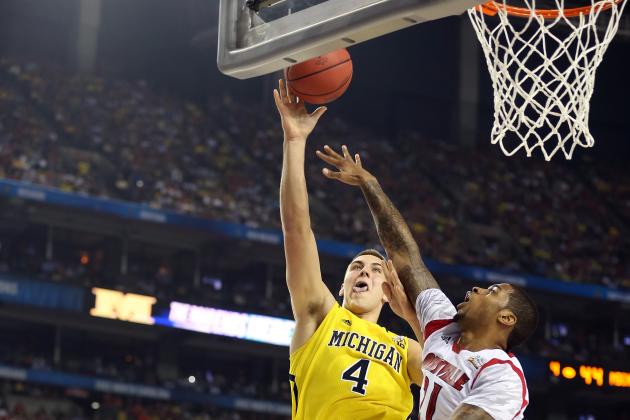 Andy Lyons/Getty Images

Kryptonite: Free throws
Mitch McGary's sensational postseason performance had one noteworthy weakness hiding among all the outstanding games. The Wolverines star still hadn't solved his problems at the charity stripe, where he shot just 6-for-16 in NCAA tournament play.
On the year, the freshman hit an abysmal 44.2 percent of his foul shots, only a hair better than frontcourt mate Nik Stauskas did from the three-point arc (.440).
As a player whose high-energy, physical style invites fouls, McGary is missing out on huge numbers of points by throwing up bricks when he's not even guarded.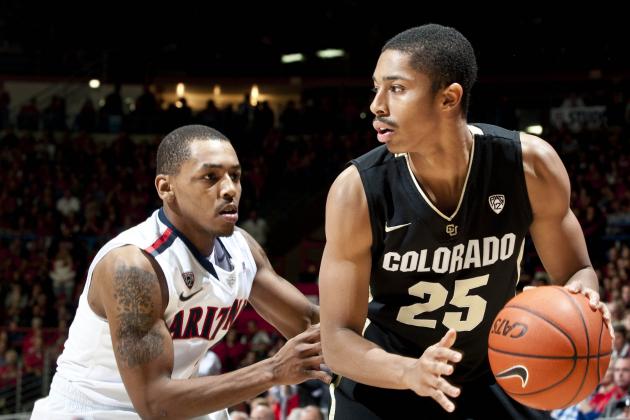 Casey Sapio-USA TODAY Sports

Kryptonite: Point guards
In almost any other backcourt, Spencer Dinwiddie would get his chance to shine as one of the best shooting guards in college hoops.
In the jury-rigged Buffaloes lineup, though, coach Tad Boyle is trying to pretend that 2-guard (Dinwiddie) plus 2-guard (Askia Booker) equals one functional point guard.
Even without a true playmaker to set him up, Dinwiddie averaged 15.3 points per game while playing some of the nation's best defense.
However, when he had to handle the ball, he turned it over 2.2 times a night against a mere 3.0 assists, an epidemic problem on this team that helped Illinois bounce the Buffs from the NCAAs last March.
Brian Spurlock-USA TODAY Sports

Kryptonite: Supporting cast
Semaj Christon's sensational freshman campaign owed a lot to the senior leadership of Travis Taylor. Now that the hard-nosed PF has graduated, Christon is going to be carrying a depleted offense.
He's entirely capable of putting up major point totals—he averaged 15.2 a game last season—but he needs to know he can count on the players he's passing to.
He's capable of much more than the 4.6 assists per contest he averaged in 2012-13, but not if his teammates can't find the rim.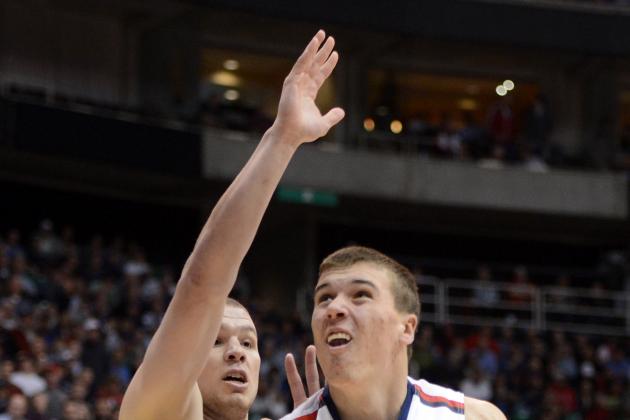 Harry How/Getty Images

Kryptonite: Lack of confidence
At 7'0", 255 lbs, Kaleb Tarczewski has all the physical tools to become the heart of the Arizona offense. What he doesn't have is any evidence that he's ready to do it.
As a freshman, Tarczewski attempted a mere 156 shots, meaning that three fellow starters—Mark Lyons, Nick Johnson and Solomon Hill—were shooting at least twice as often as he was.
Only Johnson remains from that trio, but Arizona's loaded frontcourt still makes the Wildcats a Final Four favorite…if Tarczewski can hold up his end of the bargain.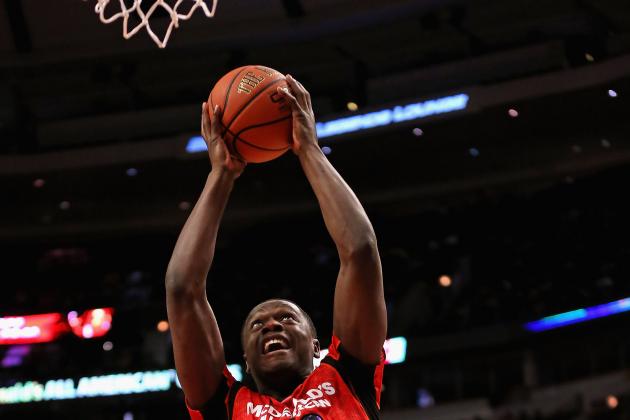 Jonathan Daniel/Getty Images

Kryptonite: Lack of touches
Julius Randle is a first-class rebounder, but he's not at his best unless he's shooting the basketball. Playing for stacked Kentucky—where the frontcourt goes two deep in McDonald's All-Americans—he may not get enough scoring chances to get in his usual rhythm.
The 6'9" PF will also have plenty of competition for low-post opportunities, though he's mobile enough to create some offense from the wings as well. Still, if other Wildcats are firing up too many tries of their own, Randle is going to be out of luck.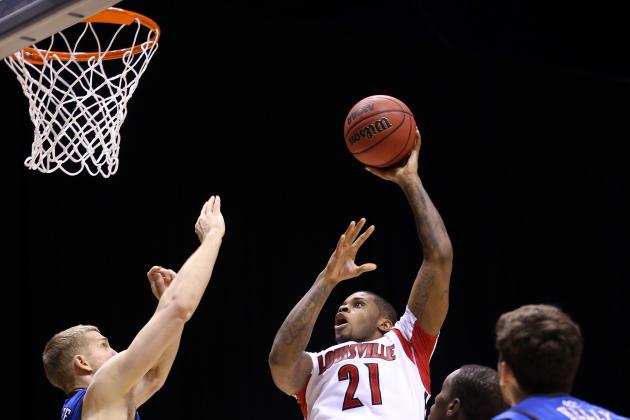 Streeter Lecka/Getty Images

Kryptonite: Having to score
Even at just 6'6", Chane Behanan does almost everything you look for in an elite power forward. As strong as he is on defense and on the boards, though, he doesn't give Louisville much when it comes to point production.
He's got more than enough strength (at 250 lbs) to carve out space on the block, but he's never developed much in the way of post moves.
He's great at making the ugly play, especially on putbacks on the offensive glass, but the Cardinals would love to see him work on a prettier jump shot.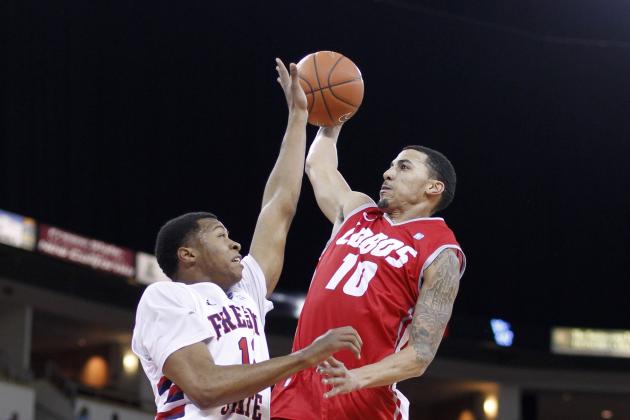 USA TODAY Sports

Kryptonite: Shot selection
When Kendall Williams is on his game, he can pour in points at an astonishing clip. Unfortunately for the Lobos, not every night for Williams is like the February evening when he shredded Colorado State for 46 points on 12-for-16 shooting.
Even more, unfortunately, Williams tends to act like he's hot even when he isn't, hence such ugly stat lines as his 1-for-9 performance from the field against UNLV or 5-for-14 against St. Louis.
The bad days outweighed the good last year in some respects, as Williams shot a career-worst .406 from the field.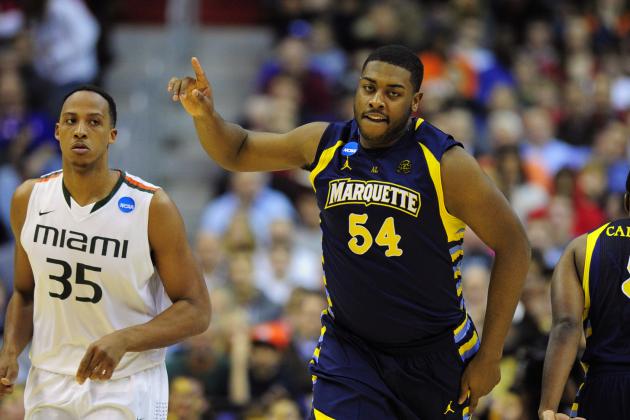 Bob Donnan-USA TODAY Sports

Kryptonite: Wind sprints
Davante Gardner's biggest advantage is the power he generates with his 6'8", 290-lb frame. Unfortunately, that same bulk is also the biggest threat to derail his senior season.
Even while leading last year's Golden Eagles in rebounding and placing second in scoring, the massive center played just 21.5 minutes per game.
Marquette will need him on the floor a great deal more to keep its offense clicking, and there's no guarantee his conditioning will be up to the test.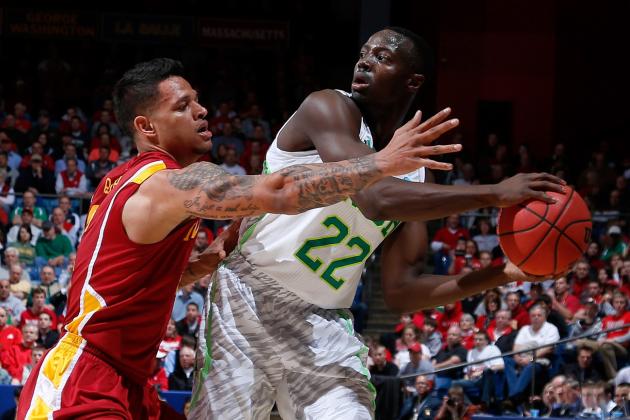 Joe Robbins/Getty Images

Kryptonite: Strength
As a 6'5" point guard, Jerian Grant routinely enjoys a height advantage. His edge, however, doesn't necessarily extend to weight (202 lbs), and especially not to power.
The Fighting Irish standout averages just 2.9 rebounds and 0.2 blocks per game despite his impressive length. That's not to say that he can't handle contact in the paint, but he's definitely vulnerable to getting bodied up by shorter, more physical point guards.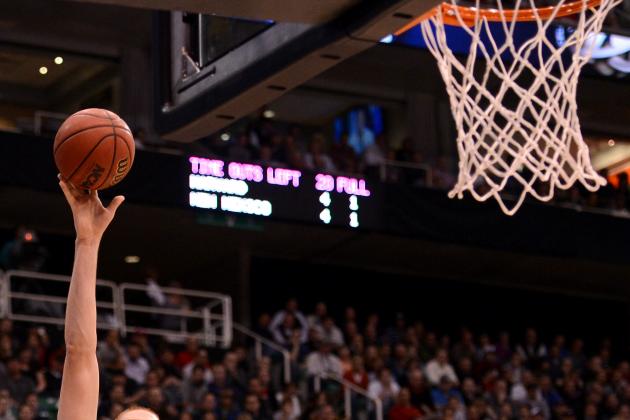 Harry How/Getty Images

Kryptonite: Shots that aren't dunks
Alex Kirk is an old-school bruiser in the low post at 7'0", 250 lbs. Finesse is, shall we say, not his strong suit.
Unfortunately, Kirk's lack of grace takes its toll on his performance, as he shot just .494 (meager for a center) in scoring his 12.1 points per game. He's even shakier at longer range, flailing his way to a .277 mark (13-for-47) from three-point range.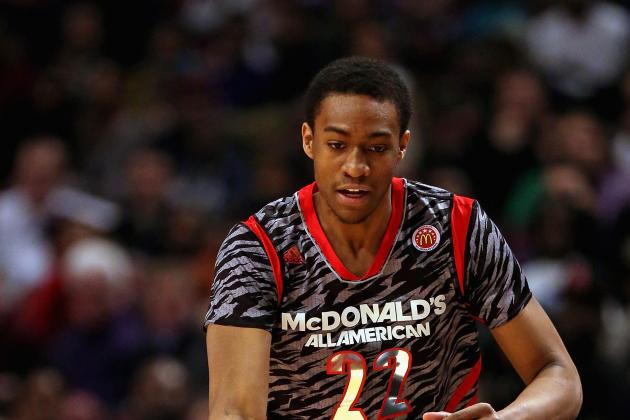 Jonathan Daniel/Getty Images

Kryptonite: Inexperience
Jabari Parker has a great case for being the most complete player in the incoming freshman class. Even so, he's still a freshman who's going from facing high school opponents to competing for an ACC championship.
Parker is going to be asked to be a primary scorer and a leader for a Duke team that has major postseason aspirations despite the loss of three elite seniors.
There's no way to prepare for that kind of pressure in high school, any more than there's a way to get used to facing Florida State- and Pitt-caliber defenses on a nightly basis.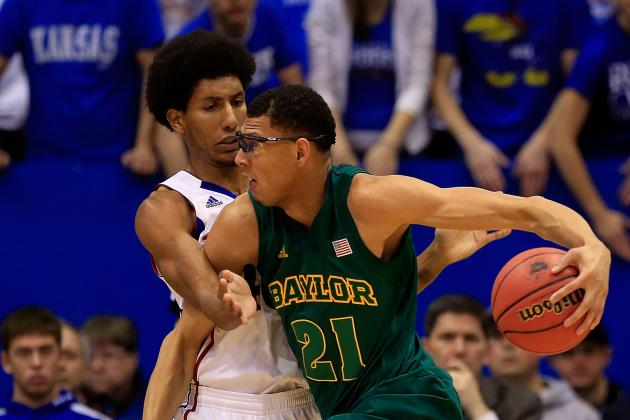 Jamie Squire/Getty Images

Kryptonite: Muscle
With his 7'1" length and extraordinary ball-handling skills, Isaiah Austin loves to pull opposing bigs away from the basket and drive by them. When they draw him down to the low block, though, the tables can be turned.
Austin carries just 220 lbs on his skinny frame, leaving him vulnerable to getting pushed off his spot.
In a conference featuring the likes of Iowa State's Melvin Ejim (230 lbs) or Texas' Cameron Ridley (270 lbs) in the frontcourt, Austin's lack of raw power isn't a trivial concern.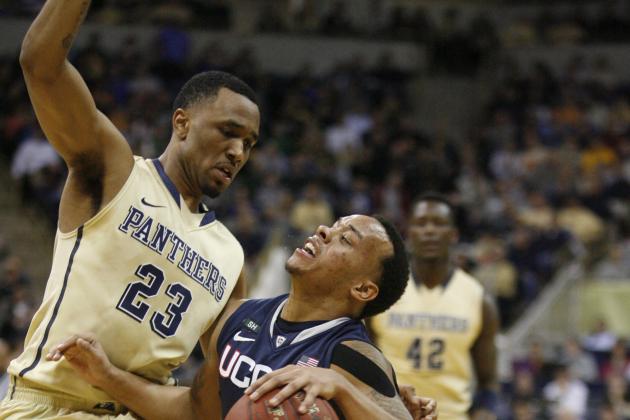 USA TODAY Sports

Kryptonite: Shooting contests
Shabazz Napier's competitive fire makes him one of the country's top scoring PGs, but sometimes it does more harm than good. Some of Napier's worst performances last year came when he was trying to match big days from the players he was guarding.
On the road at Pitt, Napier stumbled to an eight-point, two-assist night (with 2-for-7 shooting) while the Panthers' two-headed point guard combo of Tray Woodall and James Robinson combined for 25 points.
Even more striking was the Huskies' home loss to Villanova, in which Napier bricked his way to two points on 1-for-8 shooting as freshman Ryan Arcidiacono poured in 25 points for the Wildcats.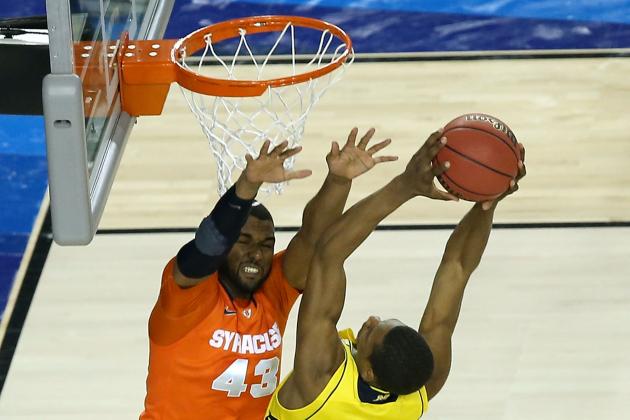 Andy Lyons/Getty Images

Kryptonite: Size
As impressive an athlete as he is, Glenn Robinson III is not a power forward.
However, the 6'6" rising sophomore plays one in Ann Arbor, where the lack of big men on John Beilein's roster compels him to bump Robinson up from the latter's natural SF position.
Robinson put up a great fight, hauling in 5.4 rebounds per game to go with his 11 points a night. However, he won't even approach his full potential as long as he's brawling in the paint instead of slashing in from the wings.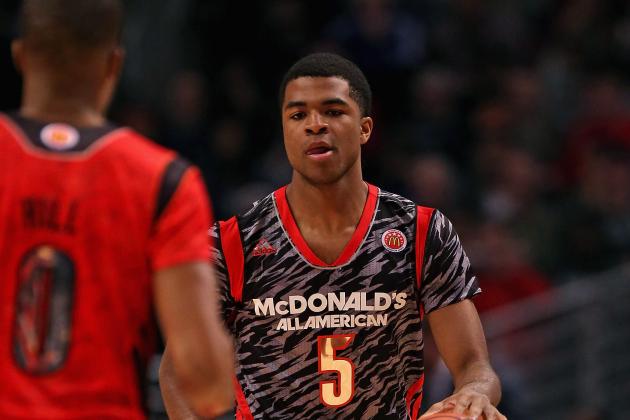 Jonathan Daniel/Getty Images

Kryptonite: Backup plan
It would be hard to design a better point guard prospect than Andrew Harrison, and he's in a great position to lead Kentucky's next bid for the national title. That's just as well, because the Wildcats really don't have any viable options behind him.
Harrison and twin brother Aaron are likely to be the only reliable guards on the roster after last year's PG meltdown in Lexington. That leaves no margin for error or injury (or even late-season fatigue) behind a true freshman floor general.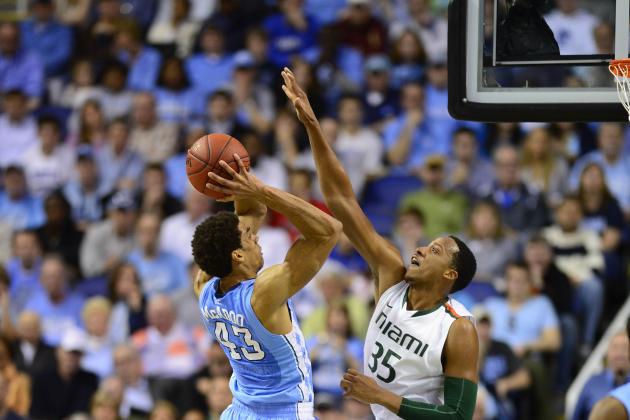 Bob Donnan-USA TODAY Sports

Kryptonite: Picking on someone his own size
For the season as a whole, James Michael McAdoo averaged a team-leading (and perfectly impressive) 7.3 rebounds per game. After February 2, when the Tar Heels entered the toughest part of their ACC schedule, that figure dropped to 5.5.
That decline includes two games against Mason Plumlee and Duke, two against Kenny Kadji and Miami and the postseason-ending loss to Jeff Withey's Kansas squad.
Even accounting for his playing through a back injury, it's hard not to conclude that the 6'9" McAdoo ran into trouble when he had to match up against other high-end big men.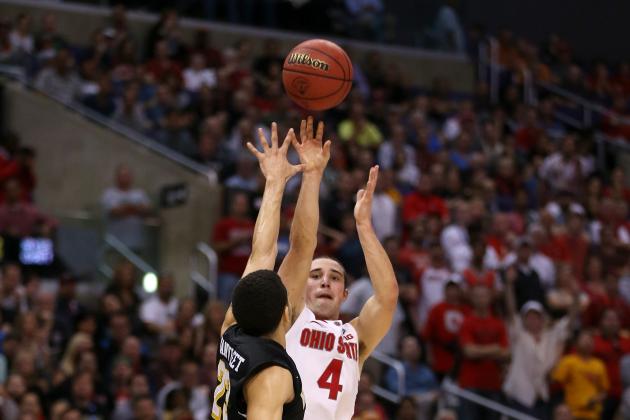 Jeff Gross/Getty Images

Kryptonite: Creating for himself
When Ohio State needed a second scorer behind Deshaun Thomas last season, Aaron Craft was a logical candidate. Unfortunately for the Buckeyes, their defensive-specialist PG managed just 10 points per game on the year.
Craft's shooting percentages plummeted from .500 to .417 overall and .359 to .300 beyond the arc, suggesting that he was pressing to fill the scoring void but not succeeding.
He knows how to set up his teammates (4.6 assists a night each of the last two years), but his own shots are still a gamble, and not a very good one.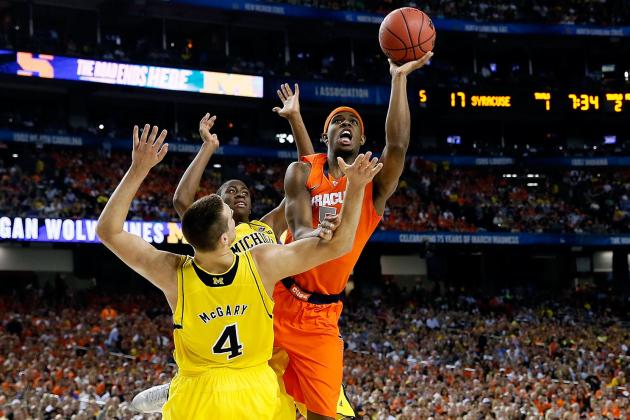 Kevin C. Cox/Getty Images

Kryptonite: Passing
C.J. Fair is a terrific shot, as he proved repeatedly in leading Syracuse with 14.5 points per game a season ago. Being a skilled scorer, though, is not the same thing as a license to shoot every time you get your hands on the basketball.
Fair only recorded 29 assists for the entire season (0.7 per game), meaning that star PG Michael Carter-Williams had more than 10 times as many assists as his top target.
Obviously, Fair isn't expected to be a playmaker in the Orange offense, but most primary scorers can at least reach one assist per game, even if it's mostly by accident.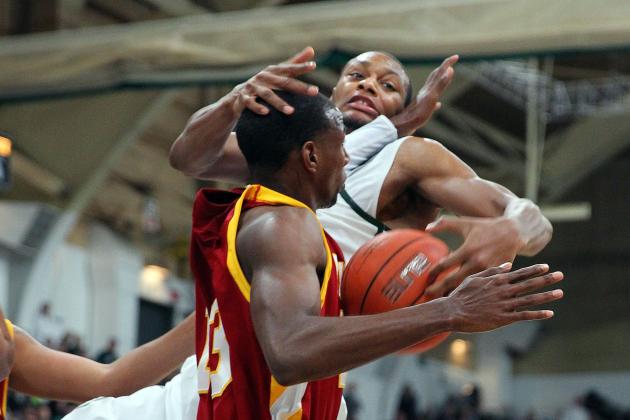 Mike Carter-USA TODAY Sports

Kryptonite: Fouls
In his first year as a starter, Adreian Payne put up plenty of impressive numbers. One that wasn't so encouraging, though, was his 2.6 fouls per game, recorded even while sharing paint-guarding duties with Derrick Nix.
Payne managed to avoid fouling out except for one early-season blowout against Texas Southern, but he spent large chunks of the year in foul trouble.
Now that he's the primary defensive weapon in Tom Izzo's frontcourt, he can't afford to let the refs take him out of the game when the opposing centers can't.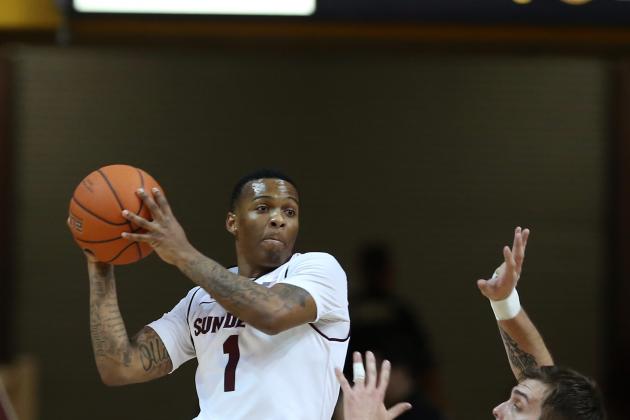 Mark J. Rebilas-USA TODAY Sports

Kryptonite: Turnovers
Jahii Carson accounted, by himself, for 26 percent of Arizona State's points and 36 percent of its assists.
If he hadn't been putting up so many positive numbers, he might well have been benched for the one ugly stat on his ledger: an assist-to-turnover ratio of just 1.4, far below the 2.0 target for a point guard.
Clearly, some of those miscues were due to inexperience as the redshirt freshman adjusted to Pac-12 play.
However, the ones that can be chalked up to Carson's aggressive mindset or constant height disadvantage (at 5'10") are going to be a lot tougher to correct, and could come back to haunt ASU next season.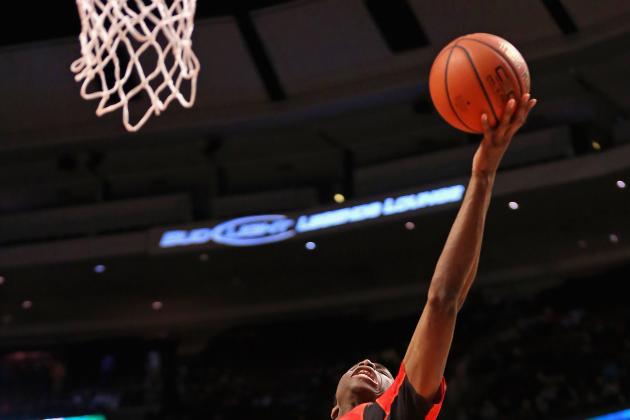 Jonathan Daniel/Getty Images

Kryptonite: Bulk
Although he stands 6'8", Andrew Wiggins weighs just 205 lbs. At that size, he'll be giving up strength against plenty of small forwards at the college level, let alone against the post players who will step in to cut off his drives.
The high-scoring Wiggins has the finesse game down, but facing West Virginia and Kansas State twice a year will give him some very speedy lessons in physical play.
The first time he absorbs a foul from, say, 245-lb Mountaineer Aaric Murray, he'll wish he had a bit more weight on his own frame.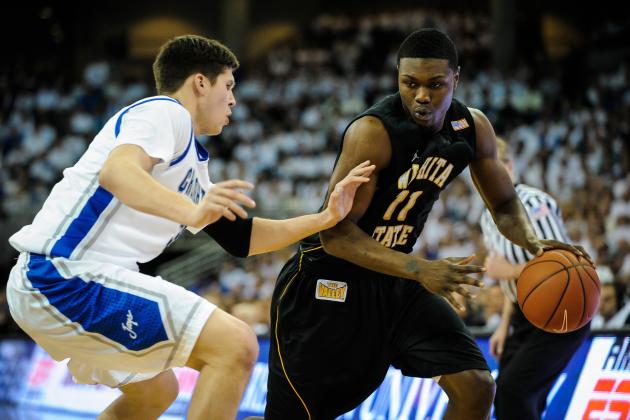 Eric Francis/Getty Images

Kryptonite: Defense
Doug McDermott has an excellent chance to be the nation's leading scorer in 2013-14, and he's a fine rebounder to go with his dazzling offensive totals.
Unfortunately for Creighton, though, the Blue Jays' rising senior superstar does very little to improve the team's biggest weakness: defense.
McDermott, who'll never be mistaken for Chris Bosh from an athleticism standpoint, recorded just two blocks and eight steals for his entire junior season.
With the minutes he plays and the toll he takes on opposing forwards with his scoring, it's astonishing that he doesn't manage to provide more defensive production.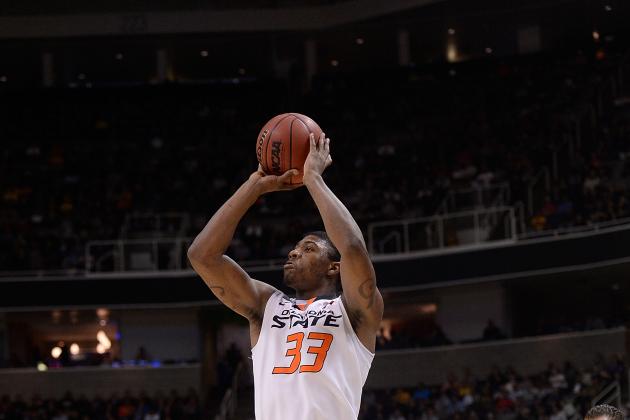 Thearon W. Henderson/Getty Images

Kryptonite: Three-point arc
Marcus Smart would easily have been a top-five pick had he declared for this June's NBA draft, and he's got a legitimate shot at the No. 1 spot next summer.
He's big, physical and well-rounded, but he's missing one tool that the huge majority of NBA point guards have in their arsenals: the trey.
Although he's a respectable jump shooter in general, Smart hit just 38 of his 131 three-point tries for an atrocious .290 percentage.
Oklahoma State would love to see him tighten up that stroke, or at least not fling up so many attempts when he's not hitting them at an even vaguely respectable clip.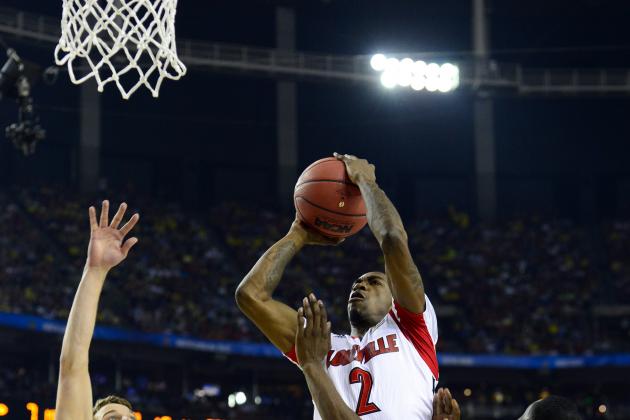 Bob Donnan-USA TODAY Sports

Kryptonite: Flying solo
Russ Smith loves to grab a steal or rebound and outrace the other nine players on the court for a layup.
Unfortunately, when he's in the half-court offense, he often makes decisions as though his four Louisville teammates were still trailing behind on the fast break.
Smith's tendency to drive into the teeth of the defense for circus shots ends well more often than it should, but it also won't be Rick Pitino's best option as frequently this year.
With Chris Jones and (likely) Montrezl Harrell added to the starting lineup, the defending champs will actually be better on offense than they were a year ago, and Smith needs to remember that going one-on-five is usually a losing proposition.