Fantasy Football 2013: Adrian Peterson and Stars Worthy of Your Top Draft Pick
Bruce Kluckhohn-USA TODAY Sports
If you pass on the opportunity to draft Minnesota Vikings star Adrian Peterson, you might as well not even play fantasy football this season.
Who would you choose with the No. 1 pick?
There's no question that Peterson should be the top draft pick in every fantasy football draft this year, as he's the top running back and is one of few players who nearly guarantees you a spot in the league championship. He will definitely be among the league leaders in every rushing category this year.
This past season, Peterson was nine rushing yards shy of breaking Eric Dickerson's single-season record. Running for more than 2,000 yards is nothing to scoff at, as he still led the National Football League by several hundred yards—484 yards more than Alfred Morris to be exact.
Peterson scored 12 touchdowns a year ago for Minnesota, which was tied for the third most of any other player—three behind Arian Foster and one behind Morris. While the back's year was one of the most impressive anyone's seen in quite some time, there's still a chance that he could top it in 2013.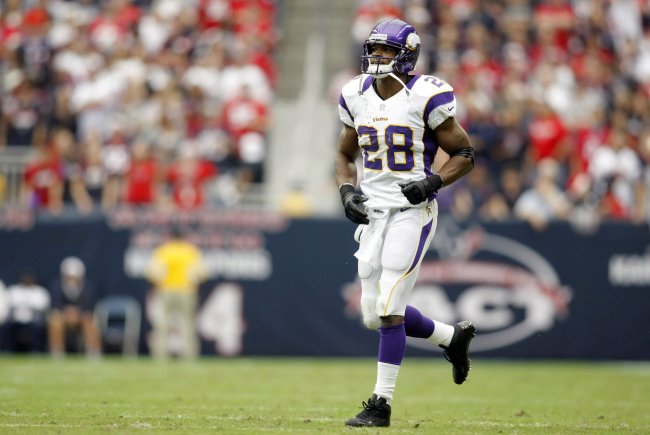 USA TODAY Sports
The 28-year-old is a monster on the ground, and there aren't many defenses in the game that know how to stop him. Peterson ran for at least 100 yards in 10 games during the regular season last year. On a pair of occasions, he'd topped 200 yards. If you have the first pick in your draft, you need him on your team.
This is a guy who thinks he has a chance at breaking the all-time record for rushing yards in a career. Peterson says that he'll top Emmitt Smith in 2017, according to Dan Wiederer of the Star Tribune. It's actually not that crazy, either. If anyone is going to break the record, it's going to be All Day.
If you think there's a better option at No. 1, I hate to break it to you, but you're wrong. What if you have the second pick in the draft and Peterson is off the board? Well, it's highly advised that you select one of the three following players, as they're all worthy of one of the top fantasy football picks.
Doug Martin, Tampa Bay Buccaneers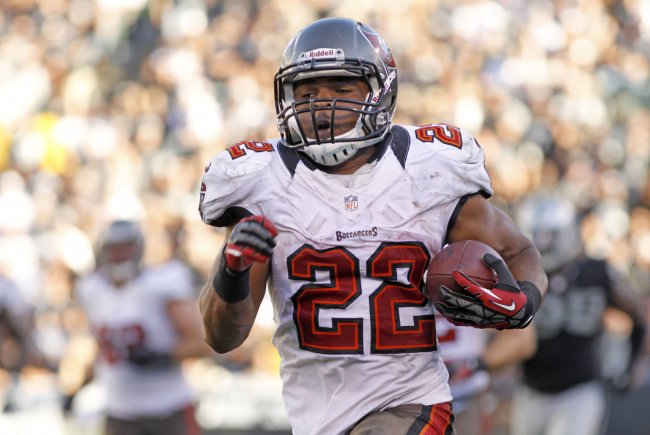 Cary Emondson-USA TODAY Sports
Even though Doug Martin was a first-round draft pick a year ago, he's still one of the biggest steals you'll come across. Tampa Bay got a ton of production out of the running back last season, as he emerged onto the scene and didn't miss a beat since evading tackles for long runs at Boise State.
Will Martin top his rookie campaign?
Martin played in all 16 games for the Bucs last season, running for 1,454 yards on 319 carries with 11 touchdowns. He is a bit of risky pick considering he only had five 100-yard performances in 2012, but he's bound to get better with experience. You won't regret taking him with the No. 2 or 3 pick in your draft.
There's a ton to like about Martin's game, and B/R's Dan Hope will give you a great look as to why. While he isn't a mirror of Peterson, he still gets the job done on a consistent basis. Last year was just the start for Martin. In his sophomore season, he'll break out into the second- or third-best running back in football.
Jamaal Charles, Kansas City Chiefs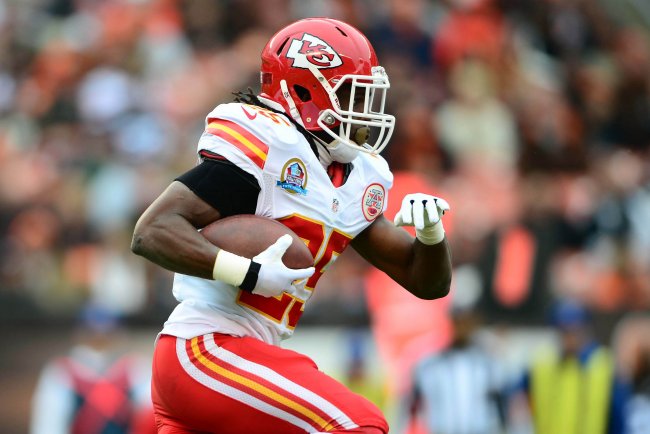 Andrew Weber-USA TODAY Sports
As long as Jamaal Charles stays healthy, he's going to be dominant in the backfield for the Kansas City Chiefs again this year. He's proven that the last few years. He's already run for more than 1,000 yards in a season three times, and it could've been four in a row if he didn't get hurt in 2011—as he was limited to just a pair of games that season.
How many touchdowns will Charles score in 2013?
Last season, Charles set a new career high in yards and carries after running for 1,509 yards on 285 touches. The former Texas standout has great speed, and when he gets in open space, no one is going to catch him. He had 39 runs for at least 10 yards, and his long for the season was 91—against the Saints.
Some may be reluctant to draft Charles very high and for good reason. Kansas City scored the fewest points per game last season, and the running back only had five touchdowns. In fantasy football, finishing the season with just five touchdowns isn't too great. Owners have to hope he finds the end zone more often in 2013.
Arian Foster, Houston Texans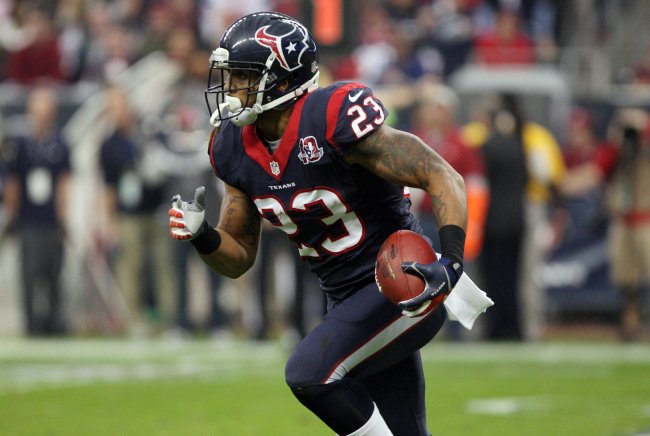 USA TODAY Sports
Arian Foster is arguably the second-best running back in the NFL, and owners who have had him on their squad in the past have to be pleased with his production. The Houston Texan has run for an average of 1,421 yards per season over the course of the last three years. He'll likely run for just as many in 2013 for his organization.
How many yards will Foster run for in 2013?
One thing to keep an eye on throughout the year is how many yards Foster is averaging per carry. While he's quick on his feet, his average yards per carry has decreased in each of the last three years. Last season, the running back averaged 4.1 yards on the ground each time he got a carry—he was at 4.9 in 2011 and 4.4 in 2012.
Even though Foster may not be gaining as many yards each time he gets the ball, he still finds the end zone often. He's scored double-digit touchdowns in each of the last three years, including 15 a year ago—one shy of tying his career high. He should be able to score at least 10 times in 2013 as long as he stays healthy all year.
All statistics in this article were obtained via ESPN unless otherwise noted.
This article is
What is the duplicate article?
Why is this article offensive?
Where is this article plagiarized from?
Why is this article poorly edited?