While Alabama is the early favorite to win its third consecutive BCS National Championship and fourth in five years, there are a few other programs throughout the nation that are bound to give the Crimson Tide a run for their money.
It came as a surprise to no one that when the USA Today Coaches Poll was released a few days ago, the Crimson Tide held the No. 1 spot. If anything was a bit of a shock, it's that Alabama didn't receive every first-place vote. Ohio State and Texas A&M each received at least one first-place vote, but Alabama still earned 58-of-62.
USA Today Coaches Poll Top 10

| | | | | | |
| --- | --- | --- | --- | --- | --- |
| Rank | Program | 2012 Record | Points | First-Place Votes | Previous Rank |
| 1 | Alabama | 13-1 | 1,545 | 58 | 1 |
| 2 | Ohio St. | 12-0 | 1,427 | 3 | NR |
| 3 | Oregon | 12-1 | 1,397 | 0 | 2 |
| 4 | Stanford | 12-2 | 1,262 | 0 | 6 |
| 5 | Georgia | 12-2 | 1,250 | 0 | 4 |
| 6 | Texas A&M | 11-2 | 1,215 | 1 | 5 |
| 7 | South Carolina | 11-2 | 1,136 | 0 | 7 |
| 8 | Clemson | 11-2 | 1,047 | 0 | 9 |
| 9 | Louisville | 11-2 | 1,010 | 0 | 13 |
| 10 | Florida | 11-2 | 930 | 0 | 10 |
USA Today
It's still more than clear that many believe the Crimson Tide are likely to be just as dominant in 2013 as they were in 2012. Sure, the program lost a bunch of talent to the National Football League, but many key players will be returning for the upcoming season looking to bring another title back to Tuscaloosa.
As of Wednesday, August 28 at 9 p.m. ET, Alabama has the best odds at winning the BCS National Championship this year at 5-2, according to Bovada. While there's a very strong chance the Crimson Tide wins again this year, the season still has to be played and there are a lot of scenarios where Alabama doesn't win.
That said, here are the programs that pose the biggest threat to Alabama winning the BCS National Championship again in 2013.
Georgia Bulldogs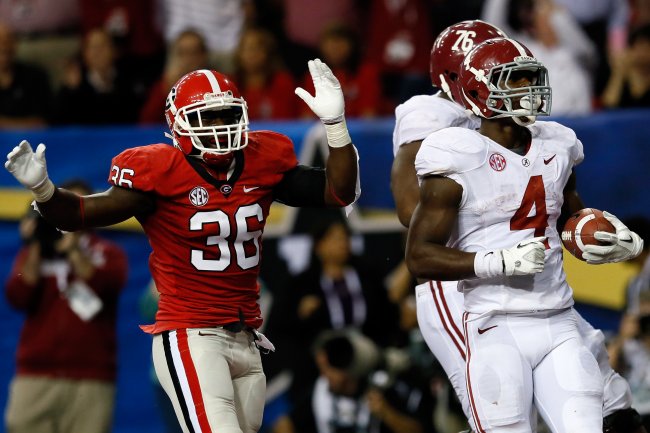 Kevin C. Cox/Getty Images
Georgia had the opportunity to ruin Alabama's hopes of repeating as National Champions last year, but fell just short. These SEC powerhouses met in the Conference Championship a year ago in what was one of the best matchups of the season. Alabama won by just four points to earn a trip to Miami Gardens.
Which team would win a potential SEC Championship rematch?
The key to victory for the Crimson Tide was the team's run game. Eddie Lacy finished the SEC Championship Game with 181 yards and two touchdowns on 20 carries. T.J. Yeldon had 25 carries on the night and ran for 153 yards and a score. In total, Alabama ran for 350 yards against the Bulldogs.
Lacy is now in the NFL, but Yeldon is still at Alabama and will likely be one of the best running backs in the nation this season. He could be a factor should the teams meet again. Georgia and Alabama won't play in the regular season, but could meet in the SEC Championship Game should each roll through their initial slate of games.
A rematch of last year's showcase isn't out of the question. Alabama shouldn't have too difficult of a time against the teams on its schedule and the same goes for Georgia. There's no question the Bulldogs would like to get the bad taste out of their mouths from a year ago. Georgia could get another shot at upending the Tide.
Ohio State Buckeyes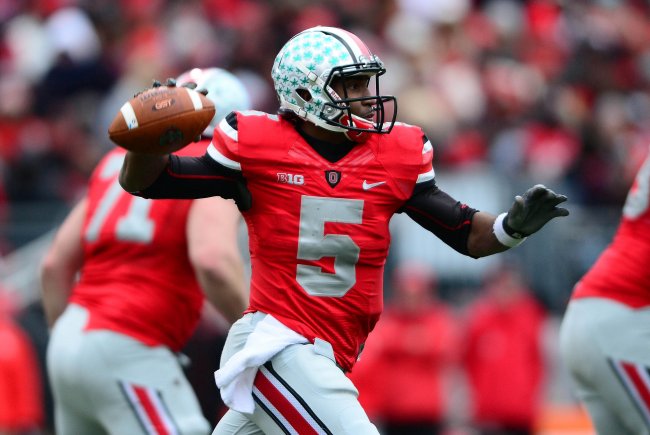 Andrew Weber-USA TODAY Sports
A showdown between Alabama and Ohio State is far from guaranteed. The only way the two programs could meet this season would be in a bowl game. Since these teams are the best two, per the USA Today Coaches Poll, there's a chance they could end up meeting in the BCS National Championship Game.
Which team would win this potential BCS National Championship Game matchup?
Ohio State was one of the top teams in the country a year ago—going 12-0—but the program wasn't allowed to play in a bowl game due to NCAA infractions (h/t ESPN). If the Buckeyes had been allowed to play a postseason game, one would assume they would've been in the BCS National Championship.
Braxton Miller is the leader for the Buckeyes, and he could end up competing with a few of Alabama's stars in the Heisman Trophy race. Last season, the quarterback completed 58.2 percent of his passes for 2,039 yards and 15 touchdowns. He also made plays with his feet, as he ran for 1,271 yards and 13 scores in 2012.
If Ohio State and Alabama do meet in the title game, expect a different result than that of last year's BCS National Championship Game when the Crimson Tide routed Notre Dame. The Buckeyes will play strong opponents throughout the year and will be worthy of a title game bid. They will not go down without a fight.
Texas A&M Aggies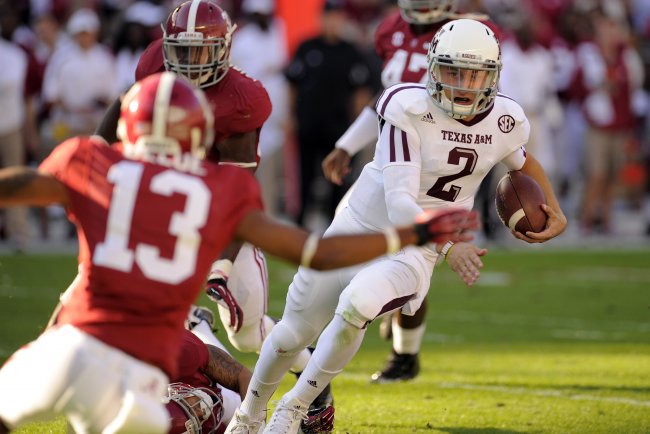 John David Mercer-USA TODAY Sports
The Aggies were the only team to get the best of the Crimson Tide a year ago. Texas A&M came to Tuscaloosa and ended any hope of an undefeated season for Alabama, as Heisman Trophy winner Johnny Manziel led his team to a five-point victory. It was a statement victory to say the least.
Which team will win on Sept. 14 in College Station?
While the Crimson Tide didn't play a bad game, turnovers really hurt the team's chances of coming away with a victory. A.J. McCarron threw a pair of interceptions and Yeldon coughed up a ball as well. Alabama may have won that matchup against Texas A&M if it weren't for those three mistakes.
But the loss from a year ago sets up a can't-miss matchup this year. On September 14, the Crimson Tide will travel to College Station to try to avenge last year's loss. It will easily be one of the biggest games of the college football season. Will Alabama be successful this time around?
It will be the second game of the season for Alabama, and the team can't afford to come into the game unprepared—although that likely won't be the case for a Nick Saban-run program. The Crimson Tide don't need to go undefeated to make it to the BCS Championship Game, but a loss would certainly hinder their chances.
All statistics in this article were obtained via ESPN unless otherwise noted.