New York Mets' Most over and Underpaid Players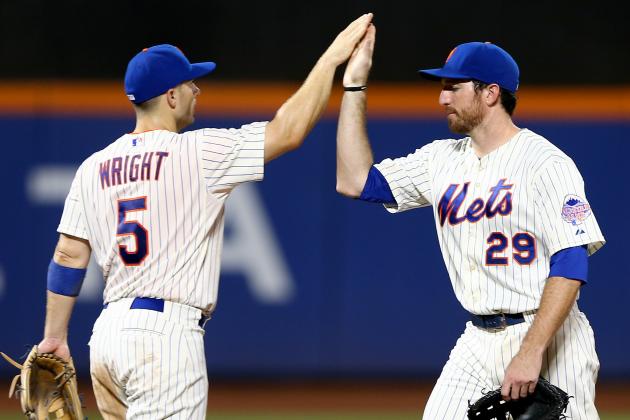 Elsa/Getty Images

For years, the New York Mets have been shedding hefty contracts in an attempt to get younger and cheaper.
As a result, the Mets have gone from one of the top payrolls in baseball half a decade ago to the 25th-highest payroll in baseball in 2013.
GM Sandy Alderson has done a splendid job of building up the Mets' minor league system with promising prospects. The payroll flexibility will also allow the Mets to keep these prospects long-term, as well as complement them in the future through free agency or trade.
Right now, though, the team is not devoid of a few ugly contracts, despite the newfound efficiency of the front office.
Here are the most over and underpaid contracts for the Mets in 2013:
Contract information via newsday.com
Begin Slideshow

»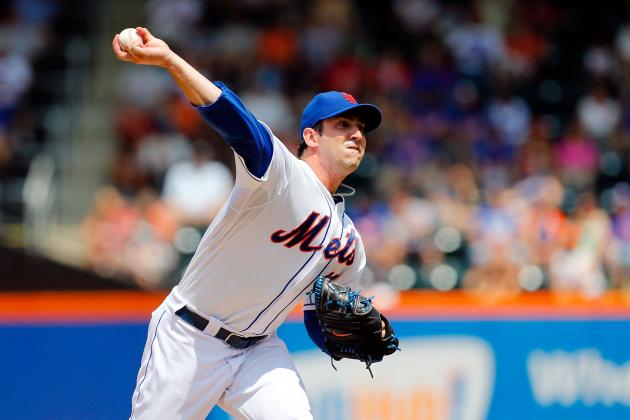 Jim McIsaac/Getty Images

Matt Harvey, one of the most dominant pitchers in baseball, currently makes less than .209-hitting San Diego Padres third baseman, Logan Forsythe ($499,000).
If that doesn't give you perspective on how underpaid Matt Harvey is, nothing will.
In 2013, Harvey is 8-3 with an unbelievable 2.21 ERA and 0.88 WHIP, both second in the majors to Clayton Kershaw.
Harvey has incredible command of four pitches and an ability to throw all of them for strikes. As a result, he has already pitched almost 100 major league innings more than last season, but only given up three more walks (and 102 more strikeouts).
Mets fans can rest easy knowing Harvey is under the Mets' control for a number of years, especially at a bargain like this.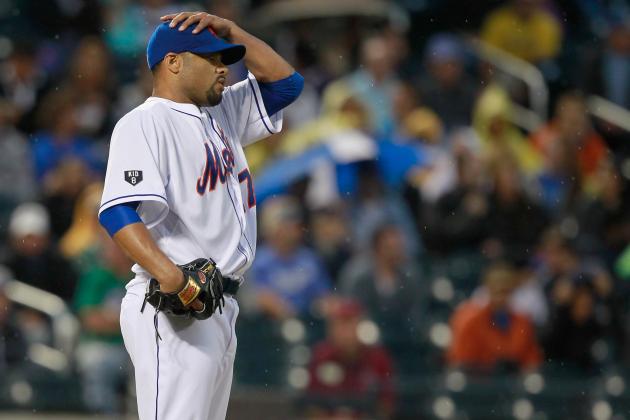 Mike Stobe/Getty Images

As one of the last remaining significant player acquisitions of the Omar Minaya era, Johan Santana's Mets career appears to be coming to a sad end.
Santana, who will forever be remembered for pitching the first no-hitter in Mets history, is currently rehabbing again from a second reconstructive shoulder surgery.
Santana insists he is not ready to retire yet. As admirable as a second comeback may be, Santana's days are all but over as a Met.
Mets fans will surely feel disheartened to see Santana's Mets career end this way, but they should also appreciate the nearly $25,000,000 the front office will have to play with this offseason.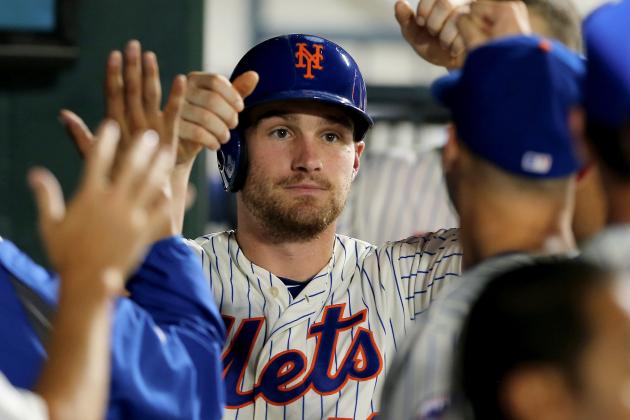 Elsa/Getty Images

Next to David Wright, Daniel Murphy is arguably the second-most valuable everyday player on the Mets right now.
On the season, Murphy is hitting .278 with 26 doubles, three triples, nine home runs, 53 RBI, 63 runs and a career-high 13 stolen bases. Despite recently getting over a prolonged slump, Murphy still ranks third in the majors for his position in doubles, hits and runs, sixth in RBI, fourth in stolen bases, and even 11th in home runs.
Combined with Murphy's improved defense in a position of limited experience, the Mets have one of the better all-around second baseman for less than $3 million.
In fact, Murphy's salary is just the 23rd-highest for a second baseman in the majors.
The 28-year-old is in another arbitration year this offseason, but for 2013 Murphy has been a bargain.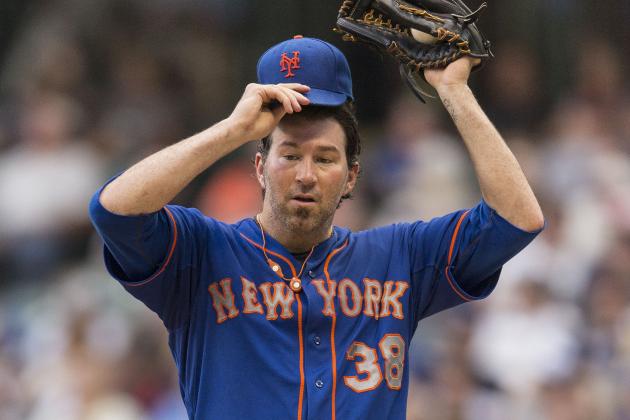 Tom Lynn/Getty Images

Almost everything that could go wrong did go wrong for Shaun Marcum this season, his first with the Mets.
Marcum, who was recently released by the Mets following a season-ending injury, has had a nightmare 2013.
From 2008-2012, Marcum had been a rather consistent and dependable starter, as shown by his career 3.88 ERA and 1.23 WHIP.
But Marcum's form imploded in 2013. Before his season-ending shoulder surgery, Marcum was an embarrassing 1-10 with a 5.29 ERA and 1.35 WHIP. In just 14 appearances and 12 starts, Marcum gave up a whopping 85 hits and seven home runs.
Ironically, Marcum's best appearance was a stellar 8.0 innings pitched as a reliever in a 20-inning loss to the Marlins. Despite allowing just five hits and no walks with seven strikeouts, Marcum's record dropped to 0-7 that day.
For $4 million, the Mets got very little return for Marcum's play. The front office should not be blamed, as Marcum has always been reliable when healthy.
Nonetheless, Marcum is certainly one of the Mets' most overpaid players this season.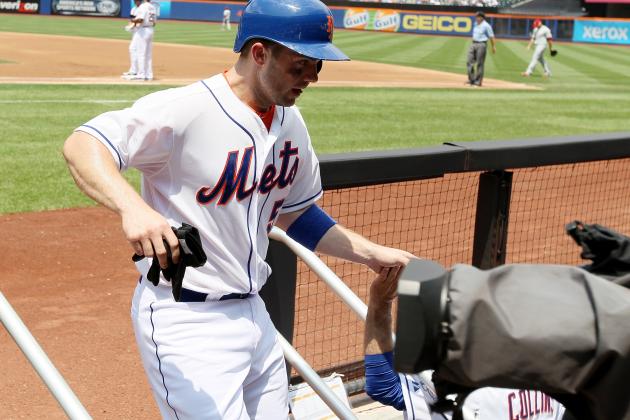 Elsa/Getty Images

While David Wright's contract is hefty in price, there is no questioning he is worth every penny and then some.
Aside from his outstanding performance as the everyday third baseman for the Mets, Wright is the face of the franchise for the rest of the decade and one of the best third basemen in all of baseball.
By comparison, in 2013 Kevin Youkilis will make $12,000,000, Ryan Zimmerman will make $14,100,000 and Michael Young will make $18,374,975.
Wright is performing better than all three of these players in nearly every offensive category, as well as playing Gold Glove-caliber defense. For the season, Wright has a great all-around .309/.391/.512 line with 23 doubles, six triples, 16 home runs, 54 RBI, 60 runs and 17 stolen bases.
Considering the embarrassing protection around Wright at times in the Mets' lineup, his offensive numbers are even more impressive.
Wright is undoubtedly the crown jewel of this franchise, and even at his price tag he is an absolute steal.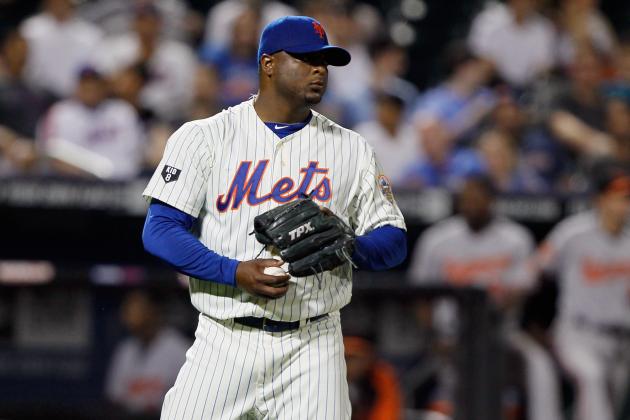 Mike Stobe/Getty Images

Remember Frank Francisco?
Francisco, the most expensive free agent signing of the Sandy Alderson era, has had a nightmarish Mets career.
In 2012, Francisco was extremely injury-prone and unreliable, as he finished the season with just 23 saves and a 5.53 ERA. This year, Francisco has constantly been on and off the mound as he recovers from numerous arm injuries.
Here is a timeline of events of Francisco's 2013 season.
- Went on the 15-day disabled list retroactive to March 22
- Began a rehab assignment with Class-A St. Lucie on April 17
- Sat out two weeks before pitching again for St. Lucie on May 5
- Pitched in St. Lucie through May 8
- Transferred to the 60-day disabled list on May 30
- Shut down and hasn't pitched since July 15 in Gulf Coast League
Francisco could resume throwing sometime later this month.
His Mets career has been a grave disappointment, and he is undoubtedly one of the most overpaid Mets this season.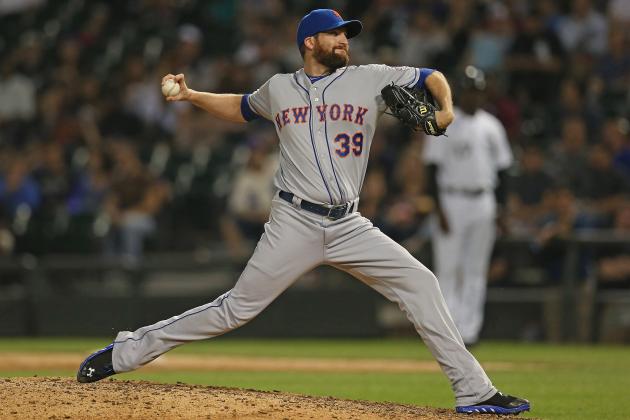 Jonathan Daniel/Getty Images

For well under $2 million, the Mets have finally found the reliable closer they have long desired.
Before unfortunately landing on the disabled list recently due to a herniated disk in his neck, Parnell has had a phenomenal 2013 season.
On the year, Parnell boasts a stellar 2.16 ERA and 1.00 WHIP, as well as 22 saves. In 50.0 innings, Parnell has given up just 38 hits and one home run. Parnell has very few weaknesses this year, and the fact that righties and lefties are both hitting just .211 against him this year portrays that consistency.
Parnell's inexpensive salary, for those wondering, is the 75th-most expensive salary for relief pitchers.
While Parnell is in the midst of another arbitration year, the Mets should enjoy his superb (and cheap) 2013 season.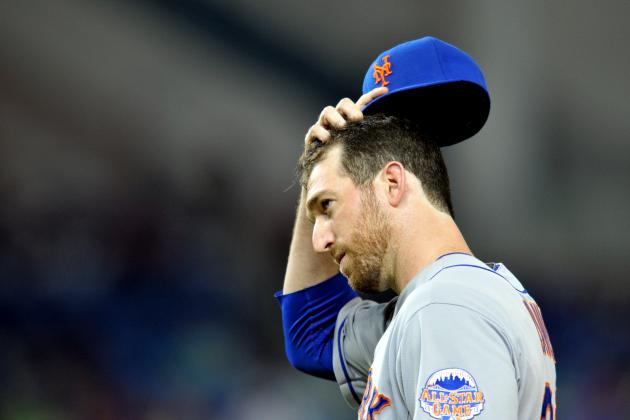 Steve Mitchell/Getty Images

Thanks to an unbelievably strong and promising second-half surge in 2012, Ike Davis was gifted with a $3.125 million salary for 2013.
Since then, unfortunately, Davis' 2013 season has been a disaster.
This year, Davis is hitting just .195 with six home runs and 25 RBI, as well as 85 strikeouts in 257 at-bats. In a midseason demotion to Triple-A, though, Davis hit .293 with seven home runs, 13 RBI and 17 walks in just 75 at-bats.
Davis has improved since being called back to the majors recently, most notably in plate discipline. His swing still has many holes, but Davis is going deeper into at-bats and not chasing as many off-speed pitches.
Since his call-up, Davis is hitting .282 with seven doubles, one home run, nine RBI and an incredible 21 walks in 71 at-bats. That equates to a solid .446 on-base percentage.
However, Davis' .423 slugging percentage since his call-up leaves much to be desired.
There is one word that describes Davis perfectly as a ballplayer: an enigma.
Davis is capable of unbelievable runs of form. Despite a horrific first half of 2012, Davis took off in the second half and finished with a promising 32 home runs and 90 RBI. Yet as this season portrays, Davis can also look utterly lost and defeated at the plate for an extended period of time.
In spite of Davis' maddening inconsistency and plummeting self-confidence, the front office has expended a tremendous amount of time and effort on him. It will be interesting to see if they choose to bring him back for 2014.
The fact remains that after settling for this fairly substantial contract, Davis has rewarded the Mets with even more headaches and headlines than last season.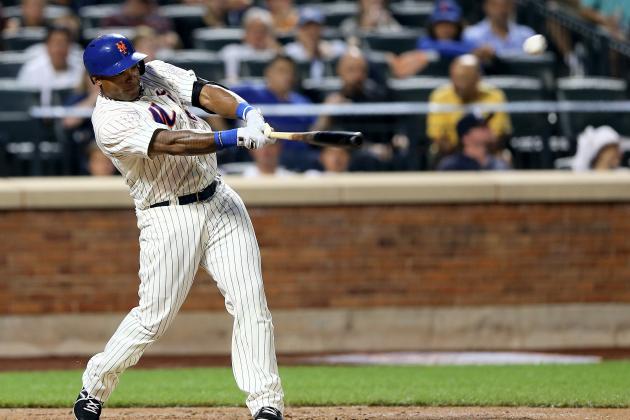 Elsa/Getty Images

The Mets have found lightning in a bottle this season in Marlon Byrd.
Byrd, coming off a miserable 2012 season to go along with a PED suspension, has been a man on a mission in 2013.
For the season, Byrd has an excellent .275/.323/.496 line with 19 doubles, four triples, 17 home runs and 60 RBI. By comparison, Byrd is performing better than his NL East counterpart and overhyped-April-MVP-candidate Justin Upton, who is making $9.75 million this year.
Byrd has rejuvenated his career, and the Mets are a different team when he is in the cleanup spot.
For the slim price of $700,000, the Mets have gotten a right fielder who ranks in the top 5 in his position in home runs and RBI. Considering the other players are surrounded by much better hitters in their respective lineups, Byrd's statistical dominance is even more impressive.
Before the season, the outfield was seen as an embarrassment. With Byrd, Eric Young Jr. and Juan Lagares, the outfield is now perhaps one of the biggest strengths of the team.
Sandy Alderson has struck gold this season in Byrd. He is undoubtedly one of the most underpaid players in the entire league this season.
Stats and info via ESPN.com, baseball-reference.com, mlb.com, milb.com