Feuds That Would Give the Shield a Proper Stage to Showcase Their Talents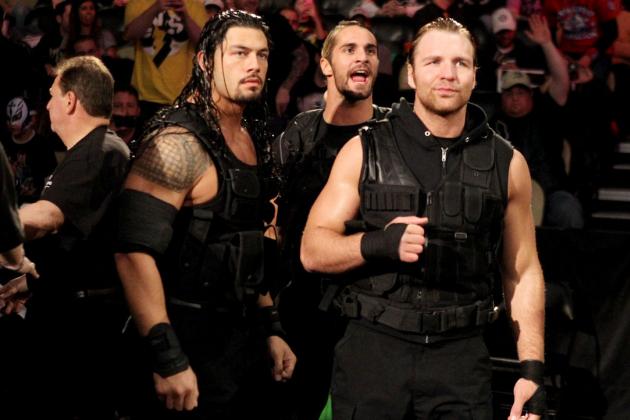 WWE.com
The Shield have feuded with just about every top babyface in WWE, and some that are not so close to the top, and they are starting to run out of options.
There is a solution to this problem. It has been brought up before, and it will continue to be brought up until it happens. It's time to turn The Shield babyface.
The Usos and Mark Henry are by no means slouches in the ring, but they are nowhere near the same level as guys like John Cena, Randy Orton and Daniel Bryan in terms of star power.
As babyfaces, The Shield would have new options for feuds, and they would not even have to change anything about their gimmick. They could actually start fighting for justice instead of just claiming to in order to serve their agenda.
Some of the biggest stables of all time began as heel factions and eventually turned babyface. DX, the nWo and The Four Horsemen have all had heel and babyface runs.
That doesn't mean their only options for feuds are as babyfaces. There are still a few things WWE could do with The Shield as a heel group.
This slideshow will examine some new feuds with singles stars and tag teams that would allow The Shield to show off their abilities. Half of the list will be babyface opponents and half will be heel opponents.
Begin Slideshow

»
The Shield have been able to avoid Vince McMahon for the most part, but at some point, the Chairman needs to address the group of Superstars who are doing whatever they want, whenever they want.
Triple H and McMahon could even team up to take on the group at a pay-per-view at some point.
Any Superstar or group expecting to be taken seriously as top talent needs to have some kind of conflict or union with the McMahons.
Even if the feud was just with Triple H and The Shield, it would still be something new for the group to do with a major name.
It could even come down to Triple H or Vince using The Shield against the other. There are a lot of possibilities for The Shield and the McMahon family to interact, and it's a bit shocking they haven't by now.
Randy Orton is a babyface, Cody Rhodes just turned babyface, and Ted DiBiase is a babyface with nothing to do. Why not bring them back together to take on The Shield?
Orton has had plenty of matches with The Shield, and a new twist to their feud could be Orton bringing in Rhodes and DiBiase to help him.
The crowd would pop big for the reveal, and it would raise the profile of DiBiase while keeping Rhodes and Orton in the spotlight.
All six men could have various combinations of singles matches leading up to a six-man match, and they would probably all be very entertaining given the talent of everyone in both groups.
RVD could have a stellar match with any one of these three men, but having him feud with Dean Ambrose over the U.S. title seems like the most reasonable choice.
Ever since Money in the Bank, RVD has been floating from one match to the next without any kind of feud or angle. A feud with Ambrose would give him something to do, and it would give The Shield another big star to focus on.
RVD wasn't around when The Shield were attacking just about anyone who even resembled a top babyface, so this would be a fresh feud that would almost definitely produce high-quality matches.
Dolph Ziggler is another freshly turned babyface who has not really interacted with The Shield. A feud with any one of the group's members would be entertaining.
Ziggler is eventually going to need someone to feud with other than Alberto Del Rio and AJ Lee, and The Shield seem like the perfect candidates.
Whether Ziggler is tossed together with two other stars or ends up facing one of them in a singles match doesn't really matter, because any feud involving that much talent would be great to watch.
Seth Rollins and Ziggler are probably the two best wrestlers at selling other people's offense, so could you imagine how good a match between the two of them would be?
Del Rio had some pretty good luck when it came to avoiding the wrath of The Shield when he was a babyface. Del Rio is now a heel, and if The Shield turned face, this would be another new feud to consider.
Del Rio needs some new Superstars to feud with. He has gone through just about everyone at the top of the roster, except for The Shield.
This would be a breath of fresh air for both Del Rio and The Shield, as well as for a WWE universe that is tired of seeing Del Rio fight the same people over and over again.
No videos seem to show Del Rio and The Shield in the same place, so I have included a video of Seth Rollins vs. Dean Ambrose from NXT.
If The Shield really want to fight injustice, then they should probably take a look at the hate speech being spouted by Zeb Colter on a weekly basis.
A tag title feud between The Real Americans and The Shield's Roman Reigns and Seth Rollins could be just what the tag team division needs.
This would also make all of the ROH fans happy, because Tyler Black and Claudio Castagnoli would be back in the ring together.
Seeing as The Shield come through the crowd, never change their clothes and have no idea what shampoo is, they may as well be considered part of the unwashed masses.
Who better to try to educate them than Damien Sandow?
If Sandow is unsuccessful in cashing in his MITB title shot, and that is a big "if," then going after Ambrose's U.S. title would give Sandow another title to hunt.
It would also give Ambrose a fresh opponent, which is hard to come by these days because The Shield have taken out just about every babyface at one point or another.
This one's obvious. If The Shield turned babyface, it is very likely they would eventually have a run-in with Bray Wyatt and his brothers.
Other than the fact that a three-on-three stable vs. stable match would have its appeal, there is also the level of contrast between them that makes this interesting.
The Wyatts are all bulky, bearded monsters, while The Shield are well-oiled wrestling machines who are in good shape.
A feud with The Wyatts could even be the catalyst for a Shield face turn, because the feud could practically write itself.
WWE has plenty of options for feuds involving The Shield as both a heel faction and a babyface group that would allow all three members to show off their skill against equally talented foes.
Who do you think could provide The Shield with a fresh feud that could showcase all of their talent?
Thanks for reading, and follow me on Twitter @BR_Doctor.