Barcelona are reportedly keen on adding Brazilian defender David Luiz to bolster their lineup next season.
If Chelsea are smart, they will reject any and all interest from the La Liga side to ensure Luiz is a part of Jose Mourinho's grand plan this upcoming season.
As reported by Sky Sports on Twitter, the Spanish giants made an official bid for Luiz on Wednesday:
Sky sources: Barcelona make official bid for Chelsea defender David Luiz #SSN

— Sky Sports News (@SkySportsNews) August 7, 2013
After having interest in the 26-year-old for most of the current transfer window, Barca made their interest public with a formal bid before Chelsea took the field in Miami.
According to Steve Brenner of The Guardian, Chelsea turned down the £35 million bid shortly after it was submitted.
Hopefully, resistance to granting a Luiz transfer continues at Stamford Bridge.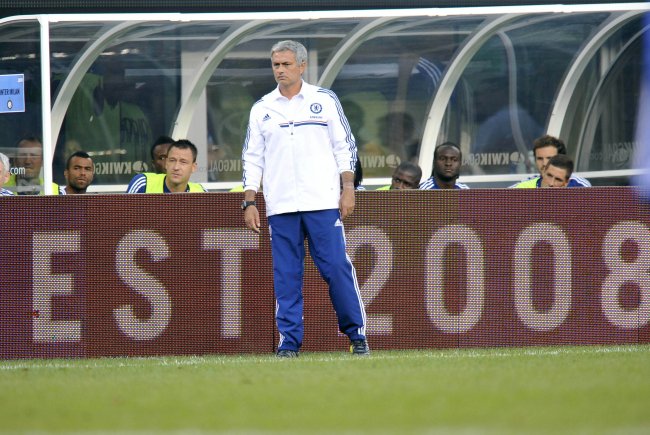 Joe Camporeale-USA TODAY Sports
Although he sat out Wednesday's International Champions Cup final against Real Madrid, Luiz has become a valuable piece of the Blues' future. "He has big self-confidence and self-esteem," said Mourinho in a Goal.com report from Husmukh Kerai. "Especially when he comes up from the back with the ball."
In Kerai's report, Mourinho basically rules out any chance that Luiz will move to Spain before the EPL season begins.
One of the best long-ball strikers in the Premier League, Luiz can turn defense to offense very quickly. He had just two goals in EPL action last season, but he could increase that number and maintain his impact in keeping strikers at bay under Mourinho's tutelage.
As you can see in this tweet from Barcastuff, it's no surprise that Lionel Messi's outfit would want to add Luiz to their defense:
David Luiz finished last term with a better tackle completion rate (84%) than any Barcelona defender #fcblive Alves 79% [via @squawka]

— barcastuff (@barcastuff) August 7, 2013
Since coming over from Benfica in the middle of the 2010-11 league season, he's gotten steadily better and is assumed to be untouchable unless Barcelona—or any team, for that matter—completely blow Chelsea away with a bid.
A £35 million transfer bid is a nice start, but it isn't close to what the Blues should accept for a Luiz transfer.
What figure would tempt you to sell Luiz to Barcelona?
With depth on the back line in the form of John Terry, Ashley Cole, Branislav Ivanovic and Gary Cahill, Mourinho will have options with his defenders this year. Luiz will be in the mix there too, and he can provide depth in the midfield in a pinch.
When tinkering with the club's formation, it wouldn't be a surprise to see Luiz move into a defensive midfield role if Chelsea were facing a team with multiple weapons up front.
Although it doesn't sound like Luiz is transferring before the window closes, Barcelona will likely continue to flirt with bringing the Brazilian on board over the next month.
Just like they did on Wednesday, Chelsea should continue to turn away interest when clubs come calling for their talented Brazilian defender.
Follow B/R's Ethan Grant (@DowntownEG) on Twitter.