College Football Seniors Who Must Step Up in 2013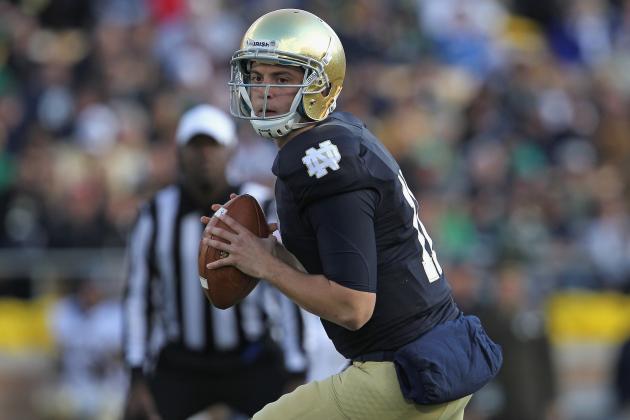 Jonathan Daniel/Getty Images

With fall camps underway, every college football player in the country is feeling the heat. That said, nothing compares to the pressure of a senior who is expected to have a big impact on the upcoming season.
Not only is the coaching staff looking at him to be the go-to guy, but it is his last year to make an impression. Forget his collegiate days, his NFL future and possible livelihood are on the line as well. It's truly go big or go home at this point, and that can be a scary reality to face.
This is when legends are made.
There are a handful of quarterbacks who must carry their offense, while a pair of defensive linemen for two prestigious schools need to break out of their shells.
Begin Slideshow

»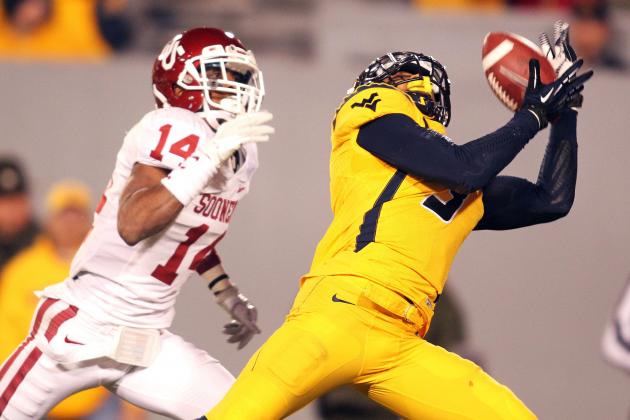 Charles LeClaire-USA TODAY Sports

Oklahoma's defense better improve if the Sooners want to reach a BCS bowl for the first time in three years. The secondary was one of the weak spots last season, as it allowed 27 plays of 25 or more yards through the air.
With only four defensive starters returning, cornerback Aaron Colvin is now the leader of the defense. He was a first-team All-Big 12 selection but did manage to get beat deep occasionally. The inconsistent play likely weighed on his decision to return for his senior season. According to his father, Colvin was close to leaving Oklahoma early, per Jason Kersey of NewsOK.
"If I had to put a percentage on it, he was 75-percent ready to leave school and enter the draft," said his dad, Bryant Colvin. "He didn't actually tell us how close he was, but I know my son."
Colvin must do his part in turning around the Oklahoma defense.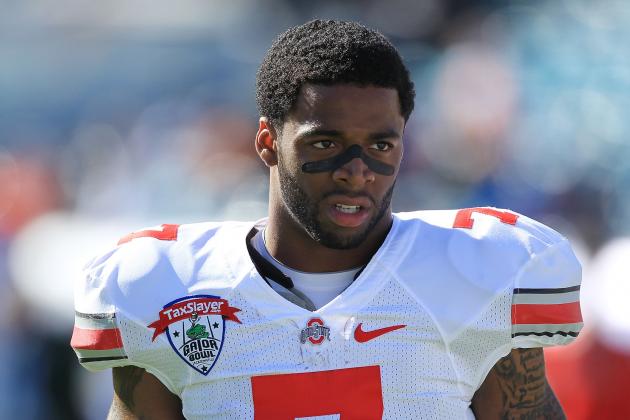 Scott Halleran/Getty Images

Quarterback Braxton Miller can't do everything for Ohio State. Last season, he threw for 2,039 yards and led the team with 1,271 rushing yards. It's not fair to expect him to carry the team on his back again, especially if Ohio State hopes to play in the national championship.
Running back Jordan Hall has had a frustrating career. In four years, he has slowly produced 1,032 rushing yards and six touchdowns. He has had a hard time staying healthy and never seems to look comfortable within the offense.
Hall has the speed head coach Urban Meyer wants, and he will be given every opportunity to make up for lost time. He must step up and give the Buckeyes another offensive weapon besides the quarterback.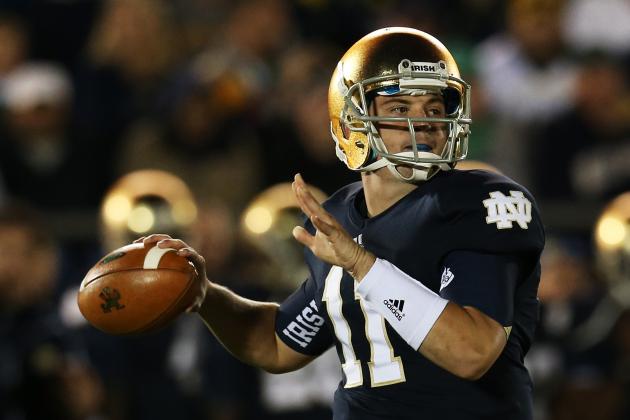 Jonathan Daniel/Getty Images

Most Notre Dame fans cringe knowing that Tommy Rees is going to be this year's starting quarterback. His last full-time starting experience was in 2011, which resulted in 14 interceptions and a mediocre 8-5 record.
Rees did a wonderful job last season limiting his turnovers and making key throws that helped the Irish finish the regular season undefeated. However, that came in a limited role when Rees was the backup behind former starter Everett Golson.
Now, Rees will be asked to throw the ball more than 59 times and will be the X-factor to Notre Dame's season. The fanbase has tasted major success for the first time in years and would like to experience that again. It's going to take an impressive season from the off-and-on quarterback for the Irish to qualify for a second straight BCS bowl.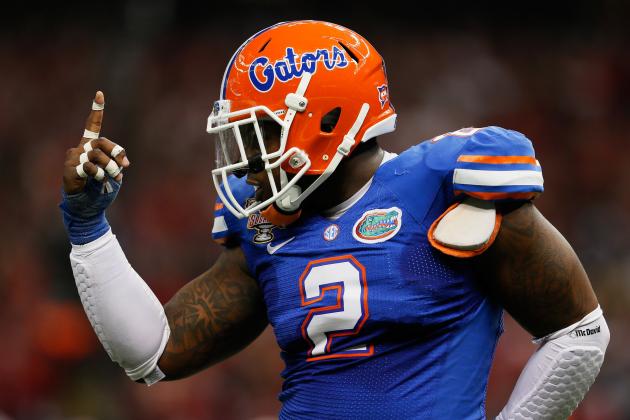 Kevin C. Cox/Getty Images

It's difficult to find a defensive lineman as talented as Florida's Dominique Easley. He explodes off the line and is about as disruptive as any football player in the country. While the stat sheet doesn't do Easley much justice (26 tackles and four sacks), he will be critical to Florida's defense this season.
Florida only returns five defensive starters, which includes only one on the defensive line. While the young talent is worth getting excited over, every defense needs that one veteran who can consistently step up and make a play.
Easley is that guy for Florida.
The future NFL draft prospect is moving to his more natural position at defensive tackle. He has to have his best season for the Gators to remain relevant in the SEC title picture.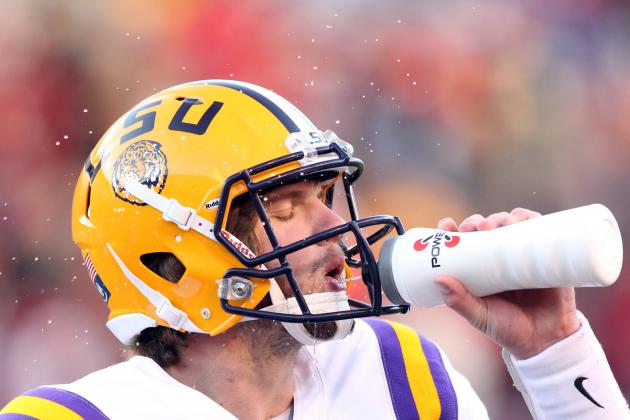 Nelson Chenault-USA TODAY Sports

It's mentioned just about every season: Is this the year LSU is a successful passing team?
Quarterback Zach Mettenberger didn't live up to expectations, but he did show promise toward the end of last season. He threw four of his 12 touchdowns in the final four games while also topping 250 passing yards in three of the final five games. He completed 68.6 percent of his passes against Alabama and threw for 298 yards.
Mettenberger wasn't the game-changer the Tigers wanted, but he does have the upside to become the best passer since former LSU star JaMarcus Russell. He'll also be playing in a more exciting offense with new offensive coordinator Cam Cameron now calling the shots.
For LSU to give Alabama and Texas A&M a run in the SEC West, Mettenberger must continue to take steps forward.
Harry How/Getty Images

USC once had the best wide receiver tandem in the country, but now there are a few questions that must be answered.
Marqise Lee is without question the best receiver a quarterback could have, while Nelson Agholor proved to be a respectable No. 2 option his freshman season. But with Robert Woods now in the NFL and George Farmer out with a torn ACL and MCL, somebody must step up to create depth for the eventual starting quarterback.
How about De'Von Flournoy?
The former 4-star recruit, via Scout.com, has only one catch in his career. He's dealt with injury issues early on and has since struggled to emerge from the crowded depth chart, but this is his chance to really make a name for himself.
Flournoy is a speedy receiver who can stretch the field and make big plays. Lee can't continue to carry the offense on his own.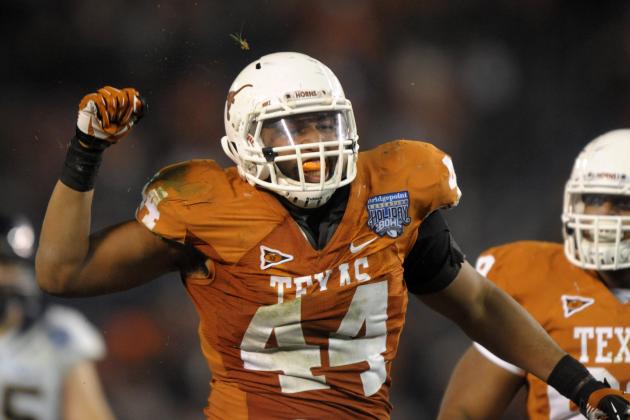 Kirby Lee-USA TODAY Sports

With 19 returning starters, many believe this is the season Texas is going to return to form and qualify for a BCS bowl. Uh, not unless there is drastic improvement to a defense that allowed more than 400 yards per game.
One way to instantly improve the defense is to get a healthy Jackson Jeffcoat on the field. The senior defensive end is a solid pass-rusher and even better against the run.
Despite missing seven games last season with a right pectoral muscle rupture, Jeffcoat finished second on the team with 9.5 tackles for loss and four sacks.
Jeffcoat isn't the answer to the entire defense, but he is an athletic player who can immediately add a spark to the rest of the group—if he can stay healthy, of course.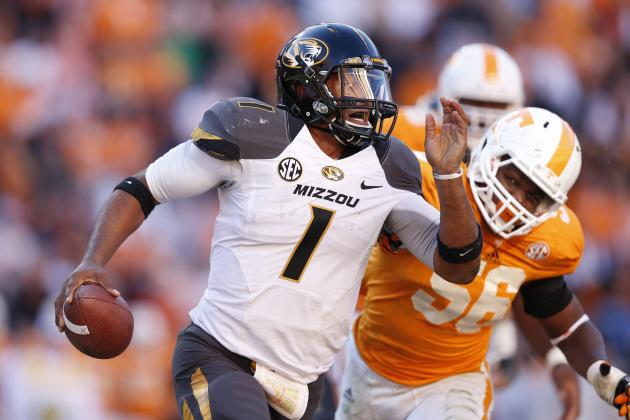 Joe Robbins/Getty Images

Remember when James Franklin was one of the best dual-threat quarterbacks in the country?
It seems like it was forever and a day ago, but Franklin was tearing up defenses just a couple of years ago. In 2011, he threw for 2,865 yards and 21 touchdowns while rushing for 981 yards and 15 touchdowns. His playmaking ability is off the charts and creates headaches for opposing defenses.
The problem is that Franklin had a hard time staying healthy all of last season. He wasn't himself and missed several games due to nagging injuries. This issue is the reason head coach Gary Pinkel is hesitant on naming Franklin the starting quarterback in fall camp.
If Missouri is going to qualify for a bowl game, Franklin must have a clear bill of health.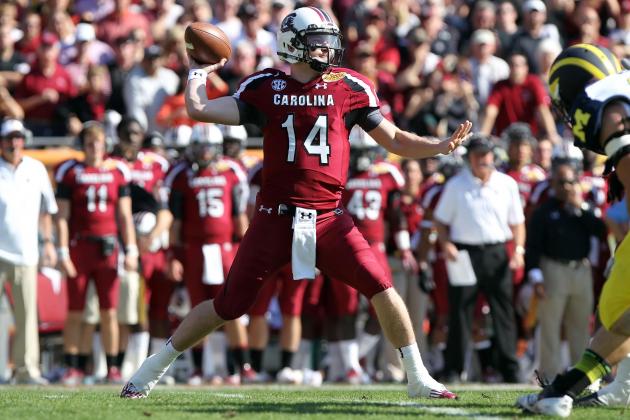 Kim Klement-USA TODAY Sports

Another quarterback who must avoid injuries and play more consistently is South Carolina's Connor Shaw.
Last season, Shaw played the second half of the season with a foot injury that led to him receiving pain pills on the sidelines during games. Shaw says that the injury is a thing of the past, according to Chip Patterson of CBS Sports, which is a step in the right direction for the Gamecocks.
Shaw had his best season yet last year, throwing for 1,956 yards and 17 touchdowns while also rushing for 435 yards and three touchdowns. He's a solid dual-threat quarterback who adds a different dimension to the offense, but he can be a bit wild at times and make poor decisions. He's thrown 13 combined interceptions the last two seasons.
South Carolina hopes to compete for an SEC title. With that being the case, Shaw must remain healthy and have the best season of his career.