Iowa Football: Game-by-Game Prediction for the Hawkeyes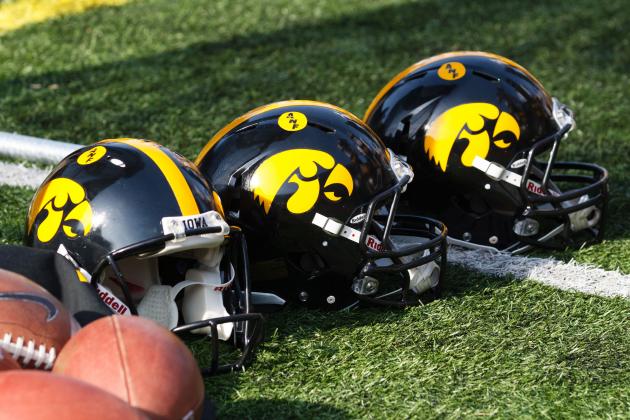 Rick Osentoski-USA TODAY Sports

Summer camp has started for Iowa, and that means that football season is close at hand for Kirk Ferentz and his Hawkeyes; therefore, it's time for predictions.
Last year, Iowa went a lowly 4-8, which was mostly thanks to the 113th-ranked scoring offense in the country and the worst offense of the Ferentz era. Much of this had to do with transition, as the Hawkeyes had a new offensive coordinator for the first time since Coach Ferentz was hired.
That offensive coordinator, Greg Davis, recently told the Des Moines Register's Bryce Miller that during the "First 4 practices, every snap has been no-huddle." Will this be the difference between 19.3 points per game—18.8 PPG in conference—and something approaching respectability?
It will have to because, astronomical buyout clause or not, Ferentz can't withstand another year like 2012.
Outside of the first game, for which Vegas has released odds, the "early favorite" is based on who Vegas would be most likely to call the "favorite" if odds were released today.
Begin Slideshow

»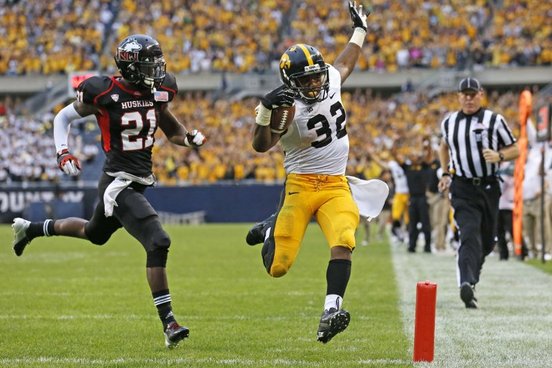 Photo via Rodney White of the Des Moines Register
When: Aug. 31
Last Year's Record: 12-2
Most Important Individual Matchup: NIU quarterback Jordan Lynch vs. Iowa's defensive ends
What Iowa Has to Do to Win
Control both sides of the line of scrimmage.
On offense, Iowa has to immediately force the NIU safeties out of the box via the pass to create opportunities for the running game.
On defense, the Hawkeyes have to make the Huskies a one-dimensional team. The line doesn't have to consistently get to Lynch, but it does have to contain him. That won't be easy to do, as Northern Illinois returns all five offensive linemen, who have a total, according to Phil Steele, of 72 career starts.
Early Favorite: Iowa by -6 1/2 points via Vegasinsider.com.
Analysis
Playing the game early in the season at Kinnick works heavily in Iowa's favor. Last year, Iowa contained Lynch to the tune of a 65.85 passer efficiency rating. However, the Jordan Lynch who faced Iowa at the beginning of last season—the first start of his career—is nowhere near as good a quarterback as the Jordan Lynch who tore up the MAC and whom the Hawkeyes will see at the beginning of this season.
On the other hand, the Huskies started 2012 with an experienced, salty defensive line. The 2013 incarnation will have three new starters, not to mention two new starters at linebacker.
Prediction: Iowa 31, Northern Illinois 28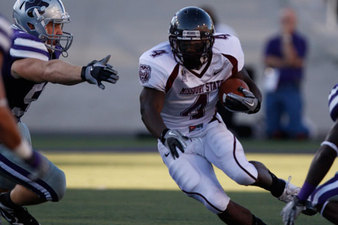 Via magazine.missouristate.edu
When: Sept. 7
Last Year's Record: 3-8
Most Important Individual Matchup: Kirk Ferentz vs. Conservatism
What Iowa Has to Do to Win
Treat the Bears like an inferior opponent. Go into the game with the intention of squashing them and finish the game by halftime.
Early Favorite: Iowa
Analysis
Kirk Ferentz has a history of losing games he should win—e.g. 2012 Central Michigan, 2011 Minnesota, 2010 Minnesota and Northwestern, etc.—but he has never lost to an FCS program, let alone a bad one. This one should be over early.
Prediction: Iowa 38, MSU 7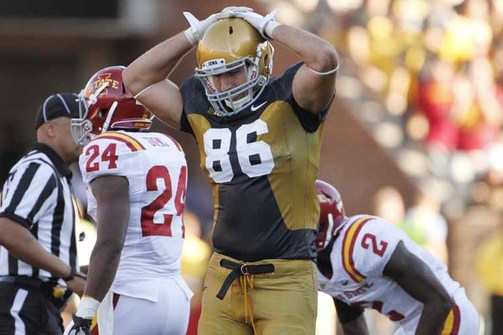 Photo via Rodney White of the Des Moines Register
When: Sept. 14
Last Year's Record: 6-7
Most Important Individual Matchup: Iowa's pass-catchers vs. the same press coverage ISU has imposed on the Hawkeyes for the past two seasons.
What Iowa Has to Do to Win
Out-talent this team.
Though Iowa State coach Paul Rhoads has consistently overachieved, there isn't much to be hopeful about with his 2013 group.
According to Phil Steele, the Cyclones are tied for 117th in the country with only nine returning starters, they are 120th in percentage of returning lettermen, 91st in percentage of returning offensive yards, 110th in percentage of returning tackles and are Steele's 12th least-experienced team in the country.
Yet, a number of fans and analysts, including Hawkeyenation.com's Jon Miller, predict Iowa to lose. The reason? Because, under Kirk Ferentz, Iowa has gone 6-8 against the Clones—2-5 in Ames—and it hasn't mattered what Iowa or ISU has looked like on paper.
The Hawkeyes may not be Ohio State but, as usual, they are definitively more talented than Iowa State. Their coach has to utilize that talent in order for Iowa to win.
Analysis
One has to have no confidence in Kirk Ferentz's ability to coach up his team for this rivalry in order to predict an ISU win. There is no other logical reason to predict the Clones to come out on top.
Has Ferentz learned from poor coaching that has led to two bad losses in a row to the Cyclones? I will say that he has, plus ISU looks weaker this season than it has at any point under Rhoads.
Prediction: Iowa 24, ISU 14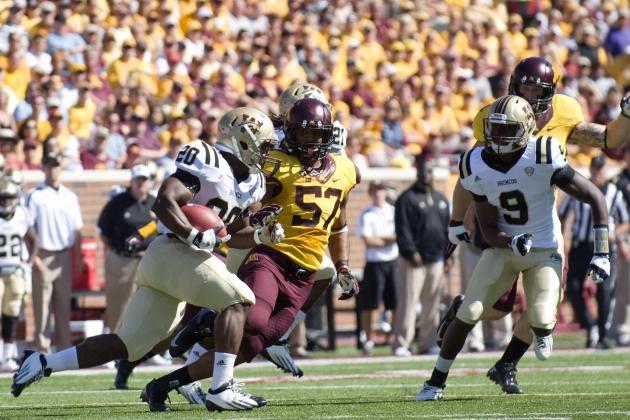 Marilyn Indahl-USA TODAY Sports

When: Sept. 21
Last Year's Record: 4-8
Most Important Individual Matchup: Kirk Ferentz vs. Conservatism
What Iowa Has to Do to Win
Unlike NIU, this is not a quality MAC program. Even worse, it looks to be entering into a down year. Rehash those ISU Phil Steele links and you will find WMU on the bottom of most of them along with the Clones.
Therefore, Iowa has to view the Broncos as a team that doesn't belong on the same field. The Hawkeyes need to jump on them early and not look back.
Early Favorite: Iowa
Analysis
Ferentz's seat may be safe because of his contract, but he will be in deep water if he loses to a directional MAC team two years in a row. Don't look for it to happen.
Prediction: Iowa 31, WMU 13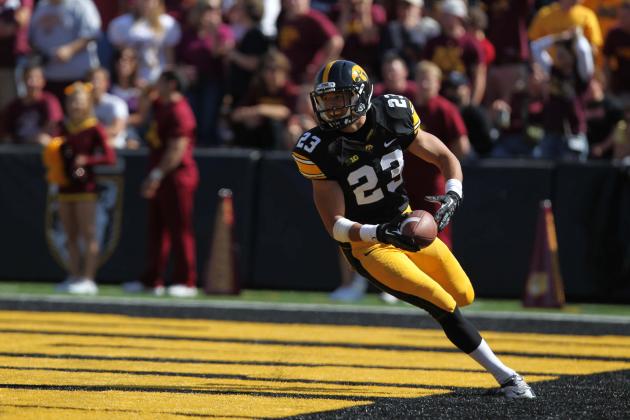 Reese Strickland-USA TODAY Sports

When: Sept. 28
Last Year's Record: 6-7
Most Important Individual Matchup: The battle for the line of scrimmage.
What Iowa Has to Do to Win
Third-year Minnesota coach Jerry Kill has similar goals to Kirk Ferentz. He wants to establish the rush on offense and control the line of scrimmage on defense, though he employs different means than Ferentz for achieving those goals.
Last year, the Hawkeyes pushed Minnesota around. The Gophers managed 102 yards on the ground to Iowa's 182. The Hawkeyes won 31-13.
This will be a key game for both teams. Whoever loses will have an uphill battle to gain a bowl berth.
Early Favorite: Push
Analysis
Kill will circle this one on the calender. He will throw everything he has at Iowa. The Hawkeyes will have a good chance if they can keep it close through the first half.
By this point in the season, Ferentz and offensive coordinator Greg Davis need to have their passing game rolling because Minnesota will sell out to stop the run.
This will be a war of attrition. Last team with the ball will win.
Prediction: Minnesota 24, Iowa 21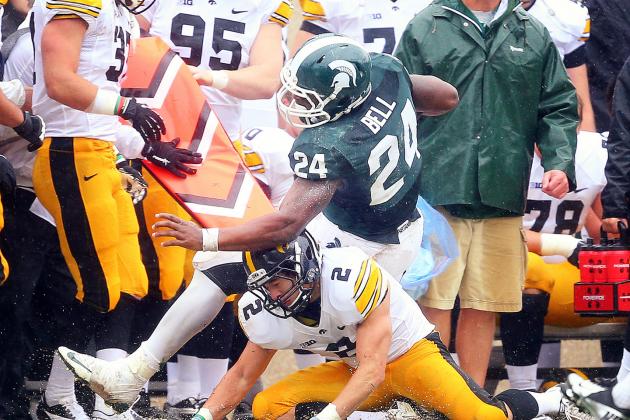 Mike Carter-USA TODAY Sports

When: Oct. 5
Last Year's Record: 7-6
Most Important Individual Matchup: Iowa's offensive line vs. MSU's aggressive linebackers
What Iowa Has to Do to Win
Despite the extraordinary success Mark Dantonio has achieved at Michigan State—2010-11 marked the first time in MSU's history that it had back-to-back double-digit win seasons—he is only 2-3 against Ferentz.
This is because Dantonio gets suckered into playing Ferentz's slow, defense-heavy game, the same way Ferentz gets sucked into playing Northwestern's style of football.
Last year, Iowa and MSU had the worst passing games in the Big Ten and two of the worst in the country. Neither team has answered any questions on the topic.
Therefore, the team that makes the fewest mistakes wins this matchup. Usually that is exactly the way Ferentz wants it, but the Spartans do possess a much more talented defense.
Early Favorite: Michigan State
Analysis
Both these teams have too many question marks to realistically evaluate this matchup at this point. Iowa will have a good chance to steal this one, but the Spartans are decidedly more talented on both sides of the ball.
Prediction: MSU 20, Iowa 13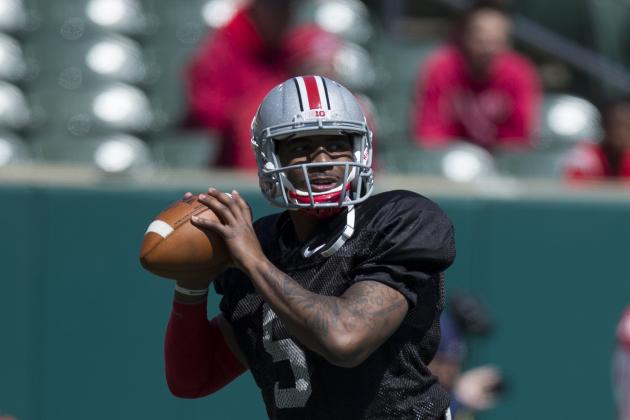 Greg Bartram-USA TODAY Sports

When: Oct. 19
Last Year's Record: 12-0
Most Important Individual Matchup: OSU vs. a massive case of the flu
What Iowa Has to Do to Win
One would have to go back to the first two years of Ferentz's tenure to find the last time Iowa has gone into a game with almost no hope of winning. Yet, here we are.
In order for the Hawkeyes to win, they will have to have their best game of the season paired with Ohio State playing its worst game of the season—combined with a bit of luck, fortuitous calls and/or bad weather.
Early Favorite: Ohio State
Analysis
It's nearly impossible to see Iowa having a shot in this one. OSU will likely enter the game 6-0, and Urban Meyer will look to gain points in the polls via decimating his foes.
Nevertheless, as will be evident in games against Northwestern and Nebraska, there is still plenty to be gained, even in a blowout.
Prediction: Ohio State 49, Iowa 14
Mike DiNovo-USA TODAY Sports

When: Oct. 26
Last Year's Record: 10-3
Most Important Individual Matchup: Iowa's linebackers vs. NU quarterback Kain Colter and NU running back Venric Mark.
What Iowa Has to Do to Win
Iowa has lessons to learn from Northern Illinois, as well as from a probable Ohio State drubbing, because Northwestern University will come at Iowa with a similar offense and a similarly skilled quarterback.
If the Hawkeyes contain Colter and the Northwestern running game while at the same time moving the ball on the ground against a questionable Wildcats defensive line, they will have a good opportunity for an underdog victory.
Early Favorite: Northwestern
Analysis
Some, such as Sports Illustrated and Ohio State blog Landgrantholyland.com, have the Cats as the Big Ten's sleeper, but while it is a talented team, it will not win the conference or the division.
For the first time perhaps ever in Ferentz's tenure, it is well-accepted that NU is the more talented team. The question is how that will affect the dynamic of the matchup—a matchup that has typically been predicated on the Cats coming into the game as underdogs and, five times out of the last seven contests, upsetting the favored Hawkeyes
Prediction: Northwestern 28, Iowa 20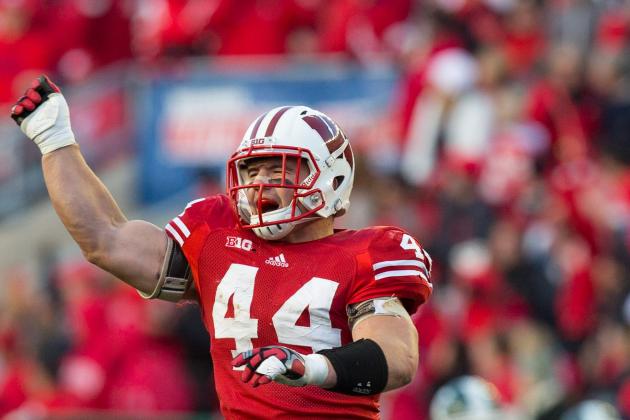 Jeff Hanisch-USA TODAY Sports

When: Nov. 2
Last Year's Record: 8-6
Most Important Individual Matchup: Iowa's passing game vs. UW's inexperienced defensive backfield
What Iowa Has to Do to Win
Pass.
In all of its previous contests, the passing game probably would have only needed to keep the opponents honest in order to open up the running game. However, the Badgers' weakness will be a green defensive backfield.
In order to win this game, Iowa's passing game needs to be a force on its own and needs to attack downfield. A short passing game that attacks Wisconsin's quality linebackers won't cut it.
Early Favorite: Wisconsin
Analysis
As with MSU, Ferentz has done well against Wisconsin. Going back to 2001, he has a 6-4 record against what has been the 14th-winningest program in the country over that stretch of time.

Nonetheless, that program has been built upon the continuity that went with the passing of the torch from Barry Alvarez to Bret Bielema. New head coach Gary Andersen is a bit of a mystery and a wild card. Will his hiring cause waves within the program or solidify it?
I'm betting the Badgers have a little bit of a hiccup in the transition, and the Hawkeyes take advantage of it.
Prediction: Iowa 28, Wisconsin 27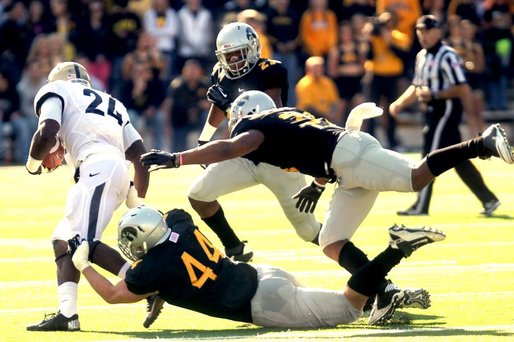 Photo via Benjamin Roberts of the Iowa City Press Citizen
When: Nov. 9
Last Year's Record: 6-7
Most Important Individual Matchup: Iowa's pass rush vs. Purdue's offensive line
What Iowa Has to Do to Win
It depends how quickly the Boilers take to new coach Darrell Hazell's schemes. If they fail to make strides, then Iowa has to attack.
If they do make strides, then Iowa still has to attack as Purdue, along with Minnesota, is possibly Iowa's only Big Ten opponent over which the Hawkeyes will have some degree of talent advantage.
Early Favorite: Push
Analysis
With the looming specter of Michigan and Nebraska hanging over Iowa's head, Ferentz will be aware that a win over Purdue will be his program's best chance for getting back to a bowl. Look for him to go against his nature and pull out all the stops.
Prediction: Iowa 24, Purdue 14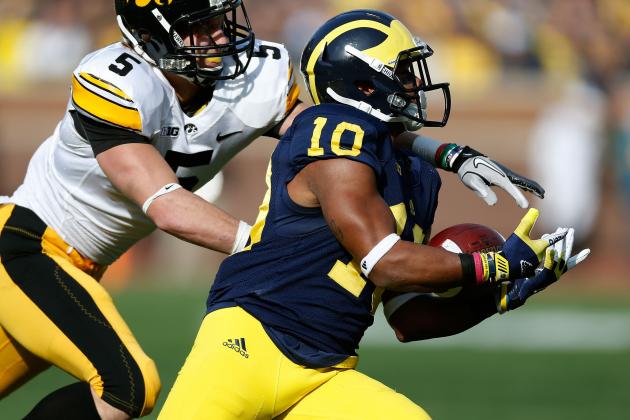 Gregory Shamus/Getty Images

When: Nov. 23
Last Year's Record: 8-5
Most Important Individual Matchup: Iowa's safeties vs. Michigan quarterback Devin Gardner
What Iowa Has to Do to Win
Slow the game down, limit big plays and wear down the Michigan defense. That is how an underdog needs to approach a contest against a substantial favorite.
Early Favorite: Michigan
Analysis
The good news is Michigan is a fairly young team—the defense is projected to start four seniors—and is probably a year away from seriously challenging for the conference title.
The bad news is the Wolverines will likely have hit their stride by November, and they will start to look like the team that will be on a short list of national title contenders in 2014.
Prediction: Michigan 38, Iowa 14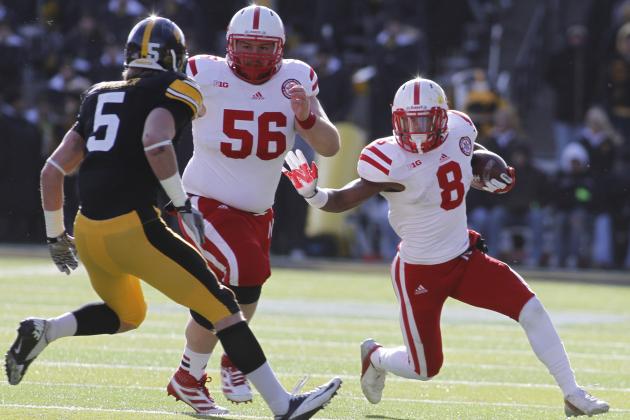 Matthew Holst/Getty Images

When: Nov. 29
Last Year's Record: 10-4
Most Important Individual Matchup: Iowa contain vs. Nebraska quarterback Taylor Martinez (Notice the theme here.)
What Iowa Has to Do to Win
Iowa scored a grand total of 14 points in the first two inter-conference meetings with Nebraska. Consequently, the simple reality is Iowa has to score in order to win this game.
More specifically, Iowa has to contain the Nebraska running game while taking advantage of a team that, judging by certain showings last season—70 points allowed against Wisconsin, 63 points allowed against Ohio State—has forgotten how to play defense.
Nebraska only returns five on defense, so it may be a case of addition by subtraction. Either way, seven points won't do it.
Early Favorite: Nebraska
Analysis
It is impossible to predict what things will be like at the end of the season for these two teams. It could be a matter of which team is healthier, especially given that the game will be after a six-day rest for both teams.
Right now, it's hard to see Iowa pulling this one out, but as long as Taylor Martinez is at quarterback and continues to have terrible mechanics—mechanics become a bigger issue when throwing with or into the wind—late autumn Midwest weather will work in the Hawkeyes' favor.
Prediction: Nebraska 28, Iowa 13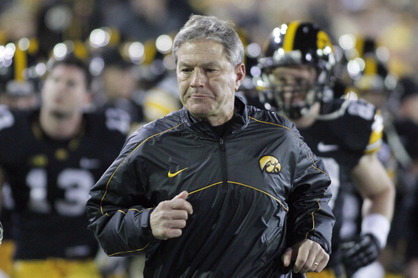 Matthew Holst/Getty Images

Former Iowa great/current Big Ten Network analyst Chuck Long, via Scott Dochterman of the Cedar Rapids Gazette, recently said that six wins "will be a great year" for Iowa. And I am predicting six wins for the Hawkeyes, so is that a "great year"?
The answer is, "no." It is a passable year provided it builds towards a big year in 2014.
Throughout the offseason, I have adamantly maintained that along with transition and poor coaching, the 2012 Hawkeyes' biggest issue was a talent-poor roster, and this year, Iowa will be more talented. Not 2009-level talent, to be sure—18 players on that team were drafted between 2010 and 2012—but far more talent than 2012 (one player drafted).
That talent—along with a commitment to improved special teams—will result in more wins and a bowl berth. However, if the play-calling and game-planning also improve, there is enough talent to manage eight wins, or even nine with a little luck.
Unfortunately, until Kirk Ferentz proves that he can be a better on-field coach, it is impossible to give him the benefit of the doubt. In other words, one cannot expect Ferentz to scheme his way to more wins until he shows that he will put his talent in a position to win games.
Therefore, a "great year"—within the realm of reality—for the 2013 Iowa Hawkeyes will be eight wins. It would not only be a great year for the wins, but it will also demonstrate a new Ferentz. A good year will be seven wins, as that would require at least two wins via coaching and strategy.
I am predicting six wins as a testament to the talent that is on the team, and that would be a passable year.