Michigan Basketball: What's to Love and Hate About 2013-14 Michigan?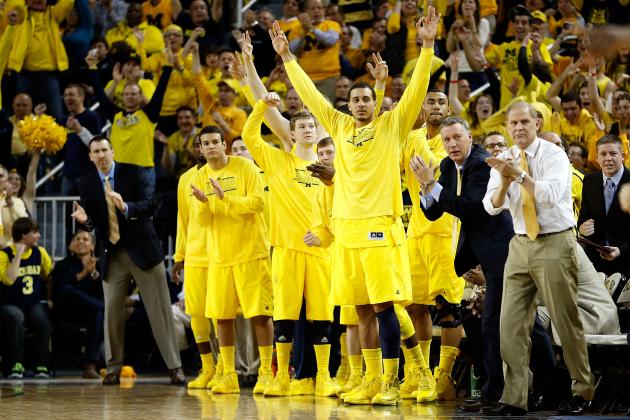 Gregory Shamus/Getty Images
What about Michigan's current roster should have fans excited?
Following a run to the Final Four, there's a lot to love about the Michigan basketball program. There is also plenty to like about the group assembled to take the Wolverines deep into the postseason for a second straight year.
Glenn Robinson III and Mitch McGary will be the stars of the show. Key parts of Michigan's rotation such as Caris LeVert, Nik Stauskas, Jordan Morgan and Spike Albrecht are back as well. The incoming group of freshmen is the No. 12 ranked class in the nation.
What's not to love?
Believe it or not, there are a few issues with the 2013-14 roster. On the whole, head coach John Beilein should be grinning about all the possibilities for this season, though there is reason for him to fret, too.
Begin Slideshow

»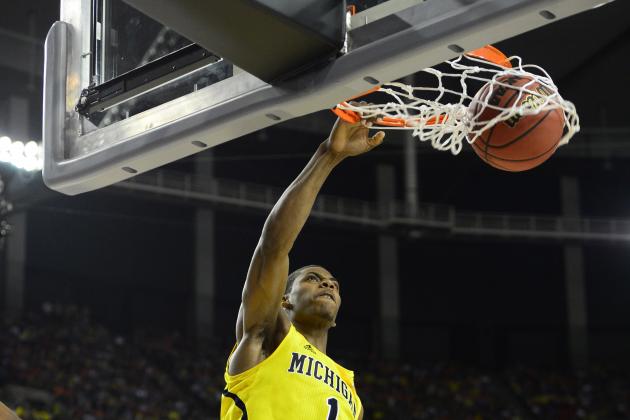 Bob Donnan-USA TODAY Sports
Glenn Robinson III's recent video has Michigan fans anxiously awaiting the 2013-14 season.
It has been quite a while since the Michigan Wolverines have put a lineup on the floor with as much athleticism as the 2013-14 team. The days of moderately athletic players overachieving are coming to an end in Ann Arbor.
Glenn Robinson III is by far one of the best athletes in college basketball and will get to showcase his talents in a much larger role this season. A video posted on Robinson's Instagram account in late July is only adding to the hype. The 6'6", 220-pounder is seen kissing the rim and throwing down an impressive array of dunks shortly after a lifting session. Needless to say, Robinson will be dynamic at the rim.
Unlike last year, rising sophomore big man Mitch McGary will be in tip-top shape for Michigan's season opener. The Chesterton, Indiana native showed off impressive footwork and quickness during the Wolverines' NCAA tournament run. McGary runs the floor better than just about any power forward in the country, too. Look for some more steal-and-dunks from him this season.
Even shooting guards Nik Stauskas and Caris LeVert surprised some fans in 2012-13 with their overall athleticism. Both rising sophomores could be even better this year after an offseason of strength training.
The newcomers bring plenty of athleticism to the table as well. Zak Irvin garnered 5-star status, and 4-star point guard Derrick Walton is lethal in the open floor.
Michigan fans will get to see plenty of alley-oops and transition baskets for the second straight campaign.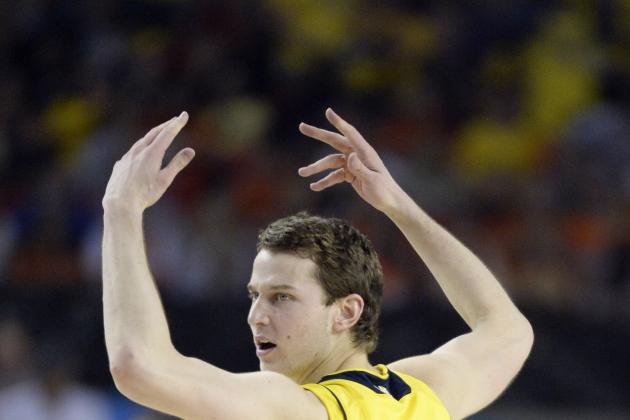 Robert Deutsch-USA TODAY Sports
Nik Stauskas is only one of two proven three-point shooters on Michigan's roster right now.
Losing talented guards like Tim Hardaway Jr. and Trey Burke to the NBA is tough. Given how much the two helped the Michigan Wolverines spread the floor last season, those losses are magnified.
Of the 296 threes Michigan knocked down in 2012-13, the duo accounted for 149 of them. Aside from Nik Stauskas, no other player on the roster made more than 23 treys.
Only Stauskas and Spike Albrecht had a higher three-point field-goal percentage than Hardaway and Burke in 2012-13. Both are back for their sophomore campaigns, but beyond those two, Michigan will be waiting for another perimeter shooter to emerge.
The best candidate is Glenn Robinson III. After hitting a mere 32 percent of his attempts from beyond the arc as a frosh, Robinson undoubtedly spent some time developing a consistent outside shot during the offseason. Mitch McGary is working on a perimeter jumper as well, though expectations should be tempered until he puts one up in a game.
Not even Zak Irvin has proven to be a reliable three-point shooter. The newcomer only shot better than 45 percent from distance four times as a high school senior. Even more concerning is the fact Irvin hit less than 30 percent of his three-balls on nine occasions.
By season's end, hopefully one or two Wolverines blossom into effective outside shooters. For the time being, though, Michigan's perimeter scoring is a question mark.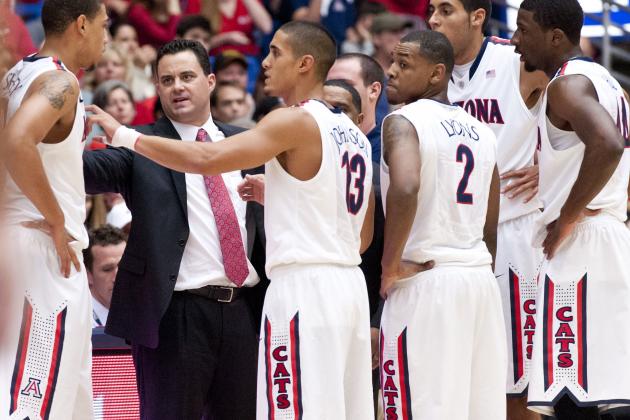 Casey Sapio-USA TODAY Sports
Sean Miller and the Arizona Wildcats are coming to Ann Arbor this season.
Currently, there are nine games on the Michigan Wolverines' 2013-14 non-conference slate. Unlike last season, though, only a couple of those contests will be surefire victories.
Playing a tougher pre-Big Ten Conference schedule is something the Maize and Blue faithful should embrace. It may not result in the prettiest overall record, but tougher games early in the season better prepare a team for March.
Look no further than the Michigan State Spartans for evidence. Tom Izzo makes sure the Green and White are tested well before league play begins. It has not hurt the Spartans much in the postseason over the years either. Advancing to six Final Fours since 1999 is proof of that.
Only three of Michigan's non-league opponents made the 2013 NCAA tournament. This season's schedule is loaded with March Madness shoe-ins.
Aside from facing Long Beach State in the opening round of the Puerto Rico Tip-Off, the Wolverines will have two tough games. A potential matchup with VCU in the second round is looming, while the championship would likely feature either Georgetown or Kansas State.
Road trips to Duke and Iowa State are on tap as well. Plus, Arizona will visit the Crisler Center on Dec. 14, which could pit a pair of top-10 teams against one another.
Facing an up-and-coming Stanford program at the Barclays Center in Brooklyn will not be an easy win either.
More marquee games are great for the fans and season-ticket holders. It also shows Michigan is ready to be taken seriously as a program once again.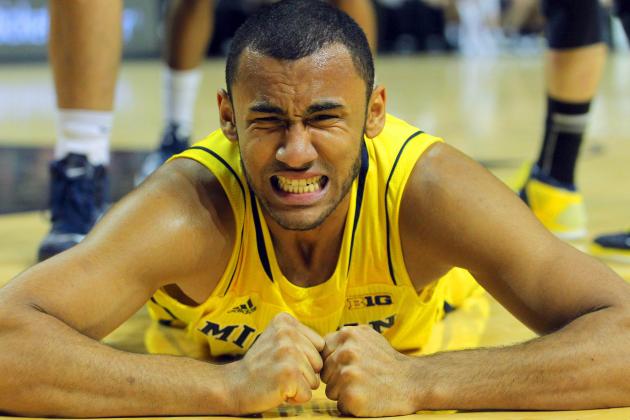 USA TODAY Sports
Jon Horford is one of two upperclassmen on the 2013-14 roster.
Although none of the five seniors on last season's roster made significant contributions statistically, there is no discounting the benefit of veteran leadership.
Only two upperclassmen will be in uniform for the Michigan Wolverines in 2013-14.
Fifth-year senior Jordan Morgan and redshirt junior Jon Horford are it. Both will be great leaders. It would be less worrisome if there were a few more veterans on the roster, though.
This puts even more pressure on young stars Mitch McGary and Glenn Robinson III to take on leadership roles. The two will be asked to lead with their performance on the court, while Morgan and Horford could be vocal leaders.
It remains to be seen who will lead Michigan through the rough patches it will surely endure at some point in the campaign. Thus, there is a reason to hate the small number of veterans the Wolverines have.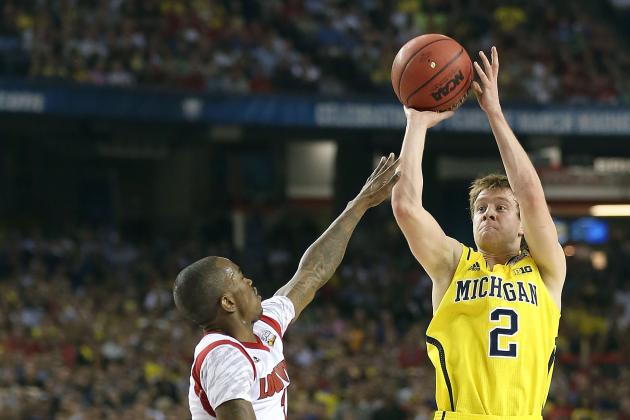 Streeter Lecka/Getty Images
Spike Albrecht gives Michigan depth off the bench.
No matter who winds up winning a spot in the starting lineup, there will not be a big drop-off in production when John Beilein goes to his bench.
Three positions are up for grabs right now, but this is far from a bad thing.
At point guard, incoming freshman Derrick Walton appears to be the perfect fit. Spike Albrecht proved to be an efficient 1 for the Michigan Wolverines last season, though. Neither will give the starting job away easy, but both will be major contributors.
There are three Wolverines vying to be the starting 2-guard. Last year's starter Nik Stauskas, Caris LeVert and Zak Irvin are all worthy of being the top player at their position. Albrecht spent some time at shooting guard in 2012-13 as well, which only adds to the talent Michigan has on the perimeter.
Irvin and LeVert could slide to the 3, too. Glenn Robinson III is going to eat up most of the minutes at small forward, if all goes according to plan. Still, the versatility of Irvin and LeVert gives Beilein an abundance of options.
The big men will rotate between center and power forward a bit based on which lineup is on the floor. Mitch McGary should be able to play 30-plus minutes at power forward. Backing him up will be the tandem of Jon Horford and Jordan Morgan. Meanwhile, the two will be battling each other for minutes at the 5.
Sharp-shooting big man Mark Donnal could get some playing time as well to add a different element to the Wolverines' frontcourt.
With countless ways to play Michigan's deep rotation, Beilein has to be the most excited coach in America.