SF 49ers Stock Watch: Which Players Are Rising, Falling Through 2 Weeks of Camp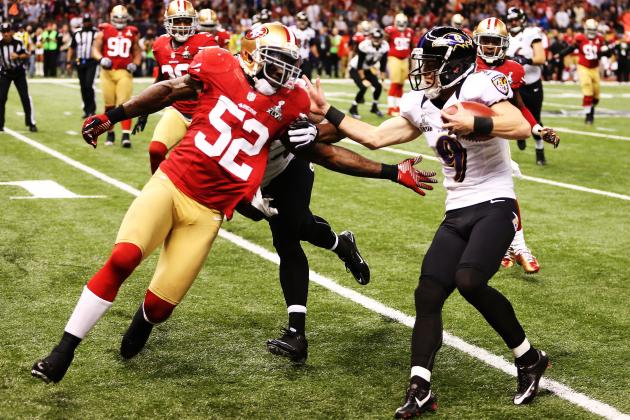 Christian Petersen/Getty Images
Patrick Willis' broken hand will give other players a chance to shine.
The San Francisco 49ers are preparing to play their first exhibition contest against the Denver Broncos.
With nearly two full weeks of training camp completed, the 49ers head into this game with one major goal: The team must avoid injuries to key personnel.
The 49ers have already lost Michael Crabtree until late in the season, and Chris Culliver is out for the entire year.
In addition, Patrick Willis will miss the exhibition season due to a broken hand.
The injuries have opened up opportunities for other players to step forward. The 49ers seem to have good depth on their roster, but that will be tested as the season gets underway.
Let's take a closer look at players who have been making a positive impact in training camp as well as those whose stock may be falling.
All stats courtesy of pro-football-reference.com.
Begin Slideshow

»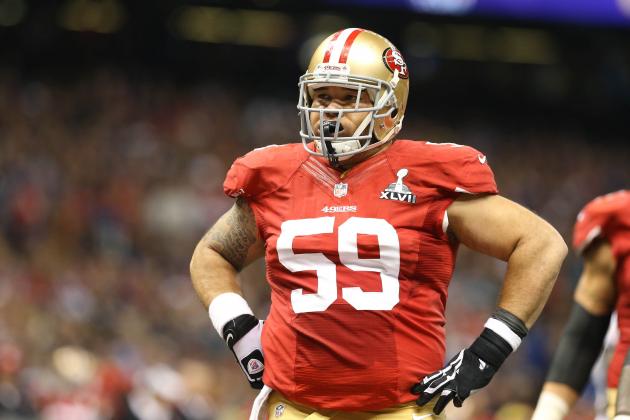 Mark J. Rebilas-USA TODAY Sports
Jonathan Goodwin will be 35 years of age in December.
Jonathan Goodwin is entering his 12th NFL campaign but has been slowed by injuries at the start of training camp. He has hardly practiced and will be 35 years of age in December.
Goodwin has been remarkably durable, playing in all 16 regular-season games in each of the last four seasons. However, one has to wonder if the years may finally be catching up to him.
In 2012, Goodwin did a very credible job as the 49ers' center. His line calls were good, and his snaps were solid. He did have periodic trouble against big, strong pass-rushers who could push him back, which collapsed the pocket.
Goodwin is in the final year of his contract and is due to make over $3 million this season. The 49ers could opt to release him and benefit from significant savings. The key is whether they believe they have a suitable replacement.
Salary figures courtesy of spotrac.com.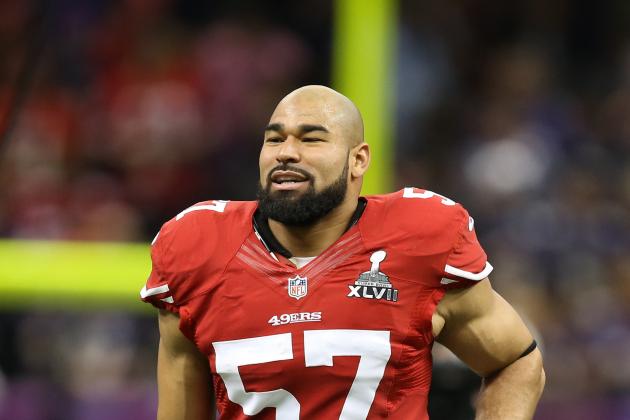 Mark J. Rebilas-USA TODAY Sports
Michael Wilhoite will replace the injured Patrick Willis.
The injury to Patrick Willis has given Michael Wilhoite a tremendous opportunity to prove himself. Prior to the injury, Wilhoite played sparingly, usually appearing only on special teams.
In 2012, Wilhoite appeared in only five regular-season games and made seven tackles.
Wilhoite has been working with the 49ers' first-team defense and is their main depth at inside linebacker. If he can show the coaches that he can be relied upon, he will get more opportunities this season.
One of the things that hurt the 49ers in 2012 was that their defense seemed to wear down towards the latter stages of the season. Defensive coordinator Vic Fangio tended to play his key starters almost exclusively.
There should be times this year when the 49ers have a comfortable lead in the second half of games. When this occurs, Fangio would be wise to rest some of his key starters. This would give players like Wilhoite an opportunity to contribute.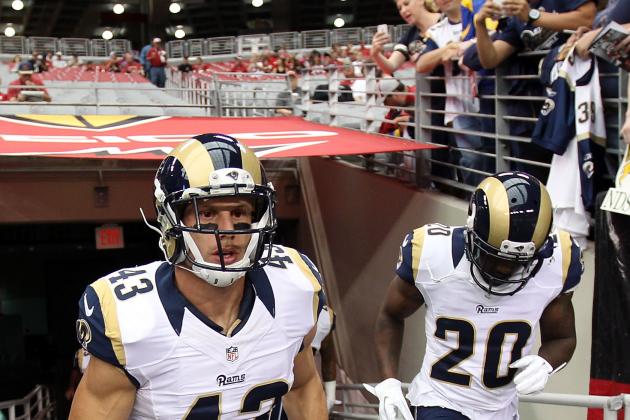 Christian Petersen/Getty Images
Craig Dahl comes to the 49ers from the Rams.
Craig Dahl will get the opportunity to start at free safety in the 49ers' first exhibition game against the Denver Broncos.
Dahl was signed as a free agent after four seasons with the Saint Louis Rams.
The 49ers have been rotating first-team reps at free safety between Dahl, Eric Reid, Trenton Robinson and C.J. Spillman. Although Dahl is starting this first game, he has not claimed control of the position vacated by Dashon Goldson.
Reid was the 49ers' first-round draft pick, and if he proves he can handle the job, he will be the likely starter on opening day. Dahl will be pushed back to a second-string role unless he really jumps ahead of Reid and the others.
Dahl joined the 49ers hoping to win a starting job, but he has not separated himself from the other candidates. Although Dahl is getting this first start, look for Reid to be the starter in the 49ers' opener.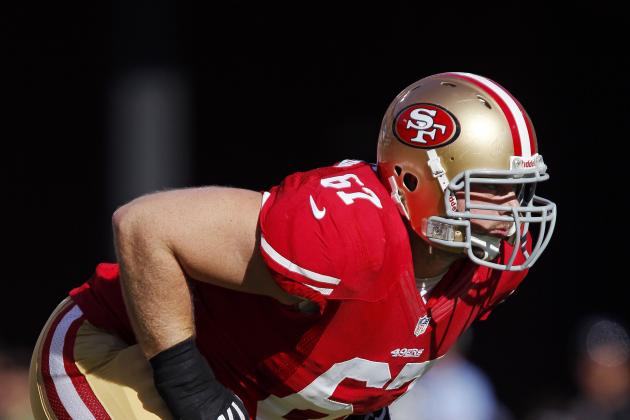 Brian Bahr/Getty Images
Daniel Kilgore is getting first-team reps at the center position.
Daniel Kilgore is entering his third season with the 49ers. He was a fifth-round selection in the 2011 draft.
Kilgore rarely saw any action in his first two years, except on the field-goal unit. Now, with incumbent center Jonathan Goodwin off to a slow start in training camp due to injury, Kilgore is getting a great chance to work with the starting offense.
Goodwin is only signed through the 2013 season. He will also turn 35 years of age in December. It is very unlikely the 49ers will sign Goodwin after his contract expires unless he is willing to take a significant pay cut.
If Kilgore proves he can handle the starting job, it is entirely possible that the 49ers cut Goodwin. This will provide some salary cap savings and also inject some additional youth into the offensive line.
Kilgore has a golden opportunity to claim the position. If he performs well in the exhibition games, it could spell the end for Goodwin's career as a 49er.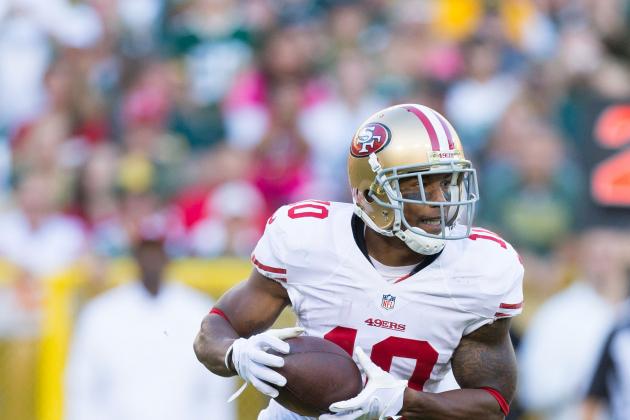 Jeff Hanisch-USA TODAY Sports
Kyle Williams is prone to injury.
Kyle Williams is trying to win the starting wide receiver job opposite Anquan Boldin. He is also coming off a season-ending ACL injury suffered in the 11th game of the 2012 season.
Prior to the injury, Williams had only 14 receptions, so he wasn't really making a huge impact anyway.
Williams, who made a good recovery from the knee injury, then strained his hamstring early in training camp, which set him back. He has not been able to distinguish himself from the other receiver candidates.
With Michael Crabtree out until late in the season, at best, the competition for the second and third receiver jobs is quite crowded. The 49ers need production from these two spots, so the players who win these jobs will need to contribute.
In addition to Williams, the 49ers are considering Marlon Moore, A.J. Jenkins, Chad Hall, Ricardo Lockette, Kassim Osgood, Quinton Patton and Chuck Jacobs.
Mario Manningham is not expected back until the middle of the season. However, the 49ers recently signed veterans Austin Collie and Lavelle Hawkins, making a crowded situation even more competitive.
Williams has not been able to stay healthy for an entire season in three years with the 49ers. The same is true over his four seasons in college at Arizona State. It is apparent that head coach Jim Harbaugh does not have a strong belief that Williams will be able to stay healthy.
Another indication that Williams has lost favor with Harbaugh is that LaMichael James is getting the first crack at returning punts. James had problems catching punts in practice last year, which is why he was never back there.
However, James worked hard at it and now has the inside track at the job. If James is successful, it further decreases the value Williams has for the 49ers.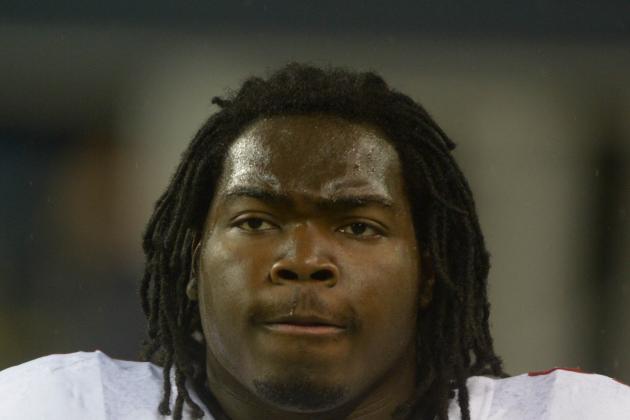 USA TODAY Sports
Ian Williams is starting at nose tackle.
The 49ers lost nose tackles Isaac Sopoaga and Ricky Jean-Francois in the free-agent market. This left a large void in the middle of the 49ers' defensive line.
GM Trent Baalke signed former Kansas City Chief defensive lineman Glenn Dorsey with the idea that he could be the starter at nose tackle. However, Ian Williams has other ideas.
Williams will be 24 years of age at the end of August and came into camp in excellent condition. He worked hard this offseason and is currently beating out Dorsey for the starting job.
This comes as a bit of a surprise. In Williams' first two years with the 49ers, he only played in four games, making three total tackles.
Williams has really stepped up to the challenge and is proving that he belongs.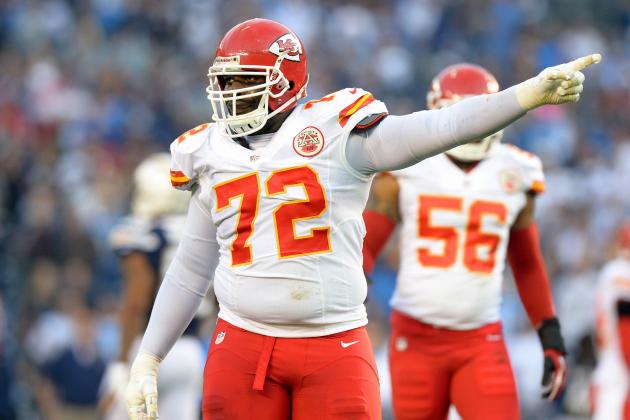 Jake Roth-USA TODAY Sports
Glenn Dorsey signed with the 49ers as a free agent.
Glenn Dorsey was the fifth overall pick in the 2008 NFL draft. The Chiefs hoped he would be a powerful and destructive force on their defensive line. Unfortunately, Dorsey never fulfilled the expectations the Chiefs had for him.
GM Trent Baalke signed Dorsey to a two-year, $6 million contract. The strategy was that Dorsey would benefit from the change of scenery and replace Isaac Sopoaga and Ricky Jean-Francois as the 49ers' starting nose tackle.
However, Dorsey has been unable to beat out Ian Williams. If this trend continues, Dorsey will be relegated to a backup role. He would provide solid depth, but Baalke did not give him $6 million to be a reserve.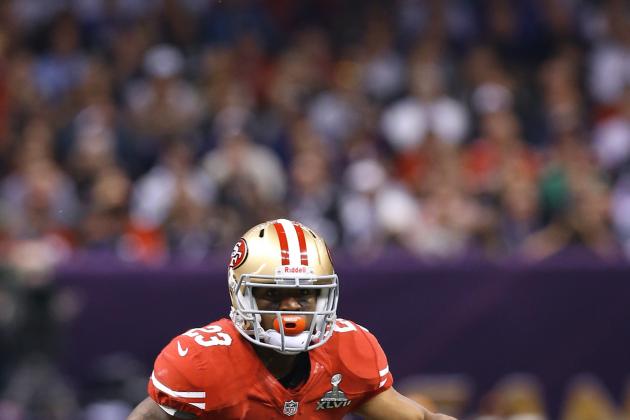 Mark J. Rebilas-USA TODAY Sports
LaMichael James wants a bigger role in 2013.
LaMichael James spent the first 12 games of the 2012 season on the sidelines. Only an injury to Kendall Hunter opened up the opportunity for James. He went on to rush for 125 yards on 27 carries.
James also did well returning kickoffs, averaging 29.8 yards per return.
With Hunter still on the sidelines, James is looking like the backup to Frank Gore. The 49ers are also giving him the first chance to win the punt return job. James will play a much bigger role in the 49ers offense in 2013.
One area that offensive coordinator Greg Roman can exploit is utilizing James out of the backfield on checkdowns, screens and flares. Most linebackers will not be able to stay with the speedy and elusive James. He is a threat to go all the way every time he touches the football.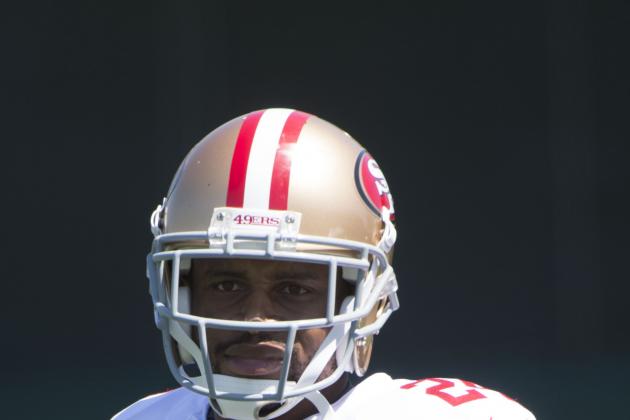 Kyle Terada-USA TODAY Sports
Nnamdi Asomugha is back in the Bay Area with the 49ers.
Nnamdi Asomugha came to the 49ers after two dismal seasons in Philadelphia. He never felt comfortable in the Eagles zone-defense scheme.
As a cornerback, Asomugha excelled in a more physical, in-your-face style. He joins the 49ers hoping to resurrect his career.
In addition, Asomugha should feel very comfortable in the San Francisco Bay Area. He played his college ball at UC Berkeley and followed that with eight seasons with the Oakland Raiders.
The real question for Asomugha is whether, at age 32, he still has enough left to be a top corner.
The early returns for Asomugha are quite mixed. He has looked good on occasion but also had his struggles at times.
Perhaps the biggest sign is that when the 49ers signed Asomugha, the thought was he could potentially replace Carlos Rogers as a starting cornerback. But Asomugha has not played up to that level.
When nickel cornerback Chris Culliver went down with a season-ending ACL injury, it would have made perfect sense to insert Asomugha in Culliver's spot.
However, the nod has gone to Tramaine Brock. At this time, the 49ers believe that Brock is a better option than Asomugha. This is clearly a concern because Brock is an average cover corner at best.
Asomugha's inability to seize a job has become a concern for the 49ers secondary.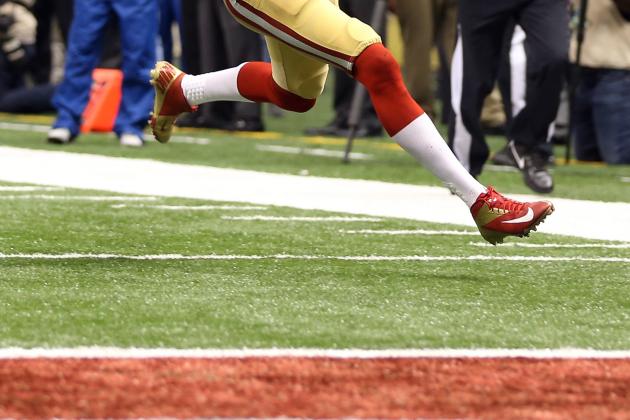 Mark J. Rebilas-USA TODAY Sports
Colin Kaepernick can run and pass with equal efficiency.
Colin Kaepernick enters this season as the full-time starting quarterback. Kaepernick came into camp looking like he had gained strength, but he has not lost any speed.
Kaepernick has also learned how to use more touch on some passes. He has a very strong arm, but sometimes tried to force the ball in to the primary receiver. Only time will tell if he has learned to survey the field and find the best pass-catching option on any given play.
In 2012, Kaepernick proved his leadership capabilities, taking the 49ers to the brink of a Super Bowl triumph. Now, only that Super Bowl win will satisfy the 49ers organization and its fans.
Kaepernick started seven regular-season games and completed 136 of his 218 pass attempts. He also threw 10 touchdowns while being intercepted only three times. Kaepernick led the 49ers to playoff victories over Green Bay and Atlanta.
Kaepernick is poised for an outstanding season. In very short order, he assumed the role of team leader and is still only 25 years of age. Kaepernick's future is bright, but it's also right now. If the 49ers can stay healthy, he has what it takes to bring a world championship back to San Francisco.