10 Great Strikers of the 1990s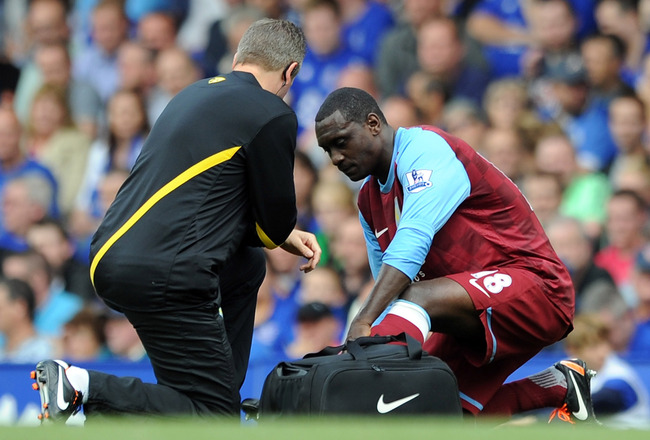 And the winner is... only kidding.
Chris Brunskill/Getty Images
Thankfully we are almost within touching distance of the football season being in back in full swing (some leagues have already started), but summer wouldn't be complete without a nostalgic look back at the 1990s.
Ah, the 1990s—a decade that spawned bad kits, inflated transfer prices and the beginning of player power. But it also gave us some of the finest footballers to have ever graced a pitch and this list is a tribute to the very top echelon of those players.
Don't worry if your favourites aren't in here; it's because they simply weren't good enough. Nah, we jest. There are only 10 places available, we had to pick and choose and, believe me, there was some violence involved when it came to picking the list, so let's just be glad there even is a list.
10. Gabriel Batistuta
Although he only won two top division titles in his career—Serie A with Roma in 2001 and the Argentina Primera Division in 1990—it's still one more than Alan Shearer. Batistuta was one of the finest strikers in Europe and perhaps would have done better had he joined a bigger club.
But the loyalty that he showed to Fiorentina—apart from his head being turned briefly by Roma, a situation quickly remedied by the club bringing in Giovanni Trapattoni—has set him in stone as a club legend and, as a result, he also gained respect around Italy.
Between 1991 and 1999, he scored 207 goals in 332 games for Fiorentina, while in 1990 he notched 19 in 40 at Boca Juniors, giving him a goals-to-games average of 1:1.6 throughout the 1990s, a record that puts him among the best goalscorers of the past few decades.
9. Jurgen Klinsmann
Though Jurgen Klinsmann is possibly better known for bringing diving to the Premier League than for his goalscoring prowess, the only non-Brazilian World Cup winner on this list is here for a reason.
Many consider his career-defining performance to be the 1990 World Cup clash with Holland, in which Klinsmann was forced to play as a lone striker after Rudi Voller was dismissed early on in the match. The industry with which Klinsmann approached the game set a tone for the rest of his career.
151 goals in 323 games is remarkable, but it was the manner with which he dispatched them that really caught the eye, as demonstrated in the video above.
8. George Weah
While George Weah now devotes the majority of his time to political pursuits rather than football—he ran unsuccessfully for the Liberian presidency in 2005—and has, when compared to other ex-stars, slipped under the radar, the 1995 Ballon d'Or winner still has an impressive back catalogue to reflect upon.
A tally of 154 goals in 434 appearances across three clubs (Monaco, PSG and AC Milan) between 1990 and 1999 is a good haul, while at international level he maintained an average of just over one goal every three games.
For us, and probably for many of you, he is best remembered for the classic goal he scored for AC Milan against Verona, a goal that pretty much sums up his attitude as a player.
7. Andriy Shevchenko
For many younger fans, Andriy Shevchenko is simply a player who was supposed to be good but was a huge flop at Chelsea. For the rest of us, his stints at Dynamo Kyiv and AC Milan are what are worth remembering.
Long before Roman Abramovich shelled out £30.8 million for the then 30-year-old Ukrainian, Shevchenko was terrorising defences in his native country before moving on to Italian giants, AC Milan.
While at Kyiv, he won five consecutive Ukrainian Premier League titles, including three domestic doubles, and netted 94 goals in 166 games, going on to become a household name across Europe with the club's forays into the Champions League.
It's too bad that Shevchenko's reputation suffered as a result of moving to Chelsea, which, seeing as he scored 9 in 48 across three seasons—a better rate than Fernando Torres—seems somewhat unfair. Then again, Torres is hardly who you'd want fronting your attack nowadays.
6. Alan Shearer
The all-time Premier League top goalscorer is perhaps best known for his time with hometown club Newcastle United, but it was the four years he spent at Jack Walker's Blackburn Rovers that made him.
Across four seasons—one of which culminated with the capture of the Premier League title—England's best-known No. 9 made heavy waves with 130 goals in 171 appearances; on the international side of things, he scored 28 in 56 appearances between 1992 and 1999.
Highly effective both with his feet and in the air, practically every one of Shearer's 409 career goals was followed by what must be the dullest celebration in football history, the (drum roll…) hand in the air. Then again, after scoring that many goals, any celebration would get boring after a while.
5. Marco Van Basten
One of those great players whose career was cut short by injury, we'll never know how much further van Basten could have gone. After such a prestigious career leading up to summer 1993, some might suggest that it was better to burn out than fade away—but that would just be silliness.
Still, after winning both the Serie A and Eredivisie titles three times each, plus earning his place in the prestigious three-time Ballon d'Or winners club, not having a European Cup/Champions League winner's medal will be van Basten's only regret, at least on the club side of things.
Though much of van Basten's career was during the 1980s, while part of the highly-talented Dutch contingent at AC Milan he scored 60 goals in 95 appearances in the first three years of the nineties and was an integral part of all three Serie A titles that he won with the Rossoneri.
But despite there being many memories to cherish, the stand-out moment of his career remains the fantastic—and improbable—volley while playing for his country in the Euro 1988 final.
4. Roberto Baggio
"The Divine Ponytail" remains the only Italian player to have scored in three World Cups and also holds the ignominious record for the most crucial penalty miss in World Cup history, ironic given his usual adeptness at 12 yards.
Although he wasn't a traditional striker, with his most well-known position being at the spear of an attacking midfield three, we needed an excuse to include him. That excuse came in the form of him having played as striker on a number of occasions and also having an excellent goal tally—as good as many of the best "true" strikers.
Spending his entire playing career in Italy, in the 1990s Baggio notched 175 in 358 appearances and is still beloved by his compatriots and others to this day.
But there will always be that penalty.
3. Raul
The only player on this list still to be playing professionally—he is currently with Al Sadd in Qatar—Raul Gonzalez Blanco was and still is revered around the world for his lethal ability in front of goal.
Real Madrid's all-time top goalscorer spent 16 years with the Galacticos, a feat unlikely ever to be repeated, and made good use of his time there, scoring an astounding 146 goals in 254 appearances between 1994 and 1999. His prolificacy enabled the Madridistas to capture six La Liga titles and three Champions Leagues during his time there.
His overall record at Real Madrid of 323 in 741 appearances beat the former record by 95 goals, set by the legendary Alfredo di Stefano more than 40 years earlier.
2. Romario
It's a shame that, contrary to widespread belief, it seems Romario de Souza Faria did not score 1000 goals in his career. That theory is espoused by both the player and FIFA, but we couldn't find any evidence of it. If it were so, he would probably have edged into first place on this list.
What seems to be the case is that Romario's representatives included goals scored during his youth career, as well as friendly and non-official games. Regardless, a more realistic (and accounted for) career total of 688 goals in 886 appearances is still staggering, with 314 in 383 coming in the 1990s.
The diminutive Brazilian was the perfect example of a poacher, spending large portions of games hardly involved, only to pop up and deliver brilliant goals as soon as a chance fell to him. It was fitting that he was named the outstanding player of Brazil's 1994 World Cup triumph.
1. Ronaldo
Forget Cristiano, for many of us who were born pre-1990 the "real Ronaldo" is without a doubt Ronaldo Luiz Nazario de Lima, or simply "Il Fenomeno."
Was Ronaldo the most complete striker ever? Probably. At the top of his form, the two-time Ballon d'Or winner was virtually unplayable and his ability to shake up the entire back line with one quick turn translated into an astonishing goal tally.
In the seven years of the 1990s that the Brazilian was active (1993-1999), he scored 197 goals in 236 games and would very likely have got more were it not for a few injuries. It's shame that we can't include his 83 in 127 while at Real Madrid.
However, as with any superstar, the enduring image is always the controversial one, in this case being the circumstances surrounding the 1998 World Cup final against France. Ronaldo was included in the team despite being clearly unfit to play having suffered a seizure the night before, and Brazil were soundly beaten 3-0.
Keep Reading