The last time the St. Louis Rams and Cleveland Browns opposed each other in an NFL game, it was a defensive struggle with nothing on the line.
Two years later, things are very different for both franchises.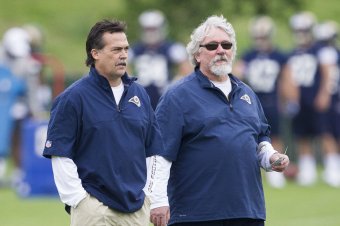 David Welker/Getty Images
St. Louis will travel to Cleveland for a preseason game on Thursday, and technically, nothing is on the line in this game, either. That being said, preseason games are on the schedule for a reason, and both the Rams and Browns are eager to get the year started off on the right foot.
Coming off a 7-8-1 season in Jeff Fisher's inaugural campaign, the Rams are very much in the conversation in the NFC West. They don't warrant the early praise that is being heaped on the Seattle Seahawks or San Francisco 49ers, but there's evidence to suggest that St. Louis is an NFC sleeper.
Cleveland hired Rob Chudzinski away from the Carolina Panthers to be its head coach this offseason and completely revamped the defense around free agents Paul Kruger and Desmond Bryant, along with returning linebacker D'Qwell Jackson. The Browns also selected pass-rushing specialist Barkevious Mingo with their first pick in the 2013 draft.
While the Rams might be a little bit further ahead in their rebuild than the Browns, both sides are facing expectations to compete on a weekly basis. In both the NFC West and AFC North these days, you have to have that mentality to avoid losing double-digit games in a hurry.
We likely won't remember the results of Thursday's matchup toward the end of the 2013 season, but in terms of evaluating players and setting the stage for the upcoming campaign, preseason games serve their purpose well.
With that in mind, check out the sections below for all the information you'll need to follow along with St. Louis and Cleveland on Thursday.
Game Information
Who: St. Louis Rams vs. Cleveland Browns
When: Thursday, Aug. 8 at 8 p.m. ET
Where: FirstEnergy Stadium, Cleveland
Watch: FOX/KPLR (St. Louis); WYKC Ch. 3 (Cleveland)
Live Stream: NFL.com (requires subscription)
Radio: WXOS 101.1 (St. Louis); ESPN 850 (Cleveland)
Spread: Cleveland -4 (via Sportsbook)
Over/Under: 35 (via Sportsbook)
Player to Watch
Rams WR Tavon Austin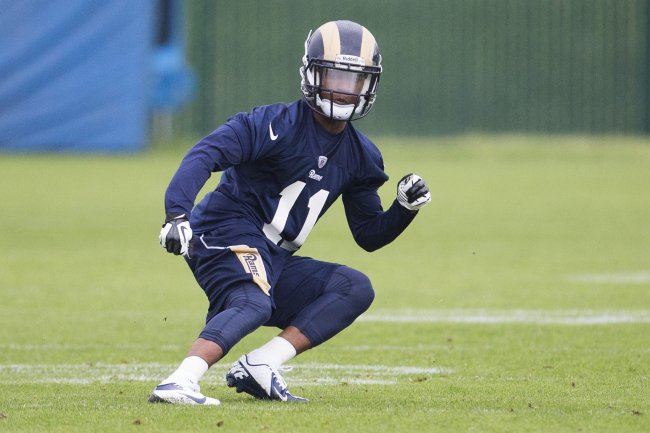 David Welker/Getty Images
The Rams traded up in the draft to nab Tavon Austin, and I have a feeling they won't regret that decision.
According to NFL.com's Mike Mayock, Austin is one of the most explosive players in the league right now:
Mayock: Rams rookie Tavon Austin "might be the most explosive player I've ever seen in my life" http://t.co/NmOo6Q2kUi

— NFL: AroundTheLeague (@NFL_ATL) August 6, 2013
Expected to contribute all over the field, Austin is a weapon that Sam Bradford simply hasn't had during the first part of his NFL career.
St. Louis can line Austin up on the outside, in the slot, in the backfield, as a running back, on special teams and any other place on the field you can imagine. Regardless of where he is on the field, teams are going to have to game-plan to keep Austin from getting loose.
We likely won't see the full complement of plays and packages centered around getting Austin the ball, and frankly, we shouldn't expect to this early in the season.
If he does get a chance to shine in the open field, though, it should be fun to watch.
*For a complete look at the current rosters of the Browns, click here. For the Rams, click here. Both rosters courtesy of the teams' official websites.
Storyline to Watch
The Backfields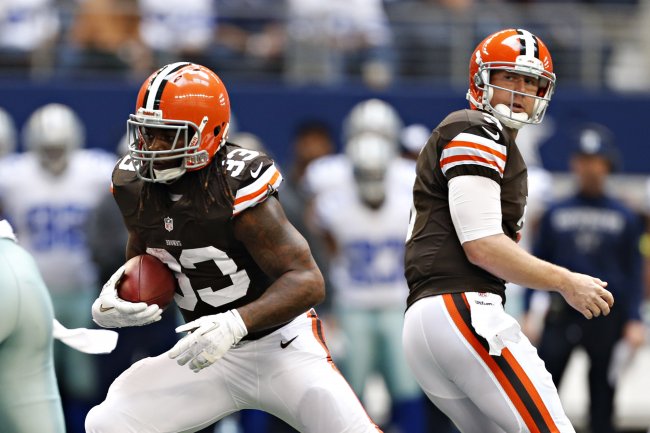 Wesley Hitt/Getty Images
At quarterback, St. Louis and Cleveland are both set. Bradford and Brandon Weeden, two former Big 12 signal-callers, are set to run the offense for both the Rams and the Browns, but it's highly unlikely we see either in more than a quarter of action.
It's the running back situation that will be interesting for both teams on Thursday.
In the Cleveland backfield, Trent Richardson is expected to carry the load. New Browns offensive coordinator Norv Turner is already on record as saying that he wants to get the second-year back 300 carries this season, but we won't see any of those carries on Thursday.
As noted by Nate Ulrich of the Akron Beacon Journal, Richardson has been ruled out of action against the Rams:
#Browns HC Chud said RB Trent Richardson (shin) & SS T.J. Ward (hammy) won't play in preseason opener Thursday vs. #Rams.

— Nate Ulrich (@NateUlrichABJ) August 7, 2013
Without Richardson starting, we really won't get a chance to see what Turner and Chudzinski have planned for the offense in the early part of the season. As reported by Mary Kay Cabot of the The Plain Dealer, it should instead give us a chance to see what Dion Lewis can do.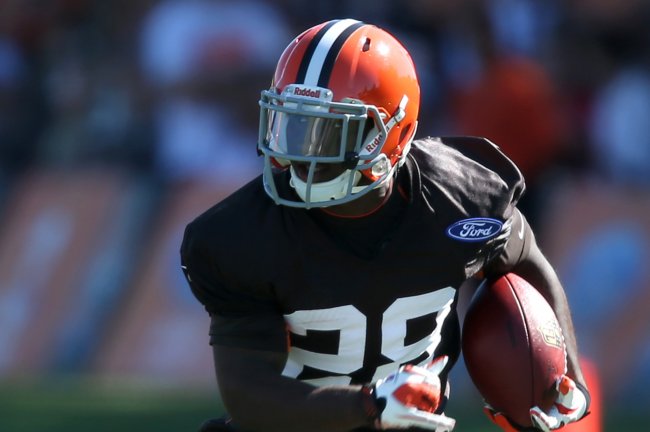 Ron Schwane-USA TODAY Sports
On the other side of the field, St. Louis will be holding open auditions for its starting RB job. ESPN's Mike Sando discussed the battle for carries on Twitter:
Rams searching for starting running back http://t.co/mFSo20vset

— Mike Sando, ESPN.com (@SandoESPN) August 7, 2013
Among Daryl Richardson, Isaiah Pead, Zac Stacy and Terrance Ganaway, there's talent and depth that the Rams will have utilize against opponents this season.
They'll still need a starter each week, though, and according to Fisher through the team's official Twitter account, Richardson has the inside track on the job:
"I think Daryl comes back as our starter." - Fisher on the #Rams running back competition #RamsCamp

— St. Louis Rams (@STLouisRams) August 6, 2013
Richardson rushed for nearly 500 yards as a rookie behind Steven Jackson last year.
He also averaged 4.8 yards per carry and had huge games against Washington and Miami in 2012. Richardson can separate himself from the pack with a strong showing against Cleveland's first-team defense on Thursday.
Although the situations are different on both sides of the field, the RB contributions on Thursday should be a nice talking point after the game.
Prediction
Both the Rams and the Browns won't do anything to jeopardize their seasons in their preseason openers. That could make the outcome hard to predict, considering that the starters will likely only impact the game in the first couple of possessions.
I like the depth that St. Louis has added across the board, while Cleveland is a little bit banged up overall heading into this game. In a battle of third- and fourth-teamers trying to make the roster, I like the Rams to come out on top.
St. Louis 23, Cleveland 17

Follow B/R's Ethan Grant (@DowntownEG) on Twitter.