WWE SmackDown: 5 Storylines to Watch for August 9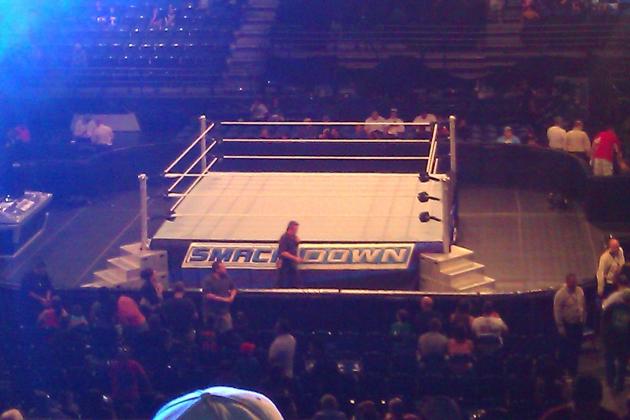 Photo by Chris Mueller
Each day that passes is another day closer to WWE's biggest event of the summer: SummerSlam.
This week's episode of SmackDown was filmed in Rockford, Ill., and I was there to take in all the action. Other than the uncomfortable seating in the BMO Harris Bank Center, it was a very enjoyable show.
It wasn't a sold-out crowd, but the WWE Universe was just as vocal as it always is at the SmackDown tapings.
Several storylines were addressed, but more importantly, we got to see some really great matches featuring some of WWE's best and brightest.
If you don't like spoilers, then you are in the right place. This slideshow will examine five storylines to watch for on SmackDown this week, spoiler-free!
Begin Slideshow

»
WWE announced a segment for Friday featuring Miz interviewing AJ Lee and Big E. Langston on his show, MizTV.
Lee still seems to be hung up on Dolph Ziggler, which must make things awkward for the less obsessed Langston.
The Divas champion is still one of WWE's most polarizing figures, and this segment will feature more of her own brand of crazy...I mean entertainment.
Katilyn and Ziggler, despite months of Ziggler mocking Kaitlyn with Lee, now have a common enemy. Can they coexist to work toward a common goal, or will they fall apart and let Lee and Langston get the better of them?
Friday should give you some idea of where this story is heading.
Kane will get to prove that he is still a monster when he takes on all three members of 3MB, but that is not the real story. The real story is The Wyatt Family.
Kane delivered a great promo Monday that set up a match for SummerSlam called a "Ring of Fire" match. We still do not know what that means exactly, but chances are good that it will be an inferno match.
Friday will feature more from the backwoods trio and the Big Red Monster, and you will not be disappointed.
This feud is amping up more and more with each passing week, and SmackDown will see that continue.
Kane is one of WWE's most twisted characters, but he may have finally found someone as equally demented as he is.
Raw featured Daniel Bryan going through a corporate makeover, or rather, it featured Vince McMahon attempting to put him through a corporate makeover.
Bryan slicked back his hair and donned a suit, but when it came time to shave off the food saver, he was less than thrilled.
Instead of looking less like a member of ZZ Top, Bryan decided to turn the tables and put Wade Barrett in the barber's chair and shave his beard off.
An understandably upset Barrett will be looking for revenge Friday. Will he get to chop off some of Bryan's beard, or will he be bested once again?
You will definitely find out Friday.
Kofi Kingston returned to WWE Monday with a reinvigorated energy and a new look in a match against Fandango, which saw Kingston pick up the win.
SmackDown will feature a rematch between the ballroom brawler and the master of the Boom Drop.
This feud could end up being bigger than WWE has made it into thus far. These two seem to have great chemistry in the ring, and we could see them continue to interact with each other in the coming weeks.
Fandango has been without a real program since Money in the Bank, so hopefully he and Kingston can help each other out by creating an exciting feud.
Will Kingston go 2-0 over Fandango, or will he fall to the dangerous dancer? Find out Friday.
On a side note, I will never run out of nicknames for Fandango.
Christian has been talking about getting one more match for the World title ever since he returned from an injury, and SummerSlam will see him get his wish against Alberto Del Rio.
Del Rio dropped his personal ring announcer Monday with a brutal attack that saw Ricardo get his head smashed between the ring and the steel steps, so Friday will see Del Rio going solo once again.
These two are highly gifted wrestlers who will be able to put on a good show whether the title is on the line or not, and you will see evidence of that when they face off Friday.
However, Damien Sandow still has a guaranteed title shot he can cash in whenever he wants, so we never really know who will leave any given show as World Champion.
Seeing a show live and watching it on TV are two totally different animals, so I will be tuning in just like you Friday to see how all this comes across on SmackDown (and to try and see myself on TV, of course).
If you want to spot me in the crowd, just look for the fez.
Make sure you watch Friday to find out what happens with all these storylines as well as some really great wrestling.
Thanks for reading and follow me on Twitter @BR_Doctor.