MLB's All-Value Contract Team, Position by Position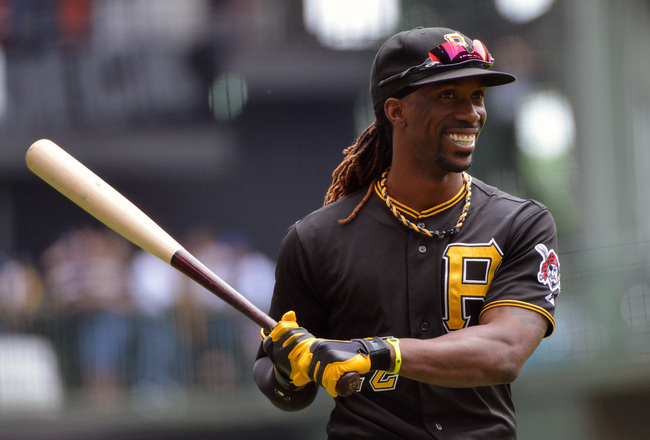 Benny Sieu-USA TODAY Sports
Which MLB players give their clubs the best bang for their buck?
For the last few days I've been examining the contract values for nearly every player in Major League Baseball, comparing 2013 salaries to production. In other words, I've matched up a player's WAR (via FanGraphs) against how much that player is getting paid this season.
But it wasn't that easy, because many, many players are still playing under their rookie contracts, and it's not fair to include them. Of course Mike Trout is going to be a steal. The same could be said about Giancarlo Stanton, among others. Thus, in order to make this team the player had to be out of his rookie deal.
That means the player either had to have signed with his franchise as a free agent—yes, players signing from Cuba and the Dominican Republic, among other countries, count—or have signed an extension with his current club. Players signing one-year deals to avoid arbitration weren't considered.
For each position, I looked at a player's WAR-to-salary ratio and created a collection of stars that we're going to deem the "All-Value Contract Team." This is not a perfect team, and there will be some disagreements, but it's a good look at the players who produce a lot and don't necessarily get paid a lot—in most cases.
All statistics in this article obtained via FanGraphs unless otherwise noted. All contract information in this article obtained via Cot's Contracts, and all injury information obtained via Baseball Prospectus.
Catcher: Jonathan Lucroy (MIL)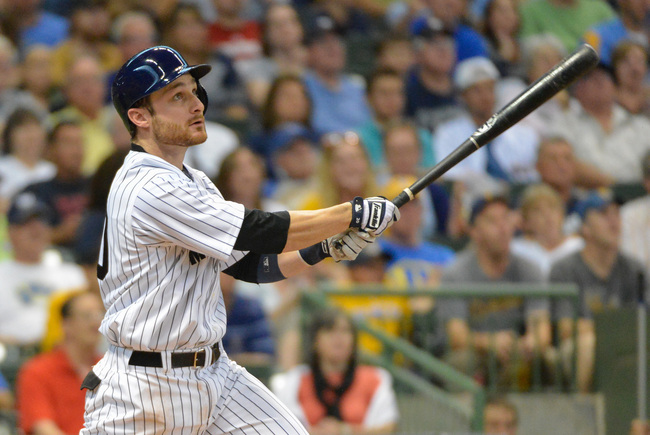 Benny Sieu-USA TODAY Sports
Jonathan Lucroy might be the most underrated catcher in baseball. While the Brewers are having a forgettable season, the backstop has put together a solid campaign. Through 100 games he's hitting .281/.332/.493 and has already set new career highs in home runs with 16 and RBI with 60.
Lucroy signed a five-year extension with the Brew Crew last March that will pay him $11 million total. His yearly salary increases in each of the five years of the deal, and in 2013 Milwaukee is only paying him $750,000. That's a bargain considering he ranks in the top five in WAR among catchers, according to FanGraphs.
First Baseman: Anthony Rizzo (CHC)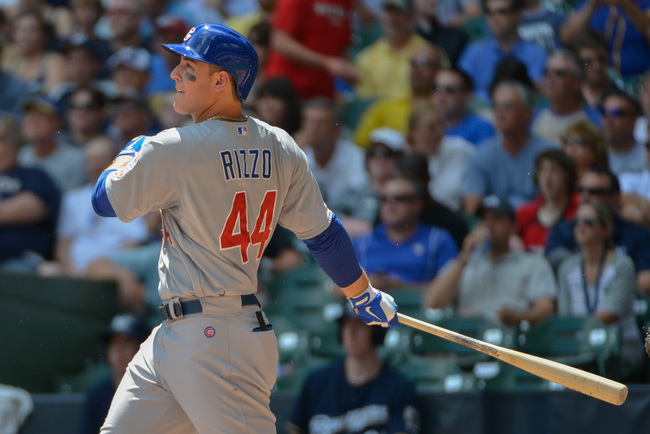 Benny Sieu-USA TODAY Sports
Anthony Rizzo has struggled to hit with consistency this season—batting just .239/.332/.450 through 112 games in 2013—but he's still young and getting better. He's already one of the top first basemen in baseball, and that's mainly because of his slick glove and heavy bat.
Rizzo has hit 18 home runs for the Cubs this year to go along with 55 runs and 63 RBI. He signed a seven-year deal back in May that replaced a one-year deal he signed two months prior. While he'll be making at least $5 million the later years of the contract, the first baseman is only making $750,000 this year.
Second Baseman: Ben Zobrist (TB)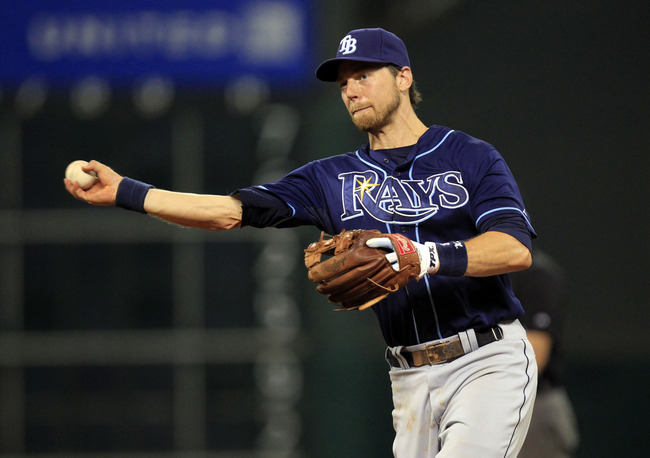 Thomas Campbell-USA TODAY Sports
The Rays signed Ben Zobrist to a four-year deal back in 2010, and boy, they have to be grinning over how much he's given them for not very much money. The versatile All-Star is only making $5.5 million this year. Through 108 games, he's hitting .277/.362/.402 with seven homers, 53 RBI and 55 runs.
Zobrist hasn't hit for as much power as he usually does—hitting 20 home runs in each of the last two seasons—but that doesn't take too much away from his overall value. He still rarely strikes out (14.4 K%), walks frequently (10.9 BB%) and does a lot of the little things. He's the fourth-best second baseman this year, per FanGraphs.
Shortstop: Yunel Escobar (TB)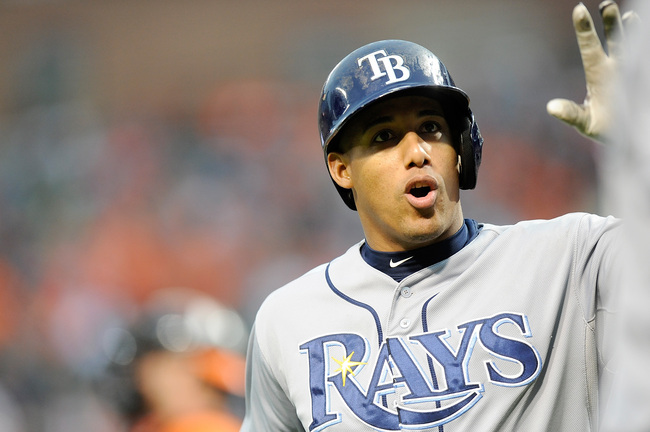 Greg Fiume/Getty Images
Tampa Bay inherited one of the better contracts in the game this past winter when the team acquired Yunel Escobar from Miami. The shortstop signed a two-year extension with the Blue Jays back in 2011 that paid him $5 million last season, pays him $5 million this season and could pay him just as much the next two years as well.
Escobar is hitting .257/.323/.374 with eight home runs and 44 RBI through 105 games for the Rays this season. He's also played very well defensively, which is why his WAR is among the best at shortstop this year—he's fifth, according to FanGraphs.
A top-five shortstop for $5 million? Tampa Bay will gladly take that.
Third Baseman: Evan Longoria (TB)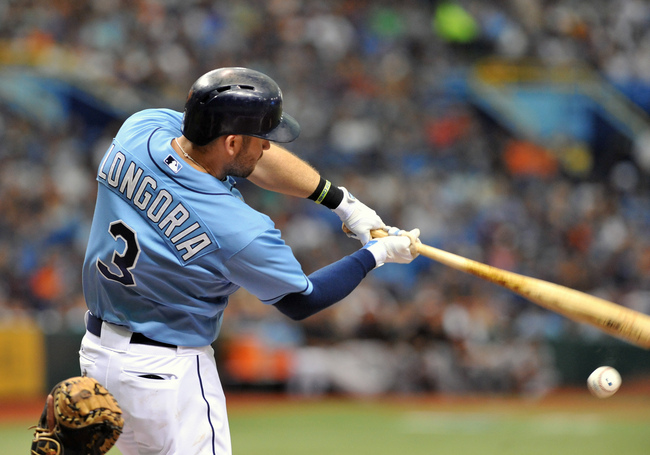 Al Messerschmidt/Getty Images
Do you know how much the Rays are paying Evan Longoria, one of the top-10 players in baseball, this season? The third baseman is only making $6 million this year. That's because he's still playing under his first contract extension, not the one he signed last November for six years and $100 million.
Longoria is having another stellar year for Tampa Bay this season, as he's hitting .267/.342/.493 with 22 home runs and 62 RBI. He has the third-highest WAR among third baseman this season, per FanGraphs. In general, he's been the seventh-best player in the game in 2013, per FanGraphs, and for just $6 million too.
Left Fielder: Nate McLouth (BAL)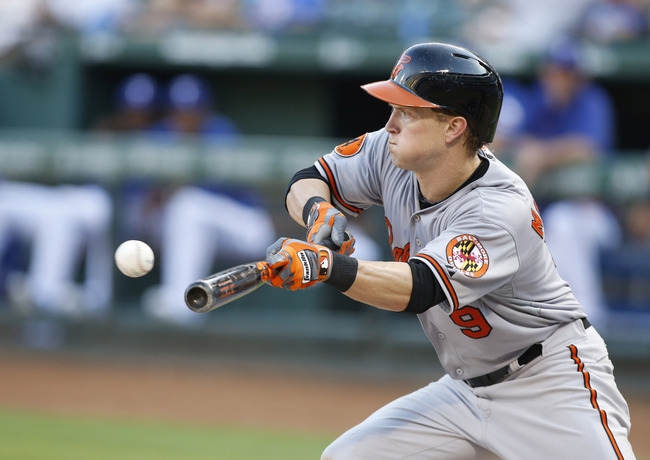 Tim Heitman-USA TODAY Sports
Nate McLouth has been better this season than many of the household-name left fielders in the game. The Orioles outfielder is the fifth-best left fielder in baseball this season in terms of WAR, per FanGraphs. He's ahead of guys like Domonic Brown, Alex Gordon, Matt Holliday and Yoenis Cespedes.
Through 102 games, McLouth is hitting .284/.352/.421 with seven home runs, 23 RBI, 61 runs and 27 stolen bases. That's certainly a lot of production for a guy who signed a one-year, $2 million deal over the winter with Baltimore. He's gone from an afterthought to one of the top players on the team this season.
Center Fielder: Andrew McCutchen (PIT)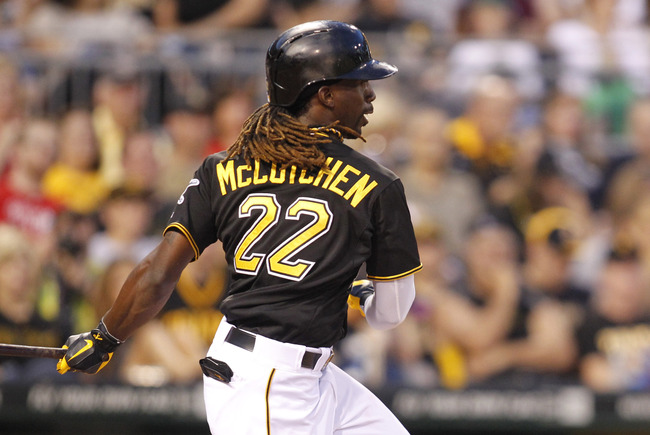 Charles LeClaire-USA TODAY Sport
The Pirates are paying Andrew McCutchen next to nothing to play center field for them this season. Pittsburgh signed the star to a six-year, $51.5 million extension last March, which is very cheap considering the numbers he puts up each season. This season, the Pirates are only paying McCutchen $4.5 million.
McCutchen is hitting .312/.384/.511 with 16 home runs, 65 RBI, 71 runs and 24 steals through 110 games this year. Mike Trout is the only center field with a higher WAR for the season, according to FanGraphs. How's that for $4.5 million? McCutchen easily has one of the most team-friendly contracts in baseball.
Right Fielder: Marlon Byrd (NYM)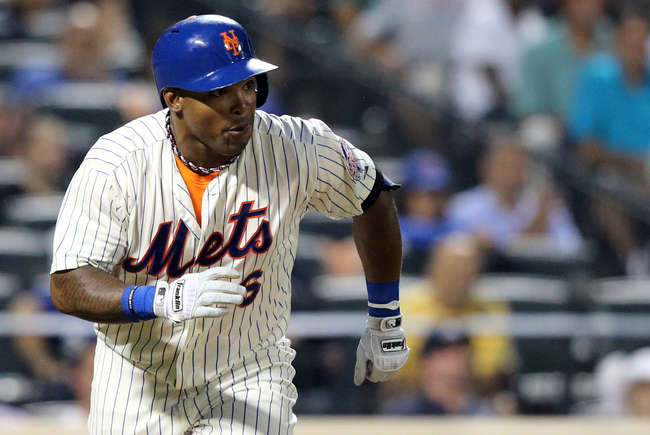 Anthony Gruppuso-USA TODAY Sport
The fact that Marlon Byrd is having a lights-out season is one of the most mind-blowing things you'll see. He's hitting .275/.323/.497 with 17 home runs and 60 RBI through 99 games. In terms of WAR, he's the fourth-best right fielder in baseball this season, per FanGraphs.
The best part of his story is that he's only making petty cash.
New York signed Byrd to a minor league deal in the offseason, hoping that he could compete for one of the team's starting positions. The Mets are paying him $700,000 this season. How's that for a bargain? The franchise could've sold high on him before the trade deadline, but it appears he's a part of the long-term plan now.
Designated Hitter: David Ortiz (BOS)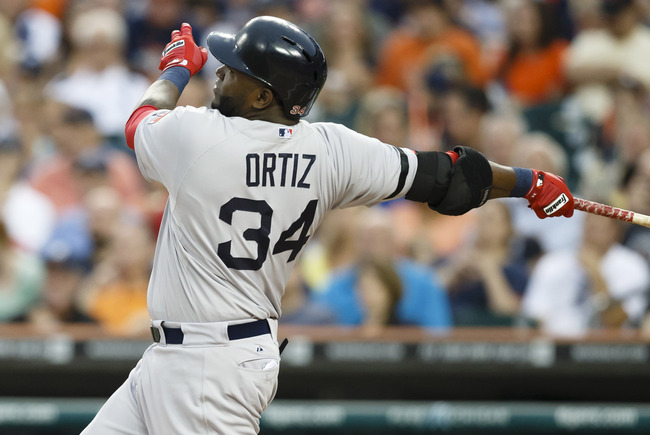 Rick Osentoski-USA TODAY Sports
People may have an issue with this selection, but you have to keep in mind there are only a few full-time designated hitters, and no one is better than David Ortiz. He's making $14 million this year for Boston in the first season of a two-year deal that he signed last November. He's definitely worth the moderately high price tag.
Ortiz is hitting .332/.412/.587 with 21 home runs and 73 RBI through 96 games with the Red Sox in 2013. He's third in WAR among designated hitters, per FanGraphs, but that's because Joe Mauer and Edwin Encarnacion are on the list—both play other positions more often than they hit without playing the field.
Starting Pitcher: Chris Sale (CHW)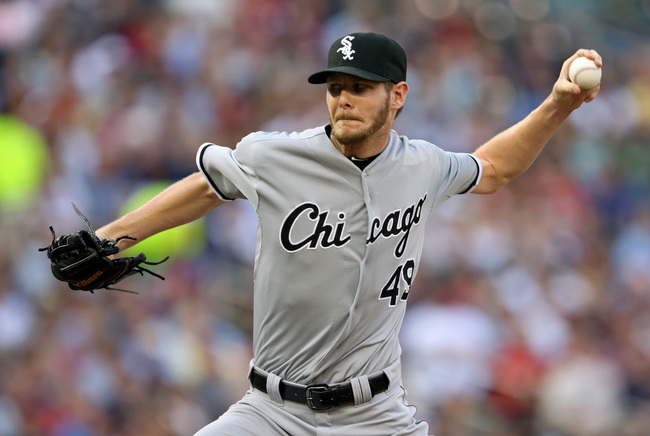 Jesse Johnson-USA TODAY Sports
It would be hard to find someone who didn't think that Chris Sale is already one of the best lefties in baseball. His 7-11 win-loss record is more reflective of the struggling White Sox than his performance. You can judge him by his 2.77 ERA, 161 strikeouts and 35 walks in 149.1 innings of work through 21 starts this season.
Sale signed a one-year deal earlier in the season that would've paid him just more than half a million dollars. A few weeks later, he signed a five-year extension worth $32.5 million. He won't be making significant money until the later years of the contract, though. He's making less than $1 million in 2013—$850,000 to be exact.
Relief Pitcher: Jason Grilli (PIT)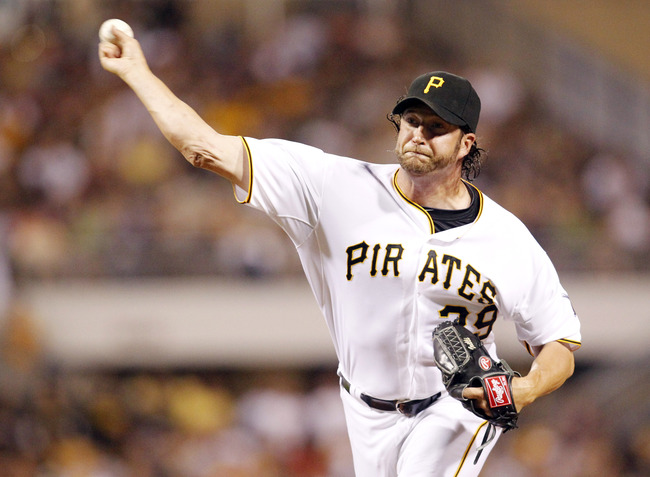 Charles LeClaire-USA TODAY Sport
Jason Grilli has quickly become one of the top closers in baseball. That's because the righty is 30-of-31 in save opportunities this season for the Pirates. He's allowed just 11 earned runs in 42.1 innings of work (2.34 ERA). He also has 66 strikeouts and only 10 walks this year. But the problem is that he's now on the disabled list.
Grilli has a flexor strain in his throwing arm, per the Pirates, and it will likely keep him out for another month or so, per Bill Brink of the Pittsburgh Post-Gazette. Even though he doesn't have much value now that he's injured, he's still making just $2.25 million for the organization in 2013. That's $75,000 per save for those wondering.
All-Value Contract Team Starting Lineup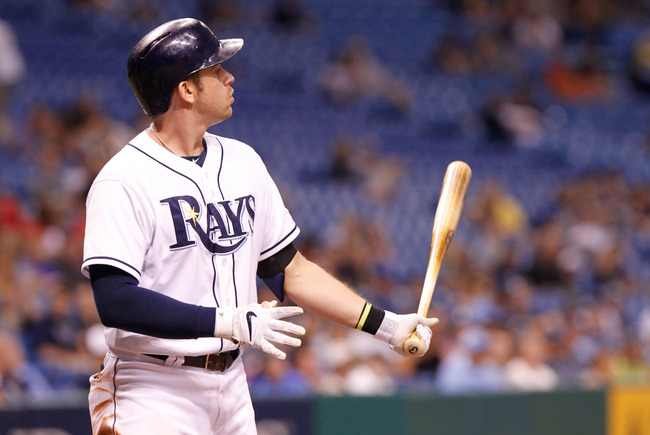 Kim Klement-USA TODAY Sports
Here's a mock starting lineup for the All-Value Contract Team:
Lineup
Player
Position
Team
2013 Salary
2013 WAR
1
Nate McLouth
LF
BAL
$2M
2.4
2
Ben Zobrist
2B
TB
$5.5M
3.5
3
Andrew McCutchen
CF
PIT
$4.5M
5.7
4
Evan Longoria
3B
TB
$6M
4.8
5
David Ortiz
DH
BOS
$14M
3.4
6
Anthony Rizzo
1B
CHC
$750K
2.2
7
Jonathan Lucroy
C
MIL
$750K
2.8
8
Yunel Escobar
SS
TB
$5M
2.8
9
Marlon Byrd
RF
NYM
$700K
2.7
SP
Chris Sale
LHP
CHW
$850K
4.0
RP
Jason Grilli
RHP
PIT
$2.25M
1.6
On my count, that's $42.3 million for a WAR of 35.9. That's not too shabby for just the starting lineup—and a closer—for a team that could be one of the best in baseball. Of course, that's completely hypothetical, as is this All-Value Contract Team. But hey, that's a lot of value for not a lot of money if you ask me.
Keep Reading