Every golf major is loaded with dozens of talented players ready to contend for a title. However, the general public likes to focus on the more popular guys out there.
The casual fans want to see what Tiger Woods and others do throughout the tournament, regardless of whether they perform well or struggle. Of course, it is hard to deny that golf is more exciting when Woods is in contention in the final day.
This same mindset goes for the rest of the top three players in the official world golf rankings, rounded out by Phil Mickelson and Rory McIlroy. The top tier of the sport is as recognizable to the public as ever before, and it will lead to an exciting PGA Championship.
Still, the question remains as to how each player will do at the final major of the year. Here is a look at what to expect out of the biggest stars in the sport.
Rory McIlroy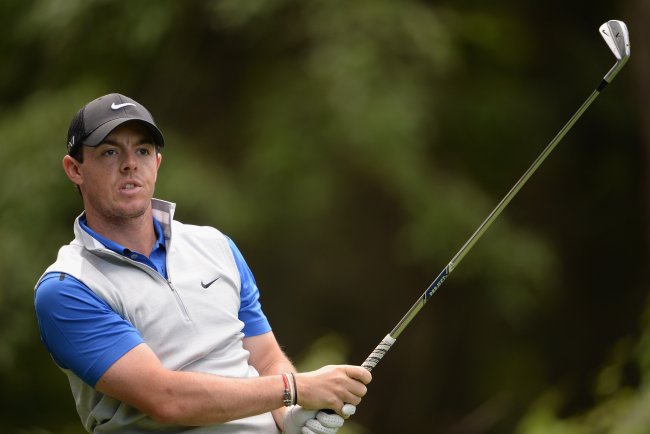 Stuart Franklin/Getty Images
| | | | | |
| --- | --- | --- | --- | --- |
| 1 | 2 | 3 | 4 | To Par |
| 74 | 70 | 69 | 73 | +5 |
Rory McIlroy has been in a funk this season that he just cannot seem to shake. Things have been even worse at majors, where he has remained far from contention. In fact, he has only one round in the 60s between the Masters, U.S. Open and the Open Championship. That came in the final round of the Masters after shooting a 79 the day before.
ESPN Stats and Info provided a look at how bad he has been recently at majors:
In the last 9 majors, Rory McIlroy has 1 top-20 finish: his win at the 2012 PGA Championship

— ESPN Stats & Info (@ESPNStatsInfo) August 6, 2013
Although McIlroy is the defending champion at this event, it is hard to imagine him performing much better. He has had no driving accuracy this year, and he has been even worse when it comes to the greens.
The young player has a chance to post a good round or two at this event, but it is hard to imagine consistent enough play to end up on the leaderboard.
Phil Mickelson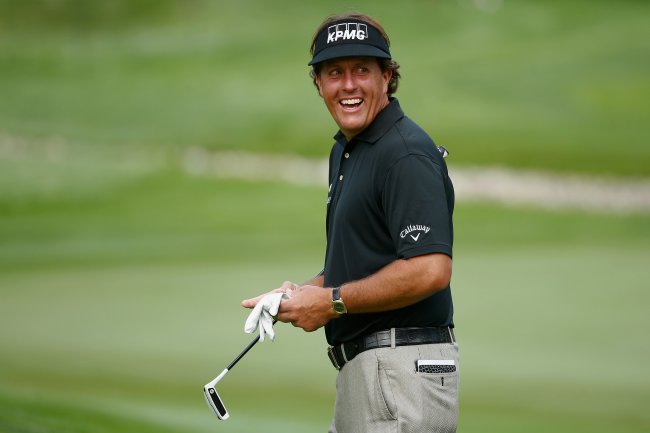 Scott Halleran/Getty Images
| | | | | |
| --- | --- | --- | --- | --- |
| 1 | 2 | 3 | 4 | To Par |
| 71 | 67 | 72 | 69 | -1 |
It took many years, but Phil Mickelson finally got over his struggles on links courses when he won the Scottish Open and British Open in back-to-back weeks.
He also has a win at the Waste Management Phoenix Open and added four more top-three finishes on the year, proving that he is playing some of the best golf in his career.
Then again, Mickelson has also missed three cuts this year and has proven to be very inconsistent from round to round. There are also times where the holes will simply be too long for him to keep up with the rest of the field.
Additionally, it has been five years since anyone was able to win consecutive major championships, and the odds are simply not in favor of this changing.
Mickelson's excellent short game will keep him in contention, and he will likely finish in the top 10 for the first time in this event since 2008. However, Lefty will be unable to take the title this week.
Tiger Woods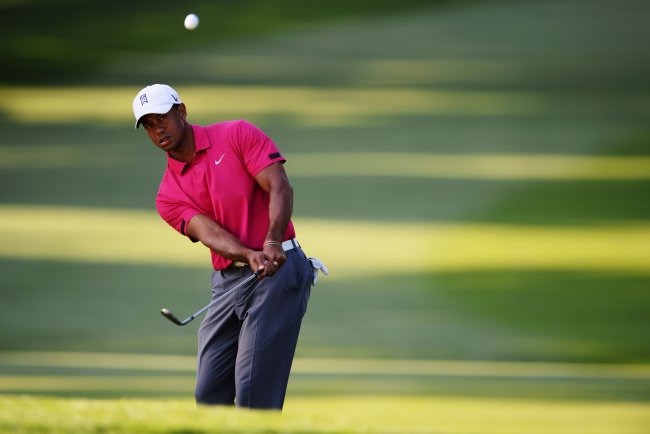 Stuart Franklin/Getty Images
| | | | | |
| --- | --- | --- | --- | --- |
| 1 | 2 | 3 | 4 | To Par |
| 67 | 67 | 71 | 69 | -6 |
Despite being the No. 1 player in the world on the official rankings, the money list, the FedEx rankings and most other lists, fans want to know when Woods will be "back." The truth is, he as good as ever; the majors have simply been eluding him.
That should change this week as things fall into place perfectly for him to win his first major championship since 2008.
Woods is coming off of his best performance of the year at the Bridgestone Invitational, where he finished 15 strokes under par. In Round 2, he posted an incredible 61 to pull away from the field.
While it is tough to imagine him performing as well at Oak Hill, he should still be able to utilize the quick greens to get out to an early lead after two rounds.
Of course, the weekend is where the problems have started for Woods at majors, according to ESPN Stats and Info:
Tiger Woods: +23 in rounds 3 & 4 over last 6 majors (-11 rounds 1 & 2)

— ESPN Stats & Info (@ESPNStatsInfo) July 21, 2013
He will probably continue the streak of slowing down in the final two rounds, but he should have enough of a lead to win the tournament.
Follow Rob Goldberg on Twitter for the latest breaking news and analysis.