Ranking the 10 Greatest Moments in PGA Championship History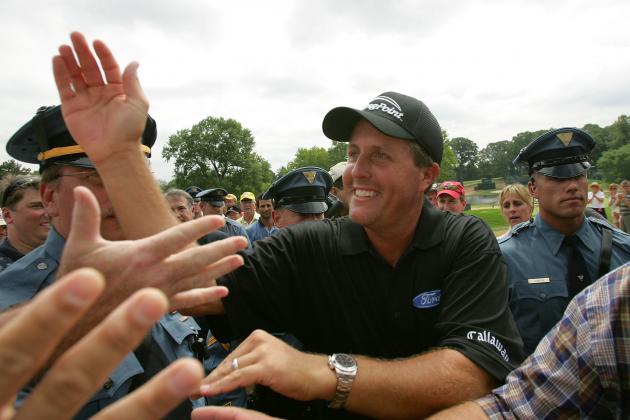 Ezra Shaw/Getty Images

The PGA Championship has drawn the sport's superstars for decades, delivering high-stakes drama each summer. The tournament routinely features tremendous finishes, gutsy shots and emotional efforts.
More than half a century of modern PGA Championship action has created a lengthy list of memorable moments, each leaving an indelible mark on the game. We took a journey through the event's archives and came up with the greatest moments in tournament history, featuring stars of past and present.
Begin Slideshow

»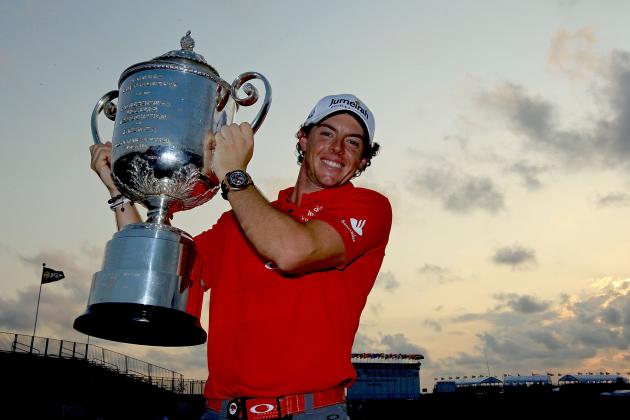 David Cannon/Getty Images

The young star regained his status as top-ranked player in the world with a powerful performance at the 2012 PGA Championship, held at Kiawah Island. Rory McIlroy, then just 23 years old, overwhelmed the field en route to a tournament-record eight-stroke victory.
The Northern Irishman buried a 25-foot birdie putt on the final hole, improving to six under on Sunday and 13 under overall. It was McIlroy's second major title and featured bogey-free play for the final 23 holes.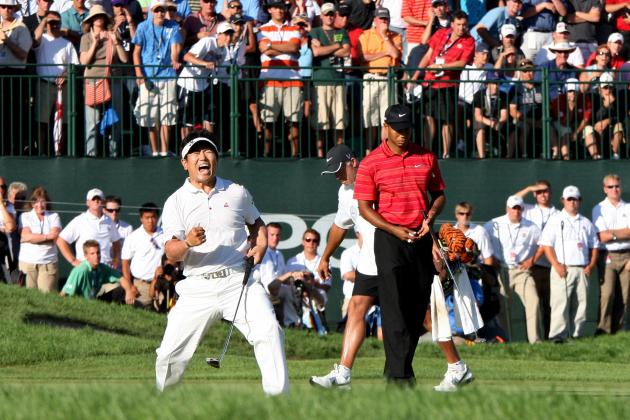 David Cannon/Getty Images

Many golfers have fallen by the wayside while going toe-to-toe with Tiger Woods during the final round of a major tournament. Y.E. Yang refused to be added to that list at the 2009 PGA Championship, held at Hazeltine.
Woods and Yang were knotted in a tie atop the leaderboard through 13 holes on Sunday. The 37-year-old South Korean stunningly outclassed one of the game's all-time greats to take control.
Yang completed the 14th hole with a tournament-altering chip-in from beyond the green for an eagle. The shot vaulted him into sole possession of first place and he wouldn't surrender that distinction on the way to his first major title.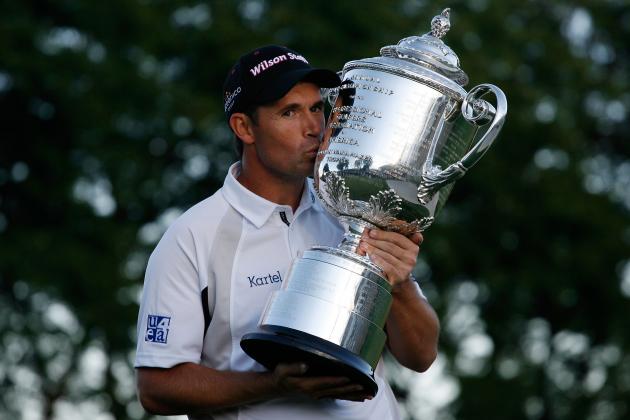 Hunter Martin/Getty Images

Padraig Harrington was put to the test throughout the final stages of his victory at the 2008 PGA Championship. He overcame a three-stroke deficit on Sunday at Oakland Hills, en route to his third major title.
Harrington, who also won the 2008 Open Championship, arrived on the 18th able to secure a win with a par. With Sergio Garcia giving chase and two strokes back, Harrington calmly canned an 18-foot par putt to put a bow on his winning effort.
He became just the fourth European player to win a PGA Championship title.
golf.com
Long before Jack Nicklaus cemented his legacy as the most successful golfer in major tournament history, he quickly developed an early reputation as a prime-time performer. The 1963 PGA Championship in Dallas was defined by its brutal heat, as temperatures exceeded 100 degrees.
Bruce Crampton began the final round with a three-stroke lead but faded down the stretch, while Nicklaus caught fire in the oppressive Texas weather. He tallied a final-round 68, leaping up the leaderboard for a two-shot victory.
The Golden Bear won his first PGA Championship, an event he would ultimately win five times. At just 23 years old, Nicklaus became the fourth player with titles at the PGA, U.S. Open and the Masters.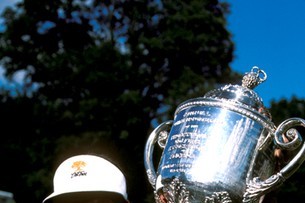 Bob Tway transformed from tournament afterthought to 1986 PGA Champion with a stunning shot from the sand. He arrived at the final hole at Inverness in Toledo, Ohio tied with Greg Norman.
Tway seemingly encountered disaster when he landed in a greenside bunker. As Norman watched and waited for his ensuing shot on the green, Tway connected for a birdie shot from the bunker, blowing the minds of onlookers and shaking Norman to his core.
Norman missed long on his following attempt to force a playoff with a birdie putt and Tway earned the title. It was truly the shot of a lifetime.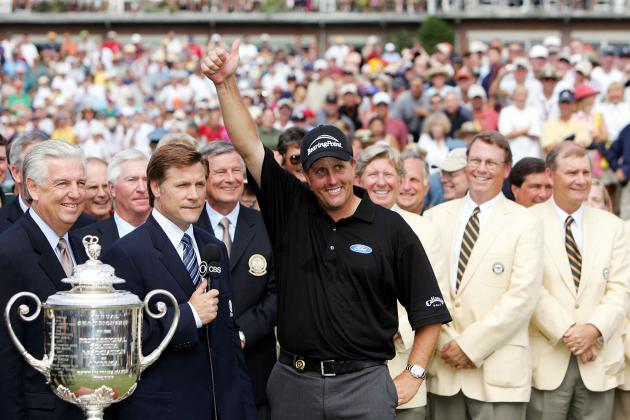 Stuart Franklin/Getty Images

Lefty added a little flair to his second major title, which he earned at Baltusrol. Phil Mickelson made a brief detour while making his way down the final stretch of No. 18 on Monday—Sunday rain forced an extra day of action—tapping a fairway plaque that immortalizes Jack Nicklaus' 1-iron shot to the green at the 1967 U.S. Open.
His ensuing approach set the stage for a quality flop chip and tap-in birdie. Mickelson claimed a one-shot victory, paid homage to a legend and led the tournament wire-to-wire.
It was a signature moment in a career that has already landed Mickelson in the World Golf Hall of Fame.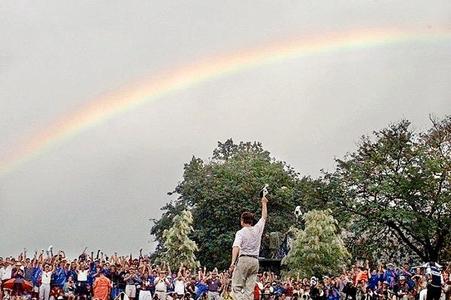 golf.com
Sometimes the storylines of a tournament transcend the game of golf. The final moments of the 1997 PGA Championship at Winged Foot featured an emotional punctuation mark for winner Davis Love III.
A rainy day in Mamaroneck, N.Y. didn't derail Love's pursuit of his first major title (it remains his only major win). He ran away with a victory, topping runner-up Justin Leonard by five shots.
As he completed the final round on No. 18, the rain subsided and a vibrant rainbow emerged above. For many, it called to mind his late father and revered PGA Pro Davis Love Jr., who perished in a 1988 plane crash.
Love buried a 12-foot birdie putt and an emotionally-charged gallery supported the visibly touched victor.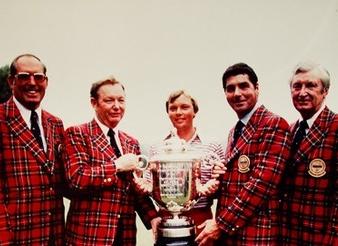 pga.com
John Mahaffey completed a comeback for the ages at the 1978 PGA Championship. He stared up at leader Tom Watson from a seven-stroke hole with just 14 holes to play in the final round at Oakmont Country Club.
Watson stumbled down the stretch, while Mahaffey consistently gained ground on first place. After 72 holes of action, Mahaffey found himself in a three-way tie with Watson and Jerry Pate.
A playoff showdown ended on the second extra hole. Mahaffey dropped a 12-foot birdie putt, climbing a lengthy ladder to his only major title in dramatic fashion.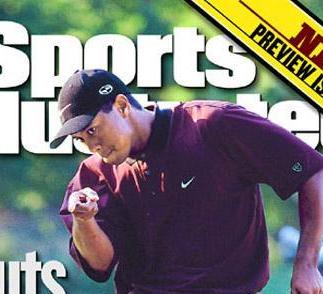 SportsIllustrated.com
Tiger Woods was hitting the prime of his career in 2000, when he emerged as a global icon with three major victories. His fiery attitude and ferocious competitive streak took center stage at the 2000 PGA Championship, held at Valhalla in Louisville, Ky.
During the final round, Woods became locked in a showdown with Bob May. He needed to convert a six-foot birdie putt to push the tournament into extra holes.
The putt dropped and Tiger reacted with a moment of elation. With the crowd behind him, Woods overcame May in overtime to win his third straight major title.
The fascination surrounding golf's new phenomenon reached a new level in the aftermath of this gutsy performance.
Golf.com
Before he earned a reputation as a hard-partying wild card, John Daly was just a rookie with a dream. He entered the 1991 PGA Championship at Crooked Stick as the event's ninth alternate.
By the time action ended Sunday in Carmel, Ind., Daly rose to tournament champion. His journey from alternate list to winner's circle made him an immediate fan favorite and a captivating figure in the sport.
Daly won his first of two major titles by three strokes. He would later earn honors as the 1991 PGA Tour Rookie of the Year.