QBs Who Could Be Picked Ahead of Johnny Manziel in 2014 NFL Draft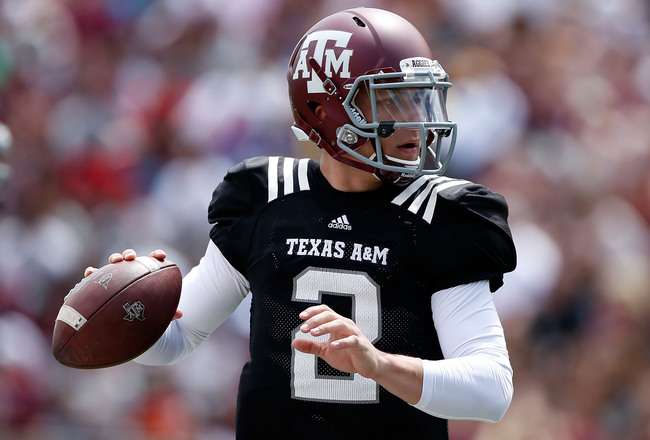 Scott Halleran/Getty Images
Johnny Manziel's stock is both complex and volatile.
If he does, as many suspect, enter the 2014 NFL Draft, it's hard to tell if he'll be the Enron or the Apple of the class. He's ready to explode, but no one knows if it's "back onto the scene" or "into a million little pieces."
His production screams "Top-10 pick," but his stature screams "CFL." And now his off-field red flags are adding up to dangerous proportions.
In the 2013 NFL Draft Class, all of that might not have mattered. It was one of the weakest quarterback crops in modern evaluation history; Manziel's upside, had he been allowed to enter, might have ensured him a spot among the top three selected.
If he declares for the 2014 draft, however, Manziel might not be as lucky.
Honorable Mentions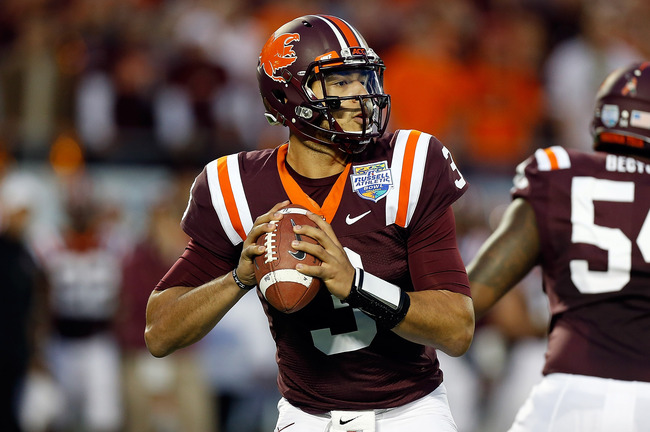 J. Meric/Getty Images
Logan Thomas (VT): In his mock draft from last August, B/R's Matt Miller listed Thomas as the No. 1 overall pick. Another disappointing campaign in 2012 has seen that stock fall (considerably), but he still has tools that any NFL team would drool over.
Aaron Murray (UGA): Like Manziel, Murray's production will outweigh most concerns about his size. Especially given the recent success of Russell Wilson and, before that, Drew Brees. Murray is tailor-made for the new NFL.
Derek Carr (FSU): Carr, younger brother of David, has the bloodlines of a former No. 1 overall pick. But those are also the bloodlines of a bona fide NFL bust. Still, Derek is his own man possessed of his own gifts, and with another big season at Fresno State (plus, hopefully, a David-esque pre-draft workout) he might sneak into the first round.
Tajh Boyd, Clemson
Streeter Lecka/Getty Images
Boyd was much-improved as a junior last season, which is scary since, as a sophomore in 2011, he threw for 3,828 yards and made the All-ACC First Team.
But last year, per Sports Reference, he completed 7.5 percent more passes, averaged a yard-and-a-half more per attempt and improved his efficiency rating by 24 points. He also rushed for 296 more yards and combined for eight more touchdowns than he did in 2011.
Boyd has the pretty deep ball every NFL team covets, and he combines that elite skill with above-average mobility and decision-making. Unless 2013 is a monumental disaster, he's a near-lock to go in the first round.
Teddy Bridgewater, Louisville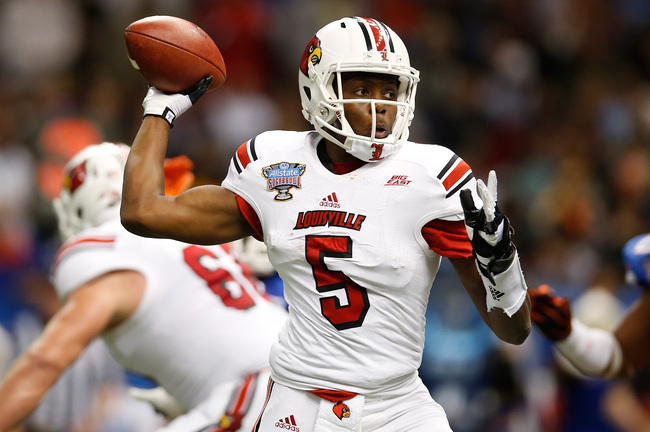 Chris Graythen/Getty Images
Bridgewater was the No. 1 overall pick—ahead of Jadeveon Clowney—in Matt Miller's most recent mock draft. He might go that high if the league's worst team needs a quarterback, but even if/when Clowney surpasses him, Bridgewater won't fall much further.
He's not a once-in-a-lifetime prospect like Andrew Luck was, but Bridgewater is on the scouting tier just below that. There's no part of his game that scouts won't like, and his charming intangibles only make him a finer prospective face-of-the-franchise.
Miller's comparison between Bridgewater and Aaron Rodgers is lofty praise, but it's also deserved.
David Fales, San Jose State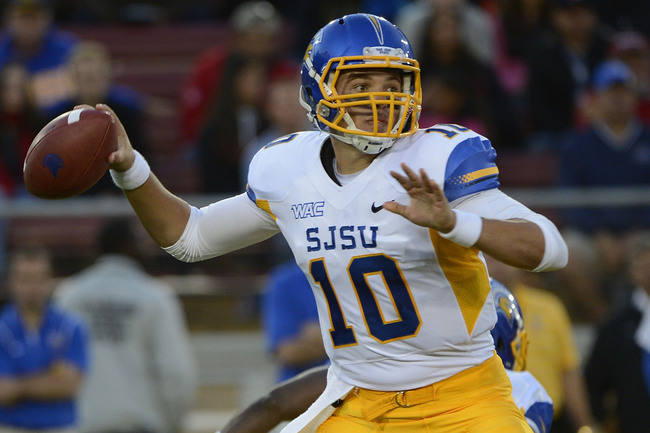 Thearon W. Henderson/Getty Images
Fales' arm strength has been called into question, and much like Matt Barkley, it probably will be throughout his evaluation process. But other than that one, small question, there's nothing else not to love about his arm.
He completed 72.5 percent of his passes at San Jose State last season, the highest completion rate in all of FBS. And in spite of concerns about his ability to stretch the field, he averaged 9.9 adjusted passing yards per attempt—third in the country behind just Aaron Murray and AJ McCarron.
Earlier this summer, the counselors at the Elite 11 Passing Camp participated in an accuracy competition. The group of passers included Tajh Boyd, Teddy Bridgewater and—you guessed it—Johnny Manziel. But none had the pinpoint arm of Fales, who took home first place.
Which is all a long-winded way of saying the following: He's the most accurate passer in the class.
AJ McCarron, Alabama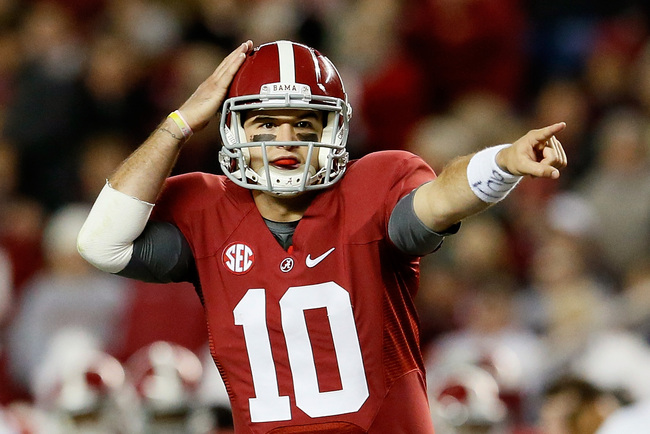 Kevin C. Cox/Getty Images
It's long overdue but now, finally, after two BCS National Championships in two seasons under center, AJ McCarron is starting to get some love from NFL scouts.
He's not a physically imposing prospect and his arm won't knock you off your feet. But he's cerebral, accurate, plucky and someone who knows how to win big games.
You can knock McCarron for the defense at his back or the lineman at his front. He does benefit from the best supporting cast in college football. But C.J. Moseley, D.J. Fluker and Barrett Jones didn't lead the nation in passing efficiency last season.
They helped, sure, but at the end of the day, that was McCarron's doing.
Stephen Morris, Miami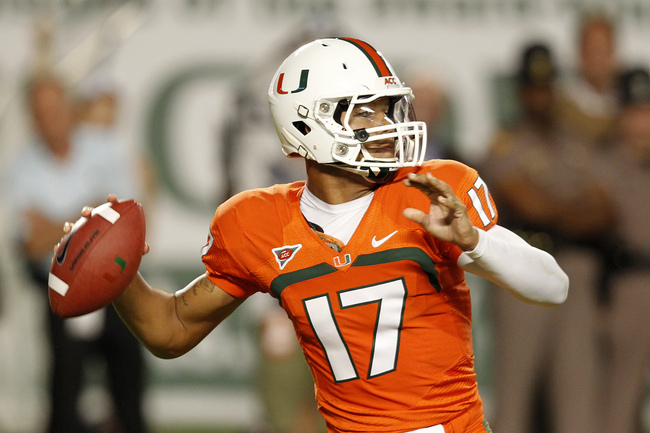 Joel Auerbach/Getty Images
Morris makes all the throws—even the ones NFL quarterbacks struggle with—look easy, possessing effortless arm strength and zip.
Physically, he's an ideal NFL prospect. The only thing holding Morris back is success. His gaudy numbers haven't translated to wins at Miami, a school that's certainly had a good enough roster and weak enough conference to finish games strong.
That might change this season, though, when the Hurricanes return almost every important player from last year's 7-6 squad. That includes leading receiver Philip Dorset on the outside and All-American candidate Duke Johnson in the backfield.
Morris' former QB coach at Miami, Jedd Fisch, is the new offensive coordinator for the Jacksonville Jaguars. If they're looking for a franchise guy at the top of Round 2, he might prefer Morris to Manziel.
Keep Reading