2013 NFL Preseason: Who Are the Most Important Players to Watch in Week 1?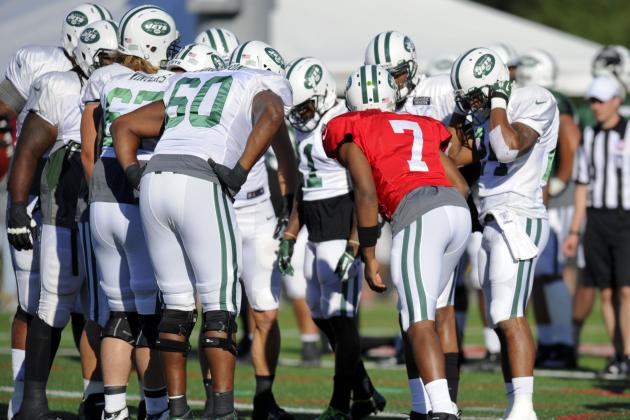 Rich Barnes-USA TODAY Sports

The NFL preseason is not irrelevant.
Fans hate paying full price for much less than a full game of full-speed football. Coaches hate having to put their best players at risk for games that don't count. NFL Commissioner Roger Goodell said during May owners' meetings the league's still trying to cut down to two preseason games from four.
Yet, for all but the top handful of players on every team's 90-man roster, the preseason means everything.
Of the 2,880 players in camp right now, only half will even dress for the opening game. Only about a quarter of them will start that game. Many fewer than that have ironclad grips on those starting jobs.
For most of the NFL, preseason is where all the minicamps, OTAs and training camp practices crystallize into a player's chance to make it. Preseason is a small handful of live-fire reps—a glimmer of a chance to lock up a starting job, make it into the rotation, crack into the two-deeps, make a case for the practice squad or just take a playbook home for one more night.
As rookies and veterans fight for playing time up, down and all across depth charts this weekend, here are the players with a little extra something to prove in all 16 Week 1 preseason games.
Begin Slideshow

»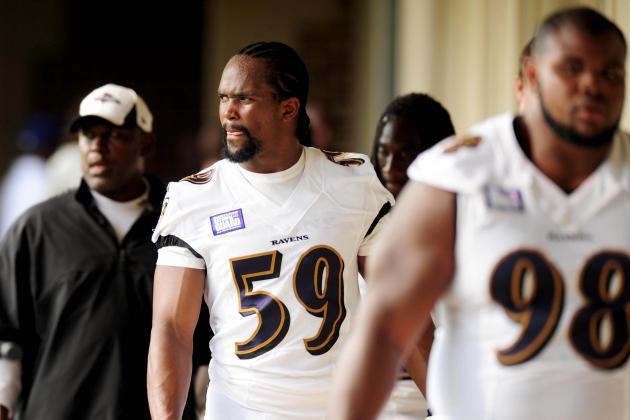 Evan Habeeb-USA TODAY Sports

Arthur Brown is not a starting middle linebacker—at least, not yet, according to the Ravens' first official depth chart of the season, via ESPN.com.
As loath as head coach John Harbaugh might be to christen a rookie a starter, the Ravens' second-round pick should have plenty of reps against the Tampa Bay Buccaneers and their power run game on Thursday night.
As the appointed successor to Ray Lewis, one of the greatest middle linebackers and leaders of all time, the pressure on Brown will be incredible. Yet, he'll also have to hold off Josh Bynes, a young undrafted veteran who, according to Aaron Wilson of The Baltimore Sun, has shown very well in camp.
How much time Brown gets with the ones—and how well he deals with runners like Doug Martin, Brian Leonard and Peyton Hillis—will be great indicators of Brown's potential impact in 2013.
When Taylor Mays ran an incredible (and unofficial) 4.24 40-yard dash at the 2010 NFL combine, per The Huffington Post, his combination of 6'3", 230-pound size and blazing speed made him a tantalizing prospect.
Mays has never come close to unlocking that potential.
In the first Cincinnati Bengals depth chart of the year, Mays is listed behind George Iloka at strong safety but ahead of third-round pick Shawn Williams.
Of course, if the Bengals were thrilled with either Iloka or Mays as a starter, Williams wouldn't have been drafted so early. Given Mays' incredible physical ability but questionable spot on the depth chart, his preseason play could be the difference between securing a Week 1 starting gig or failing to make the roster completely.
Mays will have plenty of chances to prove he can cover the pass; the Bengals play the high-flying Atlanta Falcons on Thursday night.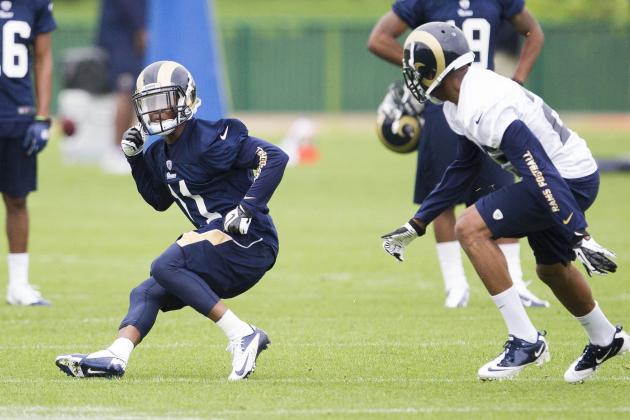 David Welker/Getty Images

The St. Louis Rams made one of the most dramatic moves of the 2013 NFL draft: dealing their No. 16, No. 46, No. 78 and No. 222 overall picks to the Buffalo Bills in exchange for No. 8 and No. 71.
With that No. 8 overall pick, the Rams took the most electrifying playmaker in the draft: West Virginia wide receiver (and sometimes, tailback) Tavon Austin.
Given the departure of top wideout Danny Amendola to New England and how critical quarterback Sam Bradford's support will be in his make-or-break fourth season, this bold gambit made perfect sense.
Yet, on July 28, Joe Lyons of the St. Louis Post-Dispatch noted Austin "could make his most significant contribution on special teams." Surely the Rams didn't make that splashy of a trade to secure a return specialist, but this preseason will tell whether Austin is an instant-impact catalyst or a strictly situational player in 2013.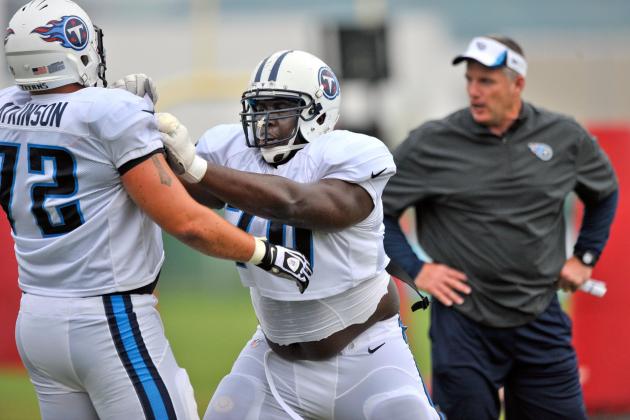 Jim Brown-USA TODAY Sports

It took a lot of guts for the Tennessee Titans to anchor both their free-agent crop and draft class with standout offensive guards.
Guard isn't usually considered a premium position, but the Titans have a coaching staff led by two Hall of Fame guards (head coach Mike Munchak and offensive line coach Bruce Matthews). Moreover, they have an offense built around the running of tailback Chris Johnson, who hasn't had the big running lanes he needs to be effective.
No. 10 overall pick Chance Warmack, though, was one of the few contract-based holdouts this season. With limited experience to NFL-style inside pass-rushers, Warmack needs all the preseason reps he can get.
Against the Washington Redskins, Warmack will likely get an extended look at NFL pass-rushers. Fans will likely get an extended chance to see if he can spring Johnson and backup tailback Shonn Greene for big yardage.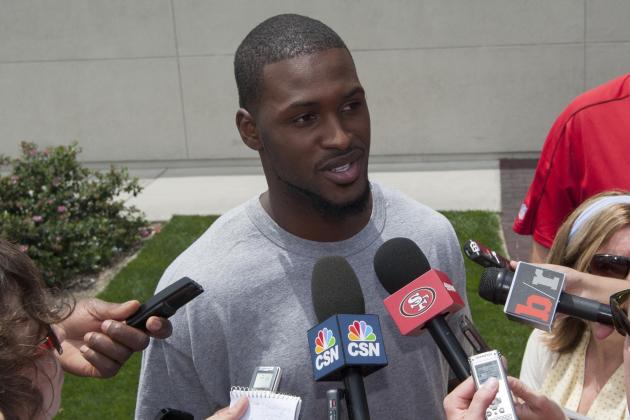 Ed Szczepanski-USA TODAY Sports

A.J. Jenkins was drafted by the San Francisco 49ers with the No. 30 overall pick in the 2012 draft.
That was the last time most football fans heard his name, as Jenkins was active for only three games as a rookie and didn't catch a single pass.
With Michael Crabtree's Achilles tendon injury earlier this year, an opportunity opened up for Jenkins to finally make an impact on the field. Until this August, though, it looked like Jenkins wasn't going to take advantage of it.
Then, as Matt Maiocco of CSNBayArea.com reported, Jenkins "might have taken a step forward" from the pack of wide receivers vying to make the team with an outstanding practice session. Can Jenkins make a case for starting reps against the Denver Broncos' deep, talented crop of cornerbacks?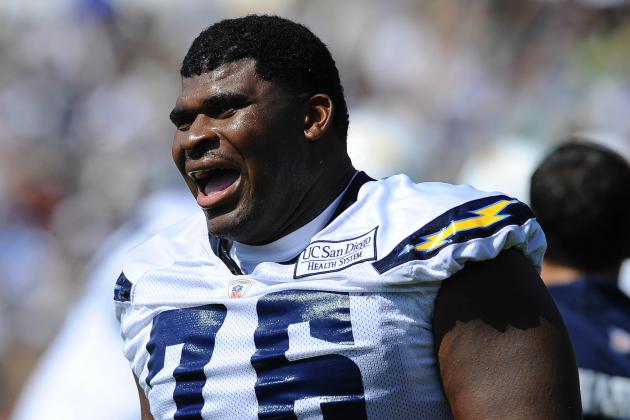 Christopher Hanewinckel-USA TODA

D.J. Fluker is a big man.
At 6'5", 339 pounds, he has the bulk and strength of a prototypical right tackle. The San Diego Chargers knew that when they drafted him No. 11 overall. What they didn't know is that Fluker's presence in the huddle and sidelines is even bigger.
From the earliest camp reports, like this one from U-T San Diego's Michael Gehlken, Fluker's vocal leadership was noted. On August 7, ESPN.com's Bill Williamson reported Fluker's influence is growing, not shrinking. Even quarterback Philip Rivers called Fluker "a leader already."
The question is, can Fluker's big body line up in front of Rivers and make the same impact his big spirit has?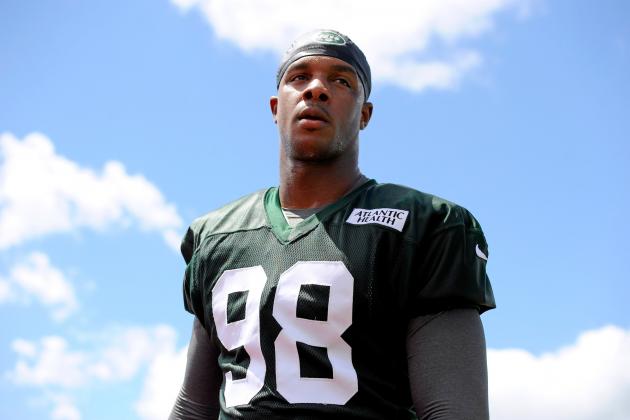 Rich Barnes-USA TODAY Sports

You probably expected to see veteran quarterback Mark Sanchez or rookie quarterback Geno Smith.
If you're reading this article, though, you don't need me to tell you to keep an eye on this season's highest-profile quarterback battle. Instead, keep your eyes on Quinton Coples, last year's No. 16 overall pick.
Coples, the second of three consecutive tweener defensive linemen the Jets have drafted in the first round, was allegedly moved to outside linebacker. Media reports like this one from the Newark Star-Ledger's Mike Vorkunov, though, reveal Coples is still getting time with the defensive line. If Coples can't make a preseason impact as a linebacker, he could become a spare part.
Despite starting only two games and being inconsistent against the run, Coples still led the Jets in sacks in 2012, with 5.5. Whether he's inside, outside, on the line or in space, Coples has the talent be a force for a defensive front seven desperate to get back its edge.
Friday night, Coples could prove the Jets have done just that against the Detroit Lions' turned-over offensive line.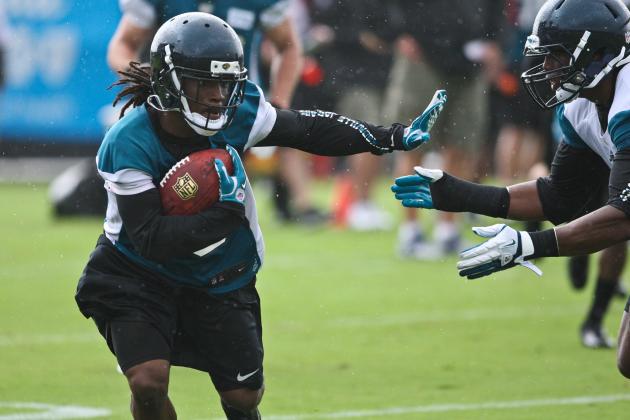 Rob Foldy-USA TODAY Sports

The Jacksonville Jaguars don't lack for talented receivers. Cecil Shorts III proved he has incredible big-play ability last season. Per Pro-Football-Reference, the speedy Shorts tied for second-best in the NFL in yards per reception, with a whopping 17.8.
On the other side, the Jaguars should have 2012 No. 5 overall pick Justin Blackmon. Unfortunately, Blackmon remains on the PUP list with a groin injury. Further, whenever he comes back, Blackmon will have to serve a four-game suspension for violating the NFL's substance-abuse policy.
In his place, former Florida Gators standout Ace Sanders has a chance to prove his first name is no fluke. Sanders is getting the attention of his teammates at camp, according to Hays Carlyon of The Florida Times-Union.
The 2012 SEC Special Teams Player of the Year is proving he's much more than a return man, with quickness in and out of cuts and surprisingly sharp routes. Against the bolstered Miami Dolphins secondary, the fourth-round pick could prove he's got the talent to feature heavily in the Jaguars offense even after Blackmon comes back.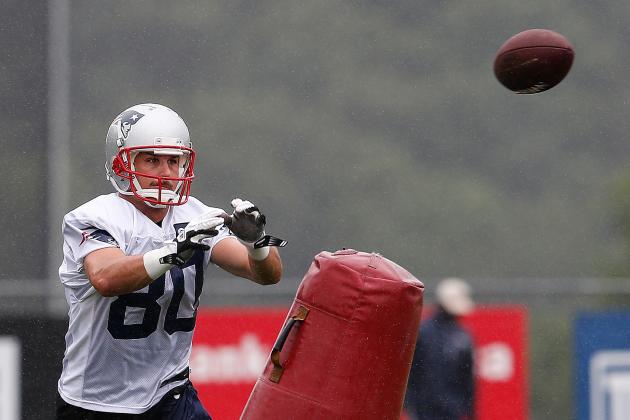 Jim Rogash/Getty Images

The New England Patriots' tight end situation is the most explosive story of the NFL offseason. Were it not for Aaron Hernandez's murder charge and Rob Gronkowski's back surgery, we wouldn't all have forgotten about Wes Welker.
Remember him?
Welker led the NFL in receptions three of the last six seasons and had at least 100 in five of those. Now, after a bitter divorce from quarterback Tom Brady and the Patriots, free-agent signee Danny Amendola has to do nothing less than replace the focal point of the offense.
Unlike the crop of replacement tight ends holding down the fort for Gronkowski, Amendola has to prove he's worth the five-year, $31 million contract the Patriots signed him to—and he can only do that if he plays at the highest possible level.
According to Ben Volin of The Boston Globe, Amendola is showing signs of doing just that. This Friday night, he'll get the chance to show it against the all-new Philadelphia Eagles secondary.
Will head coach Bill Belichick get him off the field early to ward off injury, or keep him in to get the maximum amount of game-speed experience in the Patriots offense?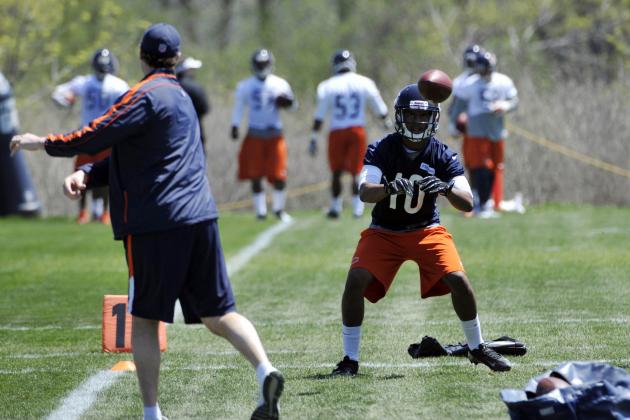 David Banks-USA TODAY Sports

Picture a 6'3", 194-pound receiver prospect with a 4.51-second 40-yard dash time, per NFL.com. Let's say this theoretical player led a Pac-12 team in receptions and receiving yards his senior year, despite playing in just nine games.
Then let's say he's sitting on the board in the seventh round. Don't believe me?
One of the most intriguing prospects of the 2013 draft class, Chicago Bears receiver Marquess Wilson was suspended from the Washington State program after walking out of a practice and criticizing head coach Mike Leach.
That's why Wilson fell to the Bears at the bottom of the draft.
As Bleacher Report Featured Columnist Andrew Dannehy wrote, the "possible" concussion of Earl Bennett and continuing fragility of Alshon Jeffery mean Wilson's talents could be needed sooner rather than later.
The preseason is perfect for players like Wilson to prove themselves, with extended reps against second-, third- and fourth-string defenders. Can Wilson get a foothold against the Carolina Panthers?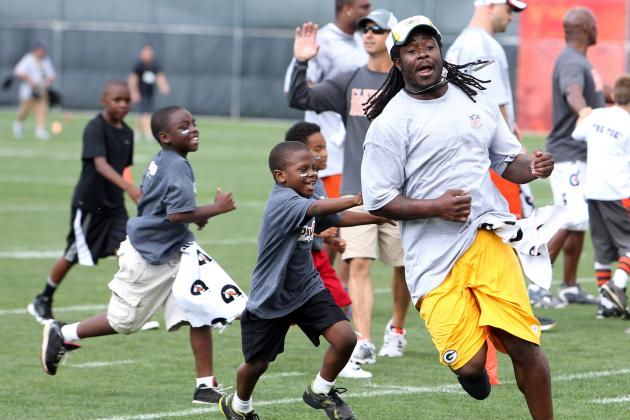 Ron Schwane-USA TODAY Sports

The Green Bay Packers haven't had a reliable, impact, do-everything back since Ahman Green left...the first time.
During the second round of the 2013 draft, the Packers drafted Alabama tailback Eddie Lacy, adding the best-available rookie candidate for the job. Their running back picture stayed crystal clear for two rounds.
Then, the Packers selected UCLA product Johnathan Franklin. Franklin, one of the more interesting "sleeper" picks due to his success as a zone-read tailback, immediately muddied everything up.
Lacy, though, has been running ahead of the pack (Franklin, DuJuan Harris and James Starks) in camp, according to Bob McGinn of the Milwaukee Journal-Sentinel. Can he keep up his breakneck pace against an underrated Arizona Cardinals front seven?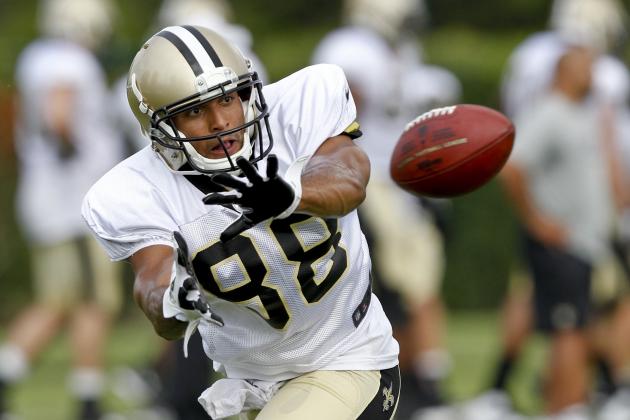 Derick E. Hingle-USA TODAY Sports

Anyone who played the legendary NES football game Tecmo Super Bowl knows about Al Toon, a former three-time Pro Bowler and first-team All-Pro wide receiver for the New York Jets.
It's only fitting that his son, Nick, a 6'4", 218-pound second-year receiver, could put up big numbers in the New Orleans Saints video game-style offense.
Top receiver Marques Colston just came off the PUP list. No. 3 Joe Morgan, according to Gregg Rosenthal of NFL.com, is now out for the season with an ACL injury. Toon's standout play in camp, as observed by Mike Triplett of The Times-Picayune, isn't just a positive—it's critical to the Saints' preseason.
Toon should have plenty of reps with the ones and twos against the Kansas City Chiefs Friday night and could become a favorite target of quarterback Drew Brees while Colston gets back into the groove.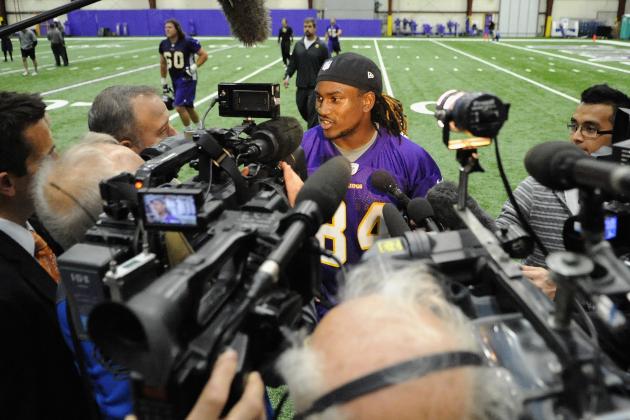 Hannah Foslien/Getty Images

The Minnesota Vikings made the biggest splash of the 2013 NFL draft, landing three first-round draft picks. Of the three, Cordarrelle Patterson could make the biggest splash in 2013.
Cornerback Xavier Rhodes is a great fit for the Vikings system and will likely play early and often in 2013. Defensive tackle Sharrif Floyd is the heir apparent to Kevin Williams and will likely play sparingly and late.
Patterson, though raw from a route-running and technique standpoint, was one of college football's most electrifying players.
The Vikings have drafted raw, athletic rookie receivers in the first round twice in recent years, and their results were the definitions of "boom" and "bust": future Hall of Famer Randy Moss and infamous flame-out Troy Williamson.
Moss was "boom" from the jump, and Williamson was "bust" just as immediately. Patterson's athletic ability should give him a chance to "boom" against the Houston Texans' second-stringers; the rest of the preseason will tell how big of a role he'll play when the scores count.
Since the Oakland Raiders drafted Connecticut linebacker Sio Moore in the third round, I've been intrigued with the explosive, versatile athlete and his potential within the multiple-look Raiders defense.
For a front seven that struggled to rush the passer or cover the pass in 2012, the 6'1", 245-pound Moore and his off-the-charts athleticism should bring plenty of firepower to bear in both dimensions. It'll be intriguing to see how many positions the Raiders line him up at.
Against the high-powered Dallas Cowboys offense on Friday night, Moore could get a trial by fire instead.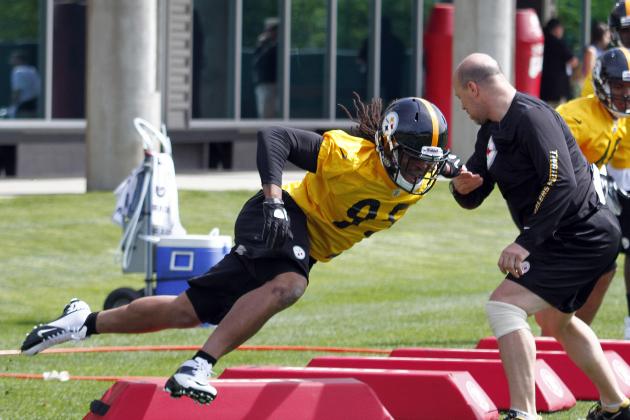 Justin K. Aller/Getty Images

It's not shocking that a team's first-round draft pick is a "player to watch" in the preseason. For the most part, these are highly talented players with a hole at the top of the depth chart they're supposed to fill.
Jarvis Jones, though, isn't sitting at the top of the depth chart just yet. Arguably the marquee position in the legendary Pittsburgh Steelers defense, a rookie like Jones can't just walk onto the field and start.
In fact, as Len Pasquarelli of The National Football Post writes, no rookie has started on the Steelers defense since 2001.
Nevertheless, the need is obvious, and Jones' talent is obvious. His window of opportunity to unseat Jason Worilds opens Saturday night.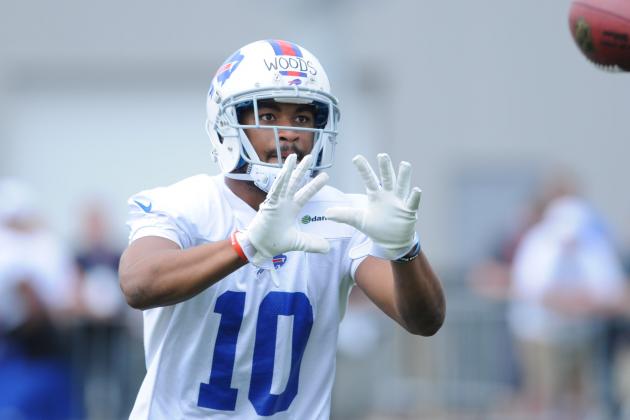 Mark Konezny-USA TODAY Sports

Robert Woods has used his technique, route-running and instincts to get open against just about every secondary he's faced.
For some reason, though, Woods can't seem to shake Marqises. Or Marquises.
After monster freshman and sophomore seasons at USC, Woods was overshadowed by the emergence of Marqise Lee. According to NFL.com, both Woods and quarterback Matt Barkley agree the coaches funneled the ball to Lee, perhaps to the detriment of the offense.
Now that Woods is the Bills' second-round rookie, he'll have every opportunity to play alongside star receiver Stevie Johnson—presuming he can beat out third-round pick Marquise Goodwin.
Though Goodwin has the eye-popping deep speed Woods lacks, Woods brings the entire package to the table. Quarterback Kevin Kolb even described Woods as "legitimately a stud" to Chris Brown of the Bills' official team site. ESPN.com's Mike Rodak transcribed Bills general manager Doug Whaley's appearance on Sirius XM radio, and quoted Whaley as saying Woods looks "polished" and "like a 10-year veteran."
With Kolb day-to-day with a freak knee tweak and the Bills' hopes riding on rookie signal-caller EJ Manuel, Woods taking the field against the Colts Sunday and playing like an impact veteran would be huge for Manuel—and the Bills.