An Early Look at MLB's Biggest Potential 2014 Trade Deadline Targets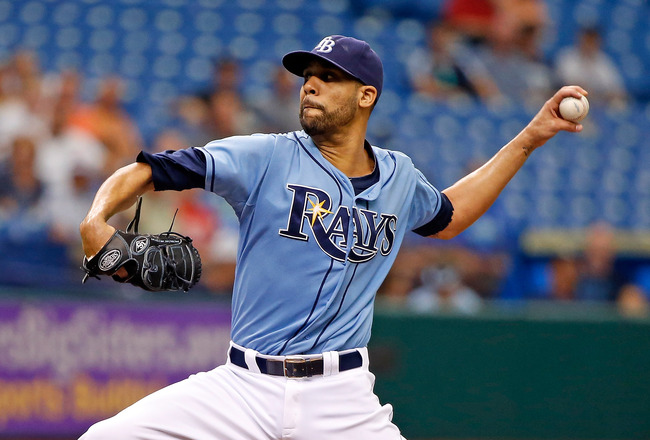 J. Meric/Getty Images
It's never too early to look ahead.
While not even two full weeks have passed since MLB's non-waiver trade deadline hit on July 31, now is as good a time as any to take an early look at the biggest names that will dominate the rumor mill as the 2014 deadline approaches.
Some of those players will be used to the speculation, having had their names bandied about in trade chatter leading up to this year's deadline, while others will be experiencing sustained trade winds for the first time in their careers.
Much can, and likely will change between now and then, with some of these players being taken off of the market due to extensions being worked out or trades being completed in the offseason.
But until then, these players figure to be the biggest game-changers on the market next season—and there's no harm in dreaming of the package it might take to land one of them on your favorite team.
*Unless otherwise noted, all statistics courtesy of Baseball-Reference and are current through games of August 11.
*All contract information courtesy of Cot's Contracts.
1B/3B/OF Michael Cuddyer, Colorado Rockies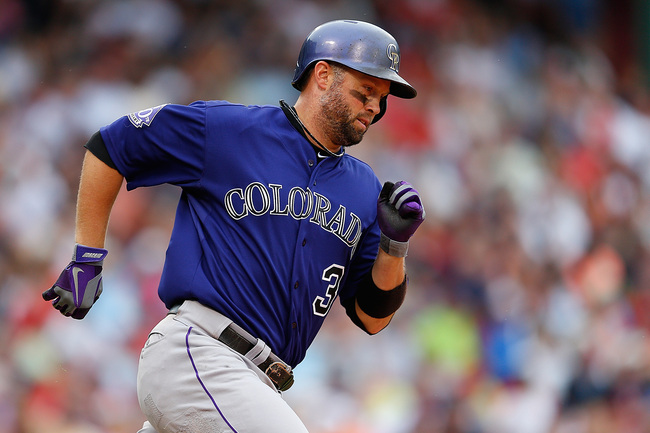 Jim Rogash/Getty Images
Why Wasn't Michael Cuddyer Traded in 2013?
Despite having a losing record (51-57) and sitting nearly eight games out of first place in the NL West on July 30, the Rockies still considered themselves contenders—at least owner Dick Monfort did.
Having the best season of his career and with more than a year left on his contract, Michael Cuddyer's value has never been higher. Yet when asked by the Denver Post's Troy Renck whether the team would trade the veteran, team owner Dick Monfort's response was short and to the point: "Not happening."
Why Might Things Be Different in 2014?
Cuddyer, who will be 36 years old and in the final year of his three-year, $31.5 million deal with Colorado in 2014, is going to be looking for the last big payday of his career after the season, something that the Rockies may not be willing to give him.
Aside from price, Colorado has options internally to replace Cuddyer with, including David Dahl, the team's first-round pick in the 2012 draft who should be ready to contribute at the major league level right around that time.
Already an attractive trade chip due to his experience, production and versatility, that he doesn't have a burdensome, long-term contract makes him an even more valuable chip for the Rockies to play.
What Might Colorado Want in Return?
Pitching, pitching and more pitching.
It's the one commodity that has always eluded Colorado, with the top arms on the free-agent market not giving the Rockies much consideration (if any at all).
While help is on the way in the form of top prospects Eddie Butler and Jonathan Gray, neither is expected to make their major league debut until 2015 at the earliest.
Trading Cuddyer could bring back at least one, if not two, quality, young arms who either have some major league experience or who are on the brink of making their big league debuts—pitchers who can not only help the Rockies in 2015 and beyond, but next season as well.
1B/DH Adam Dunn, Chicago White Sox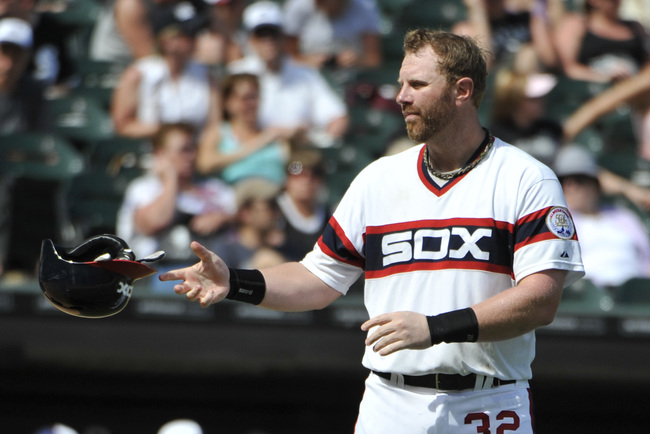 David Banks/Getty Images
Why Wasn't Adam Dunn Traded in 2013?
Like most of the players on Chicago's roster, Adam Dunn was available leading up to the deadline, but the rumor mill gave no indication that any team showed interest in acquiring the strikeout-prone slugger.
CBS Sports' Jon Heyman reports that Dunn has cleared waivers and can be traded to any team, so a deal this season remains a possibility.
Why Might Things Be Different in 2014?
Dunn will in the last year of the four-year, $56 million deal that he signed with the White Sox before 2011, so his $15 million salary becomes less of an obstacle for the White Sox to get past in their attempts to move him.
While there's no question that Dunn is an all-or-nothing player (either going deep or striking out), he is an established run producer, something that is always in demand as the deadline approaches.
What Might Chicago Want in Return?
Dunn isn't going to command a major return, but the White Sox should be able to land at least one player who can be part of the team's rebuilding process in exchange for the veteran.
SP Yovani Gallardo, Milwaukee Brewers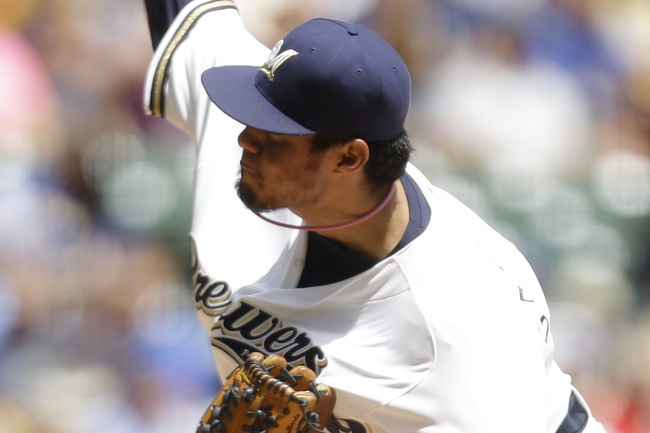 Mike McGinnis/Getty Images
Why Wasn't Yovani Gallardo Traded in 2013?
There never seemed to be significant interest in Yovani Gallardo this season, something that isn't entirely shocking when you look at where the 27-year-old was as the deadline neared.
He's having the worst season of his career (a 4.91 ERA and 1.49 WHIP) and his velocity is down. Due $11.5 million in 2014 and with a $13 million team option for 2015, teams weren't jumping at the chance to acquire what could be damaged goods.
Why Might Things Be Different in 2014?
It all depends on Gallardo and his performance. If his velocity and performance approach pre-2013 levels, Gallardo will be one of the more attractive pitchers on the market due to his age (28) and a reasonable salary for a front-line starting pitcher.
What Might Milwaukee Want in Return?
Milwaukee GM Doug Melvin would need to be "wowed" to consider moving Gallardo, as he told Anthony Witrado of Sporting News back in June, and it's fair to assume that's still going to be the case next season.

RP Luke Gregerson, San Diego Padres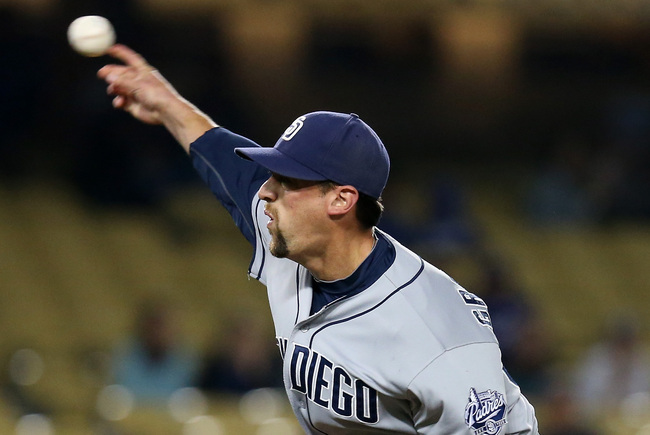 Stephen Dunn/Getty Images
Why Wasn't Luke Gregerson Traded in 2013?
ESPN's Buster Olney reported that San Diego would need to be "inspired" to move either Gregerson or fellow reliever Joe Thatcher. After moving Thatcher in the deal that brought Ian Kennedy to the Padres, Gregerson was no longer available, according to Olney's colleague Jim Bowden.
Why Might Things Be Different in 2014?
A free agent after the 2014 season, San Diego would be best served to move its veteran middle reliever and not watch him walk away for nothing after the season.
The topic of trade rumors and speculation in each of the past two seasons, it would be shocking if Gregerson wasn't moved by the deadline next year.
What Might San Diego Want in Return?
On their own, middle relievers don't typically bring back much in a trade, but when packaged with other pieces, as Thatcher was, they can bring back something substantial.
3B Chase Headley, San Diego Padres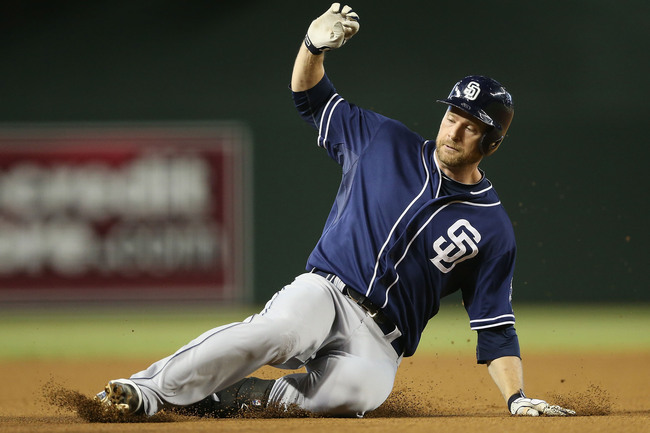 Christian Petersen/Getty Images
Why Wasn't Chase Headley Traded in 2013?
CBS Sports' Jon Heyman reported that the Padres were looking for a package built around a "special prospect" to part with their third baseman, who can become a free agent after the 2014 season.
Apparently the Padres thought that Headley was performing as he was a season ago when he made a surprising run at the NL MVP, finishing fifth in the voting. Heading into deadline day, Headley sat with a .234/.333/.374 slash line, eight home runs and 33 RBI over 94 games.
Why Might Things Be Different in 2014?
Headley will be looking for a big contract after the season and is going to find multiple suitors on the open market, all willing and able to outspend the rebuilding Padres.
If San Diego isn't able to work out a contract extension, trading Headley becomes a necessity as compensatory draft picks aren't what the team needs—major league-ready talent is.
What Might San Diego Want in Return?
Either a second baseman or third baseman (Jedd Gyorko can fill the other spot) and young, quality starting pitching.
SP Cliff Lee, Philadelphia Phillies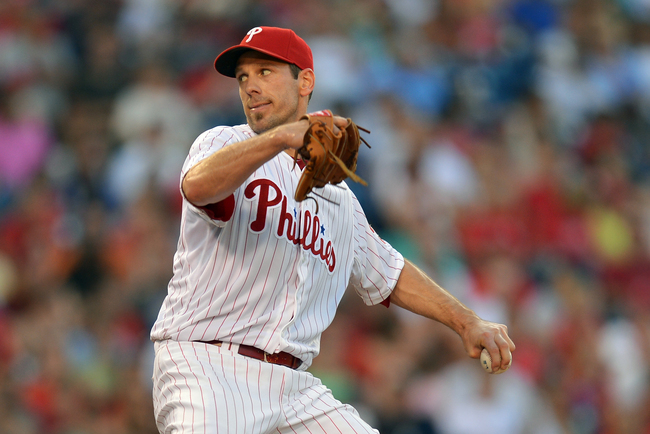 Drew Hallowell/Getty Images
Why Wasn't Cliff Lee Traded in 2013?
GM Ruben Amaro Jr. didn't really want to trade Cliff Lee, so while the team put him on the trade block this season, the price was so exorbitant that it was almost impossible for a deal to be completed.
Not only were the Phillies looking for package that included three top prospects, according to CBS Sports' Jon Heyman, but the Phillies weren't willing to pick up a dime of the roughly $70 million that Lee has left on his contract, which runs through 2015.
It's debatable which the bigger obstacle for interested teams to overcome was.
Why Might Things Be Different in 2014?
While Amaro believes that the team's aging core has one more World Series run left in them, there are simply too many question marks for Philadelphia to compete with the likes of Atlanta and Washington in the NL East.
Despite his hefty contract, Lee still has significant value in a trade and would bring back multiple pieces for the Phillies to eventually replace their aging stars with.
What Might Philadelphia Want in Return?
Multiple top prospects and for the acquiring team to pay the bulk of what remains on Lee's contract.
A long-term replacement for Chase Utley at second base (the team doesn't seem convinced that Freddy Galvis is the answer), an answer at third base and young pitching—you would think—are all near the top of Philadelphia's shopping list.
SP David Price, Tampa Bay Rays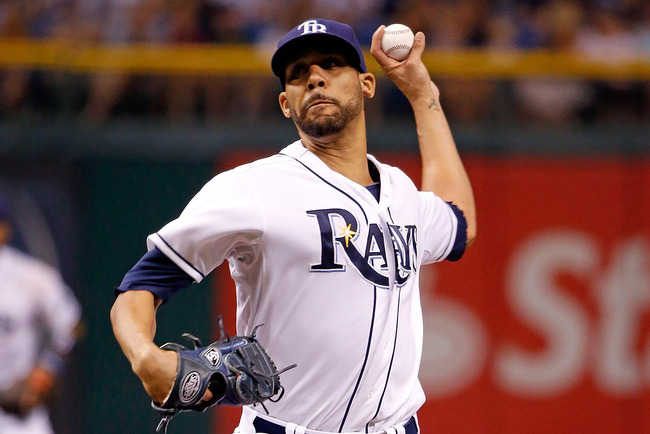 J. Meric/Getty Images
Why Wasn't David Price Traded in 2013?
Tampa Bay wasn't looking to move the ace of its pitching staff who, upon his return from a strained triceps on July 2, went on a historic run for the month and led Tampa Bay back into the thick of the American League playoff race.
Why Might Things Be Different in 2014?
It's no secret that the Rays are one of the most financially strapped teams in baseball and, with that, they simply cannot afford to re-sign Price when he becomes a free agent after the 2015 season. Like Matt Garza and James Shields before him, Price will eventually be traded before his contract expires.
As long as he's able to avoid injury, Price's value won't be higher than it will be at the 2014 deadline, when he could be the biggest playoff-race-changing player available.
What Might Tampa Bay Want in Return?
Think back to the four-player package that the Rays got from Kansas City in exchange for Wade Davis and James Shields this past winter—they'll want much more for Price.
3B Aramis Ramirez, Milwaukee Brewers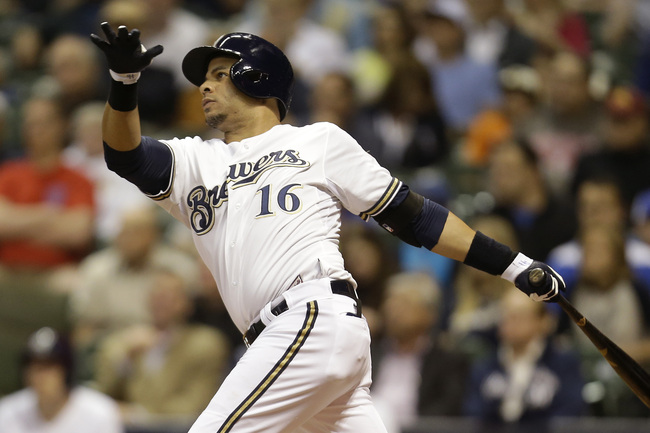 Mike McGinnis/Getty Images
Why Wasn't Aramis Ramirez Traded in 2013?
On the disabled list since July 7 with a sore left knee, no team was going to make a move for Aramis Ramirez without seeing the veteran back in action.
Why Might Things Be Different in 2014?
Established third basemen don't hit the market often and, if he's healthy, Ramirez would be the best option available for teams looking for an upgrade at the hot corner.
While he has significant money left on his contract—a $16 million salary in 2014 and either a $14 million mutual option or $4 million buyout for 2015—Ramirez doesn't have the kind of long-term, burdensome deal that would prevent teams from making a move.
What Might Milwaukee Want in Return?
Milwaukee has a handful of needs, none bigger than in the starting rotation. Really, there are a number of areas that the team could look to strengthen by moving the two-time All-Star.
SP Jeff Samardzija, Chicago Cubs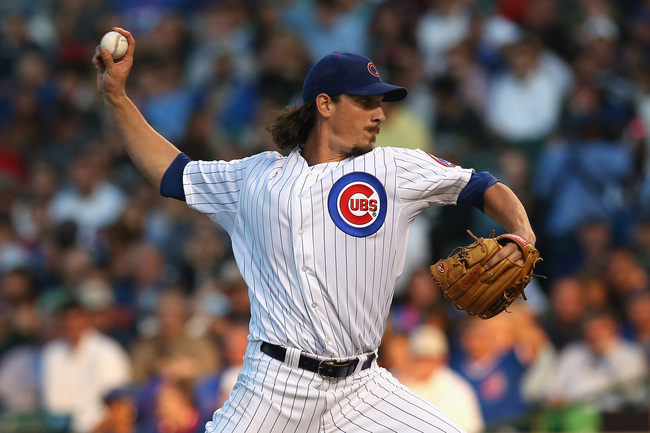 Jonathan Daniel/Getty Images
Why Wasn't Jeff Samardzija Traded in 2013?
The Cubs listened to offers for Jeff Samardzija as the deadline approached but were not overwhelmed by any of them and were never close to making a deal, reports ESPN Chicago's Bruce Levine.
Why Might Things Be Different in 2014?
Chicago has twice before tried to work out a long-term extension with Samardzija, who can become a free agent after the 2016 season. CBS Sports' Jon Heyman reported before the deadline that the Cubs were going to give signing him to a new deal one more shot before seriously looking to move him.
Arbitration eligible through 2016, Samardzija doesn't have a budget-busting salary, making him an intriguing addition to nearly any team's starting rotation. It's all about the Cubs getting what they want in return.
What Might Chicago Want in Return?
In a separate report, Heyman detailed Chicago's asking price:
How high is the price on Cubs star right-hander Jeff Samardzija?

Well, the Cubs are basically requesting of teams that they "take whatever they want'' when it comes to a potential Samardzija deal.

That may be a slight exaggeration, but not much.
Young, controllable pitching and outfielders would fill the team's biggest needs.
3B Pablo Sandoval, San Francisco Giants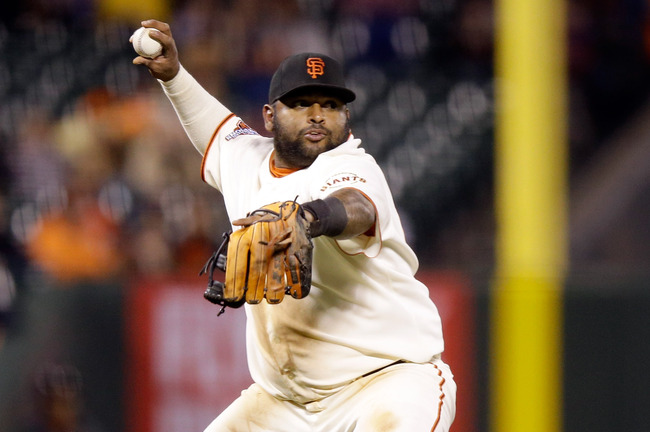 Ezra Shaw/Getty Images
Why Wasn't Pablo Sandoval Traded in 2013?
While the Giants were willing to listen to offers for impending free agents like Tim Lincecum and Hunter Pence, Pablo Sandoval's name was never really mentioned as a potential trade chip on the rumor mill.
Why Might Things Be Different in 2014?
Sandoval will be in the last year of his contract and, quite possibly, out of chances to prove that he can keep his weight under control in San Francisco.
His girth has been an issue throughout his time with the Giants, and it's fair to assume that it has played a major part in not only his inability to stay healthy (he hasn't played in more than 150 games since 2010) but his decline in production.
A team that believes it is one bat away from making a playoff run could view Sandoval as someone who needs a change of scenery, and the Giants might finally be ready to agree with that assessment.
What Might San Francisco Want in Return?
Players who can hit for power, whether it be at a corner infield spot or in the outfield.
Keep Reading