9 Players off to the Best (and Worst) Starts at Patriots Training Camp
Jim Rogash/Getty Images
For the New England Patriots, this is one of the most critical training camps in a very long time. They need to account for the loss of Aaron Hernandez and potential absence of Rob Gronkowski. They need to effectively overhaul their entire receiving corps.
Quarterback Tom Brady must adapt on the fly and build a rapport with mostly rookies and players he's never teamed with before.
This year is also critical for the players themselves. With so much turnover and turmoil this offseason, competition is wide open all across the roster. If there's one thing we know about Bill Belichick, it's that he'll give everyone a fair shot to earn a spot.
Here are the players who've stood out, for better or worse, during the early portion of training camp.
Kenbrell Thompkins, Wide Receiver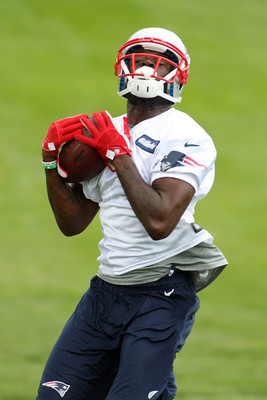 Stew Milne-USA TODAY Sports
An undrafted rookie from Cincinnati, Thompkins has opened a lot of eyes during camp.
NESN's Doug Kyed recently profiled him as the most impressive receiver in camp and added that if the season started today, he would likely start opposite Danny Amendola. Not second-round pick Aaron Dobson. Not fourth-round pick Josh Boyce.
That was before the Patriots went to Piladelphia for series of joint practices with the Eagles. Ben Volin of the Boston Globe was there and was clearly impressed by what he saw as he commended Thompkins' continued stellar practicing. Apparently he wasn't the only one as he later noted Philly beat writers asking "who is this guy?"
Brady even mentioned him specifically, not by name but as "KT"—yes, they're on an initials basis—while expressing his pleasure with how well the rookies are progressing, according to Kyed.
Thompkins seems to build more momentum with each practice and should see time with the first-team offense during Friday's preseason opener vs. the Eagles.
Zach Sudfeld, Tight End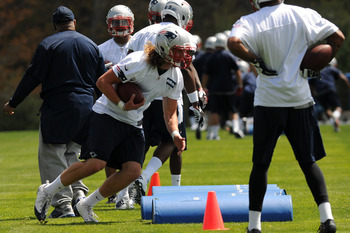 Bob DeChiara-USA TODAY Sports
Like Thompkins, Zach Sudfeld joined the Patriots as a rookie free agent. Undrafted out of Nevada, Sudfeld has risen from draft-day afterthought to potential preseason star.
I must admit, I'm glad to see him doing well. I've been driving his bandwagon ever since he joined the team and it's always nice to get a call right.
Sudfeld ran with the starters during OTAs and hasn't looked back, cementing himself on the first unit thus far in camp. According to the Boston Globe, he's running exclusively with the starters at this point and "looks potentially like the best tight end on the field".
Listed at 6'7" and 260 pounds, Sudfeld is the closest physical approximation the Patriots have to the rehabbing Rob Gronkowski. He's agile and quick with good hands, yet also gives Tom Brady and the Patriots a massive target in the passing game.
At this rate, a solid preseason could earn Sudfeld a starting role in Week 1.
Tim Tebow, Quarterback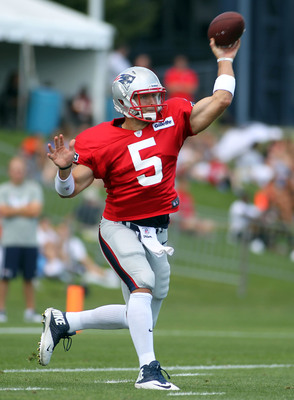 Stew Milne-USA TODAY Sports
If there was any doubt Tebow would make the roster, it should be gone by now.
Forget for a moment that he's killing it in the autograph department. Forget how badly the Patriots could use a consummate class act to help bolster their image.
Tebow has locked up a roster spot because the Patriots like what they see, enough to invest a lot of time in him.
Coaching assistant Brian Daboll has been working directly with Tebow on an extensive basis, observed ESPN Boston, and it doesn't seem likely the team would pour that much energy into a project if they weren't willing to see it through to the end.
Aaron Dobson, Wide Receiver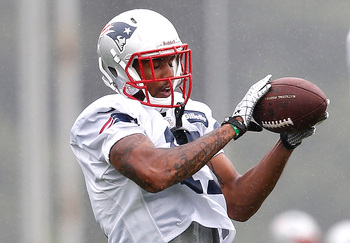 Jim Rogash/Getty Images
Expectations are high for Dobson after the Patriots took him in the second round of this year's draft. So far he's met those expectations head on.
Perhaps not as consistently impressive as Thompkins, Dobson has still made quite a mark on observers, flashing big-play ability and a knack for making the tough catch. CBS Boston's Dan Roche reports that Dobson was back at it in Philadelphia, making a one-handed circus catch along the sideline.
Even before that, NESN's Doug Kyed called him the star of training camp.
Dobson looks poised for a big season even as a rookie. With his game-changing ability and playmaking skills, he could easily be the Patriots best downfield receiver since you-know-who.
Will Svitek, Offensive Line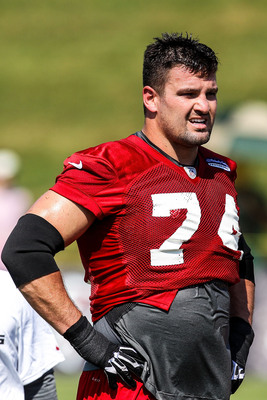 Daniel Shirey-USA TODAY Sports
More often than not, offensive linemen tend to avoid notice if they're doing their job well. People see when they miss blocks and yield sacks, but not always when they perform well.
Svitek, however has drawn notice for doing just that.
With Dan Connolly and Marcus Cannon both injured, Svitek has taken on a much larger role on the offensive line. Originally brought into camp as a swing tackle to spell Nate Solder and Sebastian Vollmer as needed, Svitek has been lining up at guard as of late.
ESPN Boston reports that he's even been running with the starters.
In the long run, Svitek will likely remain a reserve tackle, but it never hurts to show Bill Belichick a little versatility. I didn't even include Svitek in an offseason roster ranking, but heading into the preseason he looks like a good bet to hold down a spot.
Danny Amendola, Wide Receiver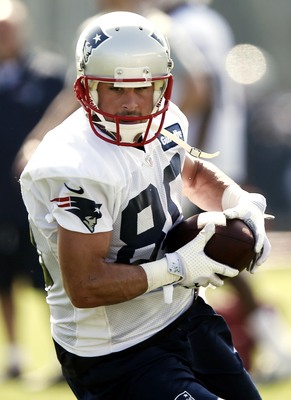 Winslow Townson-USA TODAY Sports
One of the biggest questions surrounding the Patriots this offseason was how well Danny Amendola and quarterback Tom Brady could build and develop chemistry together. After all, Amendola's predecessor was the only player in NFL history to record five seasons of 100 or more receptions.
Well, so far, so good.
The two of them put in time during the offseason and have continued to build on that during camp. Belichick praised Amendola earlier this week, saying "he's become a very dependable player for us. He doesn't make many mental errors," according to Mike Reiss of ESPN Boston.
Amendola's drawn praise since Day 1, when the Boston Globe's Ben Volin called him the "one bright spot" among Patriots receivers.
He has Bigfoot-sized shoes to fill, but Amendola seems perfectly suited to flourish in New England. I projected Amendola for 107 catches and 1,337 yards. If he keeps building on his camp performance, he should have no problem delivering once the season kicks off.
Jermaine Cunningham, Defensive End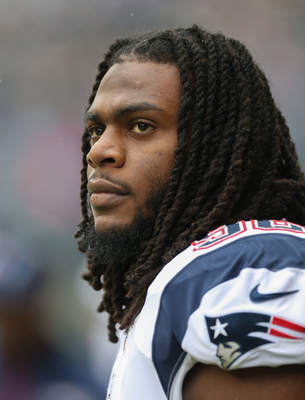 Otto Greule Jr/Getty Images
Once a promising third-round draft pick, Cunningham has been either ineffective or suspended for most of his Patriots career. Just when he was finally starting to turn the corner, he was suspended for violating the NFL's policy on performance enhancing substances.
Now entering his fourth year, Cunningham faces heavy training-camp competition for his roster spot.
With Chandler Jones, Vince Wilfork, Tommy Kelly and Rob Ninkovich all but assured a place on the team, there's only room for so many other defensive linemen. That leaves Cunningham in a hotly contested melee with other youngsters like 2012's third-round selection, Jake Bequette.
With Bequette, Justin Francis, and rookies Armond Armstead and Michael Buchanon all vying for playing time, and a host of other linemen jostling for roster spots, Cunningham needs to step up his game this preseason.
Otherwise, he may find himself on the wrong side of the roster bubble.
Unfortunately for Cunningham, his training camp hasn't gone so well. He's missed nearly a week of practice with a lingering injury and didn't travel with the team for joint practices in Philadelphia.
He can't afford to remain sidelined for long.
Alfonzo Dennard, Cornerback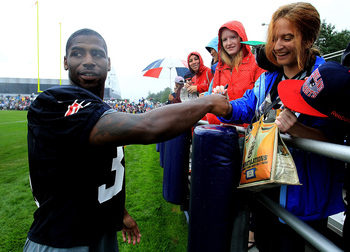 Jim Rogash/Getty Images
Dennard rung in the new football year with an arrest in Lincoln, Nebraska, on suspicion of DUI. Not only does the incident potentially violate his parole following an April, 2012 incident in which he assaulted a police officer, it also sets him firmly in the NFL personal conduct policy's crosshairs.
A suspension would really put a damper on this first month of Dennard's season.
To make matters worse, Dennard's been in and out of practice thanks to an injury and when he has been on the field, he hasn't looked very good. The Boston Globe's Ben Volin notes that although Dennard returned to the field in a joint practice against the Philadelphia Eagles, he was beaten badly, more than once, by Riley Cooper.
With so much uncertainty surrounding the second-year pro, Dennard may find himself sliding down the depth chart to begin the season.
Jake Ballard, Tight End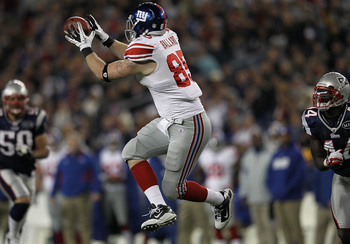 Jim Rogash/Getty Images
Ballard was never very fleet of foot, but since tearing his ACL while playing against the Patriots in Super Bowl XLVI, he's become downright slow.
Slow in recovering from the injury and subsequent surgery, Ballard must now claim a roster spot at the expense of veterans Michael Hoomanawanui and Daniel Fells, or rookies Zach Sudfeld and Brandon Ford.
Following Rob Gronkowski's offseason back surgery, Ballard entered camp with a chance to claim significant playing time. Now, less than a week before New England's first preseason game, Ballard may have fallen behind in the competition and ESPN Boston's Mike Reiss has even speculated Ballard may not make the team at all.
Keep Reading

New England Patriots: Like this team?