3 Notable Points from the International Champions Cup in Miami (August 6)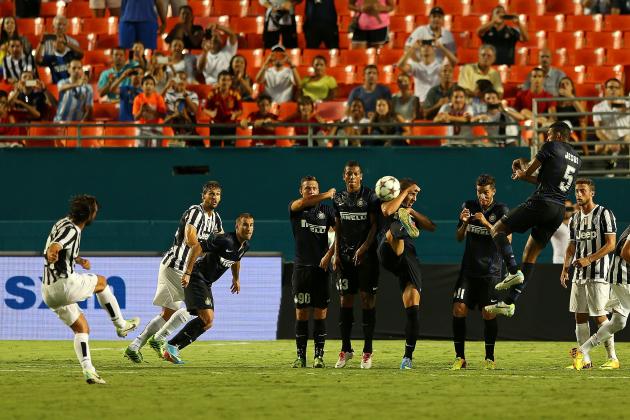 Mike Ehrmann/Getty Images

The International Champions Cup resumed in Miami for the final friendly battles of the United States soccer tournament involving some of the world's most prestigious clubs.
I ventured to the Sun Life Stadium to get a more up close and personal look at the four teams on display—Juventus, Inter, Everton, and Valencia.
Even though these matches were billed as friendlies, hard hitting fouls and dramatic action would urge the contrary.
Here are a few curiosities I picked up from watching these teams battle it out:
Begin Slideshow

»
Juventus has been listed as next season's Serie A favorites by pundits worldwide. Even though there's no objection here, one must realize that the team has let a few questions arise in preseason.
First of all, Carlos Tevez and Fernando Llorente seem confused about how exactly going about their roles in Conte's 3-5-2 formation, a tactical setup which is far less common outside the peninsula.
Llorente is more of a startling issue. He hasn't played in virtually one year, and his first touches and movement off the ball leave a lot to be desired.
Juventus' problem last season was the lack of a consistent scorer up front, and from everything that has been noticed in the preseason, Caros Tevez offers the Bianconeri their best bet for production.
However, Carlitos is not exactly a model of professionalism in the sport. It'll be interesting to see how coach Antonio Conte approaches the issue once the seasons gets underway.
During the press conference, the Old Lady's coach said that it was the first time he tried the Mirko Vucinic—Carlos Tevez pairing in a game. On paper it's about as mercurial as you can get with a striking tandem.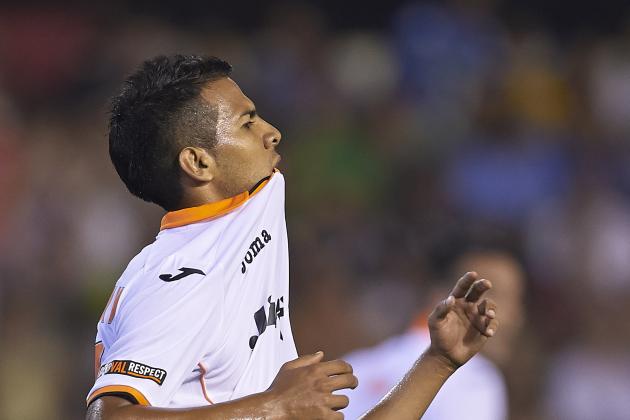 Manuel Queimadelos Alonso/Getty Images

Valencia attacker Jonathan Viera was one of the most interesting players to watch so far in the tournament.
The little-known Spaniard who was brought over two seasons ago from Liga Adelante side Las Palmas has renewed faith after the recent appointment of coach Miroslav Dukic, who is giving the player a chance to show his worth in these preseason competitive friendlies.
Small, quick and technical, the tricky Viera seems to operate best in tight quarters, where he can maneuver around the defense with ease.
He's one to keep your eye on in the future.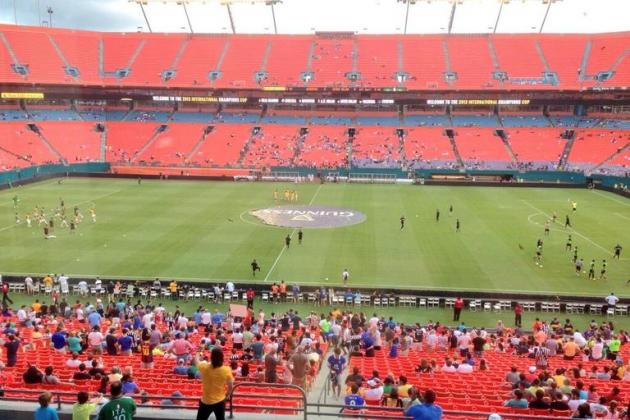 In recent years, Miami has toted its worth as a viable MLS expansion candidate even though the first experiment involving the Fusion was botched from the beginning.
Even before the famed Derby D'Italia between two prestigious Italian sides featuring some of the world's better players, the Sun Life Stadium was hardly full.
Yes, I know the attendance records will peak with the likes of Real Madrid and Chelsea involved, but the simple fact is that Miami is a questionable sports city that is only captivated by the highest of caliber athletes.
I've lived in South Florida for two decades, and even though I'd love to see football near the sandy shores of South Beach, I know that it would take a gargantuan marketing effort and more than just a few washed up stars to make it work.