Chicago Bulls Schedule 2013-14: 8 Most Anticipated Games of the Regular Season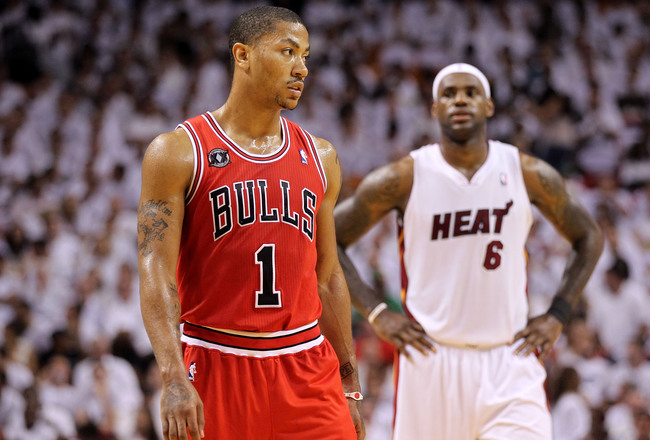 Mike Ehrmann/Getty Images
After a frustrating 2012-13 season, a cause for celebration feels overdue for the Chicago Bulls.
Thankfully, that fact was not lost on the NBA schedule-setters.
One glance at Chicago's 2013-14 calendar should send a gust of jubilation through the Windy City. From the delicious Halloween treat to one heck of a Christmas Day gift, the Bulls are set to fill basketball's holiday season with no shortage of compelling action.
All that excitement and not even one mention of Derrick Rose. Imagine that.
Of course, this superstar-conscious league wasn't going to waste the triumphant return of a former MVP. Read on to find out which games join Rose's reappearance as the most anticipated contests on Chicago's 2013-14 schedule.
8. November 27: Bulls at Pistons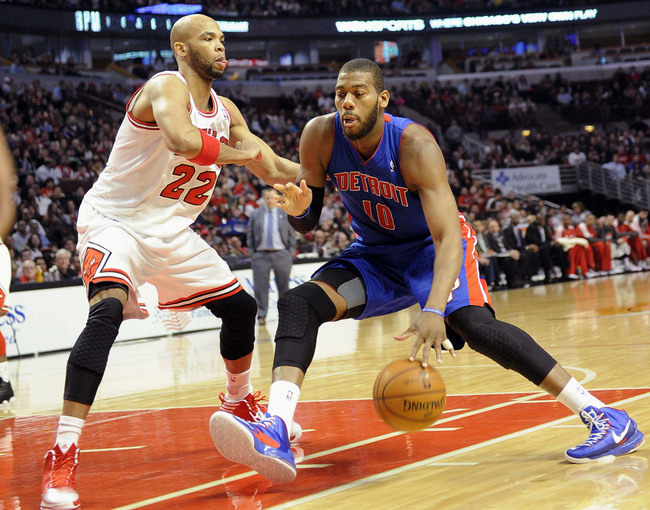 David Banks-USA TODAY Sports
Before the Bulls can even think about a return to the top of the Eastern Conference, they'll have to take care of business inside the Central Division first.
If Joe Dumars' master plan falls perfectly into place, the Detroit Pistons will be one of those rivals vying for the division crown.
While Chicago is going to enjoy a sizable advantage in the frontcourt on most nights, this may be one of the rare exceptions. With Andre Drummond, Greg Monroe and Josh Smith clogging the middle, even Tom Thibodeau's team will have problems with this kind of length.
Of course, the Pistons will have even more problems dealing with Derrick Rose and Jimmy Butler on the perimeter. If Detroit's bigs are pulled away from their assignments to stop penetration, then Joakim Noah and Carlos Boozer could be primed for career nights.
This isn't a game most fans will circle out of the gate, but don't be surprised if its intrigue grows with each passing day.
7. April 13: Bulls at Knicks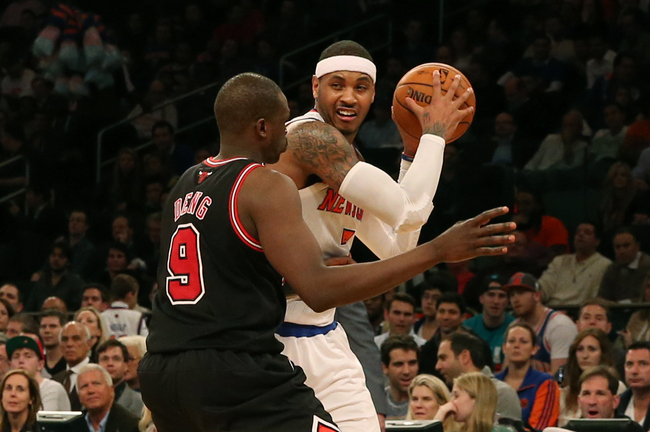 Anthony Gruppuso-USA TODAY Sports
The latest calendar date to crack this list, postseason implications could be all over this meeting between the Bulls and the New York Knicks.
Barring major injury, neither club will be worried about punching its playoff ticket at this point. But a win at this point in the year can be the difference between hosting a first-round series and starting a championship climb on the road.
Even though there are scoring savants on both sides of this equation, a defensive grind could be in the works. With two of the game's premier interior anchors on the floor, Tyson Chandler and Joakim Noah, it may come down to each one's ability to lead his troops.
Chicago has the edge in team defense, but Carmelo Anthony and J.R. Smith are a nightmare matchup for any team to deal with if they're aggressively attacking the rim. New York's drive-and-kick game is about as good as it gets in the NBA, but don't sleep on Chicago's perimeter attack with Mike Dunleavy's arrival (42.8 three-point percentage last season) and Jimmy Butler's emergence (38.1 percent).
If Adam Silver is as obsessed with major markets as his predecessor David Stern, the deputy commissioner will be beaming on April 13.
6. December 25: Bulls at Nets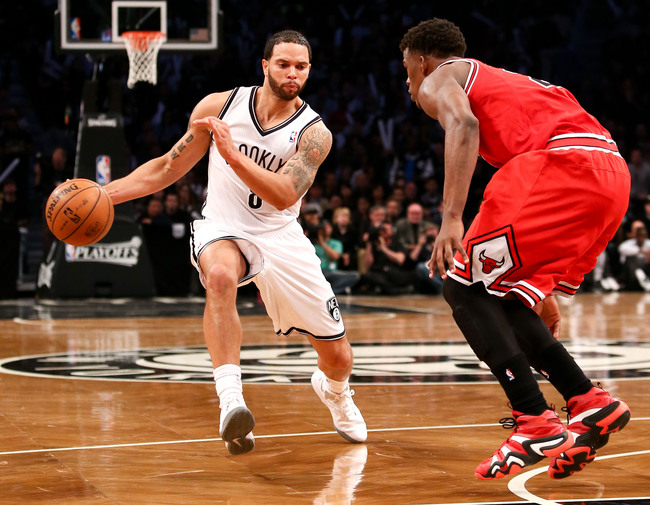 USA TODAY Sports
Before basketball's biggest dance gets underway, nothing signals a franchise's arrival like an entry on the NBA's Christmas schedule.
This year's five-game slate is no exception to the rule, as the Bulls and Brooklyn Nets will get the festivities under way.
If Chris Paul isn't the best point guard in the league, then that title may well belong to one of the floor generals in this contest. Rose's case speaks for itself (youngest MVP in league history), but Deron Williams post-All-Star-Game production last season (22.9 points and 8.0 assists per game with a .481/.420/.866 shooting slash) was more than enough to reclaim his position in the position's elite ranks.
Still, it's hard to think about this game and not be drawn to the energetic clashes sure to take place between Noah and Kevin Garnett. It would be wildly entertaining if they were simply fierce competitors, but the fact that the pair are two of the game's greatest big men increases the intrigue here exponentially.
Don't forget, these two teams met in a spirited first-round series in 2013 that delivered a triple-overtime thriller among a number of nail-biters. With roster improvements in each locker room, this game could be even more riveting.
5. November 6: Bulls at Pacers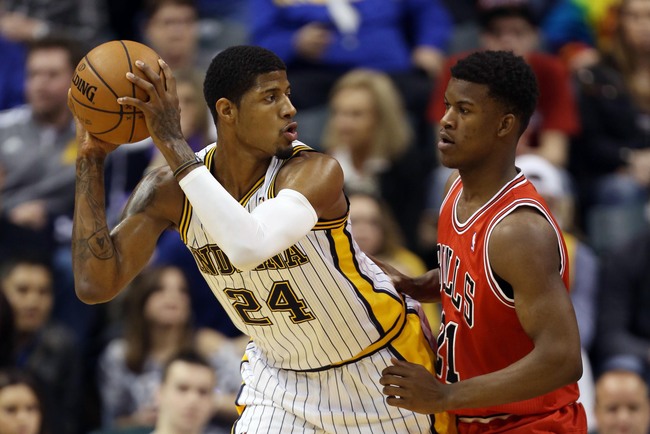 Brian Spurlock-USA TODAY Sports
Sometimes, title bouts fail to live up to their hype (see: Anderson Silva vs. Chris Weidman). Sometimes, the brawls to earn the rank of No. 1 contender are the real prize of the fighting world.
The Bulls and Indiana Pacers aren't competing for the chance to be second-best. They both have championship thoughts running rampant through their minds.
Until the two-time defending champion Miami Heat are officially dethroned, though, the path to a title still runs through South Florida. If a knockout blow sends Miami spiraling out of the championship picture, there's a good chance it will be dealt by one of these two teams.
It's a rare matchup of an immovable object and another immovable object. These clubs yield no easy looks to their opponents; every point is exhaustively earned.
So whose will-to-win buckles first? Tough to tell, but there's a good chance more than regulation will be needed to decide this Central Division melee.
4. March 17: Thunder at Bulls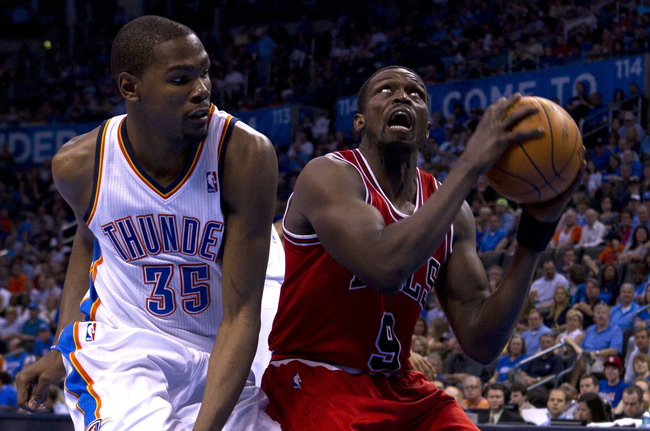 Richard Rowe-USA TODAY Sports
This late-season matchup between the Bulls and the Oklahoma City Thunder is the kind of game fans go searching for when the schedules are released.
There doesn't need to be any storied rivalry here. With superstars oozing from both rosters, anything less than an instant classic would be a major disappointment.
Perhaps, its most glowing preview stems from the fact that, despite the abundance of stars who will be taking the floor on March 17, it's hard to identify that one can't-miss individual battle.
Derrick Rose trading gravity-defying highlights with Russell Westbrook is a great place to start. But what about Luol Deng matching wits on the perimeter and in the post with Kevin Durant? Or Carlos Boozer's refined interior game against Serge Ibaka's athletically charged play?
Then you've got Jimmy Butler and Reggie Jackson staking their claim as the game's next rising star. Joakim Noah and Kendrick Perkins will give this struggle all of the nastiness it could ever want. The clashing styles of Tom Thibodeau's physical approach and Scott Brooks' relentless attack are the mind games that hoops heads dream about.
Throw in the fact that this is a potential 2014 NBA Finals preview, and this is the kind of game that friendships (relationships even) can be sacrificed for in order to witness it.
3. December 5: Heat at Bulls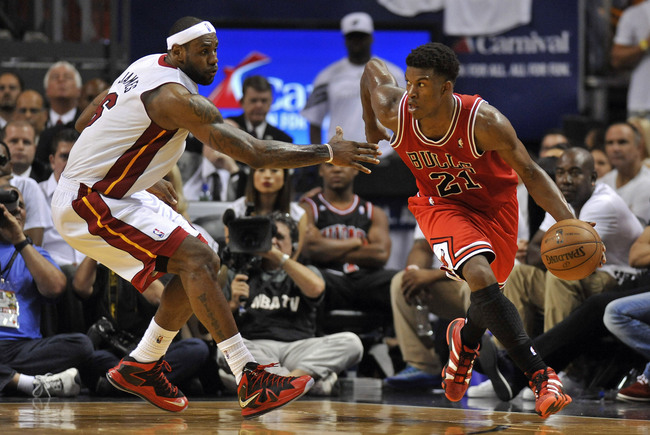 Steve Mitchell-USA TODAY Sports
The last time the United Center served as hosts to the Miami Heat, the injury-depleted Bulls were forced to stomach a pair of blowout losses by a combined margin of 33 points.
Safe to say, the Chicago faithful have been counting the days to show Erik Spoelstra's team the kind of punishment a healthy Bulls squad can hand out. Now the Heatles' return has an official date set.
Before Rose's crippling torn ACL, these two teams were the class of the East. Miami got the last laugh by dispatching Chicago in five games during the 2011 Eastern Conference Finals, but only after the Bulls swept the team's three-game, regular-season series.
Miami's swarming defense has holes in the middle, and it remains to be seen whether the oft-injured Greg Oden can fill any of them. Facing an offense driven by Rose, Butler and Deng, a leaky interior can be as good as a death sentence.
Of course, facing four-time MVP LeBron James may be equally as damning.
So what does all of this mean? Keep your schedule clear on December 5.
2. October 31: Knicks at Bulls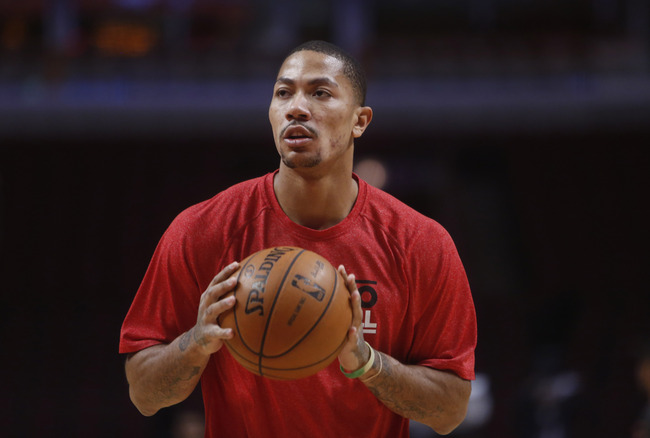 USA TODAY Sports
It's hard to imagine any Chicagoan missing Rose's return two nights before this game.
But Rose's anticipated home debut is, perhaps, equal in magnitude.
On one hand, it feels like the schedule masters slighted Chicago a bit. It has waited so long to witness the return of its native son. Why not grant that wish on opening night?
But this might be an even greater gift. The Bulls can celebrate his official comeback on opening night, then celebrate again when he's back on the United Center floor.
Rose will be driving the pregame discussions, and assuming he hits the ground running, he could be the focal point of the postgame coverage. But don't let the talking heads fool you; there are other reasons to keep close tabs on this game.
Can Iman Shumpert thrive if J.R. Smith is still sidelined by his knee surgery? Has Mike Woodson efficiently figured out the Carmelo Anthony-Amar'e Stoudemire puzzle? Will Jimmy Butler's rapid rise be stunted at all by the return of Rose?
Don't get me wrong, Rose should be your main focus in this contest. Just don't forget to keep watch of the nine other players on the floor.
1. October 29: Bulls at Heat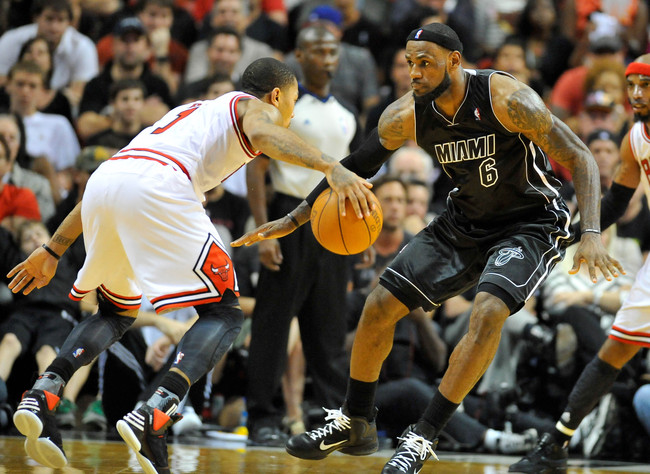 Brad Barr-USA TODAY Sports
The NBA is a superstar's league, and it's in that vein that the schedule-makers decided to put its best foot forward on opening night.
Derrick Rose and LeBron James are the only players to capture an MVP award since 2009. Why not start the series with arguably the two most electrifying talents in the hoops world?
As much as the night will feel like Rose vs. James (or the Bulls vs. the Heat even), this will be Rose's night alone. Save for a smattering of pregame appearances, he's been a no-show on the hardwood since April 28, 2012.
If Rose is at his best, he's, perhaps, James' biggest threat to the title of the best player on the planet.
Rose told CNN's Pedro Pinto he feels he's the best player in the NBA. October 29 is his first chance to validate that claim.
Keep Reading

Chicago Bulls: Like this team?