Ranking the 10 Greatest Fight Cards from the Past Decade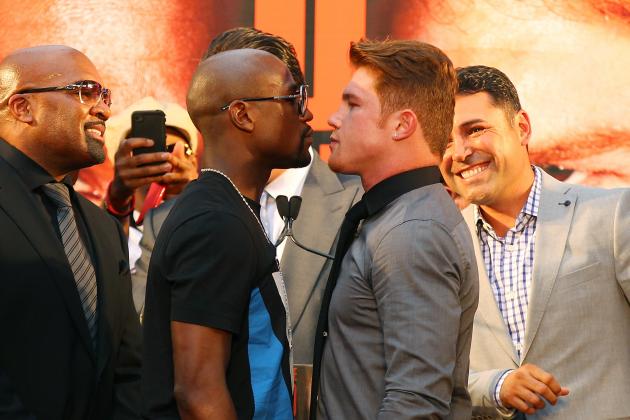 Mike Stobe/Getty Images
Mayweather and Alvarez will meet in just over a month.
Putting together any list of great boxing cards is, at best, a subjective affair. Different people prefer different styles, types of fights and fighters.
This list is in no way meant to be comprehensive, but it attempts to rank some of the best top-to-bottom fight cards of the past decade. Tons of individual fights could easily make this type of list. But that's not the purpose here.
The purpose is to rank the 10 best fight cards, not individual fights, of the past decade. To make the list, a card needs more than one great fight or feature more than one notable fighter. This list is meant to spark discussion, debate and argument.
Feel free to add your own since it's inevitable to omit fights cards that might belong in something this subjective and covering this much ground.
Here are the 10 best fight cards of the past decade.
Begin Slideshow

»
You can bank on some drama whenever you have a talented but possibly glass-jawed former heavyweight champion taking on an undefeated power puncher with dynamite in both hands.
That's exactly what boxing fans were treated to on Sept. 24, 2005, when Wladimir Klitschko faced Samuel Peter at Boardwalk Hall in Atlantic City.
The Ukrainian giant was felled three separate times in the bout, but he held on and boxed efficiently enough to take a dramatic unanimous-decision victory.
But that wasn't even the story of the night. That honor belonged to Miguel Cotto and Ricardo Torres, who engaged in one of the most brutal and exciting fights in recent memory.
Cotto and Torres traded knockdowns in the first two rounds, and both men spent seven rounds throwing nothing but bombs. Both were badly hurt numerous times, but it was Torres who finally succumbed in the Round 7.
The fight was so brutal and had so many knockdowns that HBO's unofficial judge Harold Lederman scored five of the six completed rounds 10-8.
Is there anything better than a pure revenge fight?
That's what fans inside New York's Madison Square Garden witnessed on Dec. 3, 2011.
Antonio Margarito scored the biggest win of his career in 2008 when he knocked out and rearranged the face of welterweight champion Miguel Cotto. But in his very next fight, he was caught attempting to enter the ring against "Sugar" Shane Mosley with loaded hand wraps.
That called into question his entire career and particularly his victory over Cotto, given the injuries he suffered.
Cotto avenged the defeat with a brutal beatdown of his foe that satisfied the fans in attendance and the viewers watching from home.
The undercard also featured a high-action rematch between Cotto's next foe Delvin Rodriguez and Pawel Wolak and a showcase for all-action warrior Brandon Rios, who defeated European lightweight champion John Murray.
Erik Morales is the only fighter who can say he beat Manny Pacquiao during the Filipino's whirlwind rise to the top of the sport.
Their first bout took place on March 19, 2005, and the Mexican warrior took a narrow but correct unanimous decision by three scores of 115-113. It was a tremendous fight that could have gone either way, but the right guy got the nod in my opinion.
On the undercard, another all-action Mexican warrior by the name of Jorge Arce scored an impressive 10th-round stoppage over tough Hussein Hussein. Martin Castillo defeated former—and future—world champion Eric Morel by a wide and impressive unanimous decision.
Featured on the non-televised portion of the card were a couple of action-fighting prospects you might have heard of—Julio Cesar Chavez Jr. and "Mile High" Mike Alvarado.
Marcos Maidana always seems to be in exciting fights. His April 9, 2011 bout with Erik Morales was no different.
Morales came into the fight having won three straight bouts against low-level opposition after returning from a two-and-a-half-year layoff, but few gave him a chance against the hard-charging Maidana.
Not only did Morales do better than expected, he almost won the fight. Maidana got a well-earned majority-decision victory in an entertaining bout that signaled the then 34-year-old Morales still had something left in the tank.
The undercard was also loaded with big names in exciting fights. Robert Guerrero dominated the always game and tough Michael Katsidis over 12 rounds. Paulie Malignaggi took a decision from Jose Miguel Cotto, and Danny Garcia took the biggest scalp of his career at that point against Nate Campbell.
James Kirkland was even on this card when he was a highly touted prospect. Unfortunately for him, he suffered his first defeat, a first-round knockout loss to Nobuhiro Ishida.
Saul "Canelo" Alvarez was supposed to face Victor Ortiz on Sept. 15, 2012, but he had to settle for the man who broke Ortiz's jaw and derailed the fight.
Josesito Lopez gave it his all, but he was undersized and overmatched against Alvarez. He was dropped in the second, third and fourth rounds before being stopped in the fifth.
But the real story of this card wasn't the main event. The undercard was filled with high action and dramatic fights.
Leo Santa Cruz decimated former champion Eric Morel to open the night. But that fight was overshadowed by Daniel Ponce de Leon's impressive featherweight title-winning technical-decision slugfest win over Jhonny Gonzalez.
But the show-stealer was the vicious war between Marcos Maidana and Jesus Soto-Karass. No words can do this fight justice. Just watch it and see.
Marco Antonio Barrera's first fight with Rocky Juarez ending with a ton of controversy, and the two men met in a rematch on March 19, 2005.
Barrera won the second fight by decision, as he did the first, but it wasn't easy. Juarez has become something of a journeyman at this point in his career, but back in 2005, he was a serious prospect.
Before the main event, fans were treated to an undercard that featured an excellent scrap between Joan Guzman and Jorge Rodrigo Barrios. The fight was exciting and could have been scored for either guy, but Guzman got the narrow split-decision nod. It was supposed to be a title fight, but weight issues—for once not Guzman but his opponent—prohibited Barrios from competing for the title.
Also featured was a war between Israel Vazquez and Jhonny Gonzalez for the WBC super bantamweight title. Vazquez, who loves exchanging fists more than anyone on the planet, stopped Gonzalez in the 10th round to retain his title.
What can you say about Marcos Maidana and Josesito Lopez?
These two guys love to fight, and they put on a hell of a show on June 8, 2013.
Lopez appeared to have the better of the action in the early rounds and seemed to be on his way to scoring an impressive victory over Maidana.
But the 30-year-old Argentine is rarely, if ever, out of a fight. He came back to floor his opponent in the sixth round with a thundering shot that left Lopez jelly-legged. It forced referee Lou Moret to end the affair and gave Maidana a huge victory in the crowded welterweight division.
The main support bout was no less dramatic.
Alfredo Angulo is known for a couple of things. One, he's a tremendously strong puncher. And two, he doesn't have a shred of defense.
Angulo and Erislandy Lara engaged in an all-action affair that saw Lara in more trouble than he's ever faced as a professional.
The Cuban was dropped in the fourth and ninth rounds, but he was largely able to outbox the stronger but defensively limited Angulo over the majority of the fight.
In the 10th round, Lara landed a series of left hands to Angulo's face that caused a massive hematoma to develop over his left eye. The fight was stopped immediately on the advice of the ringside doctor, who felt Angulo may have fractured his orbital bone.
Boxing's return to Brooklyn, New York, on Oct. 20, 2012, was a highly successful one. The inaugural card was scheduled to have four world championship fights but ended up with only three after weight issues prohibited Pablo Cesar Cano from challenging for Paulie Malignaggi's 147-pound title.
The main event featured rising junior welterweight sensation Danny Garcia defending his unified title against rejuvenated veteran Erik Morales. The two had fought to a decision earlier in the year, but Garcia ended the night early this time. He starched Morales with a stunning and scary left hand in the fourth round.
On the undercard, Malignaggi narrowly defeated Cano in a bout that many felt the Mexican deserved to win. Local favorite Peter Quillin also captured his first world championship by dropping Hassan N'Dam six times en route to a relatively close decision win, and Devon Alexander won a share of the welterweight title by outboxing veteran power puncher Randall Bailey.
Brooklyn announced its return to boxing in a big way with this card, and it hasn't looked back since.
Whenever boxing's pound-for-pound king appears on the stage, it's sure to be a huge event. Add to that mix an opponent who also sports Hall of Fame credentials, and you have the potential for something special.
When Floyd Mayweather and Miguel Cotto met on May 5, 2012, there were many storylines. Many felt that Cotto would present the stiffest challenge of Floyd's long career, and some speculated that an impending jail term could distract the sport's top fighter.
Without a doubt, Cotto outperformed expectations. He lost the fight clearly but gave Mayweather more uncomfortable moments than we're used to seeing. The Puerto Rican challenger never looked outclassed, and that's more than can be said for most Floyd opponents.
The undercard included a plethora of young fighters taking on stiff challenges. It gave you some bang for your buck and even produced a mild upset.
Saul "Canelo" Alvarez easily dispatched faded former welterweight champion Shane Mosley in what was his toughest test up to that point.
Mayweather protege Jessie Vargas scored an impressive decision win over the faded Stevie Forbes, and former welterweight champion Carlos Quintana revitalized his career with a knockout over Deandre Latimore.
On the untelevised portion of the card, we also saw rising prospects Keith Thurman and Omar Figueroa in action. Talk about stacked.
In boxing, sometimes a fighter's record can be deceiving. That's certainly the case for Jesus Soto-Karass, who on July 27, 2013, might have ended the once promising career of former welterweight champion Andre Berto.
Karass (28-8-3, 18 KO) stopped Berto with a short left hand in the final frame of a fight that was on the table at the time, at least according to the official scorecards. It was tremendous ending to a crazy night of boxing, and it was the biggest win of his career.
In the main undercard bout, Omar Figueroa and Nihito Arakawa engaged in 12 rounds of pure brutality that was compelling, dramatic and at times difficult to watch. The two men stood toe-to-toe for 36 minutes that saw them combine for a ludicrous 2,112 punches thrown, but Figueroa did the most damage and got the deserved decision win.
The knockout of the night, however, went to undefeated welterweight prospect Keith Thurman, who disposed of fellow undefeated Diego Chaves in the 10th frame. "One Time" showed his ability to break down an opponent after failing to blast him out in the early rounds. It was a huge win for him, and it showed he has the mental toughness to take out a tough foe.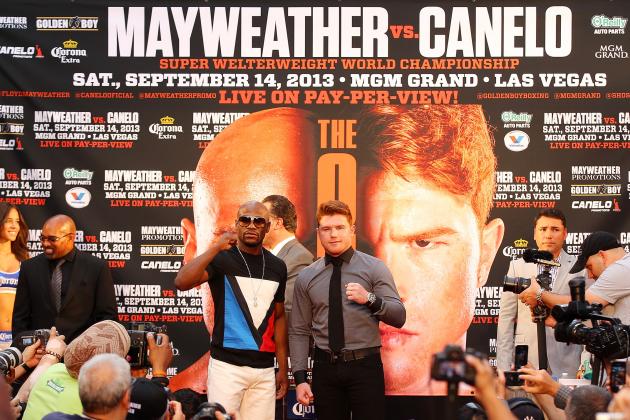 Mike Stobe/Getty Images
Mayweather and Alvarez will headline the top boxing pay-per-view in history on Sept. 14.
This is the elephant in the room.
It would be impossible to do a piece like this without mentioning what is stacking up to be not only the best pay-per-view card of the year but possibly the best of all time. Once it happens, it will easily top anyone's list.
Floyd Mayweather and Canelo Alvarez will meet for the Junior Middleweight Championship on Sept. 14 in Las Vegas, but before the main event even starts, the fans will have plenty to be excited about.
Danny Garcia and Lucas Matthysse will co-main event the card with the junior welterweight title on the line in a bout that is headline worthy by itself.
Ishe Smith will defend his IBF junior middleweight title against veteran challenger Carlos Molina, and other bouts could still be added to the bill.
The $70 price tag for this card is looking less a ripoff and more like a steal.