The 1 Game Every NBA Superstar Is Anticipating the Most for 2013-14 Season
Brad Barr-USA TODAY Sports

As the NBA released its 2013-14 schedule on August 6, fans weren't the only ones circling calendar dates and inputting reminders into their smart phones.
Players, too, kept their Sharpies in close range as they learned the dates and times of their next opportunities to rewrite their lasting legacies.
From an NBA Finals rematch to the dawn of a new era and even the official ending of another, different players have different reasons to pinpoint their most anticipated game for next season.
Fans can't wait to see these stars back on the hardwood, but some of these players are already looking past opening night for their next date with destiny. Basketball isn't quite back yet, but these drama-filled games will surely be worth the wait.
Begin Slideshow

»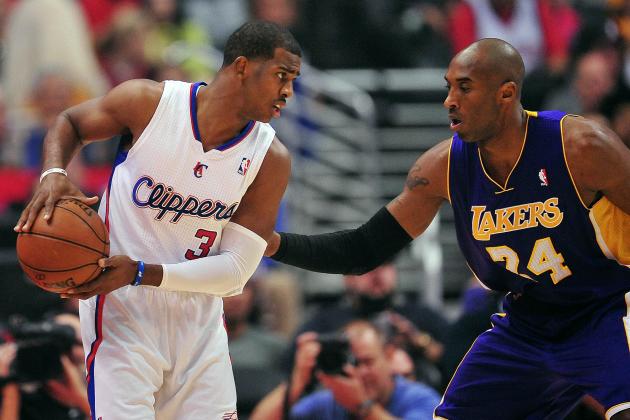 Gary A. Vasquez-USA TODAY Sports

Who: Los Angeles Clippers at Los Angeles Lakers
When: October 29, 10:30 p.m. ET
Where: Staples Center in L.A.
In a matter of two seasons, Chris Paul has transformed the Los Angeles Clippers from the league's laughingstock into a perennial contender.
Now that he's re-upped for another five seasons with the franchise, his focus can move on to even bigger and better things. With a championship leader added to the sideline (Doc Rivers) and a horde of perimeter upgrades around him (J.J. Redick, Jared Dudley, Darren Collison and Reggie Bullock), Paul's path to the Larry O'Brien trophy has never looked brighter.
Before frying those bigger fish, though, Paul might want to tackle another task that seemed impossible just a few short seasons ago. With L.A.'s franchises apparently headed in opposite directions, he could look to steal the key to the city on opening night.
L.A. may never be a Clipper town, but then again, who could have ever seen this franchise having legitimate title hopes?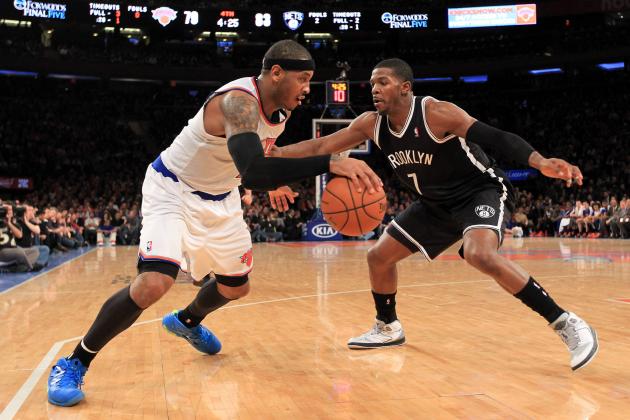 USA TODAY Sports

Who: New York Knicks at Brooklyn Nets
When: December 5, 7 p.m. ET
Where: Barclays Center in Brooklyn
The New York Knicks aren't used to fighting for control of their home city.
However, putting their new faces (Andrea Bargnani, Metta World Peace and Tim Hardaway Jr.) against those of the Brooklyn Nets (Kevin Garnett, Paul Pierce, Jason Terry and Andrei Kirilenko) shows the battle for the Big Apple is dangerously close to tipping away from their favor.
This game marks 'Melo's first chance to help his franchise save face in its hometown.
He took home the first scoring title of his career and led his Knicks out of the first round last season, but those are just baby steps in the eyes of this always optimistic fanbase. Toppling their in-city rivals could go a long way toward maintaining dominance for NYC's oldest son.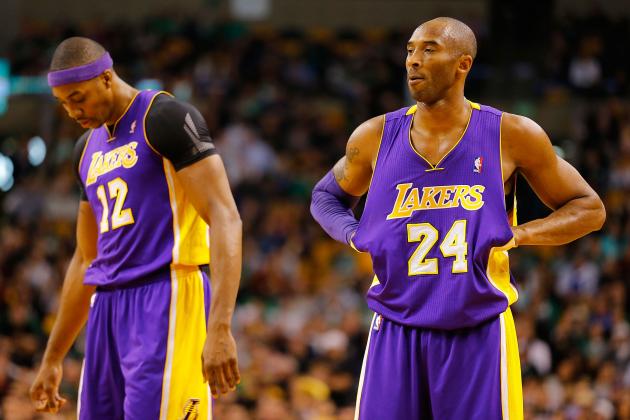 Jared Wickerham/Getty Images

Who: Los Angeles Lakers vs. Houston Rockets
When: February 19, 10:30 p.m. ET
Where: Staples Center in L.A.
It's been a while since expectations were this low for Kobe Bryant's Los Angeles Lakers.
Bryant is battling his way back from the torn Achilles that prematurely ended his 2012-13 season, and he still might have the fewest question marks of any player on the roster. L.A. didn't have the funds to be a major player in free agency, and its additions (Chris Kaman, Nick Young, Wes Johnson) reflect that forced frugality.
The Mamba might struggle for motivation at times this upcoming season, but February 19 will not be one of those days.
Dwight Howard reportedly left the Lakers—and $30 million—in part because he couldn't stand the thought of playing with Bryant for multiple seasons. This is Bryant's chance to show Howard that having to play against him is a far worse fate.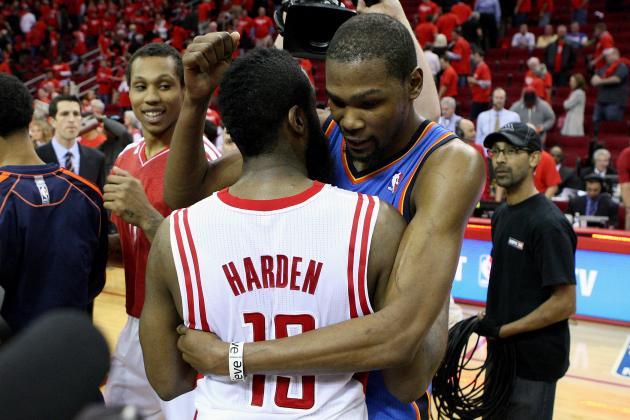 Troy Taormina-USA TODAY Sports

Who: Houston Rockets at Oklahoma City Thunder
When: December 29, 7 p.m. ET
Where: Chesapeake Arena in Oklahoma City
James Harden has a fancy new center he would like to show off to his old team.
The Rockets went 1-2 against the Thunder during the regular season before falling to them in six games in the first round of the playoffs. With Dwight Howard now by Harden's side, things figure to be different. Or so Harden hopes at least.
Returning to Oklahoma City will always be a bit of an emotional event for the shooting guard. He spent only three years there, but the Thunder helped fuel his claim to fame, and the circumstances under which he left were unique.
Having already gone through the motions of a reunion with the fans, however, this is projected to be a team-gauging performance more than anything for Houston.
It's the first of four times the new-look Rockets will meet the Thunder all season. And now next to Howard, Harden is no longer the envious younger brother looking up to his elders; he's seeking to overthrow them.
There is plenty of work to do in Houston before the Rockets are on the same level as the Thunder, but it's gut-checking contests such as these that can allow Harden's crew to climb another rung or two up the ladder.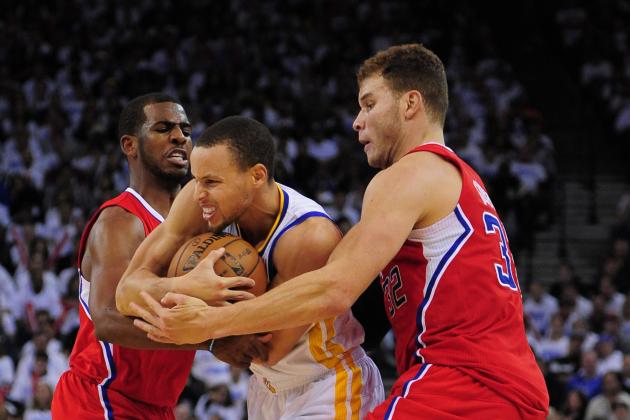 Kyle Terada-USA TODAY Sports

Who: Golden State Warriors at Los Angeles Clippers
When: October 31, 10:30 p.m. ET
Where: Staples Center in L.A.
All this talk about the rise of the Clippers and fall of the Lakers are topics of discussion Stephen Curry and the Warriors should take exception to.
One year after streaking past the Denver Nuggets and giving the San Antonio Spurs all they could handle during the playoffs, Golden State is looking to push the bill a bit further.
The Pacific Division is widely considered the Clippers' to lose, and how could it not? Their support is deeper, their coach is Doc Rivers, and their point guard is Paul. Toss in the Lakers' not-so-subtle demise, and the same team that is coming off a 56-win season should have their division all sewn up.
But maybe they don't.
Contrary to what some believe, the Warriors aren't built to be content with second best. They went 3-1 against the Clippers last year and have advanced the dynamic of their team with the addition of Andre Iguodala. Assuming Curry remains healthy, they'll be a force to be feared, even if you're the Clippers.
Winning against CP3 and friends on Halloween sends an early season message Los Angeles' way. Not only does it humble the much-improved Clippers, it reminds them that there's more to winning the division than just usurping the Lakers.
Curry and the Warriors are here too.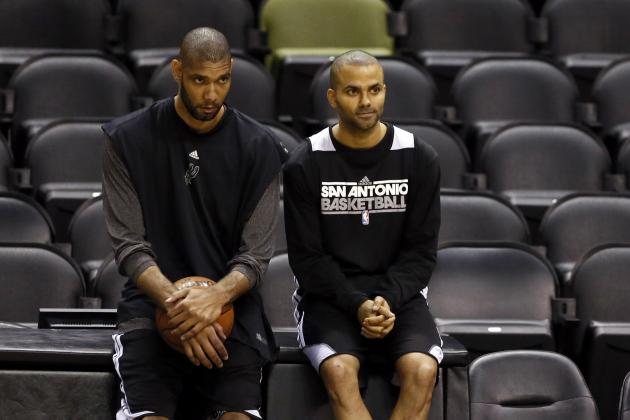 Soobum Im-USA TODAY Sports

Who: San Antonio Spurs at Miami Heat
When: January 26, 1 p.m. ET
Where: AmericanAirlines Arena in Miami
If you believed what the pundits were selling, the San Antonio Spurs' championship window had been closed for a while. It turns out those death certificates were grossly premature.
Had it not been for the cruel hands of the basketball gods last season, the Alamo City would've been celebrating its fifth NBA title since 1999. Instead, the franchise was doomed by some clutch free throws missed and a Ray Allen corner dagger at the end of regulation in Game 6.
Yet, San Antonio finds itself struggling to drive headlines once again. Given the roster upgrades of the Houston Rockets, L.A. Clippers and Golden State Warriors this summer, combined with the return of Russell Westbrook to the Oklahoma City Thunder, the defending Western Conference champs have been banished to the back pages.
This rematch of the 2013 NBA Finals gives the Spurs a chance to prove those doubters wrong once again. That is, of course, if Gregg Popovich decides to keep a full complement of stars in Miami this time around.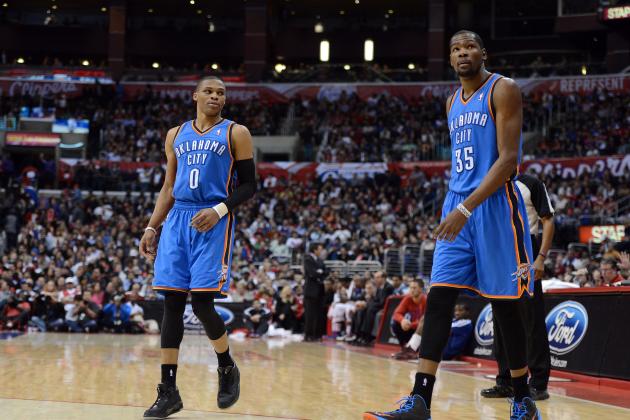 Harry How/Getty Images

Who: Oklahoma City Thunder at Los Angeles Clippers
When: November 13, 10:30 p.m. ET
Where: Staples Center in L.A.
The true effects of the Oklahoma City Thunder's financially motivated trade of James Harden last season have yet to be felt. For all of the criticism this franchise took in the aftermath, the Thunder still rattled off a conference-best 60 regular-season wins.
Oklahoma City's unceremonious second-round departure yielded no truths on the matter since a torn meniscus forced Russell Westbrook out of the rotation just two games into the postseason. With third-year guard Reggie Jackson ready to try his hand at the sixth-man spot, the Thunder have more to prove than a typical conference powerhouse.
This early season clash with the revamped Los Angeles Clippers should be a good barometer for Scott Brooks' squad. With so many potential new entries into the West's ranks of the elites, a statement victory in L.A. could help solidify Oklahoma City's standing at the top of the food chain.
Steve Mitchell-USA TODAY Sports

Who: Miami Heat vs. Chicago Bulls
When: October 29, 8 p.m. ET
Where: AmericanAirlines Arena in Miami
Defending champions always have a target on their backs, but James' Miami Heat have been wearing that bull's-eye since he made his infamous "decision" in the summer of 2010.
While challengers to their throne have risen and fallen in the years since, not one team has been more of a consistent threat than the Chicago Bulls.
The Heat are still wearing the battle scars from their five-game clash with an injury-depleted Bulls team in the Eastern Conference semifinals, and Chicago should have all of its fallen stars back for this opening-night contest.
James is a student of the game and has no doubt kept track of the roster improvements of the Brooklyn Nets and Indiana Pacers. But he knows better than anyone how great of a challenge a Derrick Rose-led Bulls team presents.
A victory in this game not only keeps a prime conference contender at bay, it also helps James' chances of securing his fifth MVP award in the last six seasons.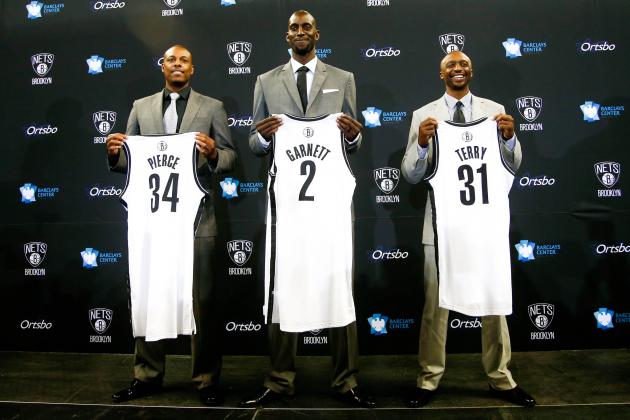 USA TODAY Sports

Who: Brooklyn Nets at Boston Celtics
When: January 26, 6:30 p.m. ET
Where: TD Bank Garden in Boston
Reunion games are often emotionally charged, but Kevin Garnett and Paul Pierce's return visit to Boston might require keeping an extra box of tissues within arm's reach.
Few players in today's game have embodied a franchise like this pair did with the Boston Celtics. From Pierce's unwavering confidence to Garnett's fiery competitiveness, this duo represented all of the organization's greatest characteristics.
Like anything in life, though, their tenure had to come to an end eventually.
This might not actually be a day that either player will look forward to, but it's one that both need to experience to fully move on to their next basketball chapter.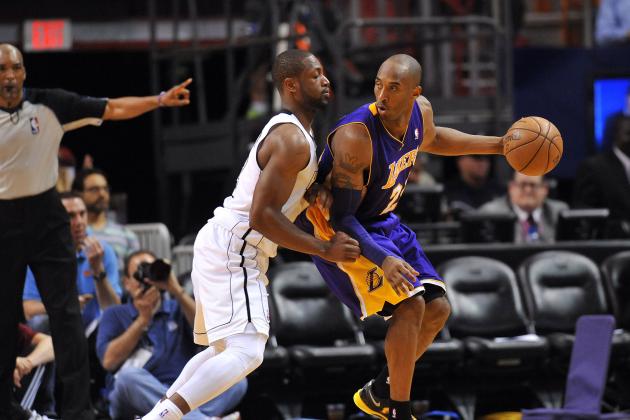 USA TODAY Sports

Who: Miami Heat at Los Angeles Lakers
When: December 25, 5 p.m. ET
Where: Staples Center in L.A.
Let's get this out of the way right now: Dwyane Wade and Chris Bosh were bad during the Heat's most recent playoff run. Really bad by their standards.
LeBron still managed to lead the Heat to another title, but while doing so, Bosh and Wade proved unreliable and, in Wade's case, fragile. They're going to want to erase such memories, and it would behoove them to do so before Miami's Christmas Day bout in Los Angeles.
No matter how well the two play to begin the season, though, rumors of LeBron's impending free agency won't cease to exist. Emerging as more consistent and equally as dominant as they were supposed to be in 2010 will help remind The Chosen One of why he fled to South Beach, but it won't stop conjecture.
Reminding him as to why he shouldn't join the Lakers will.
Talk of LeBron deserting Bosh and Wade—specifically Wade—to forge ties with an aging Kobe in Los Angeles is insulting. No amount of cap space will change the fact that the Lakers are starting from scratch next summer, even with LeBron. In Miami, he's already built something; he's already created an empire.
Defeating the Lakers on a national stage would be huge for a pair of complementary superstars who shouldn't want their championship festivities to end. Lose, and all Bosh, Wade and the Heat have done is given the Lakers more substance for their future sales pitch.
Brian Spurlock-USA TODAY Sports

Who: Indiana Pacers vs. Miami Heat
When: December 10, 7 p.m. ET
Where: Bankers Life Fieldhouse in Indianapolis
Paul George waged war with four-time MVP LeBron James in the 2013 Eastern Conference Finals and came out of the series looking even better than when he'd entered it.
Moments and matchups simply don't faze the former Fresno State star. He expects nothing but the best out of himself, and that confidence is shared by his blue-collar Indiana Pacers teammates.
They might have opened some eyes by pushing the eventual champion Miami Heat to the brink of elimination, but don't expect them to settle for the title of second best.
With Luis Scola, C.J. Watson, Chris Copeland and (a hopefully healthy) Danny Granger added to the rotation, it's a championship-or-bust mentality for Frank Vogel's team. George will play a big part in this club realizing its lofty goal, and the battle with James will be simply another opportunity for this Swiss Army Knife to showcase his elite-level skills.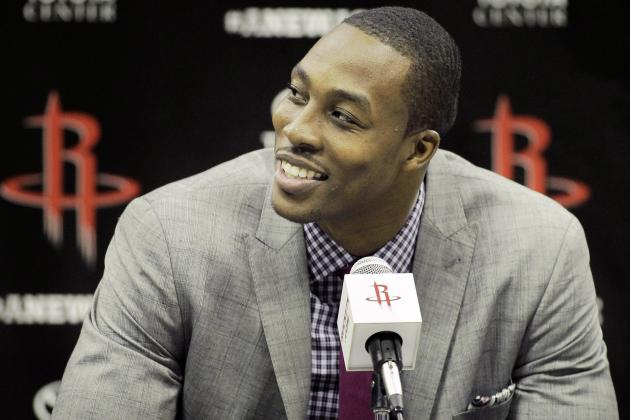 Bob Levey/Getty Images

Who: Houston Rockets vs. Charlotte Bobcats
When: October 30, 8 p.m. ET
Where: Toyota Center in Houston
Dwight Howard has played the villain role long enough. It's time for Superman to get back to his superhero roots.
Simply put, he's run out of excuses for failure.
He's no longer trapped in Mike D'Antoni's perimeter-oriented system, and he's now working for a Hall of Fame post player in Kevin McHale. He's not fighting to get out from under Kobe Bryant's shadow anymore, and James Harden has already shown a willingness to share, or even concede, the spotlight.
For the first time in a long time, the only thing Howard will be judged on is his basketball ability.
His Houston Rockets career simply can't get started quickly enough. So his date with Al Jefferson and the Charlotte Bobcats on the second night of the 2013-14 season becomes his most highly anticipated game by default.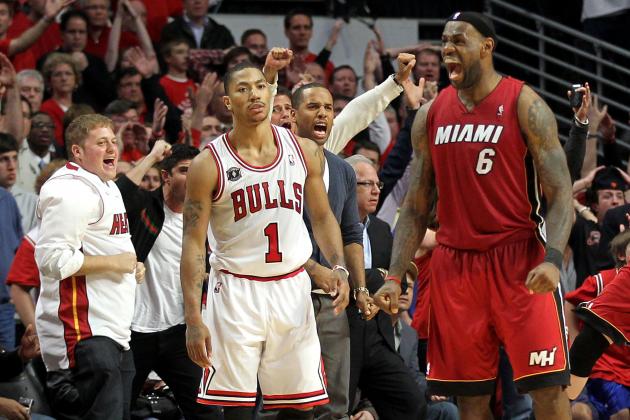 Mike Ehrmann/Getty Images

Who: Miami Heat vs. Chicago Bulls
When: October 29, 8 p.m. ET
Where: AmericanAirlines Arena in Miami
No player is looking forward to opening night more than Derrick Rose.
And really, that has little—if anything—to do with validating his decision to sit out the entire 2012-13 campaign while rehabbing his torn ACL. It's tempting to make his return bigger than it needs to be, but the sooner fans can put last season behind them, the better off they'll be.
This is simply his chance to get his career back on track and help his team scale basketball's greatest summit.
Rose told CNN's Pedro Pinto recently that he feels he's still the best player in the league. He won't have to wait long for the chance to back up that claim, as he's penciled in for an opening-night matchup with the only player other than Rose to have won an MVP award in the last five seasons (LeBron James).