The 10 Best Games of LeBron James' Miami Heat Tenure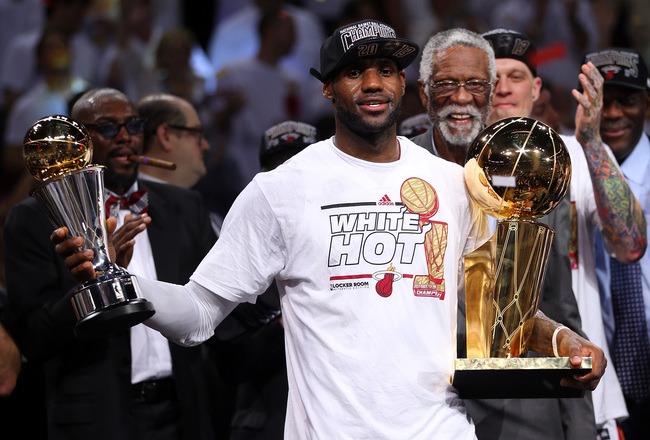 Mike Ehrmann/Getty Images
It honestly doesn't seem like it has been three years since LeBron James jumped ship from the Cleveland Cavaliers to the Miami Heat.
Time flies when you're having fun.
LeBron has done a lot of that over the past three seasons, even with the always fixated eye of the NBA world glaring at him. Despite the calamity and distractions that have constantly tried to derail his career, LeBron has done what was once thought to be impossible by improving his overall line of work.
Since leaving Cleveland, the future G.O.A.T has only added to his game. He tacked on a post game and an improved jumper that flourished in a remarkable 2012-13 season that had him winning league MVP and setting the seventh-highest PER in NBA history.
James, Michael Jordan and Wilt Chamberlain are the only players in the top 10 in PER. LeBron is in the top 11 four times, including the past two MVP seasons with the Heat.
He's become such a polarizing figure that we almost forget he's surrounded by future Hall of Famers in Dwyane Wade, Ray Allen and Chris Bosh. It's no disrespect to any of those players. It's just that LeBron is in a league of his own, and has separated himself even from the greats of today.
Nobody in today's game can compare to LeBron after the past two years he's had. Two championships, two league MVP's, two Finals MVP's, a gold medal, and it's even arguable that he deserved one of the past two Defensive Player of the Year awards. It's all in a season's work for the four-time MVP.
To truly get an understanding of how LeBron conducts himself on the court, one has to watch any of his games. He puts in an effort on both sides of the court with such efficiency and mastery over the game that it almost seems impossible to believe it could happen on a daily basis.
Yet, here we are narrowing down LeBron's 10 best games of his Miami Heat tenure, which has only been three years. It's incredibly difficult because of the number of gaudy box scores and significant moments LeBron has shown in.
Knocking down LeBron's 10 best games over the past three years wasn't easy. In fact, there are at least 10 or 15 games that could easily be swapped out with the number 10 on this list.
Consider it a testament to LeBron's out-of-this-world consistency.
All statistics via basketball-reference.com.
10. March 1, 2012: At Portland
Points: 38; 13-of-22 overall, 2-of-2 from three, 10-of-12 from foul line
Rebounds: 11, 2 offensive
Assists: 6
Steals: 5
Blocks: 1
I was in heavy debate with myself wondering which game of LeBron's gets the number 10 spot.
Obviously, there were many options. I could have easily gone with his Game 7 against Indiana where he simultaneously dominated on offense and shut down Paul George. I could have gone with either Game 4 or 6 against the San Antonio Spurs. I could even have gone with the triple-double clincher in Game 5 of the 2012 Finals.
I could have chosen any of those and there would still be an argument in the comments section. So I decided to choose none of them, leaving them in a lengthy list of honorable mentions.
What I ended up choosing was this disgusting box score of LeBron's in an otherwise forgotten late-season game on the road in Portland. Basketball-reference.com's Game Score for this contest is the highest of the 2011-12 regular season for LeBron. That stems from LeBron having at least five of each stat in four separate categories, but also from the fact that he had zero turnovers.
In 41 minutes, James didn't turn the ball over on a single occasion. He dominated at every facet of the game on both sides of the floor in an easy win that also featured Dwyane Wade going off for 33 points and 10 assists.
LeBron's offensive rating was 156 and his defensive rating was 92, making notable defenders in Gerald Wallace and Nicolas Batum his personal whipping boys for the night.
It's nothing to feel bad about, though. It honestly happens to the best of them. It's simply the power LeBron has over those from this dimension.
9. February 14, 2013: At Oklahoma City
Points: 39; 14-of-24 overall, 4-of-8 from three, 7-of-9 from foul line
Rebounds: 12, 3 offensive
Assists: 7 assists, 4 turnovers
Steals: 2
Blocks: 0
Gentlemen, was it worth pissing your lady off by staying in and watching LeBron have a performance for the ages in an NBA Finals rematch with Kevin Durant and the Oklahoma City Thunder?
No matter the response, the answer has to be yes.
Miami was looking to sweep the season series against a Thunder team that could have very well been their Finals opponent in 2013 if not for Russell Westbrook's knee injury. The Heat had won the first meeting on Christmas, but LeBron's 29 points, nine assists and eight rebounds simply weren't enough if he wanted to create a significant distance between himself and Durant, a potential usurper of LeBron's throne.
The statement was officially made in Miami's blowout win over the Thunder. The Heat led by 23 midway through the third quarter, mostly courtesy of LeBron hitting his usual shots that have no right going in, including an incredible series of shots to conclude the first half.
Oklahoma City would cut Miami's lead to as little as 11, but were met by LeBron scoring six of Miami's nine points over the next three minutes. Kevin Durant would end up outscoring LeBron by one, but nearly half his points came in a fourth quarter that featured Miami with a 19-point lead going into the final 12 minutes.
Miami also proved once again that nobody on the Thunder can guard LeBron. The Thunder defended James with the likes of Thabo Sefolosha and even Russell Westbrook while keeping Durant away from him for the most part.
Needless to say, the Heat would still rather see Oklahoma City more than any other elite team out West in a Finals setting.
8. March 29, 2013: At New Orleans
Points: 36; 13-of-20 overall, 7-of-10 from three, 3-of-5 from foul line
Rebounds: 4
Assists: 6, 3 turnovers
Steals: 2
Blocks: 0
It was supposed to be like any other game in late March. It was supposed to be just another prequel to the main feature that is the NBA postseason. The Heat playing the New Orleans Hornets was something that neither team was exactly waiting for. Miami was safely in a No. 1 seed and the Hornets were playing out the end of an underwhelming season.
Leave it to LeBron to captivate fans on what was supposed to be any other weekday at the end of the prolonged regular season.
A slow start in the opening minutes of the first was completely forgotten about once James hit three consecutive three-pointers in the span of one minute, 10 seconds. He scored Miami's final 11 points of the quarter to give the Heat a 32-22 lead going into the second.
He was only getting started.
Miami's first possession of the second resulted in a LeBron three, obviously. He'd proceed to hit two more within the first next four minutes, scoring 13 of Miami's first 15 points. By the 8:26 mark of the second, LeBron was already 6-for-6 from beyond the arc.
The first-half three-pointers were a new career-high for LeBron.
The Heat were already up 20 by that point and LeBron's onslaught of threes was no longer needed. He'd make one more just to remind us that he's as close to immortal as we're going to get in today's game.
Miami would make 14 three-pointers as a team and would beat the Hornets by 19.
7. February 26, 2013: Vs Sacramento (2OT)
Points: 40; 14-of-23 overall, 1-of-2 from three, 11-of-12 from foul line
Rebounds: 8, 3 offensive
Assists: 16, 2 turnovers
Steals: 2
Blocks: 1
When an opponent plays the Heat, it's not treated like any other game. The Sacramento Kings playing the Miami Heat isn't exactly the same as if they were playing, say, the Detroit Pistons. Because of this, you get stronger, inspired play from role players and fringe players that may not always show up on most nights.
For the Kings, it was Marcus Thornton, who averaged 13 points last year, coming off the bench and hitting eight three-pointers en route to 36 points. As a team, the Kings made 14 threes. Even John Salmons reminded us that he's still an NBA player, finishing with three three-pointers.
Miami obviously needed a huge effort on their end to neutralize incredible shooting games by guys who caught the holy ghost.
They ended up getting three. Ray Allen would score 21 points on 5-of-10 from three off the bench and Dwyane Wade would drop 39 points on 68 percent shooting. Classic games from both players.
Naturally, they were outshone by LeBron, who has done a fairly good job of overshadowing Dwyane Wade's career accomplishments over the past decade.
Besides scoring a game-high 40 on only 23 shots, James also dished out a career-high 16 assists, although it came it double-overtime, and only turned the ball over on two occasions. He played 15 seconds short of 48 minutes, his offensive rating was 154 and had a Game Score of 44.2, per basketball-reference.
Of course he had the dagger three-pointer. What kind of question is that?
6. February 4, 2013: Vs. Charlotte
Points: 31 points; 13-of-14 overall, 5-of-6 from foul line
Rebounds: 8
Assists: 8 assists, 5 turnovers
Steals: 2
Blocks: 0
LeBron came a missed fast-break layup and a free throw away from having the perfect offensive game.
The perfectionist that he is, it wouldn't come as a surprise if LeBron is still thinking about that easy layup he missed that would have him end the night shooting a perfect 14-of-14. Either way, LeBron's going to have to settle for a 13-of-14 shooting night against a Charlotte Bobcats team that had no answer.
He finished with a shot chart that featured no field-goal attempt being taken further than nine feet from the basket. He beat up Charlotte's defenders in the post all night and made a conscious effort to drive whenever he initiated his offense from the perimeter.
That post game James added into his repertoire is still one of the most significant events to happen to his career. It's not only won him a championship, but has also made it easier for LeBron to keep his energy level maintained and given the Heat a new dimension to an offense that was once considered stagnant.
Against Charlotte, it gave him the highest field-goal percentage of his career. He shot 93 percent overall, had a true-shooting percentage of 93 percent and an effective field-goal percentage of 93, as well.
But it still almost wasn't enough. Charlotte had a chance to tie late, before a Dwyane Wade steal under the Bobcats' basket turned into a Chris Bosh dunk off a LeBron assist. Miami ended up winning 99-94, but nobody noticed because of the night LeBron had.
Oh, and he also had time to grab eight rebounds and dish out eight dimes.
5. May 20, 2012: Game 4 vs. Indiana
Points: 40; 14-of-27 overall, 12-of-16 from foul line
Rebounds: 18, 6 offense
Assists: 9, 5 turnovers
Steals: 2
Blocks: 2
The Miami Heat looked done for, and they hadn't even reached the midway point of the semifinals.
With Chris Bosh sidelined by an abdominal injury and the team coming off an embarrassment of a performance that featured only 75 points being scored two nights before, the Heat looked to be in bad shape against a rejuvenated and confident Indiana Pacers team that had home-court advantage after winning Game 2 on the road.
Changes had to be made. Miami wasn't going to find a replacement for not only Bosh's presence, but for his scoring as well. Chris Andersen was still with the Denver Nuggets and the likes of Shane Battier and Ronny Turiaf were taking turns guarding David West and Roy Hibbert.
Miami's 101-93 Game 4 victory, which prevented the Pacers going up 3-1 in the series, will always resonate in everyone's minds because it was one of the greatest displays of two perimeter players clicking and making things work.
It was Dwyane Wade and LeBron James playing as we were all hoping they would when first signing to play together back in the memorable summer of 2010. And while Wade was busy following up one of the worst playoff performances of his career with a 30-point output on 23 shots, LeBron was busy doing, well, everything.
He knew his team needed scoring, so he dropped 40 points and continually got to the line. He knew his team needed rebounding, so he recorded a postseason career-high 18 caroms. He knew his team needed shot-blocking, so he rejected two Pacer shots.
Their third quarter, which featured Miami with a 30-16 advantage, is something that still needs to be seen to be believed.
Udonis Haslem would add the finishing touches in the fourth. The Game 4 victory was the first of three straight that would eventually send Miami to their second consecutive Eastern Conference Finals.
4. December 2, 2011: At Cleveland
Points: 38; 15-of-25 overall, 2-of-7 from three, 6-of-9 from foul line
Rebounds: 5
Assists: 8
Steals: 1
Blocks: 1
This was LeBron's first display to his new fanbase of what he is capable of.
He's not great just because of the things he does and the way he does them, but because of his ability to know when to do these things. He recognizes every piece of the environment that surrounds him, observes the significance at hand and then performs his usual mastery over a game that cannot be beaten.
There were few games in LeBron's first season with the Heat more anticipated than his first return to Cleveland, which the schedule-makers smartly placed within the first month-and-a-half of the season. By placing it so soon, the fervor, disdain and hurt that had stemmed from LeBron's decision a few months prior was still swarming in the mind of every Cavaliers fan.
The Cavs fanbase was only given 30 minutes to jeer LeBron, with the exception of the pregame shootaround where James was also mercilessly chastised. Once the game rolled around, however, Cleveland was given a show that it had seen more times than any city had ever seen.
LeBron would score 10 of his 38 points on the night in the first and the game was essentially decided by the end of the first 24 with Miami already up 19. With the game firmly in grasp, James performed a disservice to Cleveland that had once been an appreciated service to the same fanbase.
The 24 points LeBron scored in the third quarter is tied for the most points he has ever scored in a third quarter. The myriad of ways he scored was so devastating that the once raucous Quicken Loans crowd had turned silent early in the third quarter.
Of course, there was nothing left to cheer about with the Heat up by as much as 38.
This was the only game of the 2010-11 season where LeBron committed no turnovers.
3. February 3, 2011: At Orlando
Points: 51; 17-of-25 overall, 3-of-5 from three, 14-of-17 from foul line
Rebounds: 11, 2 offensive
Assists: 8, 3 turnovers
Steals: 1
Blocks: 1
A mark that he's only come within six points of since setting it, LeBron James' 51 points that he scored against the Orlando Magic continued a long tradition of the four-time MVP performing a great deal of damage to that team in particular.
LeBron has dropped 37 points per in an entire series against the Magic, which included a postseason career-high 49 points in a Game 1 loss. Somehow he found a way to even top himself by setting an output total that has yet to be touched in the past two seasons.
He scored 23 of those 51, on an extremely efficient 25 field-goal attempts, in the first quarter and would drop another 22 in the second half, including 11 in the fourth. He made his first 11 field-goal attempts and provided the Heat with a 16-point lead going into the fourth.
Orlando would go on a frantic comeback to get it close in the final minute, but LeBron hit a three-pointer that put an end to any chance of a comeback. He continues to earn top-dollar for being a professional dream-killer and heart-stopper, and the Magic always seem to be at the other end of this.
Maybe it's Dwight Howard's fault? LeBron also had himself a huge game against the Los Angeles Lakers this past season.
Or not. Because James also scored 35 in an overtime win over the Magic this past year, too. Maybe he's just really good at basketball?
2. June 20, 2013: Game 7 vs. San Antonio
Points: 37; 12-of-23 overall, 5-of-10 from three, 8-of-8 from foul line
Rebounds: 12, 3 offensive
Assists: 4, 2 turnovers
Steals: 2
Blocks: 0
You know how great of a player LeBron James is? The fact that he scored 37 points and hit the dagger jumper in the final seconds of Game 7 of the NBA Finals and it's still not the top game of his tenure with the Miami Heat.
That tenure, by the way, has only been three years. It always seems like LeBron has been with the Heat for a decade, but it's only been three years. The three years are just elongated because he's constantly in a 24-hour news cycle that accentuates each and every last game, moment and movement of James' time with the Heat.
Arguably the second-best game of LeBron's time with the Heat was his last, coming after the best game in Heat franchise history.
Following Miami's harrowing 103-100 overtime victory to preserve their championship, there was still a Game 7 to play and many wondered whether either the San Antonio Spurs could bounce back or if LeBron had enough energy in him to will the Heat to a second consecutive championship.
After several games of LeBron lacking his usual gaudy numbers, perhaps because of extremely intense series against Chicago and Indiana, James had finally got it going once Game 4 rolled around. LeBron dropped less than 20 points in his first three games of the Finals, but followed it up with four straight games of at least 25.
Naturally, no performance was better than Game 7, because that's what players who aren't "clutch" do.
LeBron hit a postseason-high five three-pointers, scored a postseason-high 37 points, made all of his free throws, shot 52 percent overall and hit the jumper that turned a two-point Heat lead into four in the final seconds. He did this in Game 7 of the NBA Finals, in case you needed a reminder.
Miami won 95-88 and their second consecutive title, and LeBron was the Finals MVP for the second time in as many years.
1. June 7, 2012: Game 6 vs. Boston
Points: 45; 19-of-26 overall, 2-of-4 from three, 5-of-9 from foul line
Rebounds: 15, 2 offensive
Assists: 5, 4 turnovers
Steals: 0
Blocks: 0
One of these days, I'm going to find the creator of the "LeBron isn't clutch" idea and shove a basketball down their throat.
Because it's a lie, this idea of LeBron James being a player who wilts under pressure and fails to come through for his team. It was a ploy initiated by those disappointed in LeBron for not doing his usual Atlas impression in 2010, then enabled by the popular voices of the mainstream media that put it in our heads that LeBron somehow did this on a nightly basis.
How easily they forgot LeBron dropped 45 in a Game 7 loss against Boston in 2008. How easily they forgot LeBron averaged 37 points per game in a six-game series loss to the Orlando Magic. How easily they forgot LeBron scored a cool 48 to get his Cleveland team to within a game of the Finals in 2007.
But no event proved more otherwise than the Heat's Game 6 against the Boston Celtics in the 2012 Eastern Conference Finals.
Following three consecutive losses to Boston, including a heartbreaker of a home loss in Game 5, that media machine was back spouting off its usual unintelligible tirades and inane rants. One of ESPN's most watched shows had one side of the argument saying LeBron was a choker. The other? The Miami Heat were done for and the team was going to get broken up.
All of this, and the Heat hadn't even played Game 6 yet. To summarize a portion of T.S. Eliot's 'Tradition and the Individual Talent', one must know of the history of what they're speaking of before actually writing or speaking. Clearly, this did not exist when we were throwing dirt on the Heat's still-open casket.
And when LeBron dropped 30 points to give Miami a ten-point lead going into the half, we were not surprised but relieved. Relieved to know that LeBron was still in possession of those traits and characteristics that he was apparently devoid of only the morning of that very same game.
In the biggest game of his career; in one of the most hostile environments; in the game that was going to have everybody talking the next day, win or lose, LeBron put on a spectacle to behold. He single-handily dominated the Celtics before Dwyane Wade began to produce in the fourth to give Miami an insurmountable lead that exceeded 20 midway through the fourth.
He had 41 points by the start of the fourth. LeBron played nearly 45 minutes, but could have played the entire game had it been close in the fourth.
Instead, he gave the Heat a 19-point victory, bought some more recovery time for Chris Bosh and held Paul Pierce, one of the league's great "clutch" performers, to nine points, the lowest of any starter that night, on 4-of-18 shooting to go along with 0-of-6 three-point shooting.
The win led to a Game 7 back home in Miami where, once again, LeBron would come through scoring 31 points and grabbing 12 rebounds in the victory that would have the Heat five games away from winning its first title in the 'Big Three' era.
Keep Reading

Miami Heat: Like this team?