Ohio State Football: 13 Ways You Know You're a Buckeyes Fan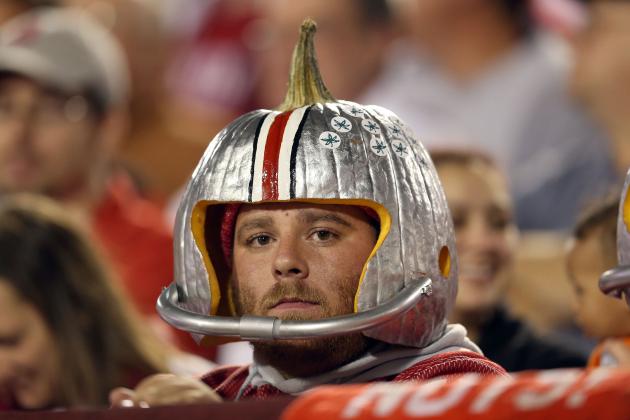 Andy Lyons/Getty Images

With no professional football, basketball or baseball team calling Columbus home, Ohio's capital city is largely populated by a group of starved sports fans.
The one major outlet for Columbus residents, of course, is the Ohio State football team.
That's one of the many reasons Ohio State has one of the most passionate fanbases in all of college football. More than 100,000 people fill Ohio Stadium to the brim on fall Saturdays to watch the Buckeyes, and according to smart people with fancy degrees, math proves that Ohio State fans are the best in the Big Ten.
Are you part of this prestigious group? Can you truly call yourself a Buckeyes fan?
Here are 13 ways to find out.
Begin Slideshow

»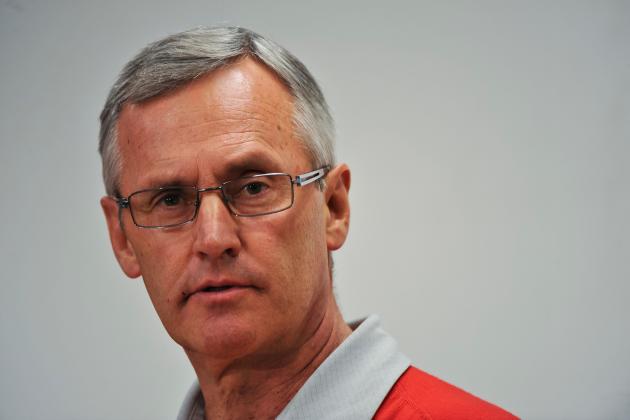 Jamie Sabau/Getty Images

Jim Tressel was without question one of the most successful coaches in Ohio State history, but his brand of football took years off the lives of many Buckeyes fans.
Tressel-Ball was a strategy Ohio State's former coach used often, especially when the Buckeyes were playing with a lead. The offense would morph into a predictable, run-heavy machine in an effort to avoid turnovers.
The obvious downfall was that it made a lot of games much closer than necessary. In fact, the last game Tressel coached was one he nearly blew because of this strategy.
Buckeyes fans don't have to worry about that now with Urban Meyer at the helm, but even thinking about the old offensive philosophy is, at best, unpleasant.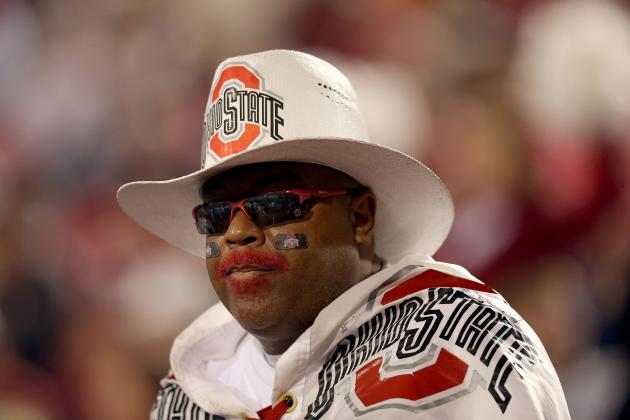 Andy Lyons/Getty Images

John Chubb, known as the Buck-I-Guy around the country, isn't just that dude ESPN cameras always find.
Buckeyes fans who have been to enough games have inevitably run into Chubb, who is seemingly everywhere in Columbus on game day.
His red-painted mustache is much more majestic in person.
The Mirror Lake Jump is one of the oddest Ohio State traditions, but as the video above proves, it's one that Ohio State students take seriously.
On the Tuesday before the Ohio State-Michigan game (it used to be Thursday, but was moved to Tuesday when the Big Ten schedule extended past Thanksgiving weekend), Ohio State students ignore the chilling temperatures and jump into the ice-cold Mirror Lake.
Last year, temperatures dipped into the mid 40s when these college kids made the jump. Some might think that's crazy, but for true Ohio State fans, it's just a casual dip on a cool November night.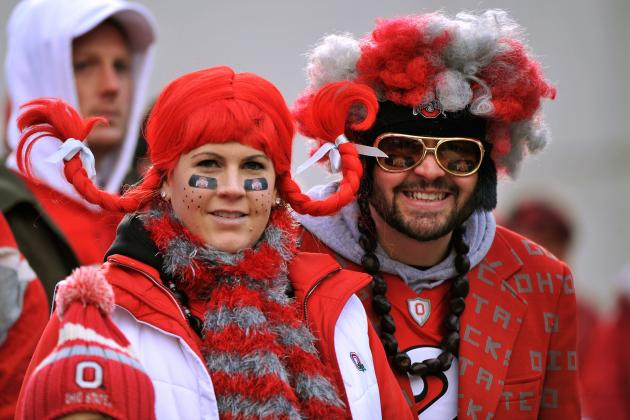 Jamie Sabau/Getty Images

Columbus has a number of lively bars and locations for tailgating, but few, if any, are more popular than The Varsity Club.
Located less than 500 yards from the stadium, The Varsity Club is the perfect place for Buckeyes fans to get some warm food and cold beer. The pizza is good, but the atmosphere is better.
Not many college students have a strong knowledge of music from the 1960s, but when it comes to The McCoys' Hang On Sloopy, Buckeyes' fans know every word.
That's because the song was named Ohio's official rock song by the Ohio General Assembly in 1985. The song quickly took hold with Ohio State fans, and now, playing it inside Ohio Stadium is a gameday tradition.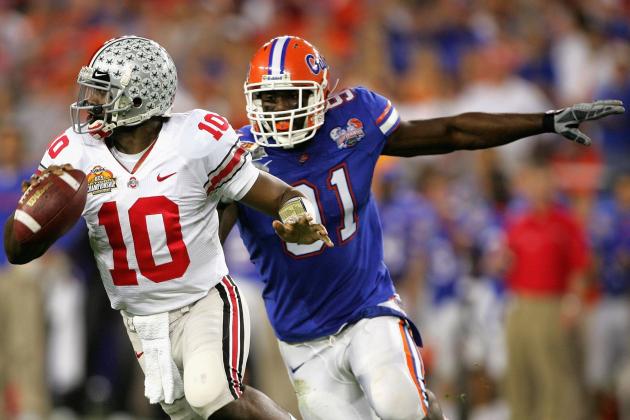 Doug Pensinger/Getty Images

Your only recollection of that January night is when Ted Ginn Jr. took the game's opening kickoff 93 yards for a touchdown.
You remember a celebration in the end zone, and you vaguely remember Ginn getting injured in the pile, but after that, there's nothing.
You don't remember how Florida limited Heisman Trophy-winning quarterback Troy Smith to an unbelievable six yards of total offense. You don't remember Ohio State's defense hemorrhaging big play after big play to the Gators offense. You don't remember the stunned silence that likely engulfed your living room or man cave as you watched the horror unfold.
OK, you probably remember all of that, but you pretend not to.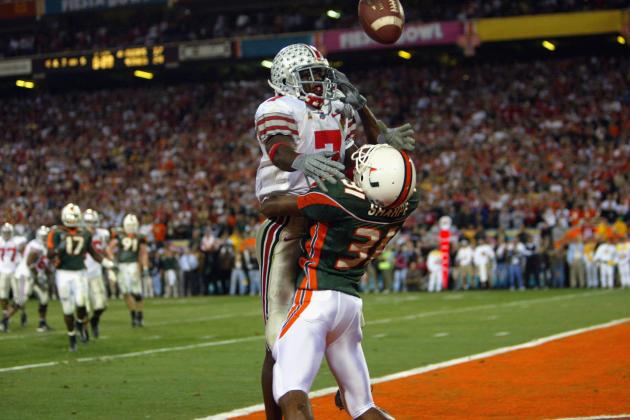 Jamie Squire/Getty Images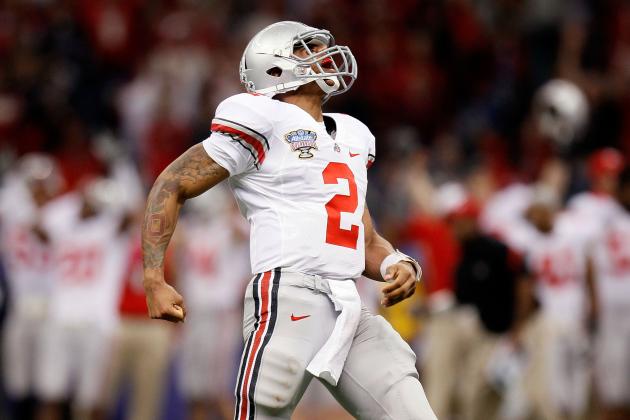 Kevin C. Cox/Getty Images

You've done a good job putting the scandal that rocked your favorite school behind you, but enemy fanbases aren't so forgetful.
The tattoo-for-memorabilia fiasco that ultimately cost former coach Jim Tressel his job put an enormous stain on the university's brand, and fans of other schools, especially that one up north, find tremendous pleasure in reciting their tired and unoriginal jokes.
It might be a different story if the jokes were funny. They're not, but unfortunately, there's not much you can do about it.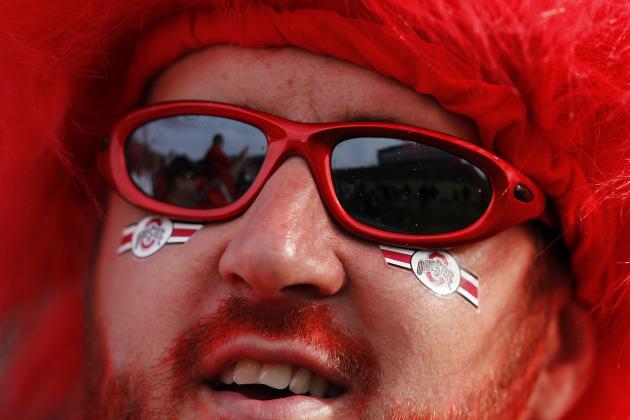 Joe Robbins/Getty Images

You might be on vacation, resting on the beach as the calm ocean waves kiss the sand on your toes. You might be walking through the mall, trying to keep up with your significant other as he or she shops for hours on end. You might be at a restaurant enjoying a long-overdue night out.
But when someone screams, "O-H," you have no choice but to respond with a hearty, "I-O!" It's not a choice; there's something in your body that prevents you from going on with whatever you're doing until you complete that four-letter call.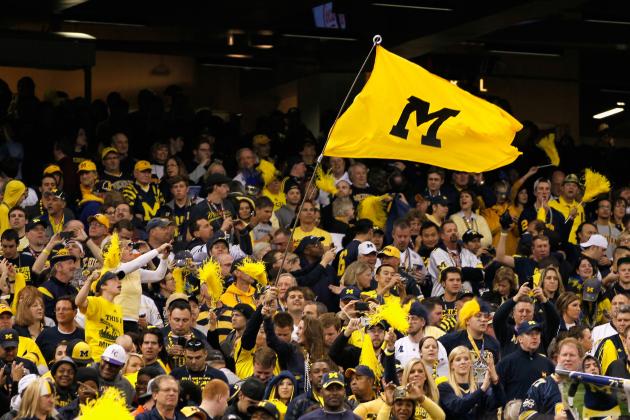 Kevin C. Cox/Getty Images

Grant Reed, a 12-year-old, made waves this summer when news broke that he named his brain tumor Michigan.
It was a gesture that even Ohio State's biggest rival couldn't help but support, and rightfully so, but it wouldn't be surprising to see this trend toward every day references in Columbus.
"Honey, bring me the Michigan, I clogged the toilet again."
On second thought, maybe we should just let Reed have this one.
Greg Bartram-USA TODAY Sports

Afternoon games are fun, sure, because you have the evening to get back home or to wherever you're tailgating to watch more football.
But night games at Ohio Stadium are a different kind of experience.
The lights make the sea of red seem infinite, and the anticipation for the game creates an electric atmosphere.
It also helps when the student section has all day to, well, pregame.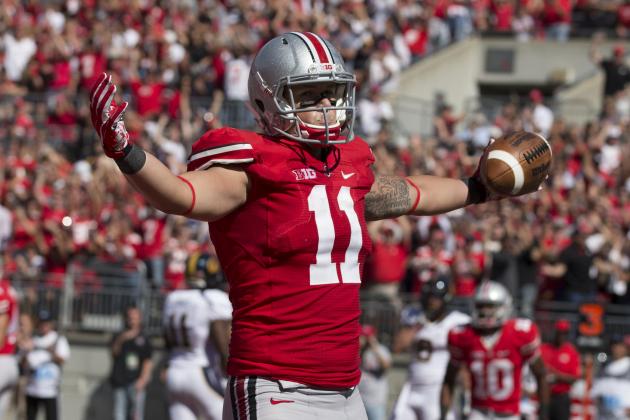 Greg Bartram-USA TODAY Sports

It's almost a preseason tradition for Ohio State fans to get excited about whoever is starting at tight end.
It's an empty hope.
Not one Ohio State tight end has caught more than 25 passes in a single season in more than a decade, yet for some reason, Buckeyes fans annually think, this is the year Ohio State gets the ball to the tight end.
That was most certainly supposed to be the case last year, when Urban Meyer brought an offense that heavily features that position in its passing game.
The result? Ohio State's two tight ends, Nick Vannett and Jeff Heuerman, combined for 17 receptions, 217 receiving yards and one touchdown.
After a year like that, it would almost make sense to temper our expectations here, right?
Awards watch: Bucks expect big things from Jeff Heuerman this fall. What are odds he can make a push for Mackey? http://t.co/YwwXXJi90v

— Austin Ward (@AWardESPN) July 9, 2013
Well, maybe not.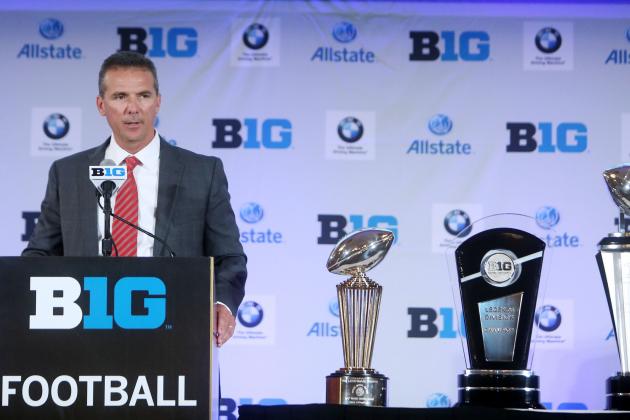 Jerry Lai-USA TODAY Sports

It was Meyer who started the SEC's string of national titles in 2007 when his Florida Gators rolled your Ohio State Buckeyes.
You want nothing more than for him to stop what he started by taking Ohio State back to the title game and beating an SEC team.
It would almost be poetic justice if that happened, like a movie that ends almost too perfectly.
If you're a true Ohio State fan, though, there's nothing you want more.