Bengals Stock Watch: Players Rising and Falling Through 2 Weeks of Camp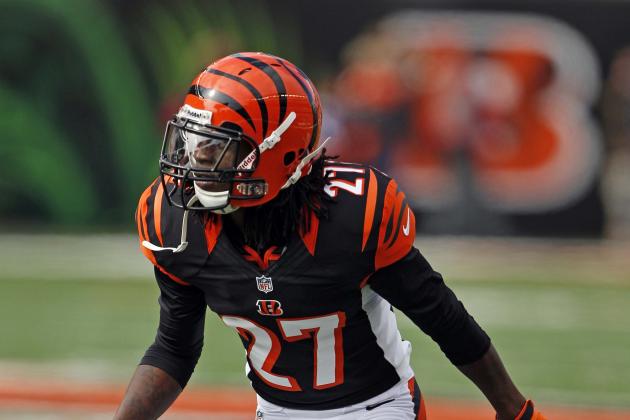 Frank Victores-USA TODAY Sports

Cincinnati Bengals training camp has provided some shocking twists and turns already, well befitting of a team taking center stage on the 2013 edition of HBO's Hard Knocks.
Injuries, roster battles and some unexpected surprises have led to some wild stock fluctuations on an individual player level.
The official release of the team's depth chart did nothing but reinforce just how crazy Bengals training camp has been thus far.
Of course, some things remain predictably boring. Wide receiver A.J. Green went down with a slight knee injury that will hold him out of the team's preseason opener in Atlanta, but there obviously has not been any movement as far as his standing on the depth chart.
Other developments are not so redundant. In the following slideshow we'll take you on a tour of various stock developments that are a bit unexpected.
Whether it's an injury providing an opening or a player shocking the coaching staff (or vice versa), here's an updated look at a Bengals stock report two weeks into training camp.
Note: All depth chart information comes from the team's official site.
Begin Slideshow

»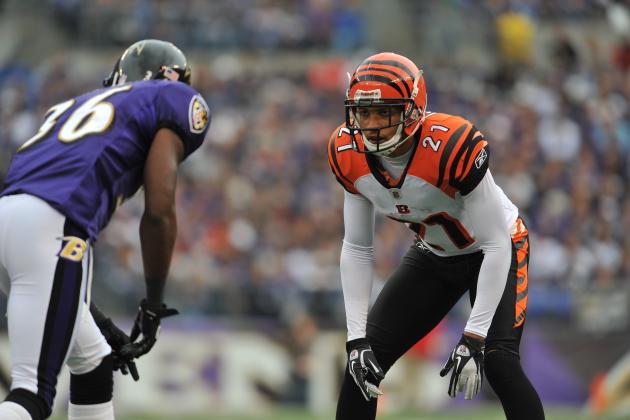 Larry French/Getty Images

So far Brandon Ghee has experienced what you could call a tumultuous journey in the NFL after joining the Bengals back in 2010 out of Wake Forest.
Thanks to a plethora of injuries, Ghee has only appeared in 13 games in three years. He missed all of the 2012 campaign.
Ghee is on the comeback trail now and is once again impressing the coaching staff. His impact through camp to this point has resulted in his ranking on the depth chart behind only Leon Hall and Terence Newman.
This means Ghee is ahead of both 2012 first-round pick Dre Kirkpatrick and fellow roster hopeful Shaun Prater.
Ghee has always had the potential to be a significant contributor at the NFL level thanks to his 6'0", 195-pound frame and solid coverage skills. He's riding a wave of momentum right now and has even shown the tenacity to fight through an early injury to keep on wowing the coaching staff.
If you couldn't tell by the positive notes about Brandon Ghee in the preceding slide, things are getting off to a slow start for second-year corner Dre Kirkpatrick.
Kirkpatrick is essentially entering his rookie year after having spent most of last season watching from the sidelines thanks to injury. That's not a horrible thing as Kirkpatrick was able to spend the season soaking up knowledge from veterans Leon Hall and Terence Newman.
That same positive Hall and Newman represent are a negative for Kirkpatrick's chances at playing time this year. Hall is entrenched and Newman is not going anywhere after rejuvenating his career under coordinator Mike Zimmer, whom he played for in Dallas.
Geoff Hobson of the team's official site wrote back in July that he expected Kirkpatrick to spend next season behind the aforementioned duo, as well as slot corner Adam Jones.
That's fine, but the fact Kirkpatrick is also behind Ghee in the first depth chart of the preseason should catch your eye. It's extremely early, but anytime a former first-round pick of only a few years is listed at No. 5 on the depth chart, it is worth noting.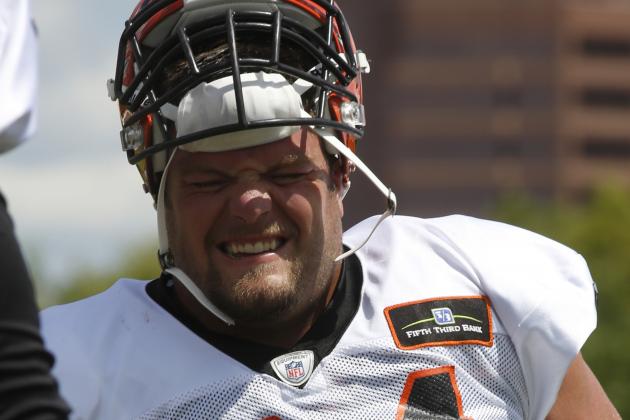 David Kohl-USA TODAY Sports

Believe it or not, one of the bigger battles taking place in Bengals training camp is not receiving as much attention as it deserves.
There's a battle at center getting underway between five-year vet Kyle Cook and undrafted second-year player Trevor Robinson.
Cook only saw action in four games last season thanks to injury. Geoff Hobson of the team's official website reports Cook is ahead of Robinson in the battle for the starting gig at this point.
It's a bit of a surprise as Robinson was thought to be good competition for Cook, who last played in a 16-game season back in 2011, where he ranked as the No. 25 overall center according to Pro Football Focus (subscription required) on a list that measured 35 players.
Nonetheless, so far Cook's stock is rising as he takes command of the battle at center.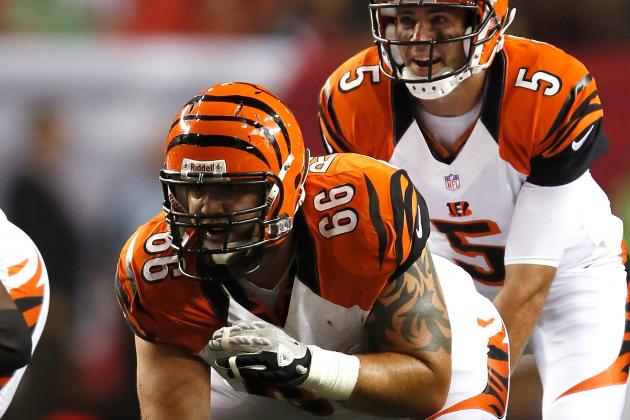 Kevin C. Cox/Getty Images

On the other hand you have Trevor Robinson, the undrafted free agent out of Notre Dame who was asked to step in and play 13 games last season.
Robinson is losing the battle with Kyle Cook so far in camp and it's not really that big of a surprise. Remember the rankings for Cook we mentioned in the previous slide? Robinson did not fare much better in 2012.
Last year, Robinson ranked as the No. 26 overall center in Pro Football Focus' rankings (subscription required). The list compiled and ranked 36 players at the position.
In other words, Robinson performed about the same as Cook had a year before.
Robinson is still nursing a pectoral injury and has plenty of time to bounce back, but for now, his stock is swirling around the drain.
Second-year tight end and fullback Orson Charles is perhaps the man causing the biggest ruckus out of Bengals training camp thus far.
Charles finds himself in a new H-back role with Jermaine Gresham and rookie Tyler Eifert hogging up the playing time at tight end.
In this new role, Charles will be asked to line up at fullback, a position he's listed No. 1 at on the new depth chart. He has the early lead on John Connor and Chris Pressley—who is currently watching from the sidelines as a member of the PUP list.
According to ESPN's Jamison Hensley, Charles has "been among the most pleasant surprises."
Charles is pound-for-pound one of the best blockers on the Cincinnati roster and will provide unique mismatches for teams in his new role. Expect his stock to remain in the clouds.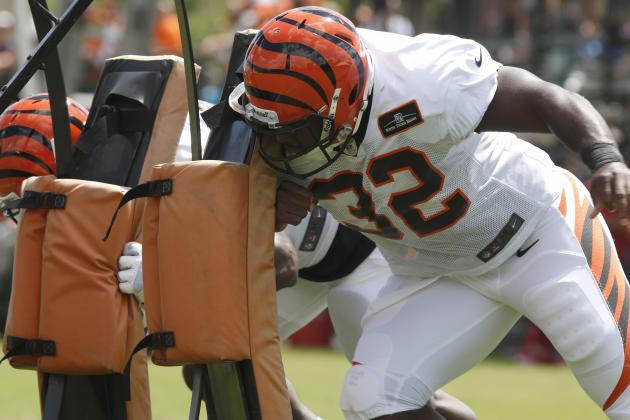 David Kohl-USA TODAY Sports

For every rise in stock there is a matching tumble to balance things out. This is the case for fullbacks John Connor and Chris Pressley, with Orson Charles making waves as a hybrid player in multiple roles.
Both Pressley and Charles are fullbacks in the traditional sense. The problem is bruising lead-blockers that offer little in the passing game are beginning to go the way of the dinosaur in the NFL (Just ask Vonta Leach—one of the NFL's best who just re-upped with Baltimore—how his search for more money on the market went).
In the confines of the Cincinnati offense, a traditional fullback is not a requirement. On the occasions coordinator Jay Gruden elects to utilize one, he'll have access to Charles—who has more than proven to be up to task.
With Pressley injured and Connor only around to fill that void, the emergence of Charles has put the stock of the traditional fullbacks on the roster at an all-time low. Don't expect that to change.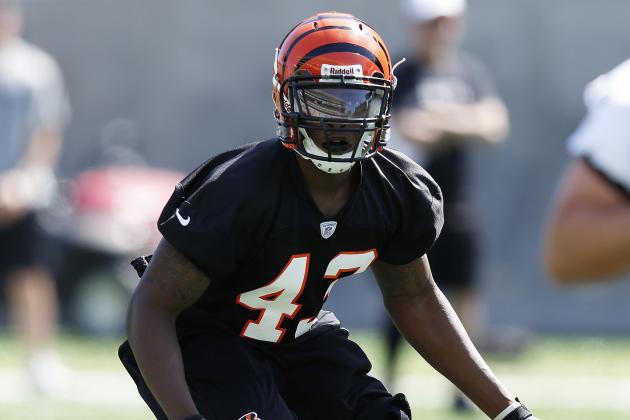 Joe Robbins/Getty Images

Not many could have predicted coming into the preseason that George Iloka, a second-year safety out of Boise State, would be named the starting strong safety when the official depth chart for Cincinnati was released.
His competition either has more experience in the system (Taylor Mays) or is oozing potential as a rookie (Shawn Williams).
Yet here we are, and Iloka is a starter—for now.
There's a lot to like about what Iloka brings to the table. He has sound size at 6'4" and 225 pounds. He's been a spotty tackler thus far, but it's a negative that can be addressed rather quickly via proper coaching (which you better believe Cincinnati has with Mike Zimmer running the defense).
We are still a very long way out from knowing who actually mans the starting strong safety spot when the season kicks off, but get used to seeing Iloka's name. It's there now for a reason.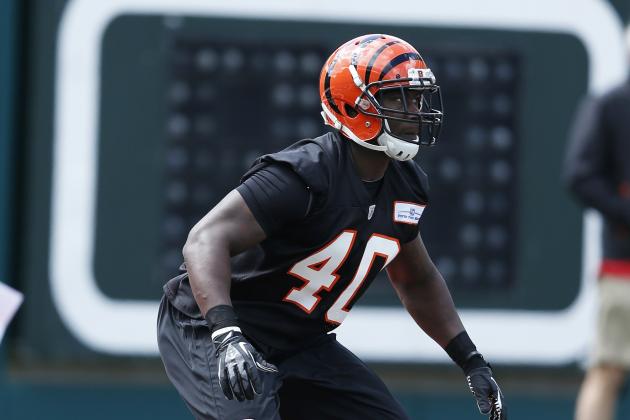 Joe Robbins/Getty Images

George Iloka may have a grip on the starting job at strong safety for now, but it would be unwise to count out rookie Shawn Williams and the athletic Taylor Mays.
We've known for a while that Williams will make a serious push for the starting job courtesy of his outstanding play against the run—which happens to be the perfect complement to the borderline-elite coverage skills of free safety Reggie Nelson.
Mays has an outside chance of competing for the job as well, although time is running out for him to prove he has what it takes after three seasons of mediocrity with two teams. Joe Reedy of the Cincinnati Enquirer says the team is waiting for Mays' "instincts to catch up with his elite physical skills."
As of now, the stock for both players is low. Expect that to change for Williams, but Mays could be past the point of no return.
Follow me on Twitter for more NFL news and analysis @Chris_Roling