When the Washington Wizards decided to give John Wall a five-year, $80 million extension, team president Ernie Grunfeld and the rest of the front office made the decision to make Wall the face of the franchise.
Not only is this a huge monetary investment for the Wizards, but it is also an investment in the future of the team.
Washington hasn't been a relevant basketball town since the Gilbert Arenas years, and even then the team couldn't find success in the playoffs. Now, the Wizards are hoping Wall can be the leader of their club for the foreseeable future.
But is the former No. 1 overall pick worth about $16 million per year?
In short—yes.
Looking at Wall's stats from the first three years of his career is just scratching the surface of what Wall means to the Wizards. A deeper look into his value makes him seem almost invaluable to the future of basketball in the nation's capital, and here's why.
The overall improvement of the team with Wall in the lineup
The Wizards were dealt a huge blow before the 2012-13 season even began, when it was announced that Wall would miss significant time with a stress injury to his left knee.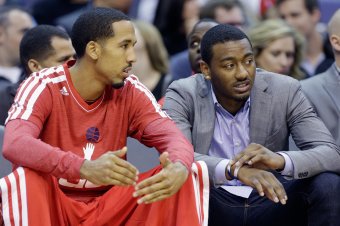 Rob Carr/Getty Images
Without their starting point guard, the Wizards went 5-28 in the 33 games that Wall missed during the first two months of the season. When Wall returned on Jan. 12, 2013, the Wizards immediately improved their play and went 24-25 for the remainder of the season.
If they had played that well all season, the Wizards easily could have been a playoff team, considering the Milwaukee Bucks made the playoffs in the East with a 38-44 record and the Boston Celtics grabbed the seventh seed in the playoffs finishing just one game over .500.
In addition to improving the play of the team as a whole, Wall in the lineup means a boost to the other players on the floor for Washington.
Starting small forward Martell Webster started off the year averaging 8.6 points per game in November, according to ESPN, but finished the last three months of the season with Wall averaging 12.2, 12.4 and 14.9 points, respectively.
The same thing happened to rookie shooting guard Bradley Beal, who was the leader of the team with Wall out. The 20-year-old averaged 11.2 points in November and 15 points in January, via ESPN.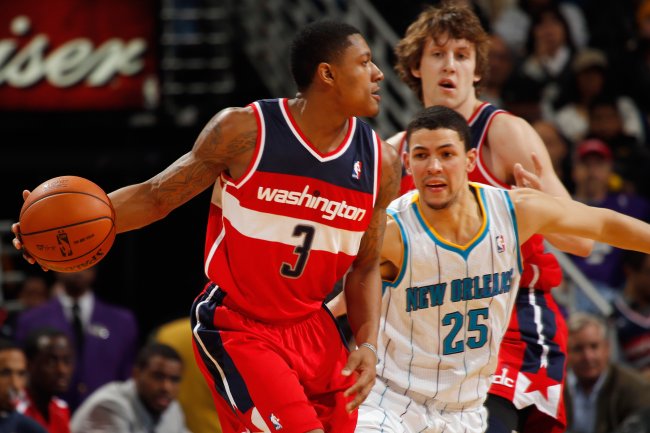 Chris Graythen/Getty Images
Any player who can improve the guys around him that much should be kept around for a long time.
Wall's contract value compared to other point guards
After a glance at the $16 million per year mark, some fans will immediately want to call the contract bloated.
But comparing Wall's value to other highly paid point guards in the NBA should silence those naysayers.
Before he was traded to the New Orleans Pelicans during the 2013 NBA draft, Jrue Holiday signed a four-year, $41 million deal with the Philadelphia 76ers in November.
Holiday has played one more season than Wall, but last season Holiday averaged fewer points than Wall and also had lower shooting and free-throw percentages.
Last fall, the Denver Nuggets penned a four-year, $48 million contract with Ty Lawson. Per 36 minutes in 2012, Lawson averaged fewer points, blocks, rebounds and assists than Wall and was also a worse free-throw shooter.
Finally, Tyreke Evans, who was just traded to the New Orleans Pelicans, finalized a deal with his new team for $44 million over four years.
Evans, who is one year older than Wall, averaged fewer points, assists and blocks than Wall.
2013 production of highly paid point guards compared to Wall

| | | | | |
| --- | --- | --- | --- | --- |
| Name | Average yearly salary (2014-15) | PPG | Shooting % | Assists |
| John Wall | $16 million | 18.5 | 44.1 | 7.6 |
| Tyreke Evans | $11 million | 15.2 | 47.8 | 3.5 |
| Ty Lawson | $12 million | 16.7 | 46.1 | 6.9 |
ESPN
Obviously Wall's contract is worth more money than any of those three guys, but considering the money guys like Evans and Holiday got this offseason, the Wizards were bound to pay that much for Wall to stay for another five seasons. And they got a much better player.
Washington will be more attractive to potential free agents
Recently, Washington has been the town that old players go to end their careers, since Grunfeld is willing to take on larger veteran deals.
The contracts of Nene and Trevor Ariza would make you think that still. But when Washington has cap room to spend once Ariza and Emeka Okafor's pacts run out after this season, having Wall around for the future makes Washington a possible destination for free agents.
Was giving John Wall a max contract the right move for the Wizards?
The Wizards are still far away from landing a superstar like LeBron James or Carmelo Anthony, but a proven and valuable veteran who will sign for a few million like Shane Battier or Nate Robinson is more likely to sign with a Wizards team who has Wall for five more seasons than a Wizards team without Wall.
It seems as if the rebuilding process has been going on forever in Washington, but being a more attractive team for free agents makes it possible to assemble a strong roster in the offseason without having a top-three draft pick.
Wall's overall performance
Hypotheticals and potentials aside, Wall deserves this max contract simply because of his play during his first three years in the NBA.
Since his rookie year out of Kentucky, Wall's averages in points have gone up and his turnovers have gone down, while his shooting and free-throw percentages have improved.
The second half of the 2012-13 season was easily Wall's best stretch as a pro, averaging 22 points, 7.7 assists and 1.5 steals during March and April, according to ESPN.
Those last two months also featured games of 37 and 47 points for Wall, the 47-point game against the Memphis Grizzlies being a career high.
Wall put an exclamation point on his return from a knee injury by scoring a career-high 47 points against the Memphis Grizzlies in March.
During the last 15 games of the season, Wall led the team to victories over the Grizzlies, Chicago Bulls and Los Angeles Lakers, all playoffs teams. That's a small sample size, but looking at his numbers during his first few seasons and seeing what Wall can do with a healthy lineup should give Wizards fans hope for the future.