Best Photos and Images from 2013-14 NBA Rookie Photo Shoot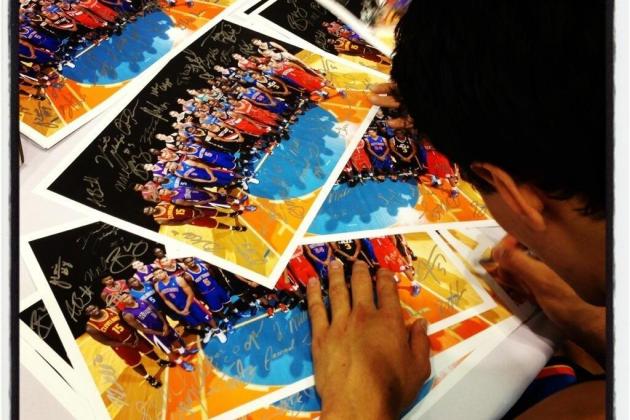 NBA life isn't always glamorous. Sometimes, it doesn't have much to do with basketball either. Rookies from this summer's draft spent Tuesday at the Panini America NBA Rookie Photo Shoot posing for lots and lots of pics—and then signing a few while they were at it.
It wasn't all work and no play, though. In fact, from the looks of these scenes, there was plenty of play going on—replete with a lunch during which all the new faces could momentarily lay down their arms and hang out before all those competitive instincts return to the fore.
With some—like the Philadelphia 76ers' front office—already focusing their attention on 2014's draft, I think we owe the class of 2013 some love...or at least a chance. This group could be pretty good, too.
And career projections aside, these guys definitely have personality. You just have to get to know them first.
Begin Slideshow

»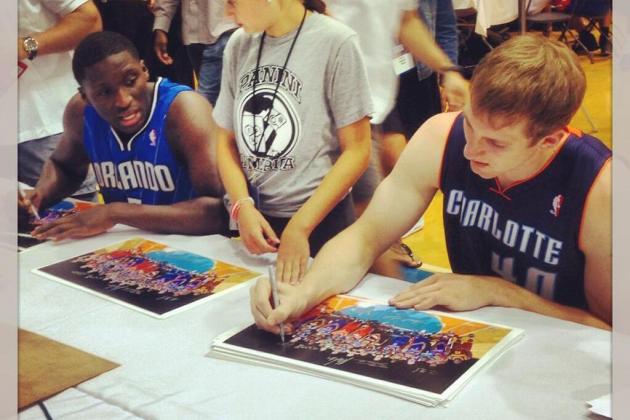 The look on Victor Oladipo's face is priceless. We can't be positive, but it appears Mr. Oladipo experienced a brief moment of panic when he saw how thick that stack of group photos was.
If signing stuff has that kind of effect on Oladipo, he might want to rethink this whole NBA thing.
Meanwhile, Cody Zeller hasn't had this much fun since practicing his cursive in grade school.
There's nothing like trading cards to bring out the kid in all of us. Just look at the Sixers' Michael Carter-Williams—he's thrilled.
Kentavious Caldwell-Pope on the other hand is apparently thinking, "You mean I made it to the NBA and all I get are these stupid cards?"
Caldwell-Pope is probably more excited than his expression leads on. Playing for the Detroit Pistons just got a lot more interesting this summer thanks to the additions of Josh Smith and Brandon Jennings. And Detroit's lack of a starter-caliber shooting guard should mean pretty good minutes for him to boot.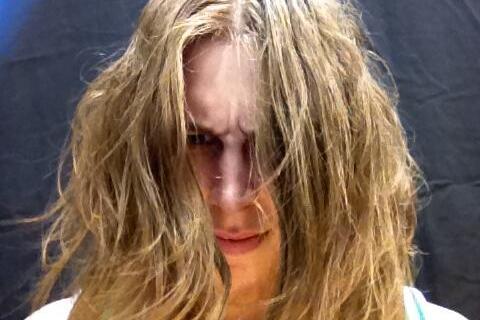 Somewhere deep inside his protective hair casing, Kelly Olynyk frantically contemplates what he could possibly do to look more menacing. I'm gonna say he's got that one covered. All menaced-out on this end. Point made.
Just don't let the lady in your life see this. She'll be plotting Kelly Olynyk's makeover for the rest of his playing career.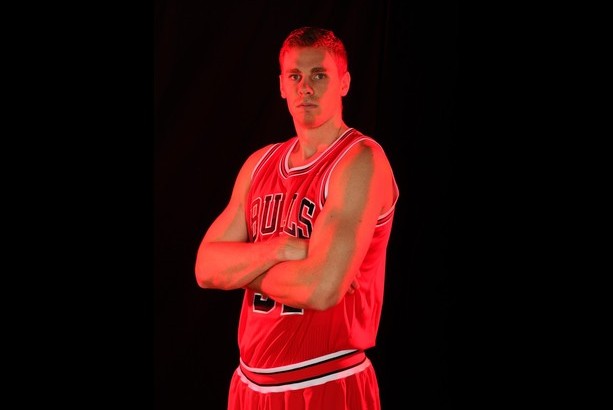 Who put Erik Murphy under a heat lamp?
I get that the Chicago Bulls are all about red, but irradiating rookies is probably taking this hazing thing too far. Once he stops glowing, Murphy will look to secure a spot in the rotation as a spread-4 on account of his smooth stroke. Getting a foot in the door usually isn't easy for second-round picks, but size and the ability to shoot make for a marketable skill set.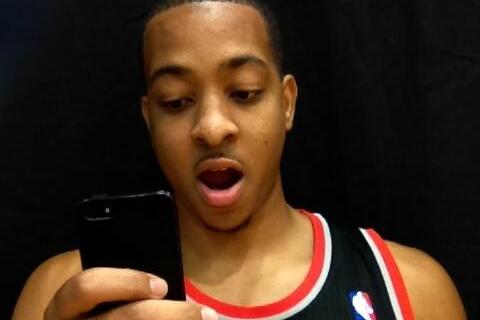 Kids these days. You tell 'em there's a photo shoot going on and they start taking selfies.
C.J. McCollum has earned the right to a little vanity. He looked pretty good in Summer League play, and 2012-13 Rookie of the Year Damian Lillard is already excited about his arrival. McCollum could settle in as a prototypical sixth man capable of manning both guard positions, a potentially crucial addition given the Portland Trail Blazers' bench woes last season.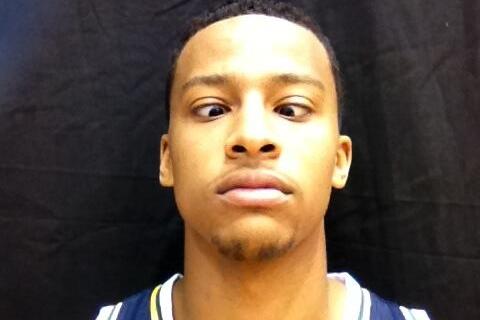 Does life in Salt Lake City already have point guard Trey Burke seeing cross-eyed?
Someone should let him know that's not very good for his court vision. Then again, Burke is the one who averaged 6.7 assists per game last season at Michigan, so what do I know. Maybe this is the secret to his genius.
Given the Utah Jazz's desperate need for a floor general of the future, they'll need plenty of that genius...and less of whatever he was doing at Summer League. Maybe that's where all this eye-crossing business started.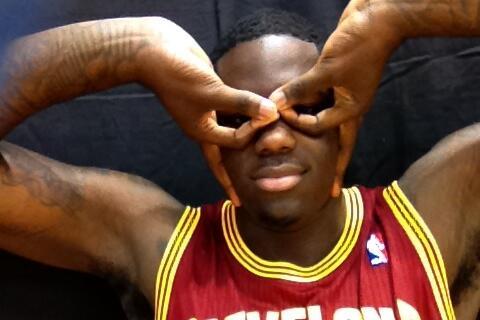 I bet everyone surprised by Anthony Bennett's selection at No. 1 didn't know he could do this.
Well played, sir. Well played.
After cashing in as the first overall pick, Bennett should be able to afford some real glasses soon enough—probably really nice ones at that. The real question going forward is whether the Cleveland Cavaliers will cash in. The UNLV product wasn't the conventional choice, but that doesn't mean he was the wrong choice.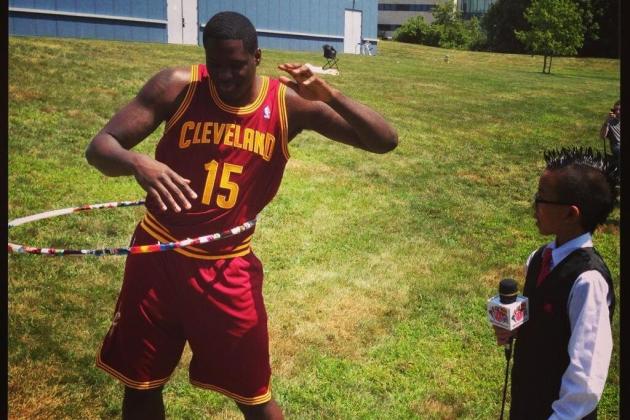 Two slides for Anthony Bennett? Oh come on, he was the first overall pick.
And besides, that kid with the mic is awesome. Watch out, Craig Sager. The competition for covering NBA stars and their dreams of Hula Hoop domination just got a little bit stiffer.
On another note, is this really what happens at the rookie photo shoot? Apparently, it's quite the little shindig—or else agility drills just got a lot more fun.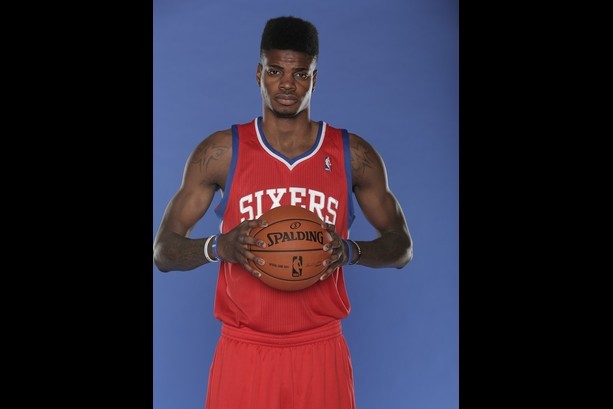 Just in case you were worried how the high-top fade would mesh with a Sixers uniform, fret not. Nerlens Noel makes this work. In fact, he almost looks made for that uniform.
Noel's draft-night lesson in patience will serve him well in Philly. This ship won't be righting itself immediately, but it could have quite the haul of talented young prospects to show for it. Hopefully they'll all have great hair.
Have something disparaging or mildly amusing to say about Ukraine?
Don't say it around Alex Len, or this might happen. And I'm just guessing Len could seriously destroy some board games with that 7'1", 255 lb frame of his.
There's a reason he poses for photos like a Michelangelo sculpture, the same reason the Phoenix Suns elected to take him with the fifth overall pick in June: You can't teach size.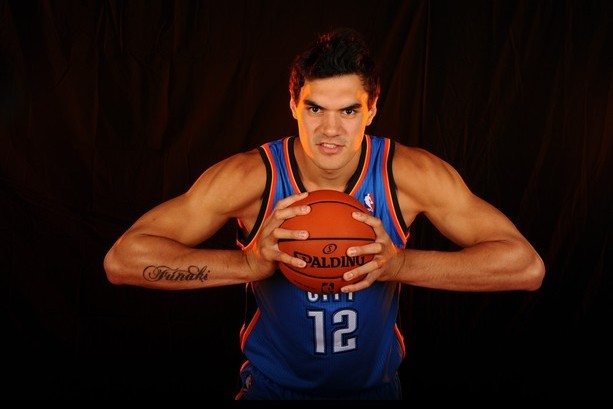 Is it just me, or does it look like Steven Adams got that tattoo just so that he could look cool doing this exact pose?
We can't know motives, but we can be pretty sure he got this one to horrify everyone. Finding some ink to represent the Oklahoma City Thunder won't be quite so easy. He also might want to keep it modestly sized and easily concealable.
Nothing's more awkward than getting traded to a new team and showing up with lightening bolts all over your face.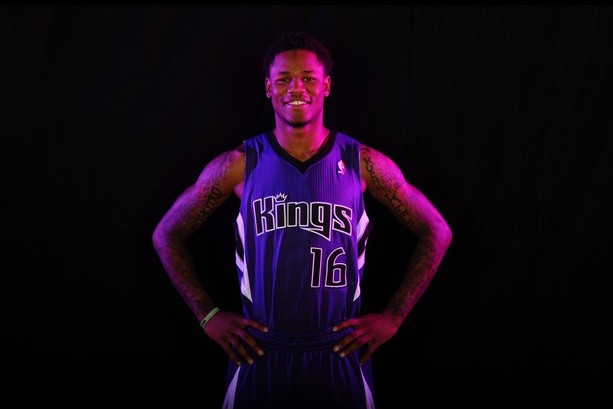 Ben McLemore doesn't look like he's stressing about sliding to the No. 7 selection in June. He looks like a guy who knows he'll get the last laugh. If it's with the Sacramento Kings, the rest of us will be laughing too—the way you laugh when you just don't know what else to do.
Before we write the Sacramento Kings off forever more, it's worth remembering better times when this franchise was a force with which to be reckoned in the Western Conference. If those heights remain within reach, McLemore will have a lot to do with it.
And while I don't say this about many, Mr. McLemore makes purple look good.
A picture of the NBA's modern-day elite athleticism.
And elite athleticism's friend Nate Wolters.
We jest. What Wolters lacks in quickness and leaping ability, he makes up for with craftiness. And both of these guys have amazing size for capable ball-handlers. Wolters—a legitimate point guard—stands 6'4" and uses every inch of it to create his own shots.
Meanwhile, Antetokounmpo—who can probably play three or four positions—is 6'9" and boasts a 7'3" wingspan.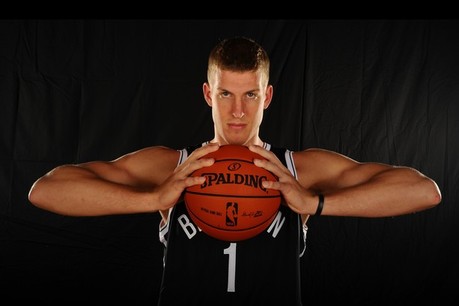 Mason Plumlee is a reminder that getting drafted in the mid-to-late first round isn't always a bad thing. He'll still make $1.3 million this season, and he'll do it for the NBA's latest attempt at a "super-team". If Kevin Garnett finally succumbs to old age, Plumlee might even get to play a little bit.
In the meantime, he'll continue trying to crush basketballs with his bare hands.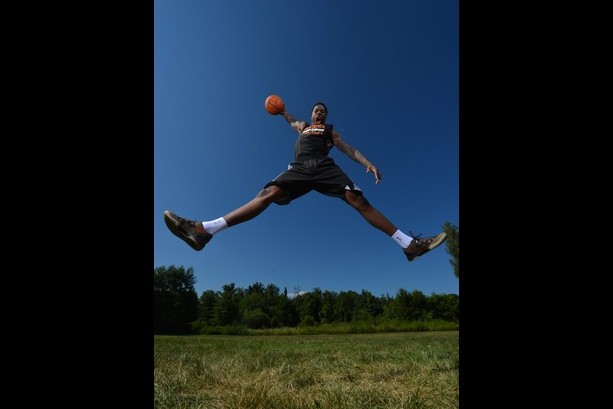 This photo proves what I've been saying all along. Nobody does the splits like Archie Goodwin.
He's one of those guys who could make the rest of the league feel pretty stupid about not drafting him. The Phoenix Suns snagged him at No. 29, potentially finding a long-term (and much-needed) solution for the shooting guard spot.
He'll need more than fancy jumps to fulfill that promise. Fortunately, he turns just 19 on August 17, so there's plenty of time yet to figure out everything else.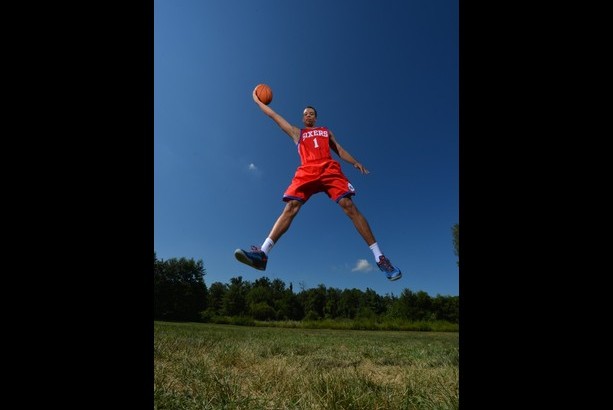 Michael Carter-Williams will have you know Archie Goodwin isn't the only guy around here who can jump about in a not-quite-scenic middle of nowhere.
In fact, Carter-Williams jumped higher than Goodwin during combine measurements.
Now if he can just find that elusive shooting touch, the Philadelphia 76ers will be good to go. Well, almost good to go. They still need a few pieces.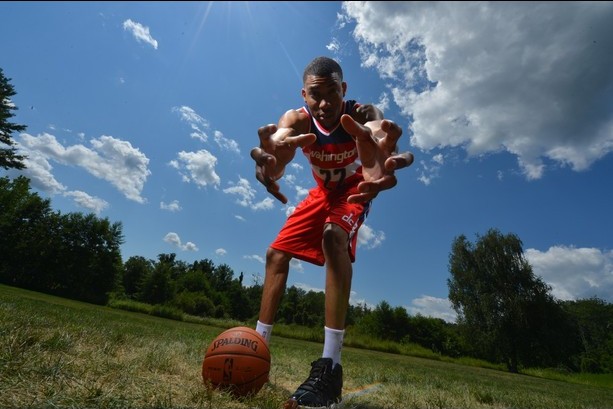 If you've ever wondered what it would feel like to be rescued from something by Otto Porter Jr., I think it would go a little something like this.
I'm guessing the photographer just got stuck in some quicksand he couldn't possibly have seen coming with all that grass around. It's times like these a 7'1.5" wingspan is more than just a combine measurement.
If all goes according to plan in Washington, Porter will be lending a helping hand on the court too. The Wizards young core (John Wall, Bradley Beal) is starting to take shape, and Porter figures to be its next fixture.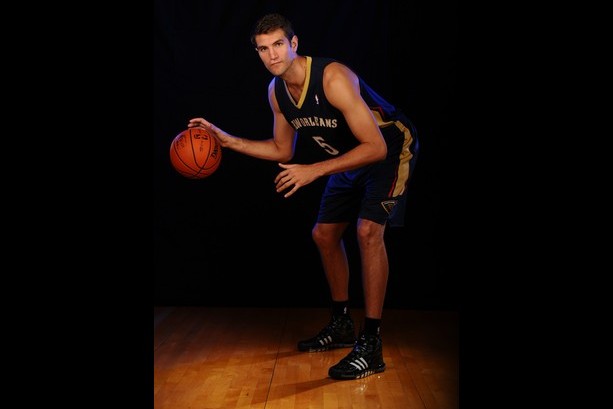 If this is what it looks like when Jeff Withey dribbles, I'm lobbying Monty Williams to make him the third-string point guard. If this is a deleted scene from Jurassic Park where velociraptors teach themselves how to hoop, then I really should have seen that re-release.
In fairness, the New Orleans Pelicans didn't want Withey for his handle, and they definitely didn't bring him on board to dance Gangnam-Style—though that dance routine warranted a first-round pick in my book.
NOLA's interest had more to do with those 3.9 blocks and 8.5 rebounds Withey averaged as a senior at Kansas. There's nothing funny about that, especially for guys on the other team.