Michigan State Basketball: What's to Love and Hate About 2013-14 Spartans?
Christian Petersen/Getty Images
Tom Izzo's Spartans are once again favored to win the Big Ten.
As one of the favorites to win the national title in 2014, Michigan State will be a team adored by its fans and disliked by opponents.
What's new?
With stars such as center/forward Adreian Payne, shooting guard Gary Harris and point guard Keith Appling returning, Spartans coach Tom Izzo has a capable core that's more than qualified to dominate the Big 10.
The Spartans also have a strong supporting cast: guard Travis Trice, guard Denzel Valentine and forwards Matt Costello and Alex Gauna.
What's not to like about that?
Throw in wildcards Kenny Kaminski and 2013 recruits Gavin Schilling and Alvin Ellis, and Izzo appears to have a team ready to run through March.
Begin Slideshow

»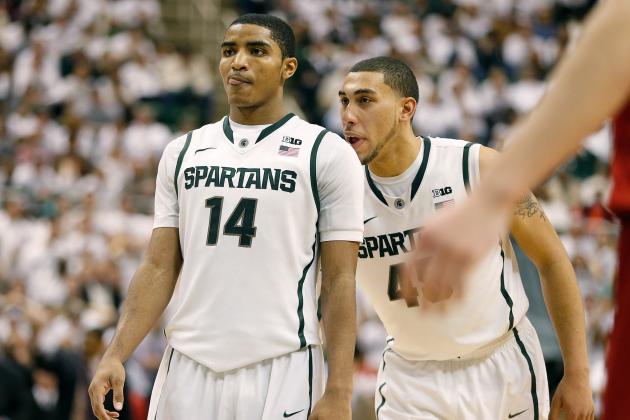 Gregory Shamus/Getty Images
Gary Harris has national player of the year potential.
The Spartans turn out quality players, but seldom do they have a prime-time national superstar.
With Gary Harris returning for his sophomore year, that's no longer the case—Harris is a lottery pick waiting to happen, and he is considered one of the top guards in the country.
While national announcers and commentators talk about Harris like he's new to the scene, Michigan State fans can take pride in knowing that they knew about Harris from the start.
In 2012-13, the former 5-star Hamilton Southeastern (Fishers, Ind.) phenomenon won Big Ten Freshman of the Year honors.
In March, after a stellar showing against Memphis in the national tournament, the national media hitched itself to the young Spartans scorer.
Today, he's close to household-name status.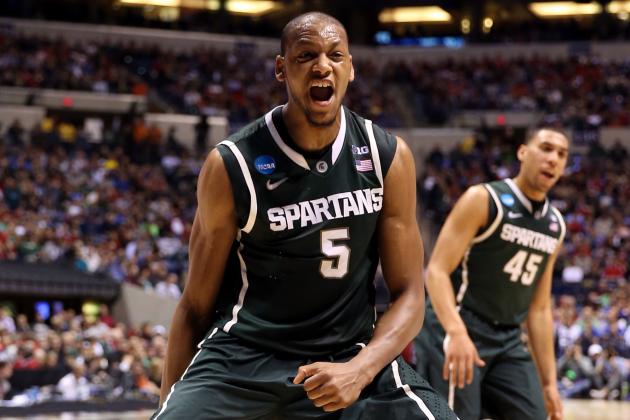 Andy Lyons/Getty Images
Unfortunately for MSU, this season is the last for Adreian Payne.
Watching players develop is part of the allure of college basketball.
This year, Adreian Payne closes out what has been an incredible journey in East Lansing.
From a confused kid to key senior, Payne has grown into the role of a national star with NBA potential. He's come a long way since his freshman year, both personally and academically.
Supporting guys such as Payne is what Spartans basketball is all about. Coach Tom Izzo does a great job of mentoring his four-year players, each of whom have made a Final Four appearance. No other coach can claim that.
As was the case with Draymond Green, Goran Suton and other past greats, the day Payne kisses center court at the Breslin Center will be bittersweet for Spartans fans. But it signifies a collegiate career second to none.
Not many elite programs have the long-term atmosphere of Michigan State.
Spartans fans are spoiled. They get the chance to really connect with players due to their longevity with the program. Not many fanbases have that luxury—it's one-and-done for their favorites.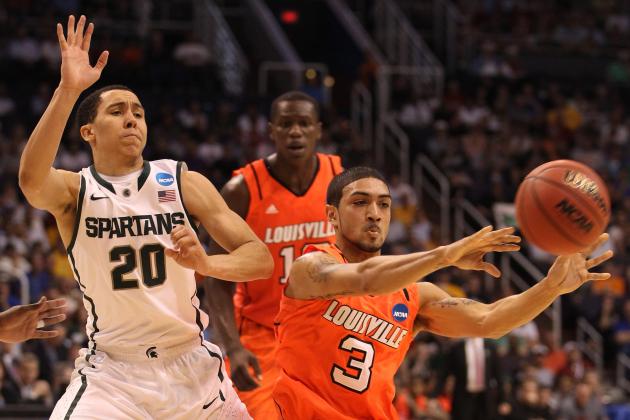 Christian Petersen/Getty Images
Travis Trice has developed into a key defender for MSU.
In 2012-13, Ohio State guard Aaron Craft made headlines for his fierce dedication to the hustle.
And as one of the country's elite defenders, Craft deserved the praise.
However, he wasn't the only guy sacrificing his body on every play. Michigan State junior Travis Trice is vastly underrated. He's one of the best on-ball defenders in the Big Ten and arguably tops in the "motor" department.
He never stops.
That style, though, is both good and bad. Because of his no-fear outlook this past year as a sophomore, Trice suffered concussions that kept on him sidelined and out of rhythm.
Now healthy, Trice figures to be a valuable piece off Izzo's bench. When a lock-down defender is needed, Trice will likely get called upon to deliver.
Trice is all hustle. What's not to love about that?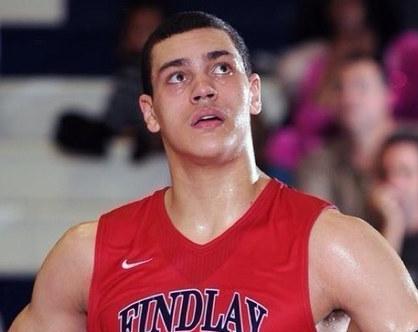 3-star F Gavin Schilling is one of two 2013 recruits (Photo: ZagsBlog)
During the past few years, the Spartans have welcomed in 5-star talents such as Gary Harris and Branden Dawson. It's exciting for fans to know that a top-rated player is joining the team.
Jabari Parker was supposed to be the new it guy for the Spartans in 2013, however, the 5-star Chicago Simeon standout chose Duke instead.
Michigan State's 2013 class isn't overly impressive on paper, but it's certainly worth noting. Gavin Schilling, a 3-star forward, may surprise a few people and play a steady 10 minutes per game this season. Alvin Ellis, a 3-star shooting guard, could be a suitable No. 2 scorer behind Gary Harris.
At this point, the expectations aren't very high. As long as they contribute, Izzo can wait until 2014 before he gets the mega class that he's searching for.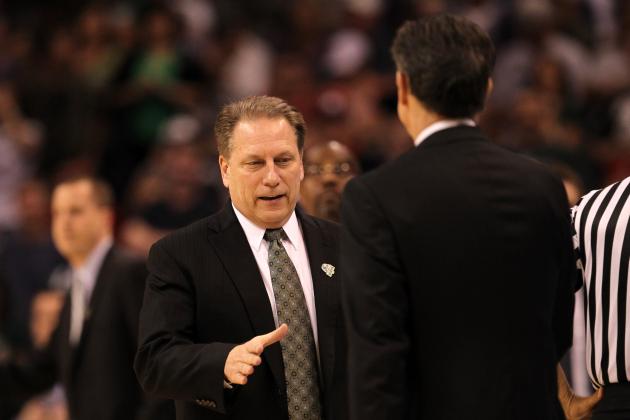 Jamie Squire/Getty Images
Tom Izzo hasn't been to the Final Four since 2010.
Being pegged as a Final Four favorite is the norm for Michigan State.
Since 1995—the year Tom Izzo took over the coaching reins from Jud Heathcote—the Spartans have been to six Final Fours, including three straight from 1999-2001.
The Spartans haven't been back to the national semis since losing to Butler in 2010. However, it seems as if they're due for one soon. Izzo doesn't have prolonged stretches between Final Fours, evidenced by how each of his four-year players have made it to at least one.
Adreian Payne is a senior. The time is right for another.
Follow Bleacher Report's Michigan State Spartans basketball writer Adam Biggers on Twitter @AdamBiggers81